VARIOUS BANDS 60's - HARTLEPOOL & TEESSIDE
This page is dedicated to the bands from Hartlepool and Teesside who were operating in the 1960's. If your band is not mentioned here and you'd like to be considered, send me an email with all the details. If we don't know about you, we can't mention you - and be sure to see all the bands we have featured in the right hand column!
As the title of this page might well suggest, this section is dedicated to other bands from Hartlepool, or Teesside, of which we have just one, or maybe two, photographs. Quite naturally, if you can help us find more, then a full webpage could well be provided for them and thank you for supporting our nostalgia pages and enjoying the sights, and sounds, of the sixties!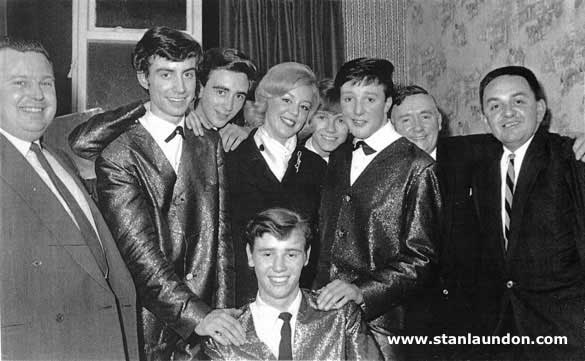 A happy crowd of musicians and singers here - thanks to David Oliver for this gem from the past which shows Kathy Kirby at the Oak Leaf Night Club in Middlesbrough in 1964, The Addicts were the supporting group and they are, from left to right, Ray Day, their manager, David Oliver bass, Terry Davis, rhythm guitar, Kathy, Peter (Titch) Etherington lead guitar, Eric Newton drummer, John Etherington (ex-Hartlepool Ravons), centre kneeling, vocals. The two gentlemen on the right are unknown, although one is probably Kathy Kirby's manager.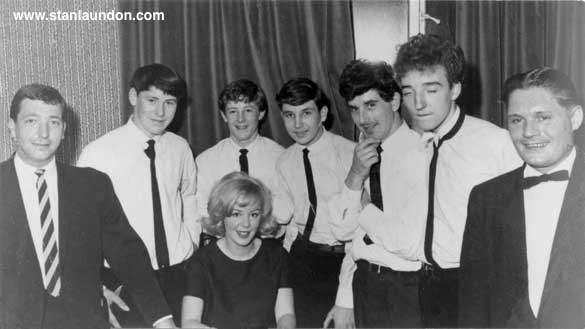 Kathy Kirby is featured again here on her visit to Teesside in 1964. The Mystics were support band at The Oak Leaf Club in South Bank this night. The photo shows Mel Pursley - with the striped tie - he was the bands manager, Pete Betts on vocals, Ray Johnson on drums, Ron Sturt on guitar, an unknown person on bass, Vin Garbutt on guitar and vocals, and Arthur Buckton with the dickiebow was a committee man at the venue and, of course, Kathy at the front! Thanks to Craig Hornby for this photograph from the late Vin Garbutt's collection.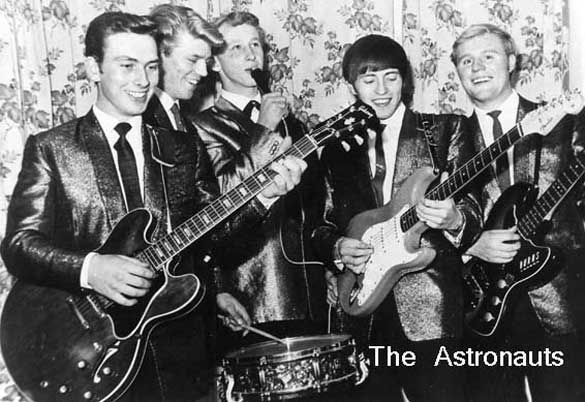 This photograph of The Astronauts came to us courtesy of Durham man Dave Inglis. His uncle Tommy was in the band in the early sixties and Bob Ferry, of Tony & The Meazzis, obtained permission from Dave, who hails from Belmont, near Durham, for it to be used on this page. It shows Alan Harland on drums, Robin Parkinson on vocals, Tommy Inglis on bass with Tony Whitfield on lead guitar and John Elgy on rhythm. Another photo from Dave is of The Kravaats which can be seen lower down the page.
The band Aquarius, from Hartlepool, outside the Wesley Church when it was still a place of worship in 1970. The photograph on the left shows Eric Best, Brian Edmenson, Barry Baker, Dave Hogbin all holding Linda Hogbin who was soon to marry Brian Edmenson and later formed a duo called Linda and Brian. On the right is Brian Edmenson, Barry Baker, Linda Hogbin, Eric Best and Dave Hogbin.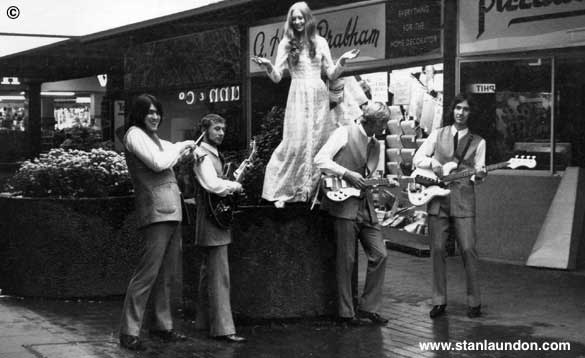 Aquarius in Hartlepool shopping centre with Barry Baker, Eric Best, Linda Hogbin, Dave Hogbin and Brian Edmenson.
Since we created our page on The Milestones band member Trevor Middleditch has been in touch and says: "The two black and white photographs above are of my first band, The Avengers. "Yes I know there was another band with the same name. "This was at the Magnet Hotel in Grangetown about 1962 or 1963". It shows Vic Creed on drums, Trevor Middleditch on lead guitar, Ian Fall on bass with Norman Heseltine on guitar and vocals.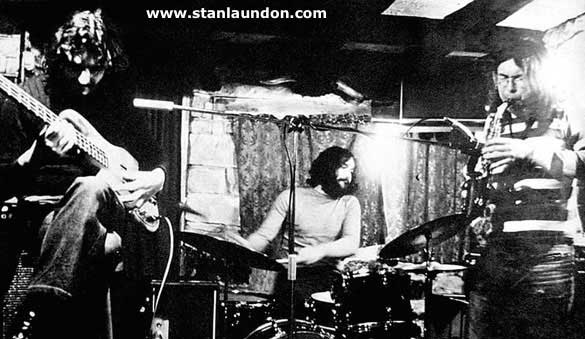 The jazz trio Back Door live on stage about 1969 at The Lion Inn, Blakey Ridge. It shows Colin Hodgkinson on bass and frontman, Tony Hicks on drums with Ron Aspery on tenor sax. This photograph was sent to us by Tom Ludley and came from Colin Hodgkinson's private collection. Colin still plays with his new band Ten Years After. Tony, of course, served his time with Ron Aspery in the Eric Delaney Big Band. Ron Aspery was one of the best sax players in the country and, according to Ian Naisbitt, Tony was rated as the 7th best drummer in the world!
Alan Davis, who now lives in Perth, Australia, sent us these two photographs of the Black Barons band from Teesside. He says, the first photograph, goes back to his days at Richard Hind School in Stockton. The group was formed at school at end of year 1964. The first photograph shows, left to right, Alan Coath who was the main vocalist and lead guitarist, John McDougall on drums, Alan Davis at the back on keyboards and Roger Belt who played rhythm and bass. The second photograph shows  Alan Coath, who lives in Fairfield, Stockton, the late John MacDougall, Alan Davis, who lives in Darlington, Western Australia, and Roger Belt.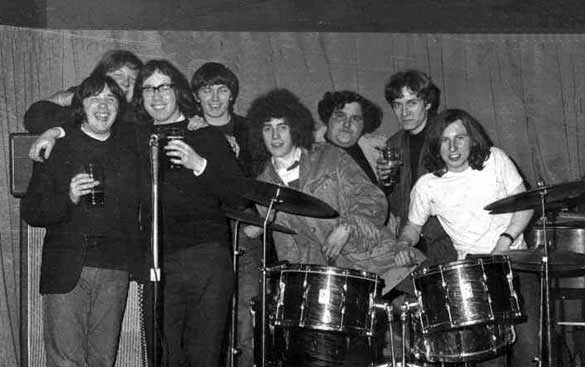 A bunch of guys having a good time here and enjoying a few drinks. This is a three-piece band called Blue Grass - and some of the members on the photo played in Denver Mule with David Coverdale. They are, left to right, Alan Todd (guitarist/bassist but not with this band, ex-Denver Mule), George Woodhouse, roadie; Mick Martin, guitarist and ex-Denver Mule), Terry Sidgwick on vocals/bass (ex-Crawdaddies, Real McCoy & Tramline), John Collins on drums (ex-Denver Mule) roadie Will Grimston (he went on to become Chris Rea's tour manager and close associate), Steve Taylor a friend of the band and John Knight another roadie. Great memories here!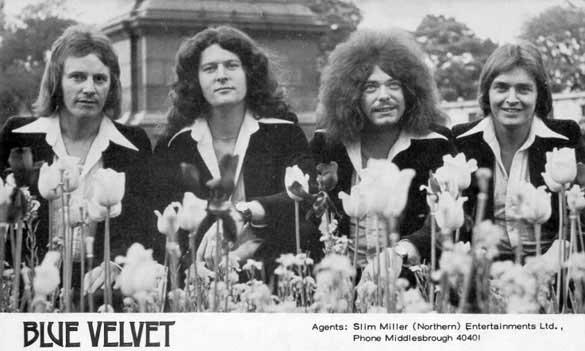 Blue Velvet at the Cenotaph, Albert Park, in Middlesbrough. This photograph, which was taken outside the Dorman's Museum, was sent to us by former Phantoms member, Tom Ludley. Both Tom and Dave Shearer have provided the names. From left to right they are Art McDermott on vocals, Mick Griffith on bass, Kevin Ryan on drums with the late Trevor Bullock on lead guitar. Dave believes that Kevin and his brother Desi, who was a Teesside Club keyboard player, were cousins (he thinks) to Marion Ryan the singer. Dave says: "The only one I never played alongside was Kevin - all the others I have. "I played a few years with both Trevor, in a very early Gypo set up, and also Mick in a band called Harvest." Interesting to see that the representative agent on this publicity card is Slim Miller from Middlesbrough.
The Cadillac Quartette at the Coatham Hotel, in Redcar with Frank Feeney, Brian Dixon, Gary Peckover and Brian Anderson. The Cadillac Quartette was formed from The Condors, Chet West & The Stormers (for a brief period) then onto The Skyliners - finally Government. The photograph on the right, taken in the downstairs coffee bar of the Coatham Hotel, in Redcar, shows Frank Feeney, Gary Peckover and Brian Dixon. Brian Anderson, the bassist, who is off photo on the second shot, actually made the bass himself. It was hand carved as a copy of the Fender Jazz bass, a really beautiful instrument.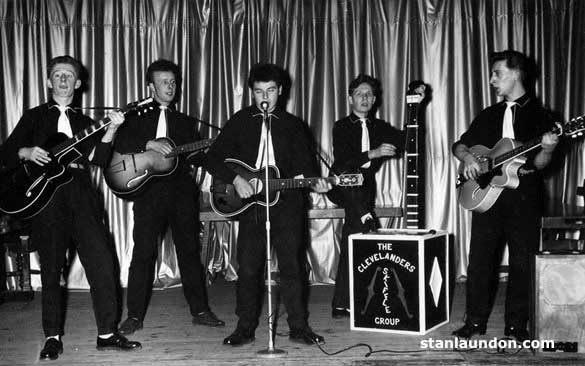 The Clevelanders Skiffle Group taken about 1958 with Frank Feeney on guitar, George Barker on bass, Mick McGarell on vocals, Jeff Easton playing the tea-chest bass and Barry Grimwood on guitar.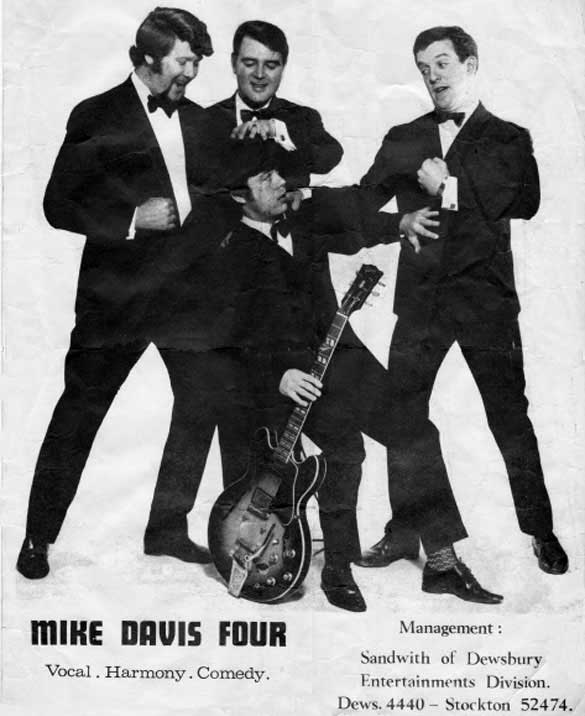 This photograph of The Mike Davis Four came to us courtesy of Colin Burns. Mark Duffy, who used the stage name of Mark Quenton, was the guitarist and singer and is in the middle at the back. Two other names who are featured on our web site are Alec Geddes on the left and Ivan Thompson the bass player squaring up on the right. Both Alec and Ivan played with The Tempests and Ivan was also a member of The Delmonts. The guitarist getting all the stick in the middle is Jimmy Kennedy. This poster is from about 1965 and the band were on the scene from 1960 to 1966. Mark later played in a band with three ladies who were called the The New Hi-lo`s or something similar.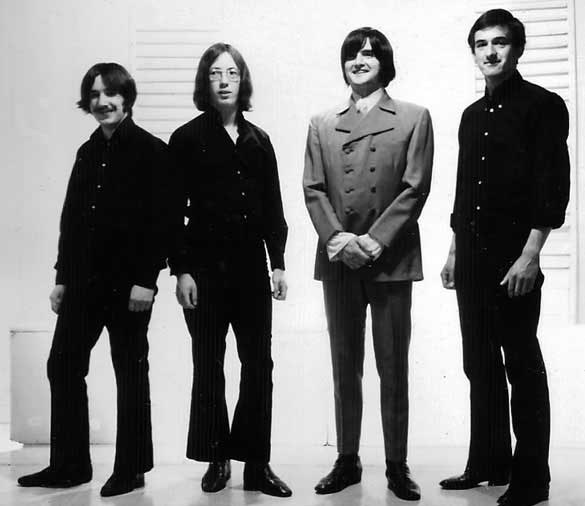 Colin Dale and The Boston Movement were in existence from 1968 to around 1972 and the personnel was, left to right, Alan Todd (who sent us the photograph) on bass guitar, Mick Martin on guitar, Colin Dale on vocals and Ricky Strickland on drums. Later members were guitarist Chris Holden, and drummers Stuart Mott and Kevin Ryan. Alan says: "There were a couple of 'deps' on guitar, Neville Reed and, I can't be sure of this it was so long ago, Dave Burton, who went on to join Chris Rea and played on the Benny Santini album." Colin, whose real name was Colin O'Roarty, died a few years ago and his son, Aaron, has created a web site on YouTube where you can hear him singing Danny Boy.

Alan says: "I remember that we did two separate weeks at the Fiesta Club as second billing! The first with Geno Washington as headline act and the second with a Transvestite act! The resident band at the Fiesta was one of the best I had ever heard with Bob Peacock (keyboards) Jack Gibson (vocals) Graham Spring (drums) and Roy Babbington (bass) who eventually taught me to play bass properly and consequently I turn pro. Roy moved to London and was the resident bass player with the BBC Radio Orchestra. A fine player and I will always be grateful to him."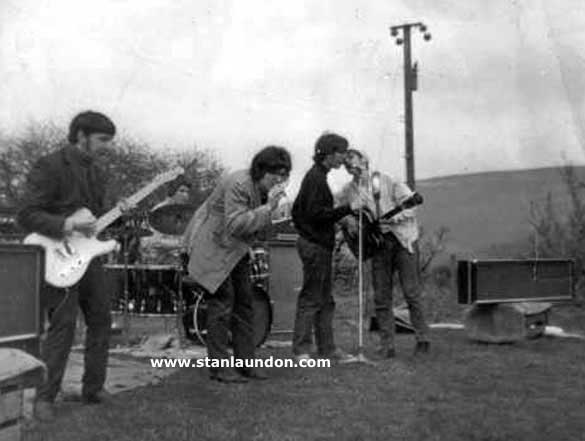 Another rare photograph for our collection - this is Denver Mule with David Coverdale dated 1968. The photograph shows, left to right, Alan Todd on guitar, John Collins on drums at the back, Dave Coverdale on vocals, Mick Martin on guitar and vocals - although no guitar in the picture - and Jeff Tisbury on bass. Thanks to John Taylor for this photograph.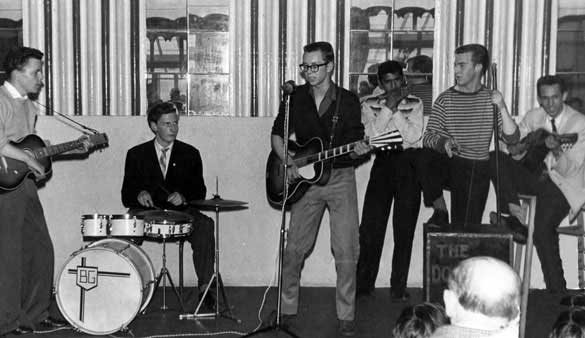 This is certainly a very rare photograph. It's The Dogpatch Five - John McCoy's first band at the Red Island Holiday Camp, Dublin, in 1958. John McCoy, who's in the centre on the microphone and playing guitar, says: "I formed the band in 1956 at the Blackrock College in Dublin where I was at school between 1951-58. Bob Geldof was also there - many years later! It was probably the most mixed race band in Ireland, playing a mix of country blues, country and western, early rock 'n' roll, calypso, reggae and acapella spirituals. We split in 1958 and went our separate ways. I met Luke Kelly and Dominic Behan and got into Irish folk music before returning to the Boro!"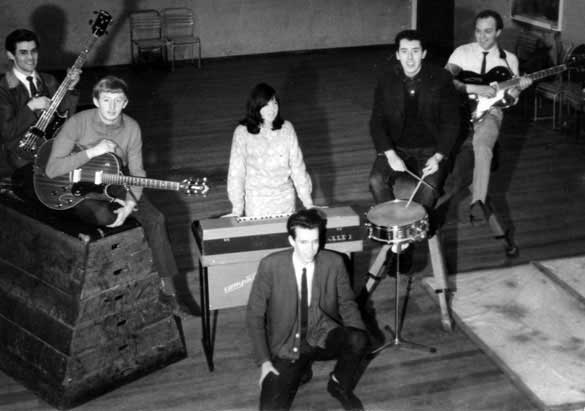 The Dominoes, from Stillington, around 1964-ish with Dennis Horton on bass, Frank Feeney with a Guild Starfire guitar, Gloria Knowles on keyboards, Lol Story on vocals, John Snowball on drums and Brian Wills on rhythm guitar. Eric Whitehouse, ex-Blue Caps, says: "John Snowball often debbed with us when Mick Kemp was ill. "Kenny Potts took over from Frank. "I think Frank only played with them for about a year or 18 months."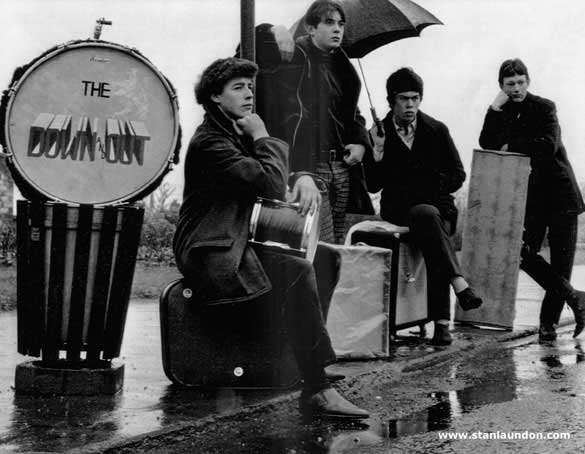 The Down & Out band from Teesside in 1965 with left to right John "Collie" Collins on drums, John Whittingham on guitar, Paul Cattermole vocalist with Bob Gray on guitar. Thanks to John Taylor for providing this photograph.
Two photographs of the Spennymoor band The Downbeats taken by former Northern Echo photographer, Ian Wright, and used with thanks. They were taken at the Zetland Hunt Beat Night at Selby Hall, in Gainford, on June 5th, 1964 and show Ken Potts, Don Aston, Alan White, Dave Raye and Rob Horsman. Photograph © Ian Wright. The Zetland Hunt Supporters Barbecue and Beat Night was organised by Jimmy and Robert Wilson of Darlington. There are more details of The Downbeats in the right hand column.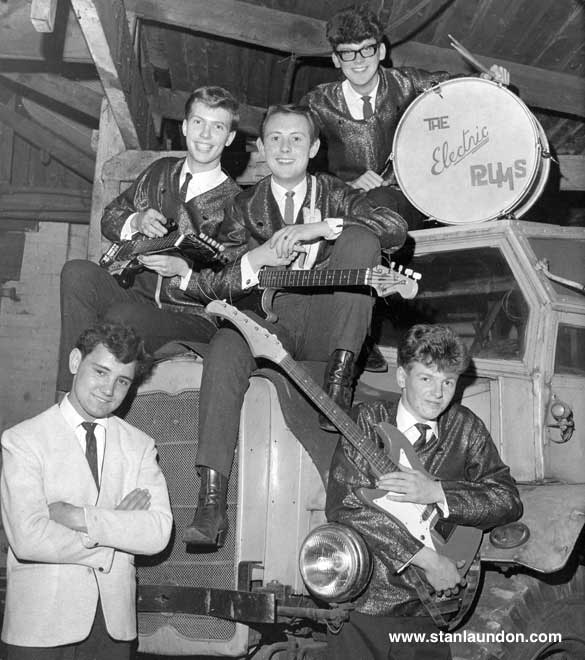 Another one from the past - The Electric Plums from Hartlepool. They are, left to right, Derek Collins on vocals, Dave Simon rhythm, Les Turner on bass, Kevin Irish at the back on drums with Terry Smith, lead guitar, at the front right. The photograph, from 1965/66, was taken in the workshop of the Town Hall Garage (where they practiced) in Raby Road. Linda Wilkinson also had a spell on vocals with the band with Jim Sculley on lead for a while.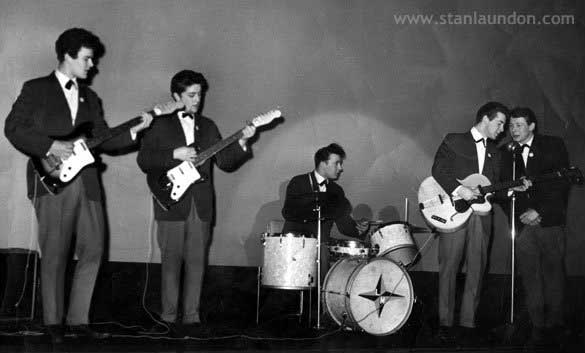 The Falcons from Hartlepool, not to be confused wth Del & The Falcons from Teesside. This photograph, dating to about 1962/63, was taken on stage at either the Forum or the Odeon in Hartlepool on a Saturday morning. It shows, left to right, Mick Tracey on lead guitar, Kenny Allen on rhythm, Les Marine on drums, Kenny Butcher on bass with vocalist John Maddison.
Two more photographs of The Falcons. The one on the left shows the band at the Queen Hotel in West View in 1963. They played there on Wednesday, Friday and Sunday nights. The second photograph shows the band forming an archway outside Christ Church in Hartlepool when John Maddison married Pat (nee Embleton) on March 30th,1963.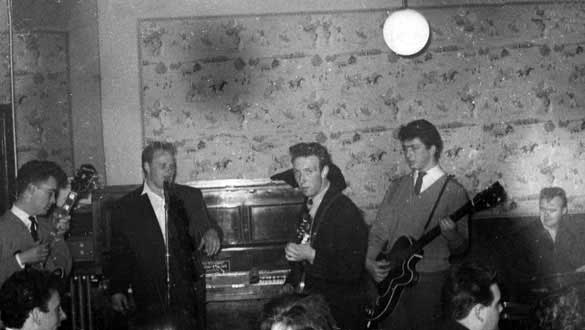 The Fireballs with George Harper on rhythm guitar, Bart Bardsley on vocals, Terry Russell on lead guitar, Malcolm Buckton on bass and Alan Richardson on drums.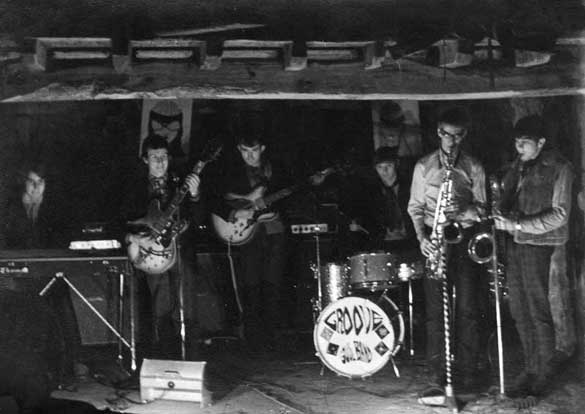 Groove playing live at an unknown village in North Yorkshire. The band is Dave Feathersone on keyboards, Dick Christon lead guitar, Edgar Hugill on bass, Hayden Kirby on drums with Chris Riley and Jim Prescott on saxophones. They all came from the Hutton Rudby area and the photograph was supplied to us by Dick Christon as with two others on this page of Marquis Foxx and The Venom.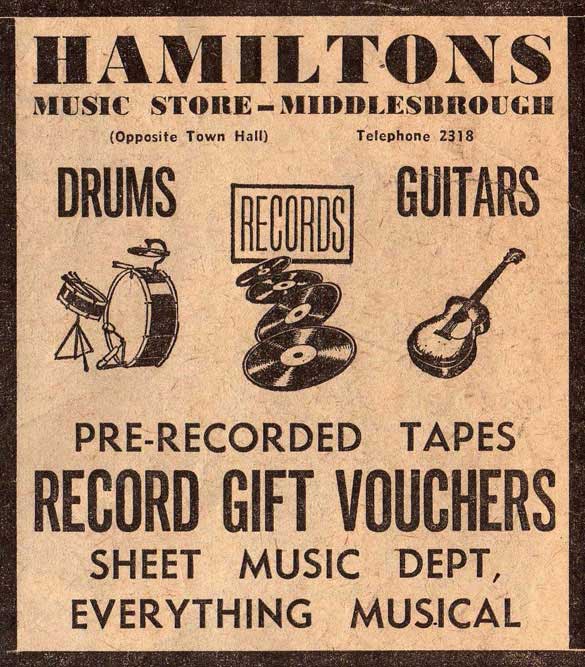 The advertisement, above, was in the Evening Gazette on March 7th, 1964. Hamiltons Music Store is long gone, but the Town Hall is still there along with the wonderful old Empire Theatre next door which still has live shows.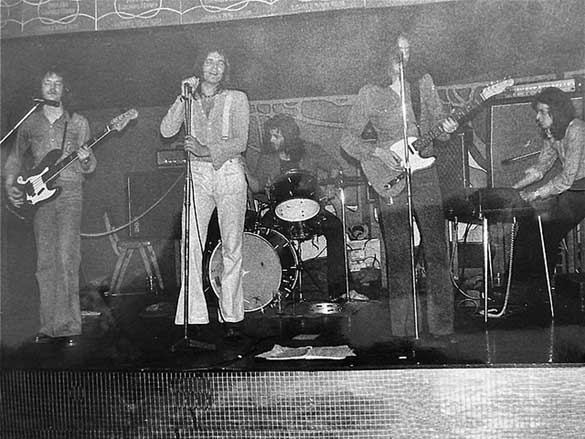 The band Johnboy taken at The Kirklevington Country Club. This photograph was sent to us by Ray Johns who received it from Mark Boagey. Johnboy were formed shortly after David Coverdale left Fabulosa — and here we have Mark Boagey on bass, Terry Sidgwick (ex-Crawdaddies and Rivers Invitation) on vocals, Merv Jones on drums, Alan Plaice (ex-Carnaby Rags from Hartlepool) on guitar and Ray Johns on Wurlitzer piano.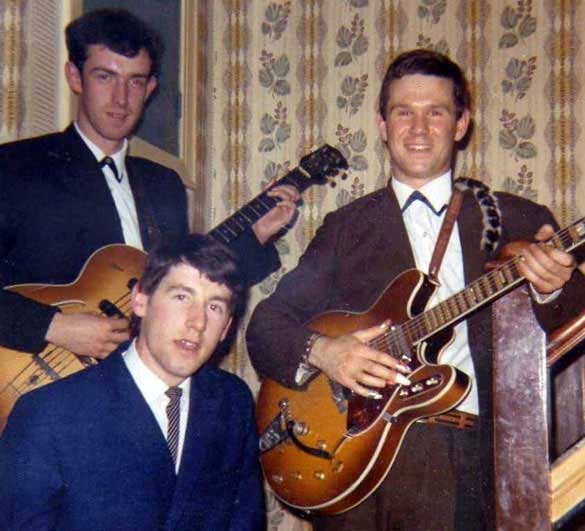 The Kasterways - another 60's group from the area with Mike Packham on bass, Peter Barrass on drums and Bryan Tattersall on guitar. Peter says: "This was one of the first groups I was in from 1964 to 1966. "The founder, lead guitarist and singer was Bryan Tattersall who, I understand, came from Kenya. "His mother was a doctor practicing in Durham where Bryan was studying at the time I joined the group. "Our bass player was Mike Packham who came from Brighton but was working has an optician in Hartlepool at the time of us getting together. "This is were I started to first work comedy into an musical act and when I changed my name from Peter Barrass to Peter de Dee. "Well Peter Dee - the small 'de' came years later. "After we split in 1966 Mike and I formed another group from 1966 to 1968. A comedy showband called The Ballads." Bryan Tattersall lost his battle against cancer in 1975 aged just 32.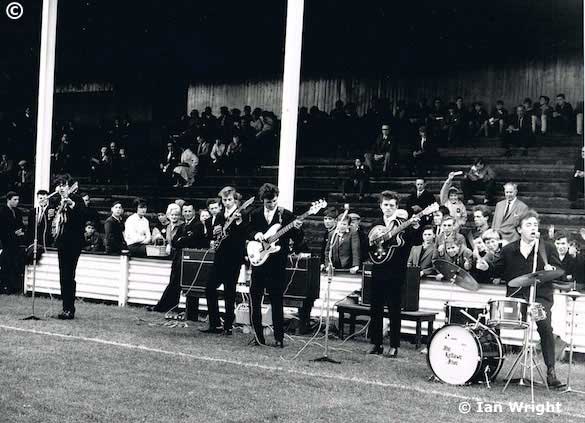 The Kellawe Five performing live at Feethams, the former home of Darlington Football Club. This photograph, from the collection of former Northern Echo photographer Ian Wright, dates to the 1964/1965 season was at a match between Darlington and York City.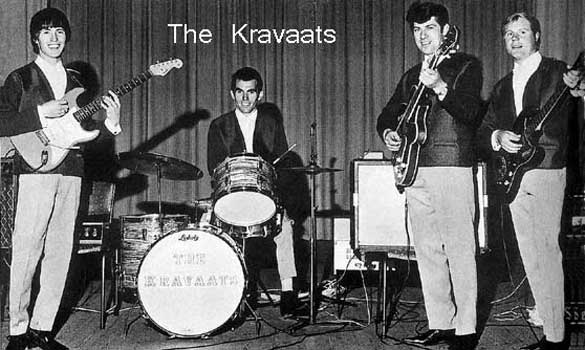 The Kravaats, from the Durham area, with Tony Whitfield on lead guitar, Joe Wilton on drums, vocalist Wilf Carr with Tom Inglis on bass.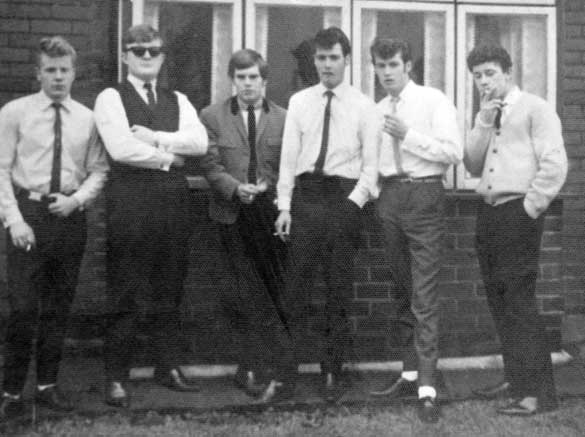 The Legends - or Leg Ends as they used to get called jokingly - were a Horden band round about the 1962 time and includes, left to right, Ian Baker on drums, John Graham on rhythm guitar & vocals, the late George Turnbull on bass, Malcolm Wright on keyboards, Arthur Wyle vocalist and Brian Williams on lead guitar. Thanks to Malcolm Wright for this picture.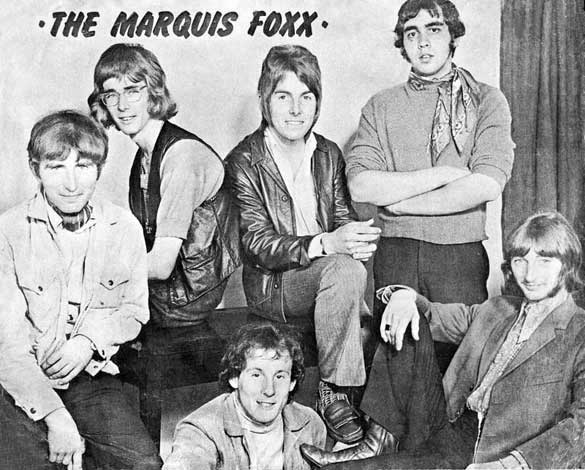 The Marquis Foxx, from Hutton Rudby and nearby villages, played around the mid 60's. It shows on the top, and left to right, Edgar Hugill, Jim Prescott, Dave Featherstone, Chris Riley with Dick Christon and Hayden Kirby seated. The photograph came from Dick Christon and used with thanks.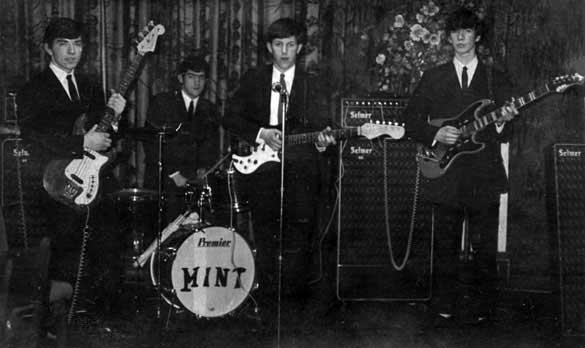 Hartlepool band, Mint, taken in 1967 at the Marine Hotel, Seaton Carew. They are Graham Estill on bass, Barry Baker on drums, Keith Edwards on rhythm guitar and Brian Edmenson on lead guitar. The band Mint started about 1965/6 with Brierton School pals Keith Edwards - singer, rhythm guitar and songwriter; Brian Edmenson, lead and bass guitar, Barry Baker drums and Graham Estill on bass. They did all the usual venues around the town at this time such as the Catcote, Red Admiral and youth club dances as well as lots of gigs in the collieries. Graham Estill went on to join Barbara Tucker in Barbara and the Estelles. Brian Edmenson did a brief spell with George Hart in Reaction before going into 70's bands in the area and then subsequently with his wife, Linda, as a duo.
The Mizares a band from the Peterlee and Horden area had several line-ups over the years. This one from about 1965/66 time shows, top to bottom, Kevin Nicholson who was the drummer and vocalist, Malcolm Wright on keyboards, Barry Williams on bass with Alan Granville on guitar. Thanks again to Malcolm Wright for this photograph.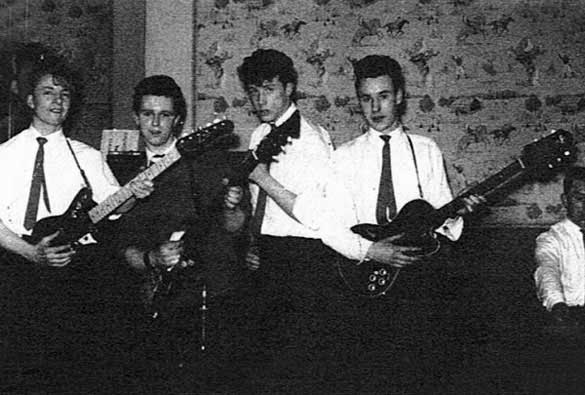 The Night Riders - Eric Boon, on the extreme left, sent this rare photograph to us from 1960. Taken at the Zetland Hotel, in Redcar, it shows Eric on rhythm guitar, Peter Dowson on lead, Mark Aynsley on vocals, Eric 'Jezz' Barker on bass and Norman Pattison, almost out of the picture, on drums. Eric has some wonderful memories about those 'good old days' he says: "I played with the Delmonts, for a short time, then I joined the Night Riders. "I often wonder where these guys, and the likes of Colin Draper and Ron Taylor, are now. "The Night Riders would play on Tuesdays and Fridays at the Zetland Hotel Redcar, and the Magnet Hotel, Grangetown with Frank Feeney's Skyliners. "We also did gigs at Redcar Pier Ballroom, the Queens Hotel in South Bank, the Linthorpe Assembly Rooms, in Middlesbrough, and Jack Marwood's Maison De Dance Ballroom, Stockton. "It was the now defunct Watkins Copy Cat Tape Echo that gave all of our groups a new and exciting sound during the 60's. "These were great times and everyone had high hopes of making it big time. "Like many of the bands we did not make any money from playing, all of our equipment was on HP we would meet members of the various bands each Saturday in Hamilton's Music Store, together with our little blue books to pay our HP Installments - I think mine was six pound a month. "I remember once being invited by Granville Leacy's Midnighters to do a gig for them at the Jack and Jill in Middlesbrough. "I think they had doubled booked this particular night. "The Nightriders played to a "full to the brim house", the audience got carried away started dancing on the tables and chairs, trouble erupted and internal damage was done - hence we were never invited back. "I eventually left the Night Riders through parent pressure to concentrate on education and a career. "It would be great to have all these bands together again for a Teesside reunion to share our memories."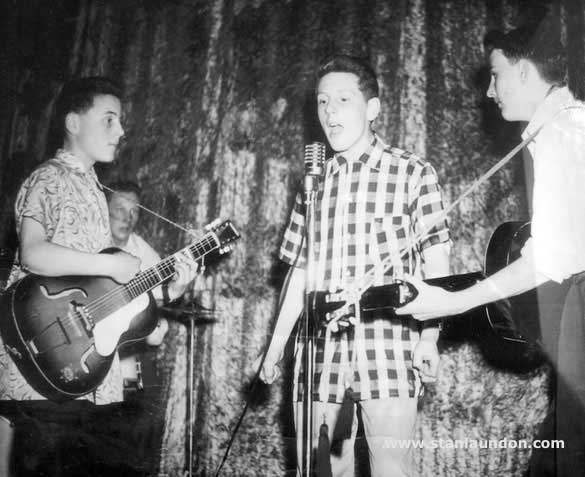 This photograph was sent to us by Barrie Glendinning and it shows the Odeon Skiffle Group from West Hartlepool in 1956. The band used to play regularly on a Saturday morning to entertain the children at the cinema. They are, left to right, Barrie Glendinning on guitar, Keith Glendinning as the singer - he didn't play guitar then - and Peter Harle on guitar. Just in view is Denny Leaf on drums but out of picture is Ronnie Millar, Barrie and Keith's brother in-law on Rington's tea-chest bass.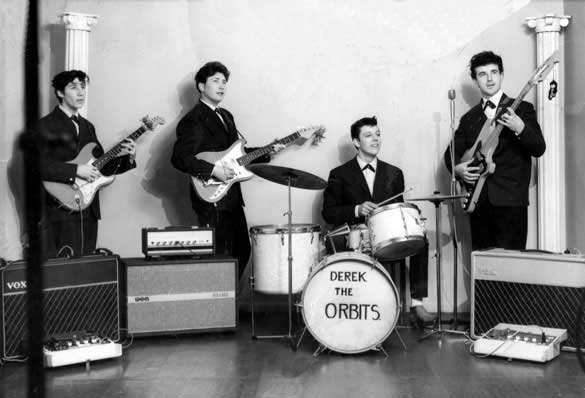 Derek & The Orbits with Charles Whyte on lead guitar, Joseph Whyte on rhythm, Allan Rowland on bass and Derek Smith on drums. Thanks to Allan Rowland for the use of this photograph.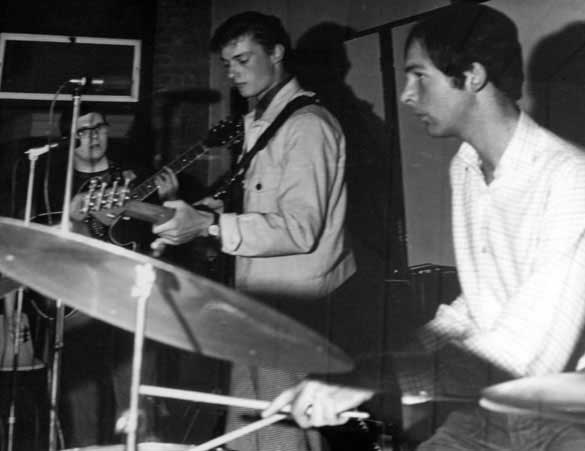 Our thanks to Ian Naisbitt for this one of The Raiders from Teesside with Ian on drums, Pete Mason on bass on the extreme left with Dick Hadfield, in the centre, on guitar and vocals. This dates to about 1965.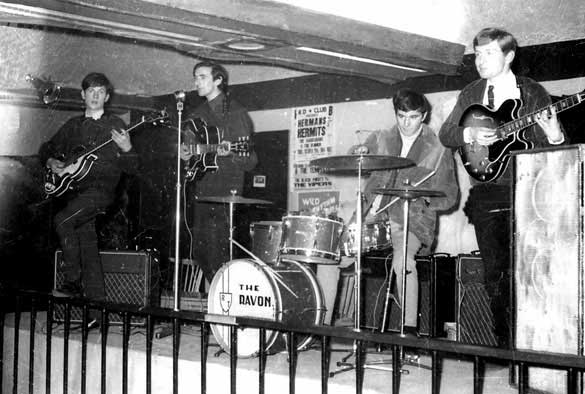 The Ravons pictured at the KD Club in Billingham in the 1960s. It came from the collection of Julian Rafferty, the nephew of Bob Thompson who played drums with the Phantoms. The line up on this picture is, from left to right, Brian Sewell on bass, Phil Wells on guitar, Robert "Bob" Thompson on drums and the late Brian Wheatley on lead guitar who died about 2008. The KD Club was the Kave Dwellers.
Founder member of The Ravons is Steve O'Boyle who played bass in the band and says: "I was a Buddy Holly nut which is where I got the name from. Brian Wheatley played lead (I remember when he got his Watkins Copycat), John Scaife on rhythm guitar and Dave Nicholas on drums. Our singer was John Etherington (Evers) and our first gig was St Mary's Youth Club in Norton for the princely sum of £5. In 1965 I left to go to college and, I believe, Les Bennett took my place. John Scaife left and was replaced by Phil Wells who is in this photo." The Ravons above are not to be confused with a Hartlepool band of the same name (below) who also did the rounds in the 1960s.
The Ravons, from Hartlepool, with band members (left to right) Dave 'Griff' Griffiths on rhythm guitar and vocals, Dave Thomas on drums, Alan Webb the lead vocalist, Clive Gallagher on lead guitar and Derek Wallis on guitar. The photographs were taken at the Touchdown Hotel in West View Road. Note the Hi-Tec amplification system - also no bass guitar. Dave Griffiths, who sent us this photograph says: "Alan Webb is the brother of Marian who was vocalist with the Comets. John Pontone being in the same band. Alan is now living in Australia, Dave Thomas lives in London. The last I heard about Shane was that he had moved to New Zealand but can't verify that unfortunately. Clive, Derek and myself are all still in Hartlepool." The photograph on the right is Shane and The Ravons also at The Touchdown Hotel in Hartlepool. The line up here is Griff on bass guitar - a Rossetti Solid 7 - a "horrible beast" he says. Others on this photograph are Derek Wallis on rhythm, Dave Thomas on Premier drums, Clive Gallagher on lead guitar (Vox Phantom-quite a punchy sound actually) and in front, of course, Shane doing his Elvis thing. Note the Selmer (Truvoice) amps - probably about 10 Watts each I would guess. The PA system was the pub's microphone set up. A far cry from the systems in use now - but fun days. Thanks to Dave Griffiths for the photographs and background information on the Hartlepool Ravons.
The Redrays at Eston & California Club with Alan Prest, Macca Booth, John Prest, Ron Taylor and Dave Skelton. Three of these young lads - Ron, Macca and John - went on to become members of The Delmonts and, on the right, The Redrays with Macca Booth, John Prest, Dave Skelton, Alan Prest and Ron Taylor who were the Talent Contest Winners at Butlins in 1958.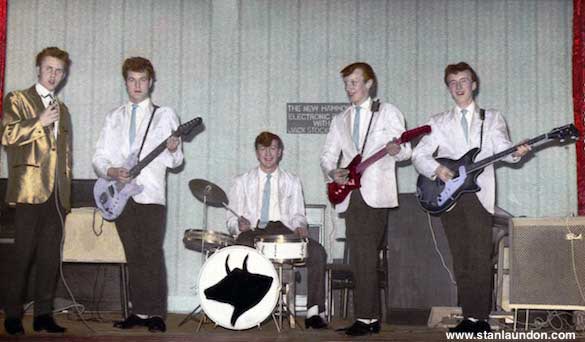 The Rustlers, taken round about September or October in 1962 at Murton Democratic Club and shows, left to right, Keith Hall the lead singer, John Wrightson on rhythm & lead guitar, Charlie Boad on drums & percussion, Ted Garrett (deceased) on lead guitar with Ken Ganning (deceased) on bass. John Wrightson, who sent us the photograph, says Keith, Ted, Charlie and himself were all the same age and were at the same school together. Ken Ganning was a year younger. The band was formed in 1961 when they all left school. Their first gig was at Ryhope Miners Hall. The Rustlers, who were from Murton Colliery, near Seaham, were in operation from 1961 to 1965, went on to play in clubs and dances all around the north east.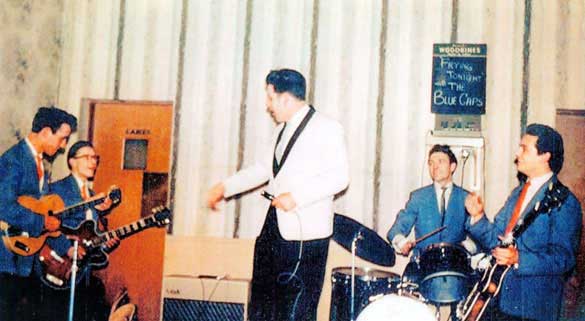 The Satellites at the Sadler's Hotel, Mandale Road in Thornaby on March 28th, 1962 showing Bill Hunter on lead guitar playing a Club 60, Peter Crisp on rhythm with a Hofner Verithin, we are not certain who the singer is but, according to Keith Roberts of The Crestas, it could well be Howard Walters. Terry Crisp is on Premier drums with Dennis Horton on a Hofner bass. The sign on the wall says "Frying tonight with The Blue Caps" with a Woodbines cigarette advertisement at the top. Thanks to Bill Hunter and Peter Crisp for passing on this photograph to Eric Whitehouse to be featured on this page.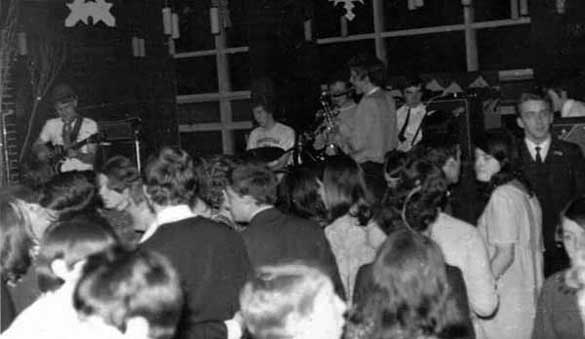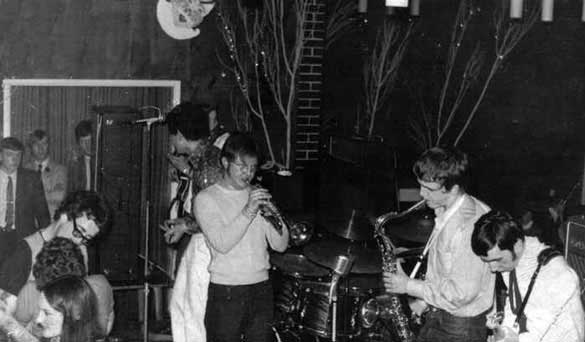 Two photographs of Soul Supply doing a live show at Whinney Banks Youth Club in December, 1967. Soul Supply member John Taylor tells me that Hartlepool's Carnaby Rags were top of the bill that night and Billy Collier (RIP) bassist with the Rags is on the left of the picture, directly above, slapping the lips on an unknown female fan!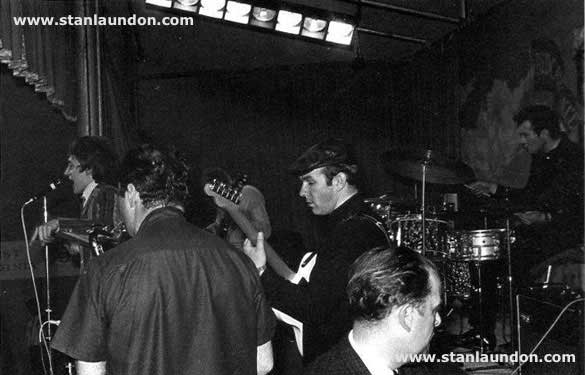 A very rare photograph which came to us courtesy of Eric Whitehouse. It shows Rod Stewart (left) on stage with the Hoochie Coochie Men at the fourth Northern Jazz Festival which was held on Redcar Racecourse on Friday, June 26th, 1964. Geoff Bradford is on Telecaster (in the centre of pic) who identifies Ian Armitt (on piano), Al Gay (on tenor sax) with the drummer being the famous session-man Carlo Little with Cliff Barton on bass just behind him. The guy in the foreground is Jim (surname unknown) one of The Blue Caps roadies who, at the time, lived in West Lane, Middlesbrough and had something to do with the running of the Bears Speedway Club on the Wilderness Road. Photograph © Dennis Weller.
The photograph on the left is from the archives dating back to 1959 and shows The Starlighters Trio with Adrian Tilbrook, aged about 13, on drums. The young man in the centre of the photograph, next to trumpeter Peter Whittet, is Barry McGurk, who later went on to become a member of the Toffees and Reaction. He now lives in South Africa. The Starlighters used to do all the charity shows for the lady on the right of this photograph, Evelyn Harrison, who also ran a Lonely Hearts Club in Hartlepool. The gentleman on the extreme left is Evelyn's husband Tommy. Who are the other people in this photograph? On the right is a photograph found by a cousin of Barry McGurk. It's the The Starlighters - or Star Lights - from circa 1961-ish with Barry, aged about 14, playing the piano, Adrian Tilbrook on drums, Peter Whittet is the trumpeter with Leslie Davis the vocalist. Barry says: "Leslie, I was told many years ago, died when she was 19. Perhaps someone out there might know? Peter is in Hartlepool and, thanks to former Toffees and Trakkers member Alan Lindridge, we have been in touch after all these years."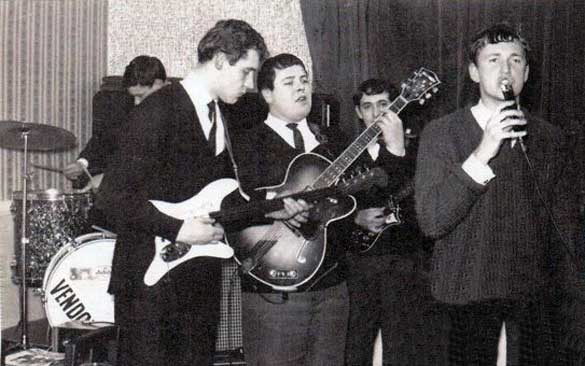 Geoff Callaghan, from Thornaby, was kind enough to send this photograph to us. It features a band called Al and The Vendors at an unknown venue on Teesside about 1963-ish. On the right is singer Alan Drew, who came from Teesville in Eston, at the rear and almost hidden is Barry Pottage the lead guitarist who came from Stockton, George Temperton the rhythm guitarist is in the centre and also from Stockton. We do not, as yet, have a name for the bassist but we do know that Geoff Callaghan is the drummer. Geoff also says that he has no contact with the guys now but sincerely hopes they are all well and, like him, enjoying their families and retirements.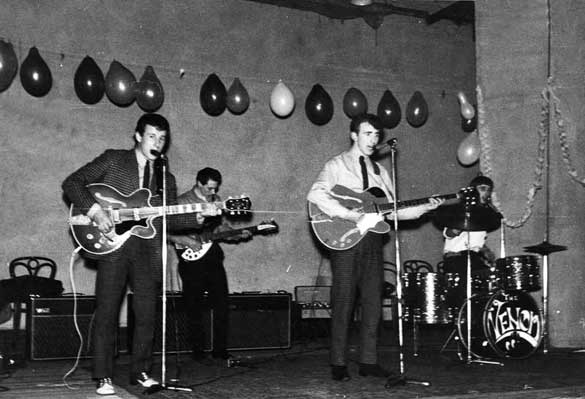 Another photograph from the collection of Dick Christon showing the band The Venom and used with thanks. Like Marquis Foxx they also came from the from Hutton Rudby area and they are, left to right, Dick Christon, Barry Bell, Edgar Hugill and Hayden Kirby.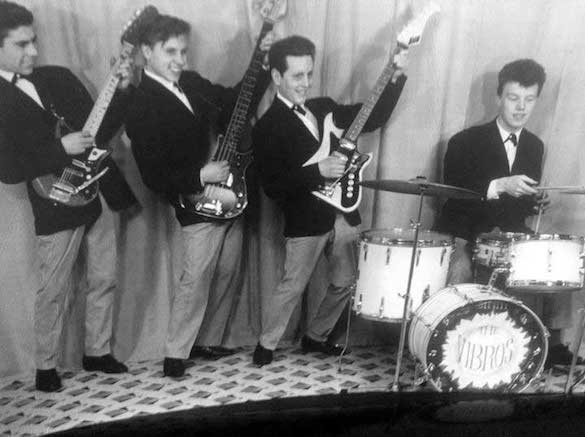 The Vibros, from Hartlepool, taken about 1960-61 and they are, left to right, Derek Evans with a Burns guitar, Derek Hatfield on Fender bass, Keith Glendinning using a Fenton Weill guitar and Simmy Reay on Premier drums.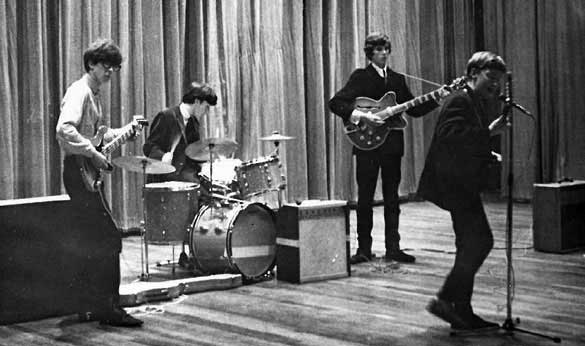 Teesside band The Zombeats taken sometime during the 1960's, It came from the collection of Graham Pearson who now lives in Fredericksburg, Texas and says: "With a name like The Zombeats, we're pretty much assured of being last place on anyone's list. And rightly so because The Zombeats were of little significance to the Teesside music scene in the 60's. "This is the only picture I have of The Zombeats, taken by Jonathan "Johnny" Longstaff at the Billingham Technical College in 1964 or 1965". From left to right are Graham Pearson with a Hofner Colorama playing through a home-made combo amp, Jonathan "Johnny" Crowther on drums, Godfrey "Goff" Pragnell with a Hofner Verithin playing through a Vox AC30 (extreme right) with Howard "Captain" Morgan on vocals playing a right-handed guitar left-handedly, playing through a Selmer Truvoice TV12/T (Blood & Custard) amp (in front of drums). Graham Pearson, who is still active these days adds: "Johnny Longstaff, Goff and I were in the same class at Stockton Grammar School. Les Bennet, bass player and vocalist with The Blue Caps, was also at Stockton Grammar, a couple of years older than us. Sadly, Goff died in 1994. Johnny Longstaff went on to teach at Teesside Polytechnic. I've had no contact since the 60's with the other members of the band".
The Google monkey and bass playing monkey on this page were created by Dave Sutton graphics and free 3D animated gifs for web sites.
This website is not responsible for the content of external internet sites