CHELFONT LINE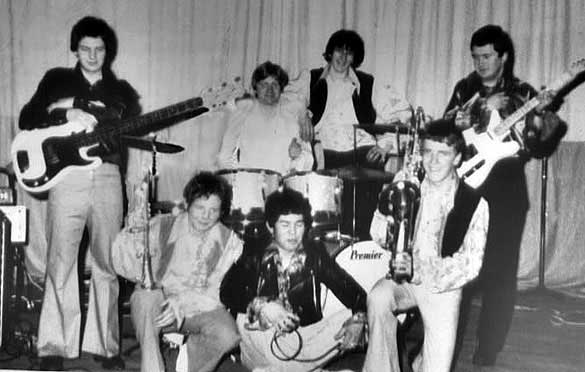 The Chelfont Line from late 1967 with Mickey Rowe on bass, Norman Smith on drums, next to Norman is Barry Robinson on keyboards and Wally Latheron on guitar. In the front row is John Taylor on trumpet, Paul Cattermole on vocals and Rob Atkinson on tenor sax.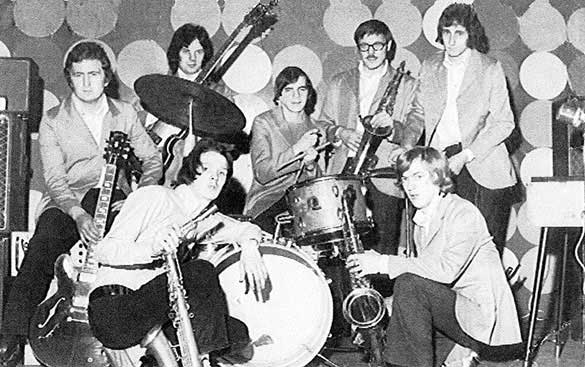 Thanks to Dave Struke (Stukey) of the Chelfont Line for this photograph which shows, in the back row, Wally Latheron on guitar, Mike Rowe on bass (ex-Psycho 67 with Colin Bradley), Tony Relph on drums (Tony went on to play with the Eric Delaney Band and became a session drummer and married Lesley Judd the former Blue Peter presenter. Sadly Tony is no longer with us), George Trigg on tenor sax, (ex-Denmen) and Barry Robinson on keyboards (ex- Elastic Band).
In the front row is Stuky on vocals and frontman clown (ex-Those Responsible and Psycho 67 with Colin Bradley). Stukey went on to become Comedian Jim Davidson's Batman and Road Manager), Paul Rhucroft on tenor sax and alto sax (ex-Denmen) completes the line up.
This photograph was after John Taylor left in 1969 to join a band called Harvest with Rod Millgate - the infamous 'jock' keyboard player, says John.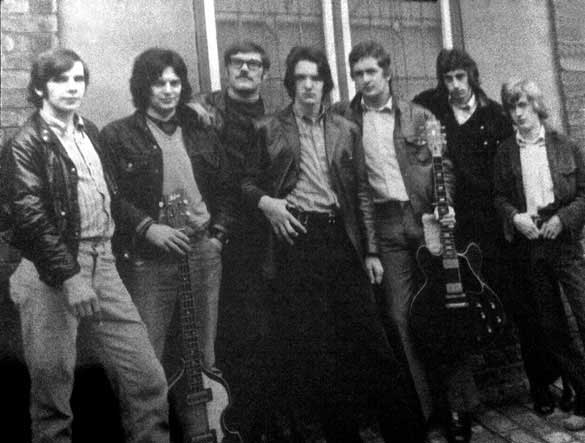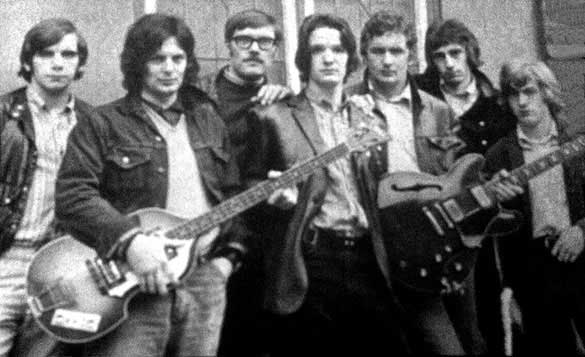 Two more old photographs of the Chelfont Line which came to us courtesy of Margaret Atkinson in New Zealand. John Taylor has kindly provided the line up which shows, left to right, Tony Relph on drums, Mick Rowe on bass, tenor sax player George Trigg, Dave "Stuky" Struke on vocals, Wally Latheron on guitar, Barry Robinson the keyboard player with Paul "Rookie" Rhucroft on baritone & alto sax.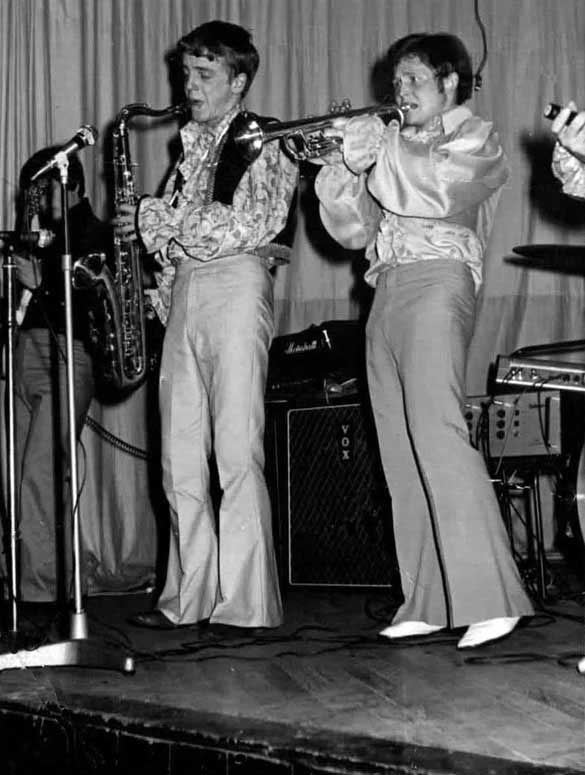 This photograph of the Chelfont Line has Mickey Rowe on the far left on bass guitar, Rob Atkinson on tenor sax and John Taylor on trumpet. Just out of the picture is vocalist Paul Cattermole.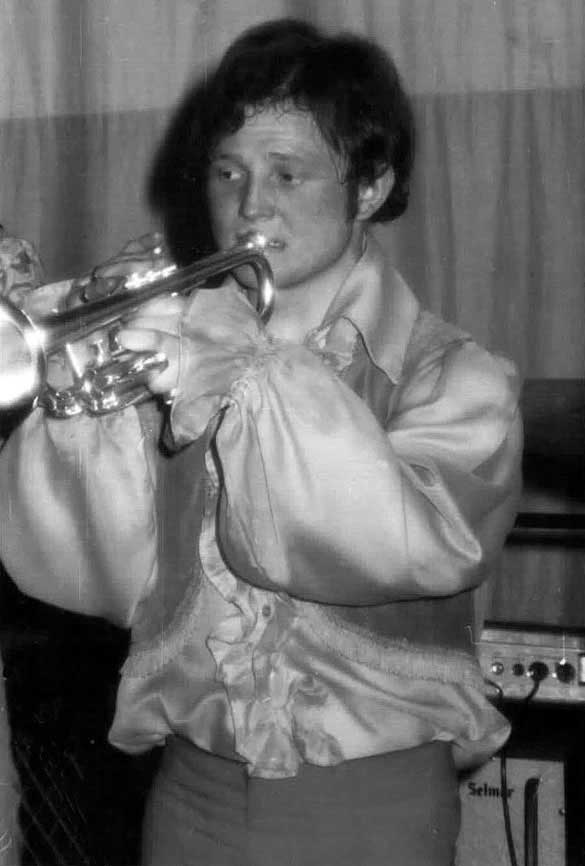 Trumpeter John Taylor in a loud shirt - taken about 1967. The band were fashion icons in those days!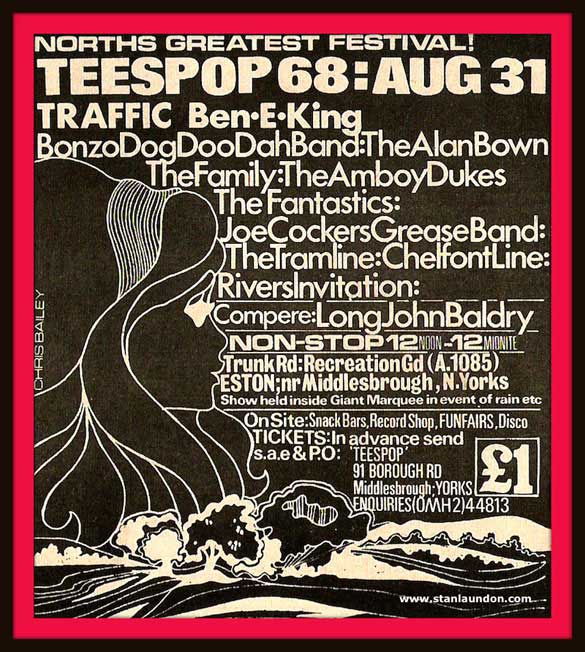 This poster, designed by Chris Bailey, goes back a few years - to 1968 actually. The North's Greatest Festival! Teespop 68 with an impressive list of star studded names including Traffic, Ben E. King, Joe Cocker and Long John Baldry with local bands in support including Tramline, Rivers Invitation and, of course, Chelfont Line. Not bad for a quid!
Chris Bailey, the poster designer, says: "I think I was about 20 years old when I worked on that publicity material. In those days it was all hand-drawn artwork, with 'overlays' for colour. My mother's dining room table was occupied for about a week when the large 20" x 30" poster was being designed. Sadly, the last copy of the poster I had (in Purple & Silver ink/ silkscreen), I loaned to a friend - you can possibly guess the rest."

Teespop 68 - Teesside's Forgotten Pop Festival? They say if you can remember the sixties then you can't have been there, but Woodstock '69 and the Isle of Wight '69, were the classic rock and pop festivals that can surely never be forgotten. But who remembers Teespop 68? It seems incredible now but at the height of the swinging sixties, Teesside held its very own Rock Festival. The year was 1968 and the event, named "Teespop" was organised by a young impresario called John McCoy with a line-up that included some of the most famous names on the music scene at that time. Yet hardly anyone seems to have been aware of it and very few people can remember it. Perhaps it was Teesside's forgotten rock festival.
This page is dedicated to the memory of Wally Latheron (11.9.2023), Tony Relph and Paul Rhucroft.
This website is not responsible for the content of external internet sites.

You can search this site with Google
Copyright © Stan Laundon.com