THE KALVINS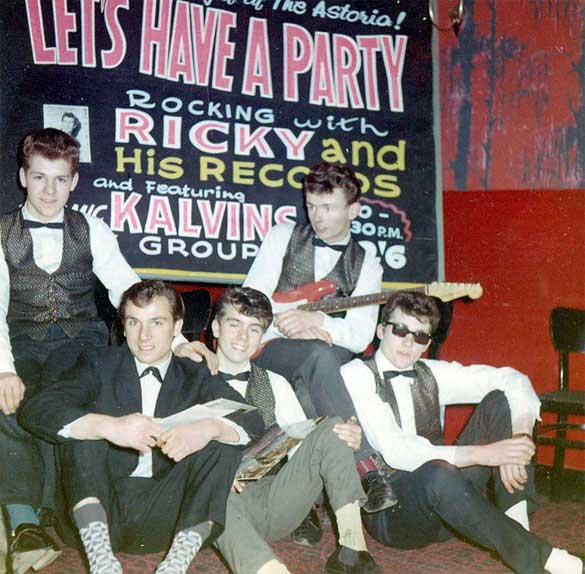 The Kalvins in the lobby of the Astoria, in Middlesbrough where they were resident for a while. This was in 1962 and they are, from left to right, George Kitching on rhythm guitar, Colin Stokes on vocals, Terry Popple on drums, Dennis Trowbridge the lead guitarist with Ernie Endean on bass.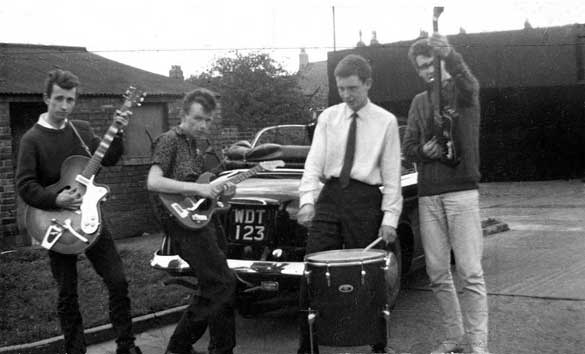 The Kalvins from the collection of Bob Whymark and showing Bob on rhythm guitar, Dennis Trowbridge on lead guitar, Giles Young on drums with Ernie Endean on bass.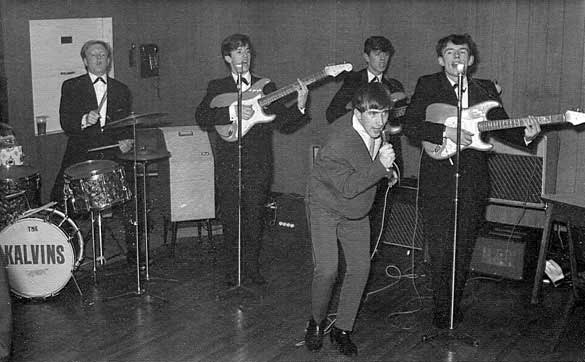 The Kalvins at the Coatham Hotel, in Redcar about 1964. It shows Decca Carr on drums, Ian Morrison on rhythm guitar, Les Bennett on bass (he went on to play with the Blue Caps after this band split up) Dennis Trowbridge on lead guitar and Albert (ex Blue Caps) Smith on vocals.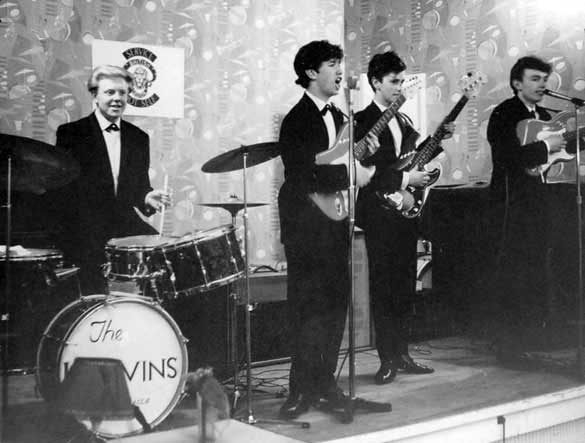 We have no information about this photograph - apart from being The Kalvins, of course. However, that badge on the wall, behind drummer Decca Carr, does look like the British Legion emblem.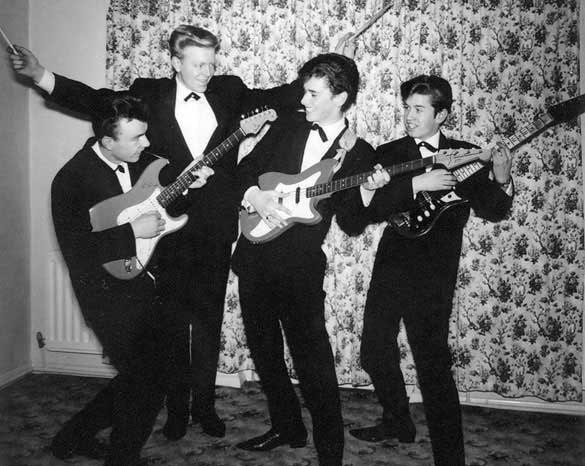 A publicity photograph in somebody's front room!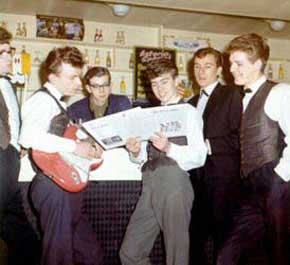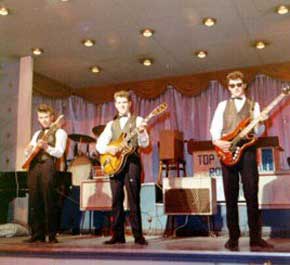 Above (left) is another publicity photograph of the band. The gentleman at the back was their manager at the time, Mike Almond. Dennis Trowbridge is holding his treasured red Fender Stratocaster. The photograph on the right was taken at a "much more classy joint" according to Dennis. It was at the Top Rank Astoria in Middlesbrough - one of the biggest halls in the North of England which played host to the Beatles, Gerry and the Pacemakers and such like. The Kalvins were resident group. The Beatles actually played at the Astoria Ballroom in Middlesbrough on June 25, 1963 - not to mention the Globe Theatre in Stockton on November 22, 1963 and again on October 15, 1964.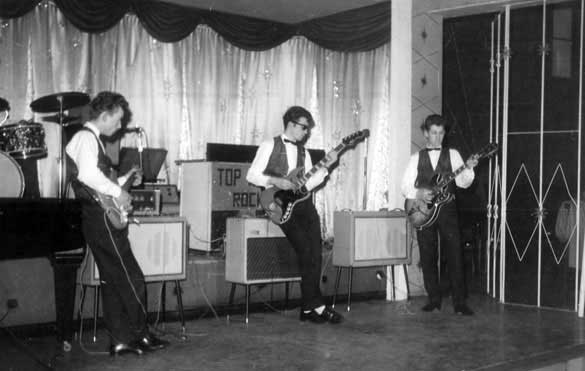 Another rare photograph of the band which was kindly submitted to us by rhythm guitarist, George Kitching. Left to right is Dennis Trowbridge on lead guitar, Ernie Endean on bass with George Kitching on rhythm. It was taken in the Astoria Ballroom, Middlesbrough in 1963.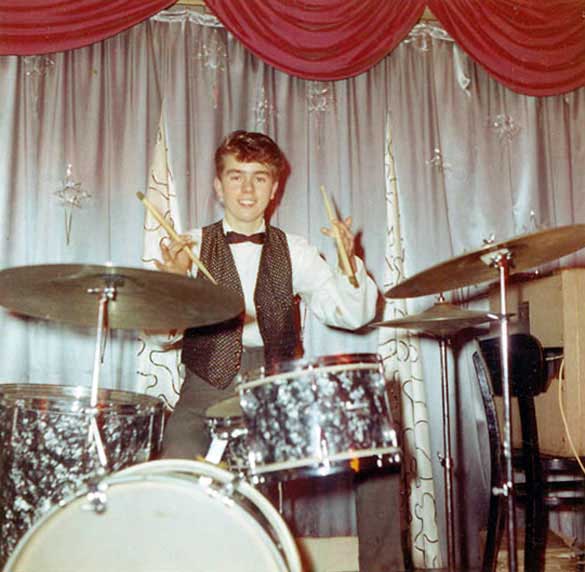 Drummer Terry Popple, the only group member to make it "big" and he was only a little guy!
This was featured in the Evening Gazette, Middlesbrough, on March 7th 1964 and shows Trevor Watson from Middlesbrough on bass guitar, Dereck "Decca" Carr from Thornaby on drums, Ian Morrison of Stockton on rhythm guitar and the group's manager and lead guitarist was Dennis Trowbridge, from Nunthorpe.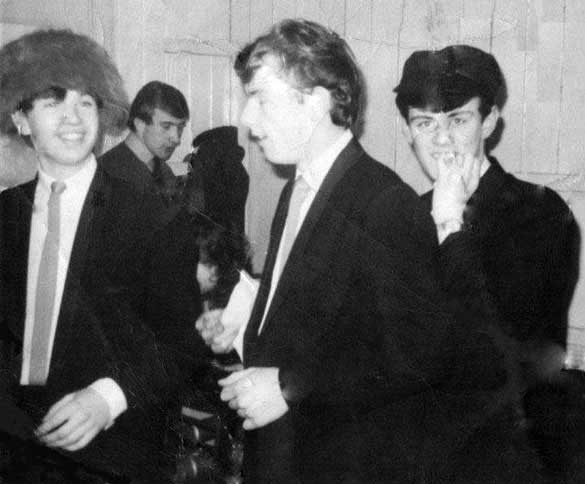 Eric Whitehouse, of the Blue Caps, was kind enough to send this photograph of The Kalvins to us. It shows Ian Morrison, Dennis Trowbridge, Les Bennett and Tony Martin. Both Les and Tony, whose real name is Albert Smith, were later to join the Blue Caps.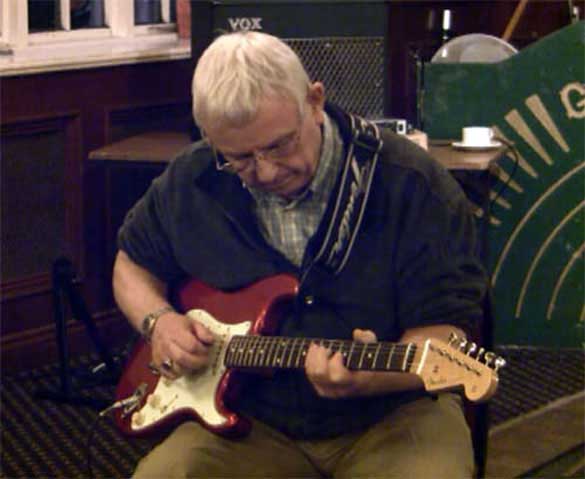 This page is dedicated to the memory of George Kitching who passed away peacefully at his home on March 19th, 2020, aged 78, and to Dennis Trowbridge (above) who passed away peacefully in his sleep on October 12, 2007.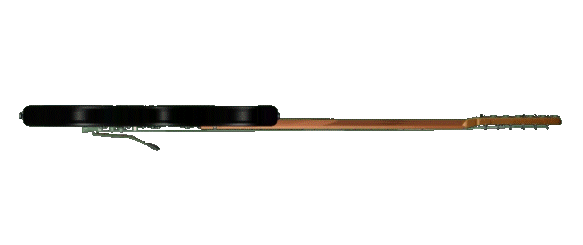 Fender Stratocaster by Dave Sutton
The Google image and bass playing monkey on this page were created by Dave Sutton graphics and free 3D animated gifs for web sites.
This website is not responsible for the content of external internet sites