THE DENVERS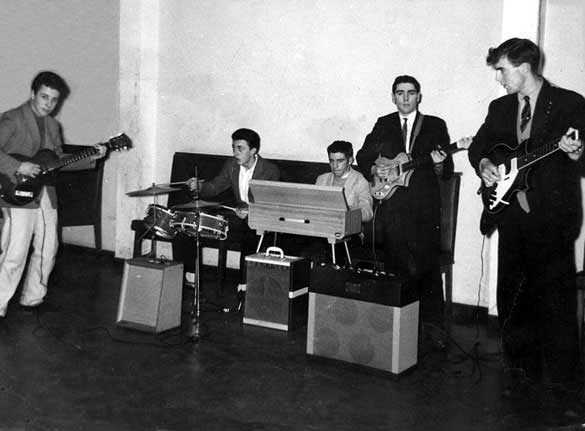 The Denvers started in the late '50s as a school band from Grangefield Grammar School in Stockton, playing school dances and functions, and the odd pub! Roy Smith (the founder) is seen on the left clutching his prized Hofner Colorama.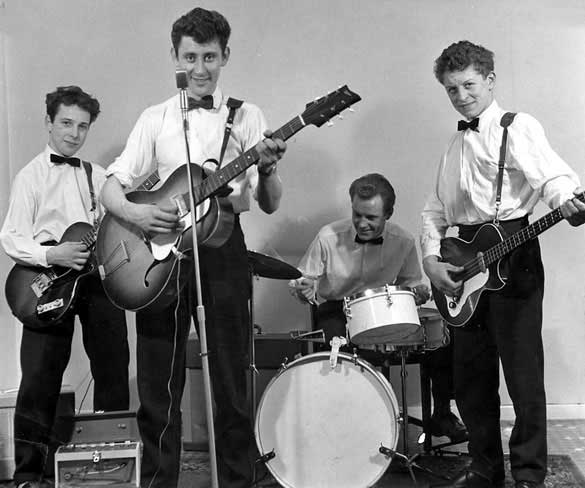 As time and a half went by, early members were shuffled to include Johnny Maunder (from West Hartlepool) and his pal Johnnie Hebb (also from Hartlepool) on bass. John Maunder was one of the best Elvis impersonators around at the time.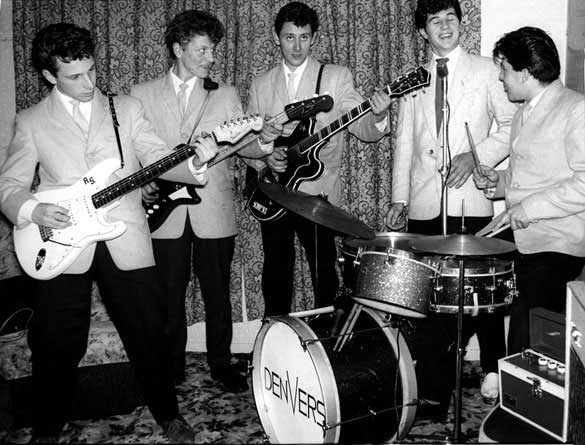 In 1960 adding a full time drummer Ron Telford, from Stockton, and singer Johnny Rocco, a "Smoggie," and some better equipment, the band made it's name at such vibrant spots such as the Maison de Danse, the Empire Continental and the Saddlers Arms in Thornaby.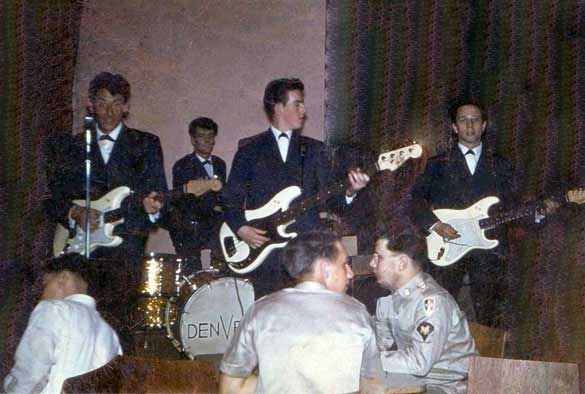 Johnny Maunder on rhythm guitar, Louis Johnson on drums, Brian Ashcroft on bass, and Roy Smith on lead during late 1962.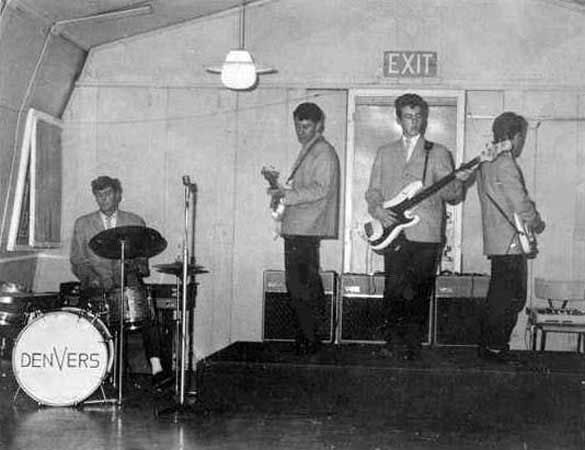 The two photographs immediately above came to us courtesy of Terry Metcalfe. Roy Smith says: "Terry has provided a couple of milestone photographs here which certainly bring back some memories and fill a huge gap in our photo-history. "I must say I would have wagered money that we never used Vox amps, but here is proof." The photos are early in 1961 with new members bass man, Brian Ashcroft, and drummer, Louis Johnson with Johnny Maunder and Roy Smith during the bands first tour of France, pre-girl singers!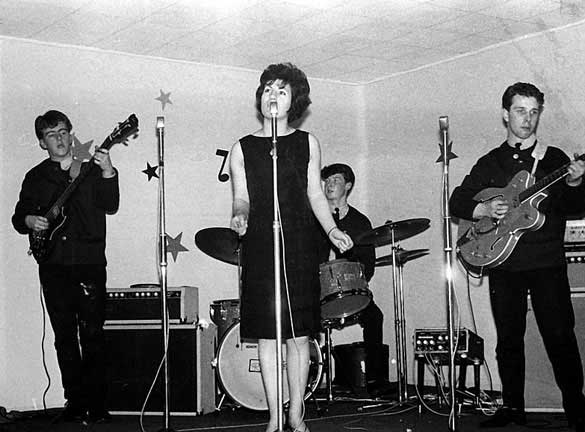 In 1961 the group got work in France where they teamed with London vocalist Jenny Paul. During this period their manager was Sam Curtis, who had been formerly connected with The Shadows.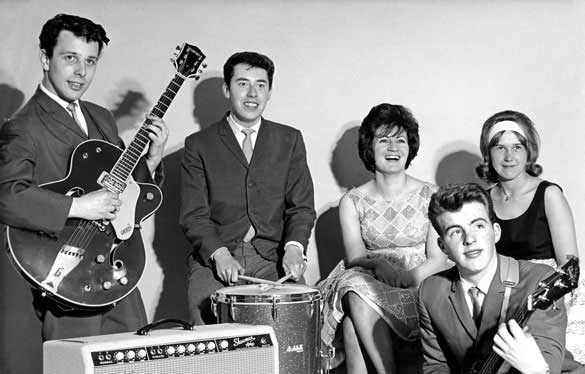 Adding another female vocalist (Pauline Riley from Norton) this studio shot featured a stand in drummer for the newly hired Adrian Tilbrook (who couldn't make the photo session) Brian Ashcroft from Billingham. There was also a stand in Gretsch Country Gentleman guitar held by Roy. His original order of a Gretsch Country Club arrived at Burdons, on Yarm Street, damaged and the only quick replacement was a garish orange Gretsch 6120 - Chet Atkins model.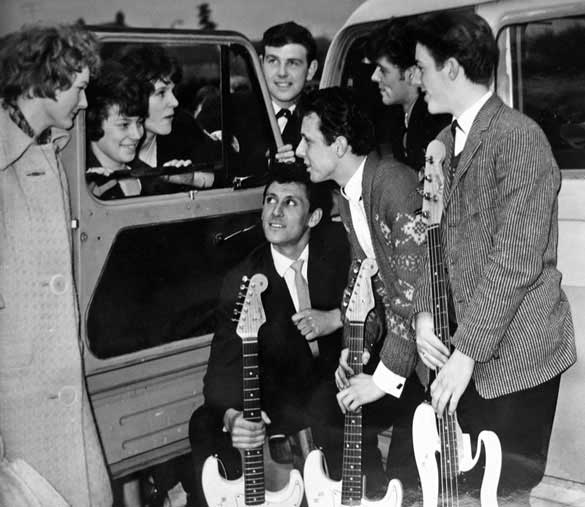 This photograph was sent to Roy Smith by Brian Ashcroft showing the band as it left Billingham for the first tour of France in 1962. The ladies are the wives and girlfriends of the group, and the gent on the 'wrong side' of the van was Howard Flattely, a singer who, because of an apprenticeship at ICI, was unable to join the tour.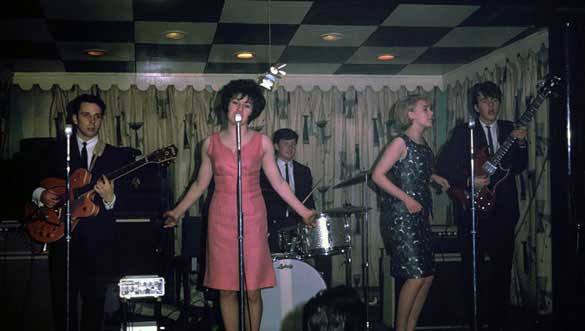 Jenny performs the group's song "Mix It Up" in the presence of a dangling rabbit in 1963.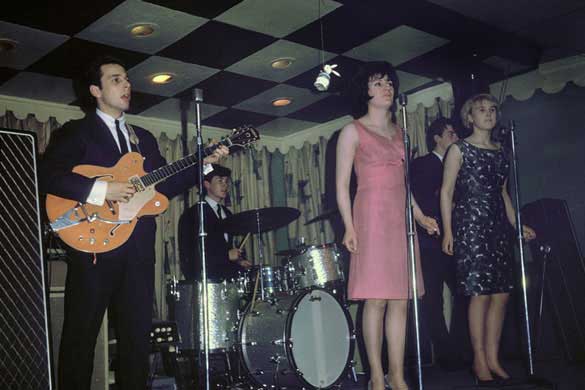 What would groups back in the day have done without the infamous Reslo mics?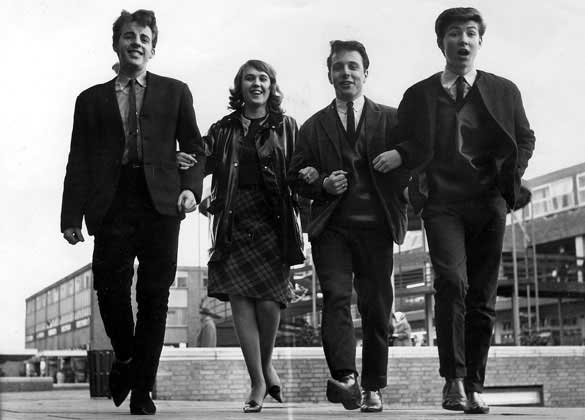 A 'Welcome Home' picture, taken by the Billingham Express, show Brian Ashcroft, Pauline Riley, Roy Smith and Adrian Tilbrook. Jenny was absent from the group as she was at her home in London at the time. The photograph dates to 1963.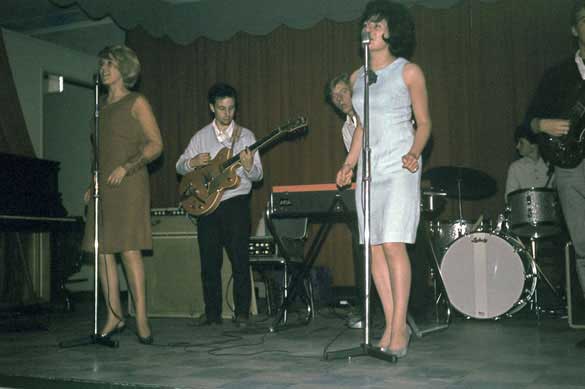 A Casual Clothes Concert during the band's last month together, September 1964.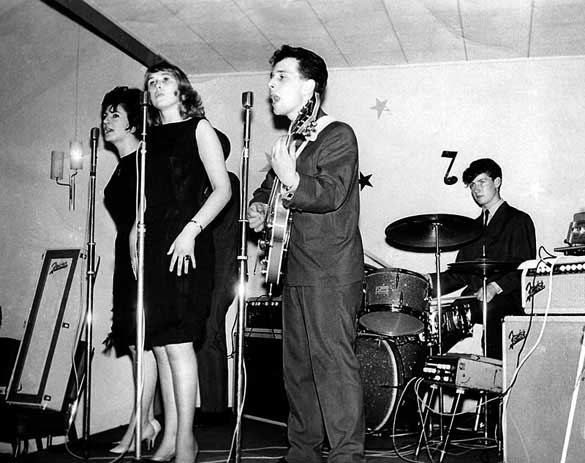 Towards the end of the final days of The Denvers with Jenny, Pauline, Roy and Adrian.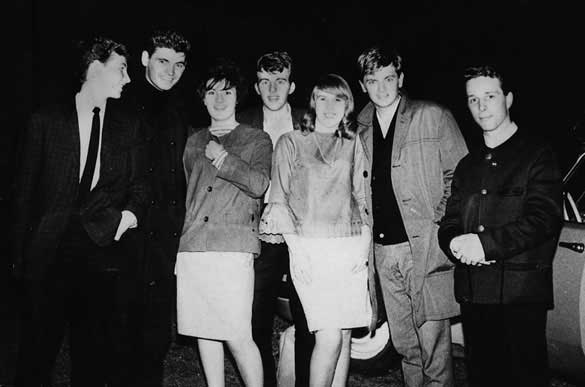 Thusly equipped, the band in its final configuration, returned to France playing on their own account, and occasionally backing luminaries like the Everly Brothers, Billy Eckstein and The Platters....and the Everly Brothers - Don and Phil - are pictured above with The Denvers in France. It was during this period that Roy was solicited from The Shadows organisation to replace Jet Harris on the Harris/Tony Meehan British tour promoting their current hit records. As the Denvers own record deal was then in the works, he declined!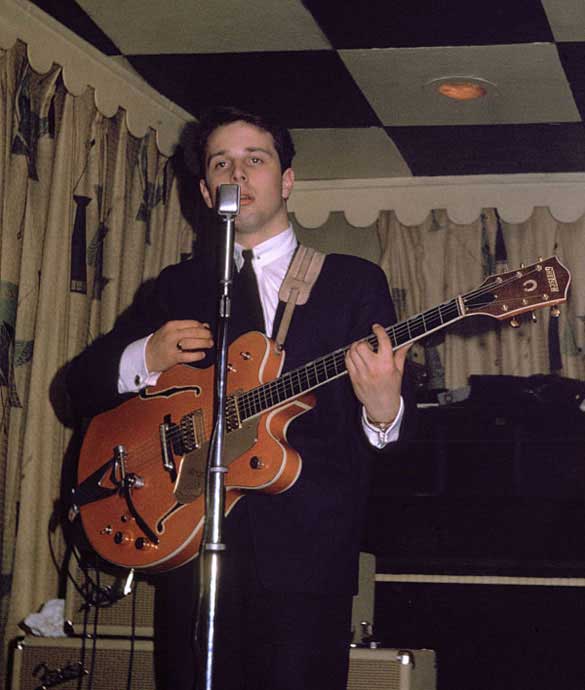 Roy Smith - the Denvers lead guitarist and vocalist.
Roy Smith had a pleasant surprise bought for him during May 2014. He was visiting his youngest daughter, Alison, in Vancouver. When he arrived she "blew his mind" as she presented him with this amazing gift of a Gretsch guitar!
Thanks to Roy Smith for sharing his thoughts, memories and valuable collection of photographs to help make this page possible. Thanks, too, to Brian Ashcroft, Barry Frank and Terry Metcalfe for their contributions.
This page is dedicated to the memory of Johnny Rocco and John Maunder (1941-2010)
This website is not responsible for the content of external internet sites