THE PHANTOMS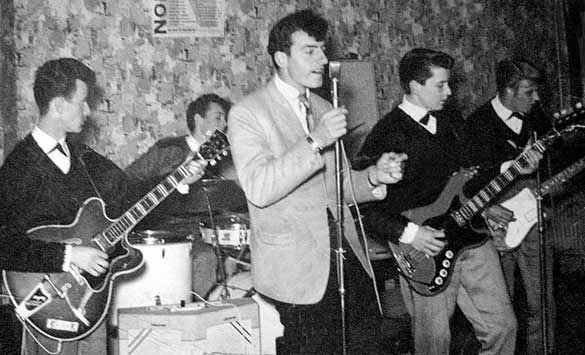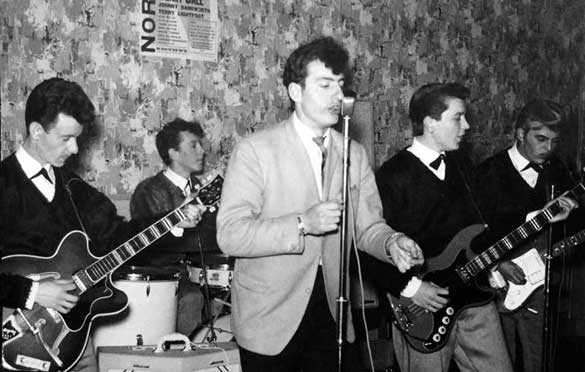 The band started out as Troy and the Phantoms in 1962 and these two rare photographs shows, from left to right, Alf Meredith founder member of The Phantoms with John Astbury on drums, Keith Thirkell lead vocalist, Terry Sidgwick on bass and Tom Ludley on guitar. The photographs were taken at the Zetland Hotel in Redcar.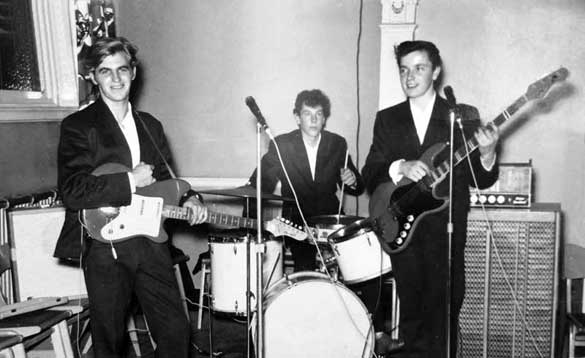 In rehearsals with Tom Ludley, John Astbury and Terry Sidgwick. Tom thinks that the photograph was was taken in The Brunswick Hotel in Stockton. The year was 1961.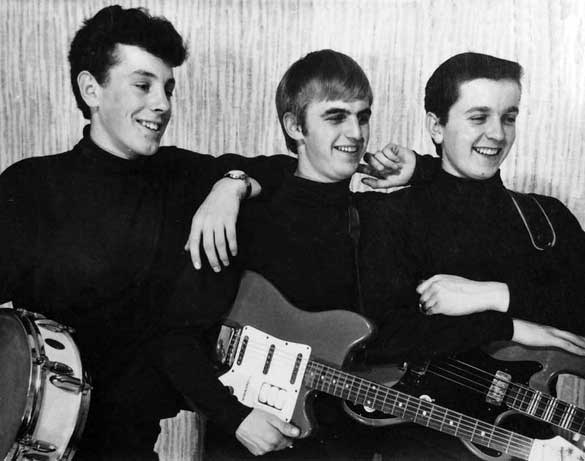 From 1962 this one is with John Astbury on drums, Tom Ludley on lead guitar with Terry Sidgwick on bass.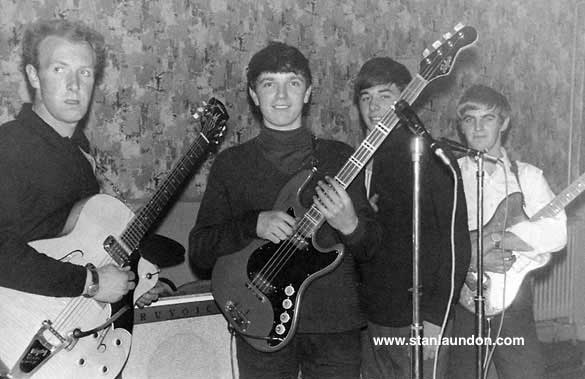 The Phantoms, in 1963, with the late Terry Russell on guitar, Terry Sidgwick on bass, Bob Thompson on drums with Tom Ludley on guitar. Terry Russell is using an Australian Maton guitar on this photograph with a Bigsby Tailpiece, bassman Terry is using Hofner and Tom has a Futurama. Note the Truvoice amplifier at the back!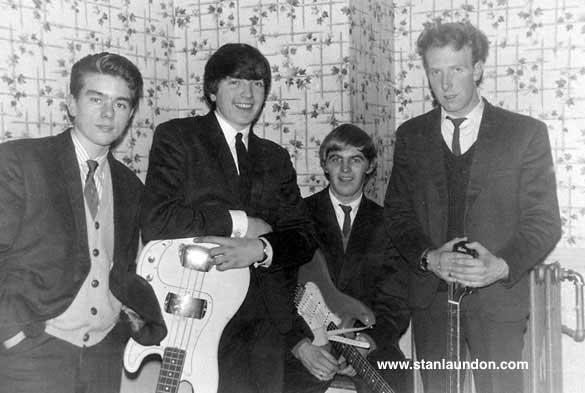 The Phantoms, a year later in 1964, with the Terry Popple taking over from Bob Thompson on drums, Terry Sidgwick the smiling bass player, Tom Ludley is seated with a Fender Stratocaster and Terry Russell is on the right. Tom says: "At the time this photograph was taken, Terry was using Ludwig drums. The amplifiers we used were Linear Concords 50 watt with homemade speaker cabinets. The Truvoice amplifier was used as a pre-amp to pump up the power and treble. We used a Selmer PA system with Shure microphones. Terry Sidgwick and myself did the vocals. Terry Russell, Terry Sidgwick and myself all come from Middlesbrough with Bob Thompson hailing from Stockton."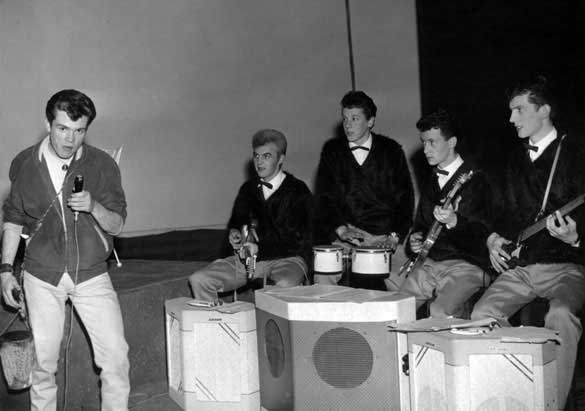 This is a photo shoot at the Middlesbrough Little Theatre for the promotion of the musical 'Expresso Bongo' which was performed at the theatre for two weeks in 1962. The band provided the backing for the actors and singers for the show. The Phantoms were accompanied by Colin Tarn on piano, who was the shows musical director and arranger. Colin Tarn was Alan Ludley's music teacher at Ayresome School in Middlesbrough, and Colin also lodged with the family for a number of years. Rehearsals took place at Tom Ludley's house in Gresham Road, Middlesbrough. The band then had dress rehearsals at the theatre for a number of weeks before the show opened. 'Expresso Bongo' was a huge success and sold out every night. Members of the line up are John Marron actor/singer (he used to play washboard in the Rebels skiffle group with Tom in the late 50's) Tom Ludley on lead guitar, John Astbury on bongos, Alf Meredith on second guitar with Dave Bromham on bass.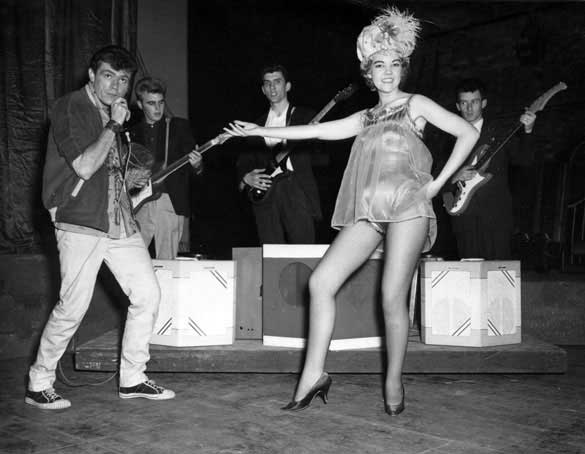 A shot during the 'Expresso Bongo' show with the same line up, plus unnamed actress. The raised platform the band were playing on was was pulled on, off and across the floor by stage hands in the wings by means of ropes. John was on his own similar platform with his drum kit. He was also pulled on and off stage. Tom says: "How they all didn't fall off they'll never know!"
A History of The Phantoms as told by Tom Ludley:
"In 1961 I was asked to join Troy and the Phantoms to replace Terry Aspinall on lead guitar by the late Alf Meredith who was the founder member of the band. Alf used to listen to me and Alan Ludley practice our Buddy Holly songs in the front room of our house in Gresham Road, Middlesbrough, and thought about improving the line up. We had rehearsals in the Settlement Hall, on Newport Road, what a load of rubbish we were, but how exciting! "Count me in" was my answer. The next new member was lead singer Keith Thirkell, from Stockton. He had a voice of a tenor and a good 'rocker.' He replaced Sid from Thorntree. I can't remember his surname, but the band improved. Next to be replaced was the drummer but he owned the microphones - so it was back to the drawing board - the answer was buy more mics or get a new drummer! 'Rocker Rollo' turned up but didn't have a bass drum pedal, he kicked the drum, sounds funny but true. He lasted two days!" The next drummer was a family friend called John Astbury, he was still at school and played in a band called The Sabres. He was a good drummer and fitted in well (John lives in Spain now and still plays with a rock band out there.) We were playing a lot tighter, and with more punch now, and after a few more months of rehearsals were ready for our first gig at The Sadler's Arms, near the Five Lamps in Thornaby. The problem was no transport! We got on the 'O' bus in Newport Road with all our gear, guitars, two Watkins Dominator Amps, a Watkins Copycat echo chamber, microphone and stand and a kit of drums, most of which fitted under the stairs and the rest on our knees. We got some strange looks and comments but who cared. We had a good night and were on our way to stardom, a couple of teddy boys kept grabbing the mic and telling us to play "Be-Bop-A-Lula" while they sang, all their mates egging them on and giving them a lot more applause than what we got. A £4.00 pay-day rock on, it was worth it!"
"The second gig was at the Oddfellows Arms, again in Thornaby. The transport was upgraded, I borrowed John's dad's car, a Morris Minor estate, all the gear squashed into the back - no room for the lads - so they got the bus to Thornaby and met John and I at the pub. Of course, the back doors of the car wouldn't shut so, with a piece of rope keeping the back doors almost closed, we set off. Sod's law, a hundred yards down the road we lose a mic stand and cymbal, but didn't discover they are missing until we got there. The gig goes well until the second set, a guy stands up and socks Keith the singer in the face and tells him he's sh**e! That's when the fight started. Keith hit him back others joined in, the band joined in, all the room joined in, tables, beer, bodies and instruments all over, but order was restored and we continued to play - me with a sprained wrist, Keith with a bloody nose, Alf with a cut eye, John with broken drum stand tied up with the back door rope. Only Dave, the bass player, escaped unscathed because he disappeared into the toilet (his days in the band were now numbered as we watched after each other as mates, but he did a runner.) All this for another £4.00, was it worth it? Of course it was! It was just the beginning of many years of similar stories to tell. I could write a book just like any band."
"By now my brother Alan wanted to start up a band, he could play all the numbers The Phantoms played, as we as we practiced guitar together each day, and so the first Bachelor Boys were formed. The very first members of the band were Alan Ludley on rhythm guitar, Arthur Westbrooke on lead guitar, Tubby Ayton on bass with Mike Gutteridge on vocals. Alan, Arthur and Mike were in the same class at Middlesbrough Art College. The Bachelor Boys' first booking was at Joe Walton's Boy's Club and then they played at least two bookings with that line-up at the Black Horse, on Billingham Green. The landlord then asked us to get a drummer as the customers were breaking glasses as they were banging them on the tables in time to the beat. Alan Cave then joined the group. That line-up lasted about five months and then Arthur and Alan Cave left. We then became a four piece group. Mike Gutteridge played the guitar and sang along with Alan Ludley - and then Dave Ritchie joined us to replace Alan Cave on drums."
Terry Sidgwick, who was one of Alan's schoolmates wanted 'in' on the band, but Tubby was good and Terry couldn't play any instrument. Buy yourself a bass and I will do the rest was my answer. He did, and after a bit of tuition and three months later, he replaced Dave Bromham on bass guitar. With the music scene rapidly changing, our tenor voiced singer Keith Thirkell decided he would quit the group, which left me and Terry to take over the vocals. The Phantoms line up now was Alf Meredith on rhythm guitar, Tom Ludley lead guitar, Terry Sidgwick bass with John Astbury on drums."
"The next change in the line-up came as a shock as Alf, who was the founder member, quit the band to spend more time with his family. We were playing three or four nights a week, plus a night to rehearse. We continued as a trio for months but this limited the songs and especially the instrumentals that we could play - the money was good, £5.00 split three ways. On visiting The Gladstone over the border one night, The Fireballs were performing. Malcolm Buckton (Buck) and Terry Russell were the members I knew. I was very impressed with Terry on guitar. Terry lived in Craven Street, just off Gresham Road, around the corner from me. The next day I approached him to join our band. He came to rehearse with us and joined. Terry Russell was a very talented guitar player and very advanced for the 60's era. I remember playing at the KD Club, in Billingham, on the same bill as John Mayall's Bluesbreakers who had a young Eric Clapton on guitar. Clapton stood at the side of the stage and never took his eyes off Terry all through our set, even 'he' was impressed by Terry's talent".
"John Astbury, our drummer, then joined the army, he went to Wellbeck College then onto Sandhurst where he became an officer. Bob Thompson took over for about six months, although he was good, an outstanding drummer, a young Terry Popple was making a name for himself. On seeing him play with the Kalvins, we were very impressed and ask him to join our band. The line-up was then settled for the next few years. A Tom and three Terry's: When Terry Russell decided to give up playing with us, we went back to just playing as a three-piece for a while before we brought in George Trigg on tenor sax. The band stayed with that line up for approximately another year. When the band broke up Terry Sidgwick and Terry Popple went onto play with Micky Moody and John McCoy in Tramline. At a later date Terry Sidgwick played with Georgie Fame and the Blue Flames and Terry Popple with Van Morrison. George went to play with The Denmen and I hung my guitar up for a few years. I played with acoustic band called Calendar in the early 70's for a couple of years, then packed it in altogether. These days I only play up in the loft now - along with the old rock 'n' roll records. In my opinion the 1960's were the best years for music. I'm glad I was around and part of it and wouldn't have missed it for the world. I've got loads of happy memories and met a load of great guys."
This page is dedicated to the memory of Alf Meredith and Terry Russell.
Copyright © Stan Laundon.com