RHYTHM RIDERS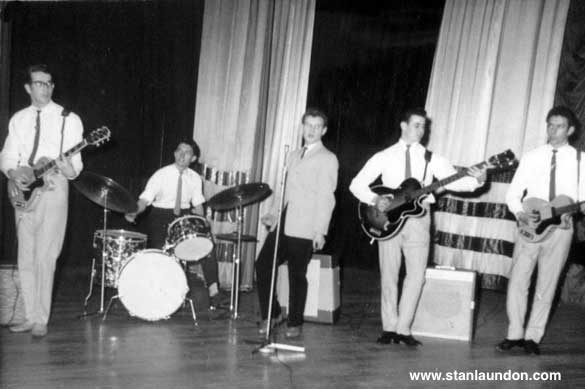 The Rhythm Riders at the Empire Continental, in Middlesbrough, with Paul French on rhythm guitar, Harry Simpson on drums, Ernie Goult on vocals, Les Davison on bass with Trevor Blackwell on lead guitar. The band did several residencies at the Empire Continental and even a few terrible 'end of pier' variety shows when Redcar still had a real pier.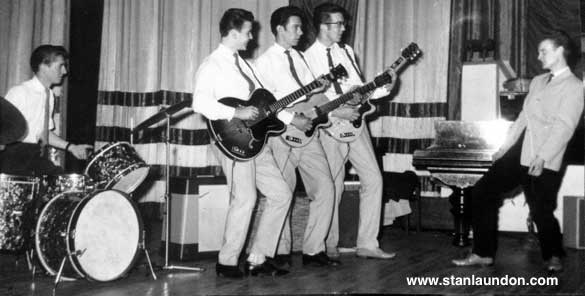 The band also at the Empire Continental with Harry Simpson, Trev Blackwell, Les Davison, Paul French and Ernie Goult.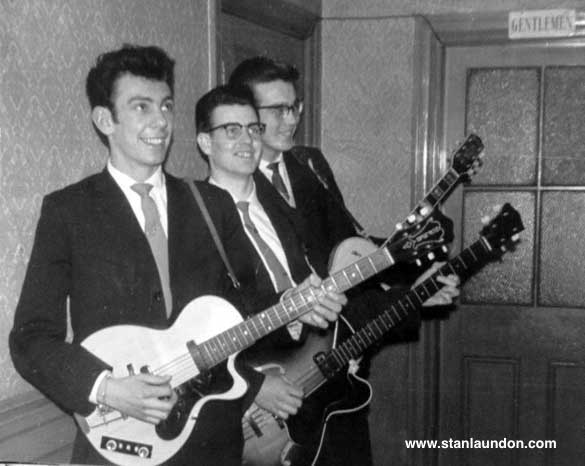 Star dressing room facilities at The Red Lion, in Redcar, with Trev Blackwell, Les Davison and Paul French.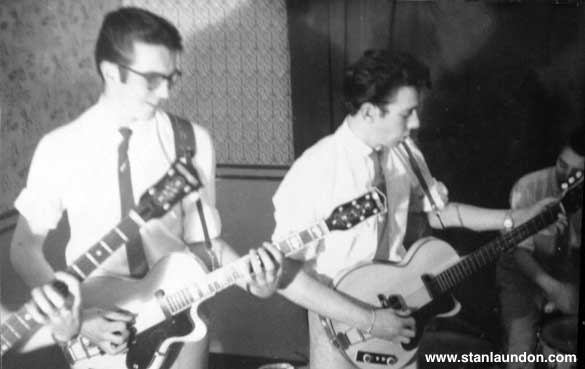 Les Davison's hand, and neck of the bass guitar, is just in the picture with Paul French, Trev Blackwell and Harry Simpson at KIng's Cafe in Redcar.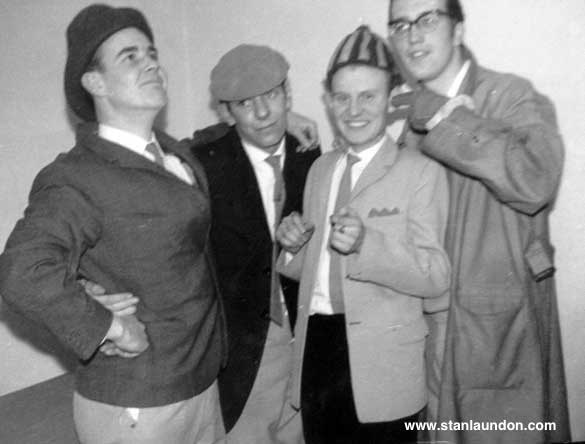 Les Davison, Trev Blackwell, Ernie Goult and Paul French - don't ask!
The Rhythm Riders story as told by Paul French:

"The Rhythm Riders were based in Redcar and I joined when I was 15 after an introduction by Johnny Goffin who taught many local guitar players. "I remember that he preferred jazz but for five shillings an hour he was prepared to lower his expectations. "He also had a side-line selling guitars and that's how the Australian 'Maton' brand was introduced to Teesside. I still have mine. "The band at this time featured Ernie Goult (later Shane North) on vocals; Trev Blackwell on lead guitar; Les Davison on bass; Harry Simpson on drums with me, Paul French, on rhythm guitar. "We played most of Teesside's local pubs and CIU clubs but occasionally ventured further afield with Southern Border Dancers individually and as support to exotic places such as Hexham and Berwick-on-Tweed."

Paul French was with the band for about a year when Harry and Paul were asked by Mick Boothby to join his new group - Norrie and his Escorts. There's more about this part of the scene with a few more 'old' photos on The Escorts page.
Polite Notice:
Photographs on this site are © copyright to their respective owners and are not to be downloaded, or printed, for private use by individuals, organisations or social network sites. By viewing a digital image from this collection, you are agreeing to comply with copyright licensing regulations. These state that you will not copy, publish or distribute the image in any way. Please note, we have made every effort to ensure that copyright is not breached.
Copyright © Stan Laundon.com