BANDS - FROM HARTLEPOOL & TEESSIDE IN THE 60'S
How nice it was recently to see a huge band of local musicians getting together for an invitation party organised by Ottie McLoughlin. Called the Fabulosa Big Band for the night they all met at The Crathorne Arms, near Yarm, on August 23rd. The musicians are, from left to right, Ray Johns on keyboards, Claire Hamill on vocals & guitar, Paul Smith on drums, Emma Wilson on vocals, Al Harrington on vocals & guitar, Ottie McLoughlin on percussion  and a horn section of Kevin Eland, Mark Toomey  and Ray Dales. Tubby Ayton was on bass but not in the picture. It was an invitation only party and about 200 guests were in attendance as well as other singers and musicians including John Brady on dobro, Brian Dales, Mike Gutteridge, Paul McLenaghan on bass, Jeremy McMurray, Jeff O'Donnell, Elaine Palmer, Terry Sidgwick on acoustic guitar and vocals, Jackie Summers and John Taylor. You can see the images in a slightly larger size by clicking on them. Photographs copyright © Chris Scott Wilson and used with thanks.
The Swinging Blue Jeans are appearing in Whitby on September 24th during a classic 60s music weekend. This photograph, taken at Whitby in 2011, shows Jeff Bannister on keyboards, Alan Lovell on lead guitar, Peter Oakman on bass with Graham Hollingworth on drums. The 60's music weekend takes place at The Spa in Whitby from September 22nd to September 24th. Whitby Live brings you a weekend of live sixties music from some of the biggest bands of the decade. Dig out your finest 60's fashion and join us for a weekend you'll never forget.
The Manfreds Featuring Paul Jones & Mike D'Abo - are back by popular demand! Also on the show are The Swinging Blue Jeans, The Merseybeats, Chip Hawkes & Brian Poole, Vanity Fare, The Union Gap, The Fourmost, Mud II, The Ragdolls (Jersey Boys Show), Four Tops (Memories) plus a host of 60s tributes! Full weekend tickets are £85. Please contact Chris Wood for further details on (01757) 700042 or visit the Whitby Live website.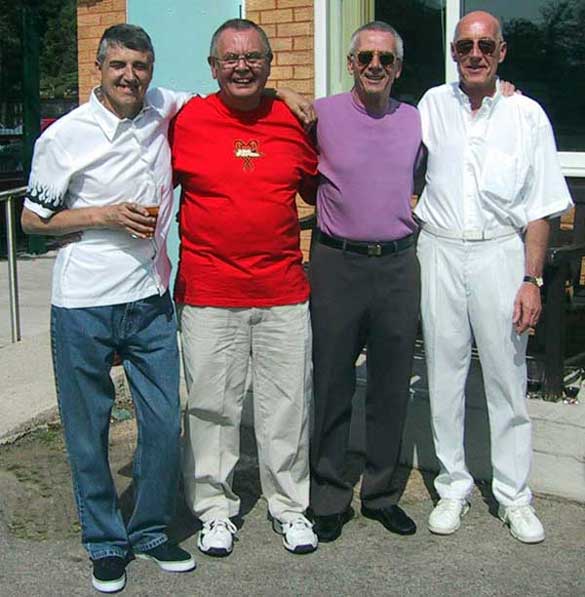 How it all started: For almost fourteen years I lived on the Costa Blanca in Spain. Following a visit I made to my hometown of Hartlepool in June 2004, it was suggested to me to start a web page featuring some of the old bands, or groups, that graced the pubs and clubs of the area back in the 1960's. The idea started after Billy Crallan, George Hart and Ed Saul all joined forces to play some of the old songs to help celebrate Ron Blair's 60th birthday. Billy Crallan, Ron and I played together in The Trakkers and George, of course, was the original lead guitarist of The Hartbeats.
The photograph above shows George, Billy, me and Ron at Hartlepool Cricket Club. So, what started as an idea has now expanded into many pages - and is dedicated to the great bands of that era and the friendship we all enjoyed. Photograph © Marion Crallan.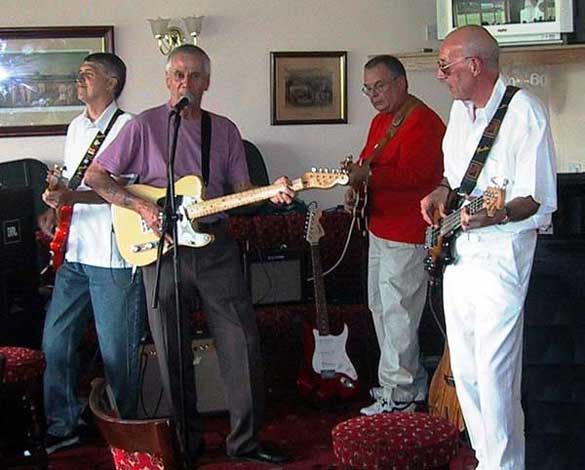 George Hart, Stan Laundon, Billy Crallan and Ron Blair re-living the sixties at Hartlepool Cricket Club and celebrating Ron's 60th birthday in June, 2004.
This website is not responsible for the content of external internet sites
Copyright © Stan Laundon.com