BANDS - FROM HARTLEPOOL & TEESSIDE IN THE 60'S

The Hartbeats and The Rock-Avons - along with memories of the Queen's Rink Ballroom - are featured in a new book titled "Old Hartlepool & West Hartlepool" by Paul Chrystal and just released by Stenlake Publishing. The book focuses mainly on shipyards, factories, two world wars, the local fishing industry and other historical facts about the towns but lovers of music from the 60's, I am sure, will enjoy seeing it.


Jackie Summer, photograph © Dennis Weller and Emma Wilson, photograph © Stan Laundon.

I'd like to bring to your attention a new single which has just been released by The Fabulosa Blues & Soul Big Band titled "Working Together" which is selling on behalf of the Trinity Holistic Centre at James Cook Hospital in Middlesbrough. You may recall that several artists appeared at a music festival at The Crathorne Arms in Crathorne, near Yarm, on Monday, May 6th when £6,000 was raised. The single, which features Jackie Summer and Emma Wilson on lead vocals, with accompaniment from Tubby Ayton, Paul Donnelly, Al Harrington, Colin Holt, Ray Johns, Ottie McLoughlin, Paul Smith and John Taylor, sells for just £2.00 and is available from The Trinity Holistic Centre in Middlesbrough.

You can hear part of the "Working Together" track by clicking on the music note.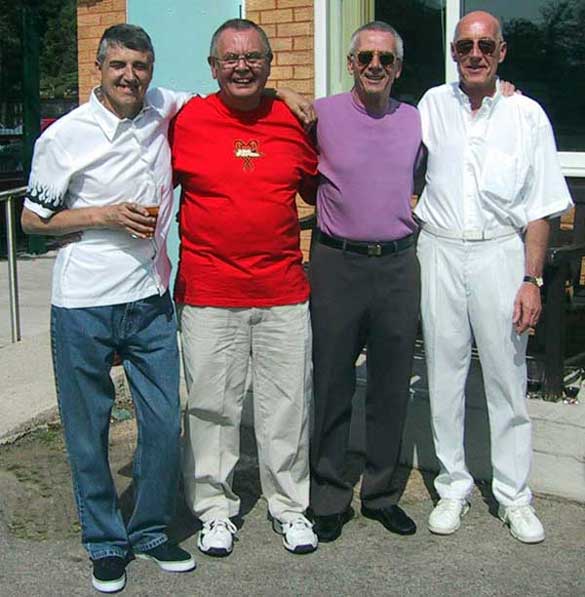 How it all started: For almost fourteen years I lived on the Costa Blanca in Spain. Following a visit I made to my hometown of Hartlepool in June 2004, it was suggested to me to start a web page featuring some of the old bands, or groups, that graced the pubs and clubs of the area back in the 1960's. The idea started after Billy Crallan, George Hart and Ed Saul all joined forces to play some of the old songs to help celebrate Ron Blair's 60th birthday. Billy Crallan, Ron and I played together in The Trakkers and George, of course, was the original lead guitarist of The Hartbeats.

The photograph above shows George, Billy, me and Ron at Hartlepool Cricket Club. So, what started as an idea has now expanded into many pages and is dedicated to the great bands of that era and the friendship we all enjoyed. Photograph © Marion Crallan.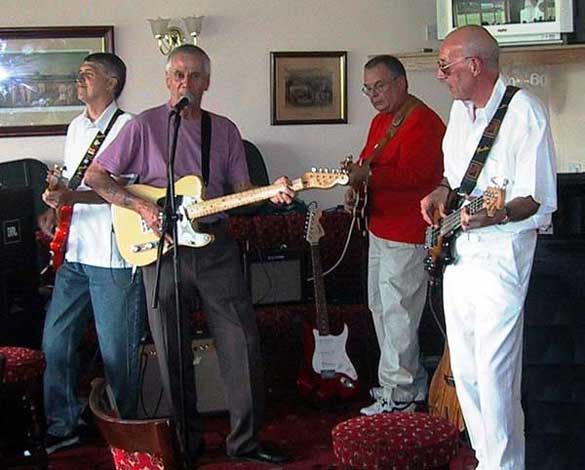 George Hart, Stan Laundon, Billy Crallan and Ron Blair re-living the sixties at Hartlepool Cricket Club and celebrating Ron's 60th birthday in June, 2004.
.................................................

The bass playing monkey above is by Dave Sutton - free 3D animated gifs for web sites
This website is not responsible for the content of external internet sites