DEL AND THE FALCONS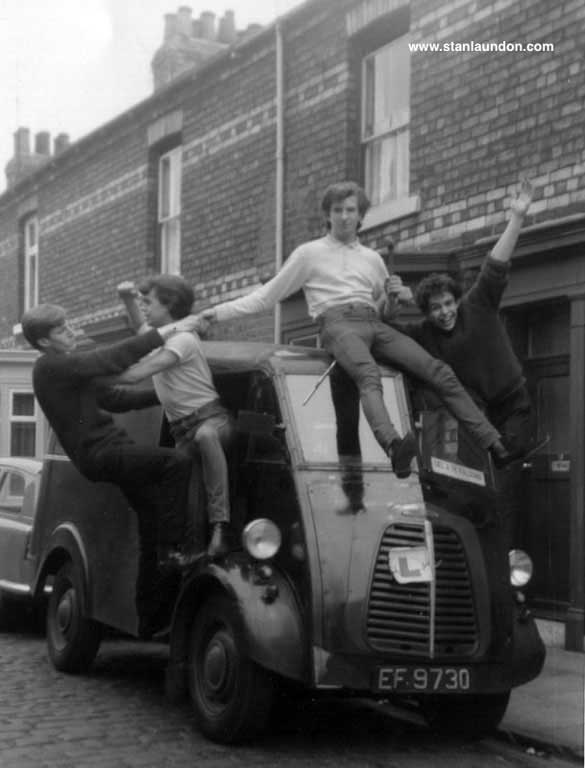 The Falcons with Paul Butler, Ken Purvis, Mally Willis and Merv Jones in the summer of 1964.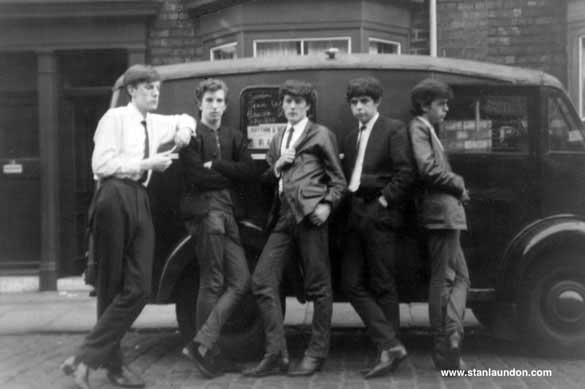 Del & The Falcons, also in the summer of 1964 are, left to right, Paul Butler, Mally Willis, Peter Embleton, Merv Jones and Ken Purvis.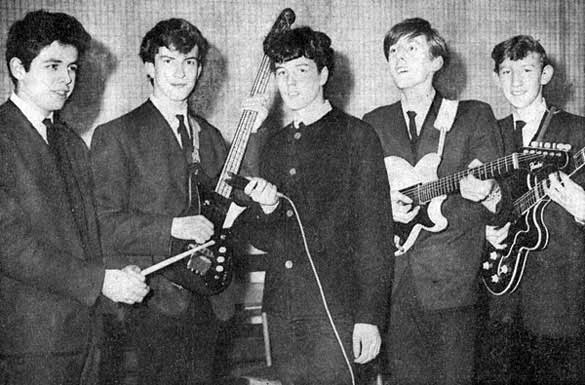 Del & The Falcons with Mervyn Antony Jones on drums, Malcolm Willis on bass, Peter Embleton on lead vocals, Paul Butler on lead and Paul Clasper on rhythm.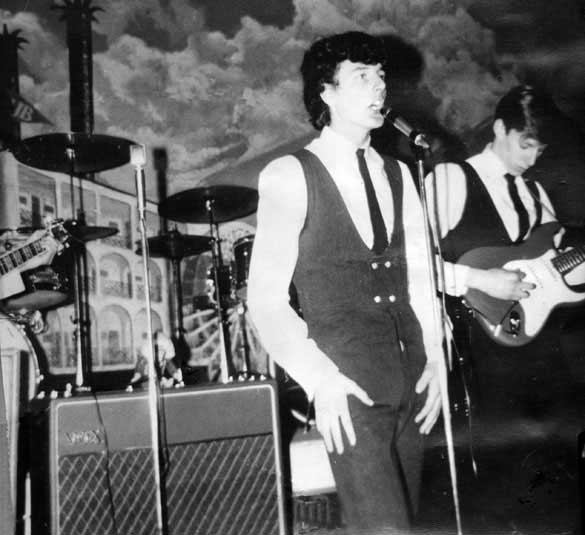 Del & The Falcons at Redcar Jazz Club with Peter on lead vocals. You can just see the hands of Ken Purvis on guitar on the left with Paul Butler on the right.
Merv Jones found these pictures when the band were over in Cumbria during the winter of 1965/1966 where they played weekends at the Tow Bar, near Egremont. On the top left, playing with the moped is Paul, Merv, Pete, Mally and on the railway sidings is Merv, Pete, Mally and Paul. The two lower images show Pete, Mally, Paul and Merv playing on a wrecked caravan with Pete, Paul, Mally and Merv enjoying the coastal scenery.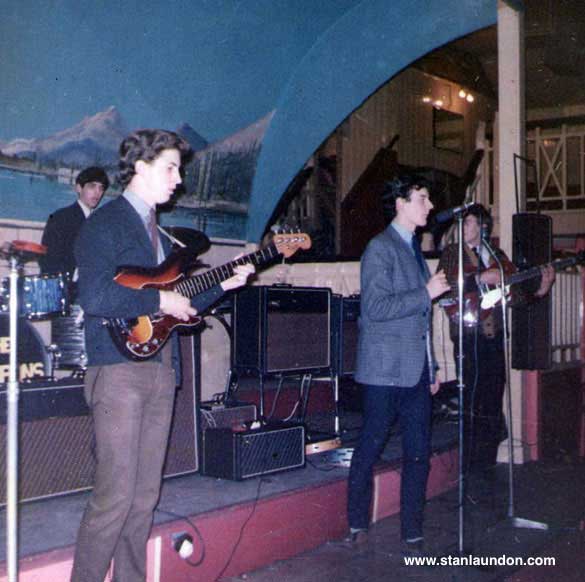 Merv, Mally, Peter and Paul at the Maison de Dance in Stockton during the winter of 1965-66.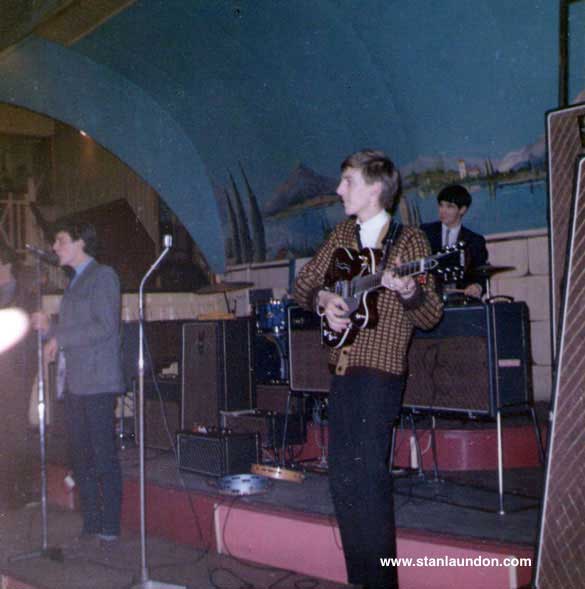 Also at the Maison de Dance in Stockton.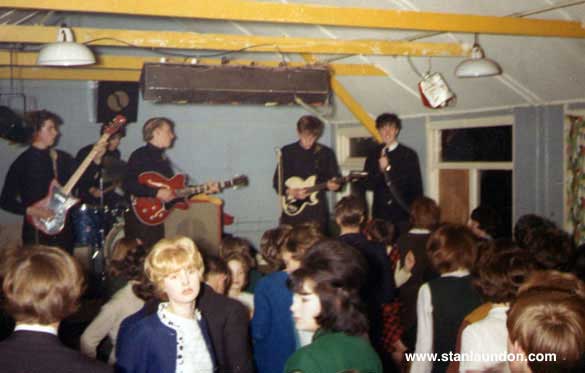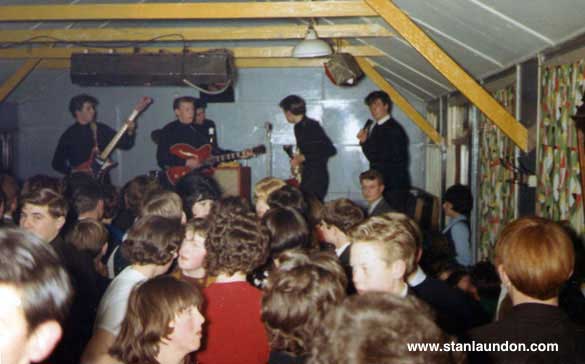 Two photographs taken on November 30th 1963 at Elmwood Youth Club in Hartburn, Stockton with Mally, Merv, Paul Clasper, Paul and Peter.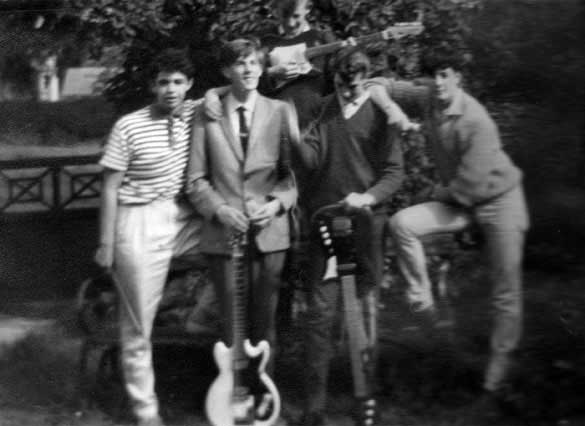 Del & The Falcons in Merv's garden as the band had just formed. They are, left to right, Merv Jones, Paul Butler, Paul Clasper at the back centre, Malcolm Willis and Peter Embleton.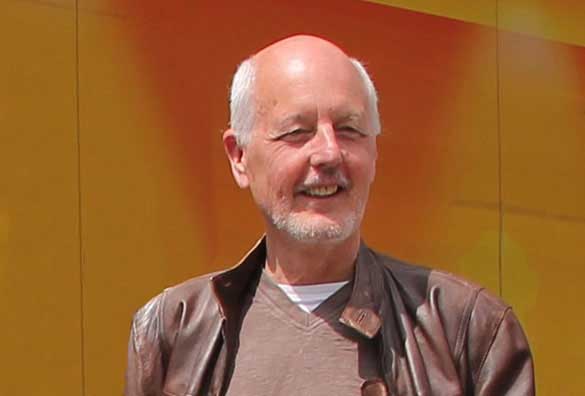 Peter Embleton enjoying some time in Stockton during June 2014. Photograph © Stan Laundon.
Two former members of Del and The Falcons have been kind enough to write their own documentation relating to their time with the band. When did it all start and what happened over those years?
You can read their own thoughts and comments on special pages we have created on this site. There's Del and The Falcons by Peter Embleton and Paul Butler - a guitarists (and occasional singer) perspective of what happened. The story also continues with the reunion, lots of new photographs and a studio session with The Falcons Part 2 - 2015.
Acknowledgments:
Thanks to Paul Butler, Vicki Clasper and Peter Embleton for the photographs and cuttings on this page. Photographs are © copyright to their respective owners and must not be copied, or used, in any way without prior written permission.
This page is dedicated to the passing of Paul Clasper - 14.9.46 to 4.3.23.
The Google monkey on this page was created by Dave Sutton graphics and free 3D animated gifs for web sites.