THE VICTORS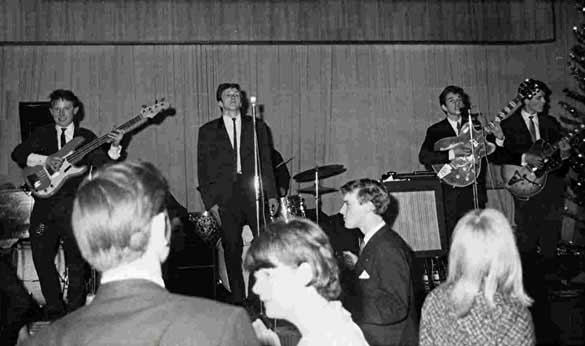 The Victors on stage at the Billingham Arms Hotel. They are, left to right, Trevor Davis on bass, Dennis Howe on vocals, Billy Cockerill lead guitarist and George Kitching on rhythm guitar. The drummer, hidden behind singer Dennis, is Eric Whitfield who was kind enough to provide us with the names of the band's personnel.
Perry and the Victors on stage at the Astoria Ballroom in Middlesbrough. This photograph, from the collection of Eric Whitfield, came from the Middlesbrough Evening Gazette Bands' Competition on Monday, March 23rd, 1964. The photograph shows a large crowd dancing to the band - Brian Flounders on bass, Mike Smith on rhythm guitar, Norman Parry on lead vocals, Billy Cockerill on lead with Eric Whitfield on drums.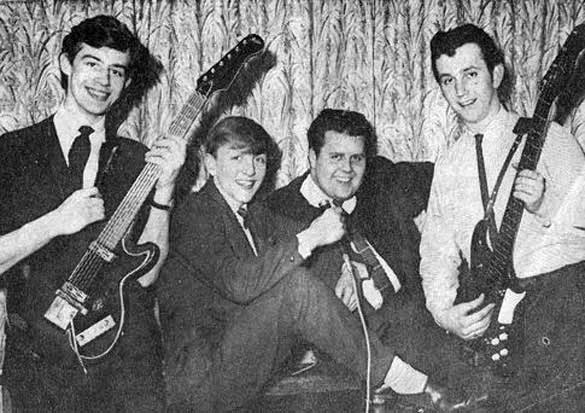 The Evening Gazette, in Middlesbrough, had a 20-page souvenir supplement in their Saturday night edition of March 7th, 1964 which was dedicated to the bands of that era. The headline read "Fabulous focus on your local beat groups - pages and pages of pics and personalities" and all for just 4d! One of the many photographs in that special edition was this one of Perry and The Victors with Michael Anthony Smith, from Stockton on rhythm guitar, Norman John Parry, from Billingham on vocals, Eric George Whitfield from Thornaby on drums and Brian Thomas Flounders on bass.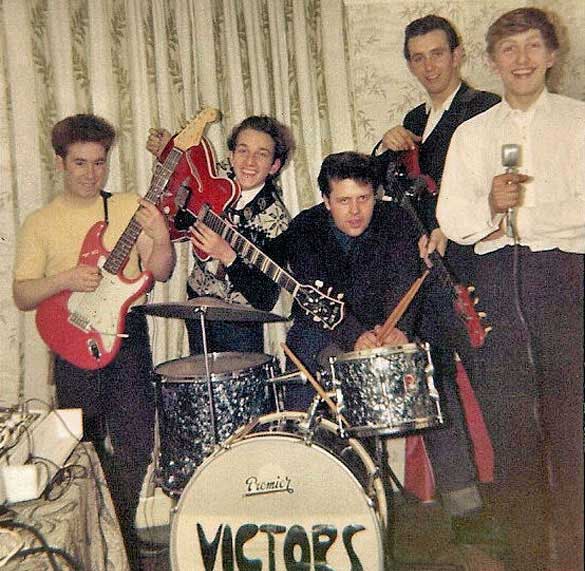 A rare picture of Perry & The Victors taken during a practice session - possibly during 1964. The photograph shows from left to right: Tommy Campbell (Rhythm), Billy Cockerill (Lead), Eric Whitfield (Drums), Brian Flounders (Bass) and Norman Parry (Vocals).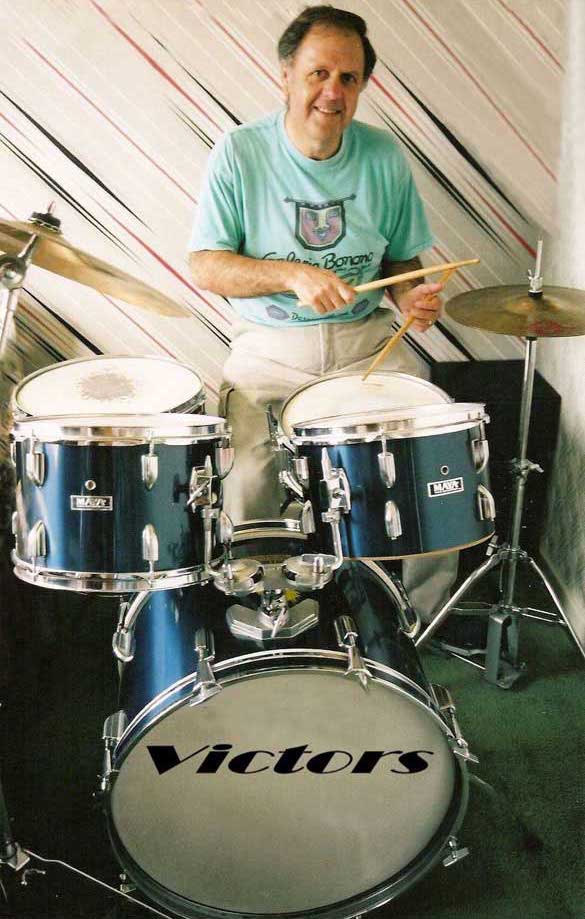 The Victors drummer, Eric Whitfield, as he is today - not using the same kit as he was using back in the 1960's which was a Premier Black Pearl outfit with Avedis Zildjian Cymbals.

This picture compilation, by Eric Whitfield, shows the original line-up of Perry and the Victors in 1964. Prior to this, the band were practising as The Premiers and had an occasional gig with Colleen Walker on vocals and Ralph Chapman on bass.
Over a period of time several changes occurred and other musicians who have, at sometime played with the band, included Tommy Campbell on rhythm guitar, John McWilliams on lead and Bob Dale on rhythm. The final line-up, in 1965, was Billy Cockerill on lead, George Kitching on rhythm guitar, Trevor Davis on bass, Eric Whitfield on drums with Dennis Howe on vocals.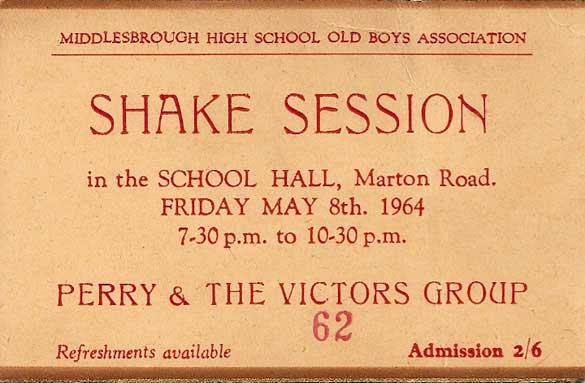 More nostalgia from 1964 - a "Shake Session" which was held in the School Hall, Marton Road in Middlesbrough.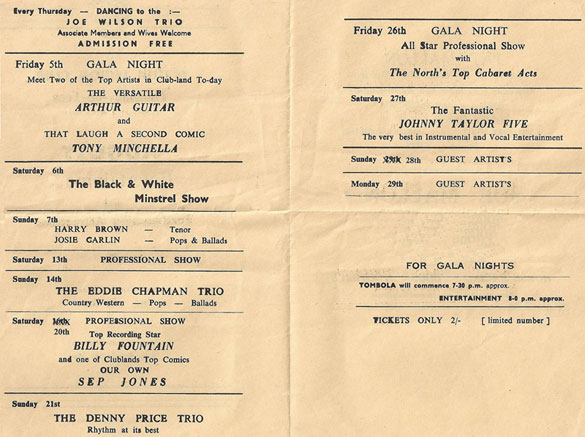 Another piece of music memorabilia from the 1960s. Eric Whitfield was kind enough to send this to us which is a programme of forthcoming attractions for Thornaby British Legion Club. We are not sure of the year but Eric says that the Denny Price Trio was formed for just a couple of gigs and had Dennis Howe, ex-Victors on piano and vocals, Peter Cuthbert, ex-Satellites on guitar and Eric Whitfield, ex-Victors on drums and vocals. Good to see The Johnny Taylor Five mentioned within the programme and also John Brockbank, the Legion's entertainments secretary. John was a contributor to the BBC Radio Cleveland programme "Clubland" and one time Chairman of Darlington Football Club. The programme cover can be seen in the right hand column.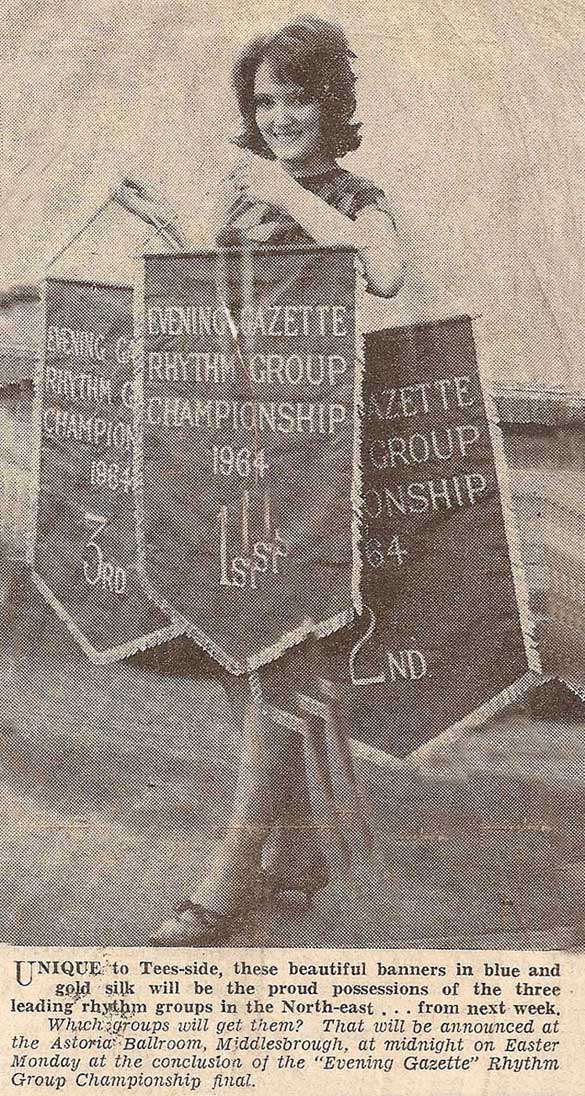 Another press cutting, from The Evening Gazette, this time showing a charming young lady with the banners that the newspaper awarded to the first three places in the Rhythm Group Contest in 1964. The quality of the image has certainly stood the test of time considering it is over 50 years old. More than 40 bands from the area took part in the contest with the eventual winners being The Downbeats from Spennymoor, The Blue Caps from Teesside came second with The Renegades, from Whitby, in third place. Thanks to Eric Whitfield for providing this rare press article.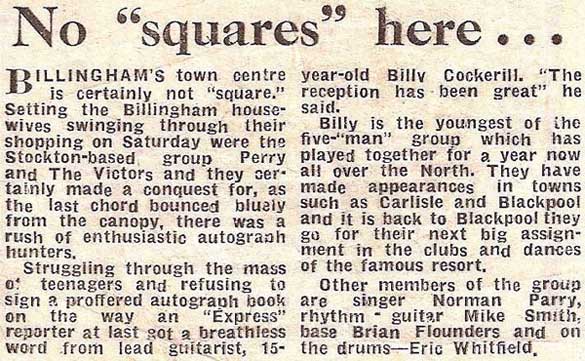 A press cutting from the Evening Gazette regarding the Open-Air concerts that used to occur on a Saturday, in Billingham Town Centre in 1964.
Thanks to George Kitching & Eric Whitfield for their contributions to this page and sharing their collection of photographs and memorabilia.

This page is dedicated to the memory of Dennis Howe who passed away peacefully, after a short illness, on January 24th, 2021 aged 79 - and George Kitching who passed away peacefully at home on March 19th, 2020 - he was aged 78. Also to Norman 'Taff' Parry and Mike Smith.
The Google monkey on this page was created by Dave Sutton graphics and free 3D animated gifs for web sites.
This website is not responsible for the content of external internet sites.
Copyright © Stan Laundon.com