THE JOHNNY TAYLOR FIVE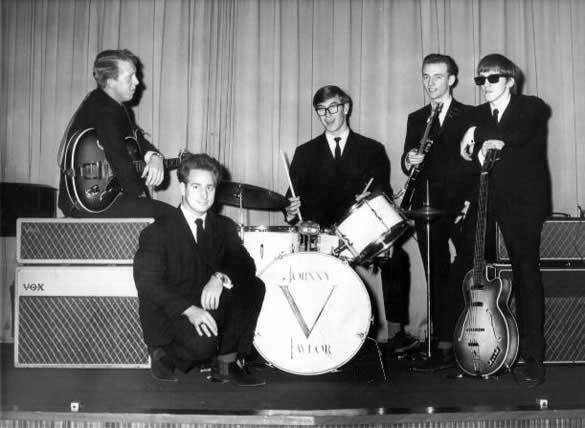 Photograph © Northern Daily Mail
The Johnny Taylor Five taken at the Billingham Arms Hotel about 1964. Henry Fawcett played rhythm guitar, Gary Phillips on vocals, Johnny Taylor on drums, Eric Shoosmith on lead guitar with Gordon Valentine on bass.
Eric Shoosmith, who was lead guitarist with the band between 1963 and 1965, tells us that the Johnny Taylor 5 was formed in Billingham and played all the usual clubs but, for whatever reason, rarely in Hartlepool. Gordon and Eric were in the same year at Henry Smith's School on the Headland (a school they both loathed) and it was during 1957/58 that they took up the guitars. Eric played with The Intruders in a residency at the Queen every Saturday until Gordon headhunted him for the JT5 in early 1963.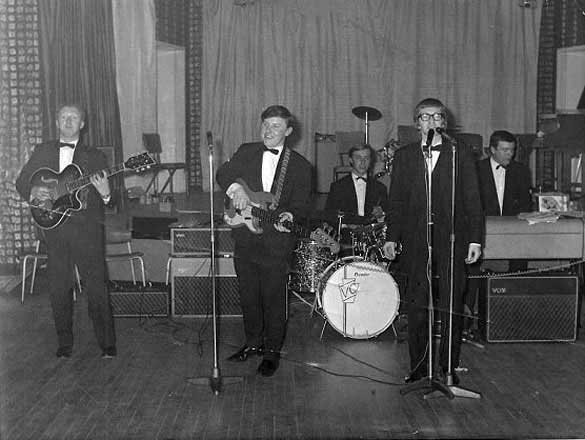 The Johnny Taylor Five at the British Steel Social Club in Grangetown with, left to right, Henry Fawcett, Trevor Davis, Vic Creed on drums who took over when Johnny (Brian) Taylor retired, Gordon Valentine and Terry Owens.
The Johnny Taylor Five at the famous Cavern Club in Liverpool sometime in 1964 following a competition win by the band. The photographs show Eric, Henry and Gordon with the poor drummer hidden as always!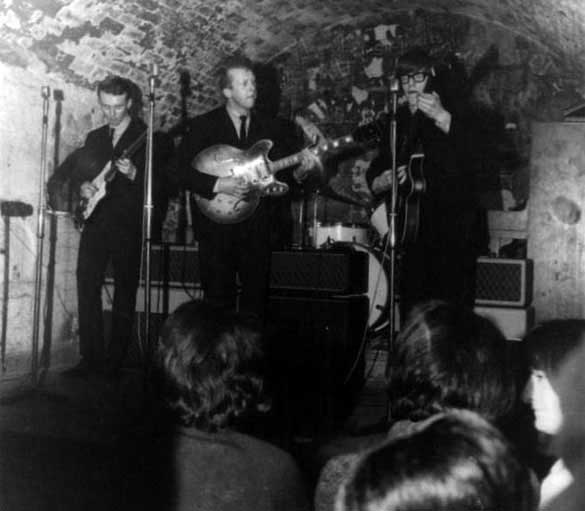 You often wonder why the poor drummer always has to sit at the back because he's rarely seen. Dave Clark and Peter Jay were always at the front! The Cavern again is the venue.
The two photographs above were taken at Fearnley's Studios in Middlesbrough with the band facing a white screen. The Transporter Bridge was an added feature. The photograph on the left shows Brian (stage name Johnny) Henry, Gordon, Gary (real name Lou Flett) and Eric. On the right is Gordon, Gary, Eric, Brian and Henry. Slightly larger images will show when these photographs are clicked.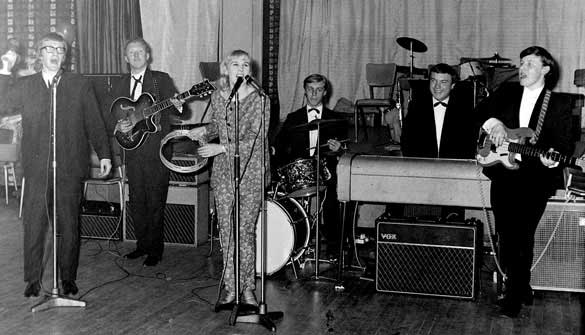 This rare photograph of the band was sent by Trevor Davis and shows Gordon Valentine on the extreme left, Henry Fawcett on lead guitar, Pauline Riley - formerly of The Denvers - on tambourine and vocals, Vic Creed on drums, Terry Owens on keyboards with Trevor Davis on bass guitar.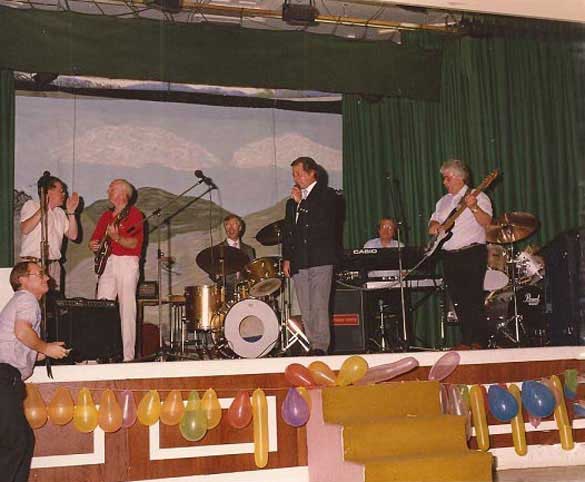 The Johnny Taylor Five stage a reunion for Brian Taylor's anniversary in Sedgefield with the original singer Lou Flett. This shows, left to right, Gordon Valentine - who was the band's singer after Lou left, Henry Fawcett, Johnny 'Brian' Taylor, Lou Flett, Terry Owens and Trevor Davis. Despite just one person on the dance floor we are told that many did turn up on the night to wiggle their hips! Trevor Davis, who sent this photograph, says "They were great days and, sadly, we all get older and the old fingers are not as fast as they used to be. "However, Henry is still entertaining and these days I live in France and have a small four-piece band still doing the old numbers. "Gordon has also retired to France but has given up playing. "Terry, I believe, has not played for sometime."

Photographs taken at Brian Taylor's house showing Gordon Valentine, Trevor Davis, Henry Fawcett and the original Johnny Taylor - Brian. The Johnny Taylor 4 perhaps?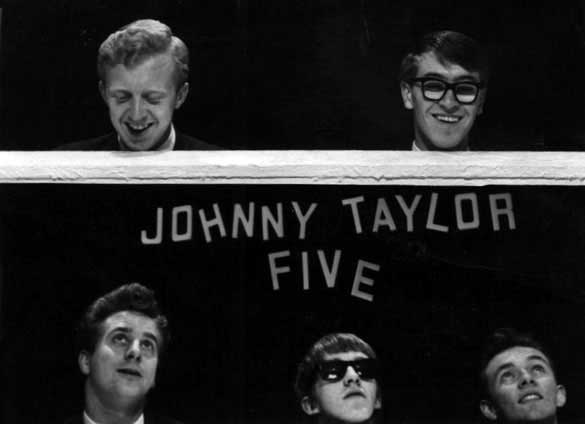 The Johnny Taylor Five up and down - with Henry and Johnny at the top looking down on Gary, Gordon and Eric. This dates to 1964 and was taken by the Fearnley Studio in Middlesbrough.
Memories of The Johnny Taylor Five as told by Eric Shoosmith:
The band started life in Billingham in early 1960 initially by Brian Taylor and Henry Fawcett. Alan Raine was lead guitarist with Al Morgan on vocals (formerly of The Echoes). Gordon joined later in that year on bass and the following year saw Alan Raine depart to be replaced by Ray Douglas. Al Morgan was then replaced by Gary, a singer with Stockton Stage Society, so quite a culture change for him. Early in 1963 Gordon asked me to join from The Intruders and from then on we were really busy - usually 4 or 5 bookings a week dependant on personal commitments (I was doing 3 nights at night school).
We played with lots of big name bands such as the Rolling Stones at New Brighton Pier compered by Jimmy Savile; Mindbenders, Merseybeats, Nashville Teens, Searchers, Marmalade and even The Beatles* at the Astoria, in Middlesbrough, on June 25th, 1963 (yours truly had an important examination that night so the guitarist from the Tempests filled in - just my luck!) I eventually left in 1963 and the band took a slightly different turn by bringing in Terry Owens on organ to develop into more of a showband. Gary and Brian soon also left to be replaced by the late Vic Creed on drums and Jenny Peters (ex-Denvers). Gordon became a front man and Trevor Davis took over bass playing duties. In this format they played all the Bailey nightclubs and similar venues before finally disbanding in 1967.
Gordon and Henry played on as a trio with John Lowes (ex-Panthers) on drums. Brian retired to run a guest house in Grasmere, Gary lives not far away in Lancashire, whilst Gordon and Trevor both retired to France. Gordon's son, Jamie, is a very talented musician having completed a jazz degree, and is currently General Manager of Rose Morris Music in Denmark Street. Jenny emigrated to Canada and Terry set up a very successful business start up company called InBiz from which he has recently retired, but he still has various other businesses including a large property portfolio. Henry carried on the family transport business which he still runs with one of his sons working mainly in the North East. I was a partner in a medium sized architectural practice in Middlesbrough until retirement in March 2007 and still live locally.
Acknowledgements:
Thanks to Trevor Davis and Eric Shoosmith for the photographic content on this page.
Polite notice:
Photographs on this page are © copyright to their respective owners and are not to be downloaded, or printed, for private use by individuals, organisations or social network sites. By viewing a digital image from this collection, you are agreeing to comply with copyright licensing regulations. These state that you will not copy, publish or distribute the image in any way. Please note, we have made every effort to ensure that copyright is not breached.
This page is dedicated to Vic Creed - always remembered and never forgotten.

You can search this site with Google
The bass playing monkey on this page was created by Dave Sutton graphics and free 3D animated gifs for web sites.
This website is not responsible for the content of external internet sites
Copyright © Stan Laundon.com