HARTLEPOOL & NORTH EAST PHOTOGRAPHY
Photography is very much a hobby of mine these days. I never really took it seriously until I returned to the UK in 2007 after a 14 year holiday in Spain. As the page title suggests it is not just photographs of Hartlepool featured here but in and around the north east in general.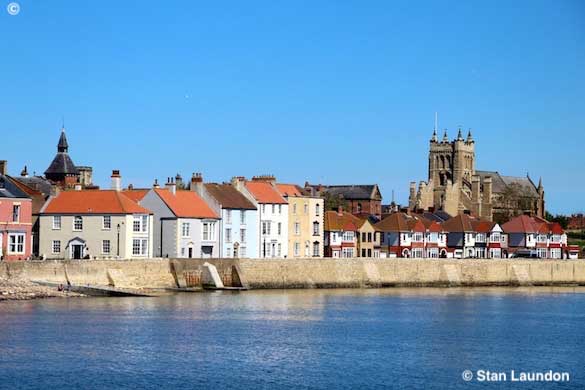 A nice sunny view of the Town Wall in old Hartlepool taken from the Banjo Pier in Middleton on Monday, May 14th, 2018 and used on Tyne Tees Television weather.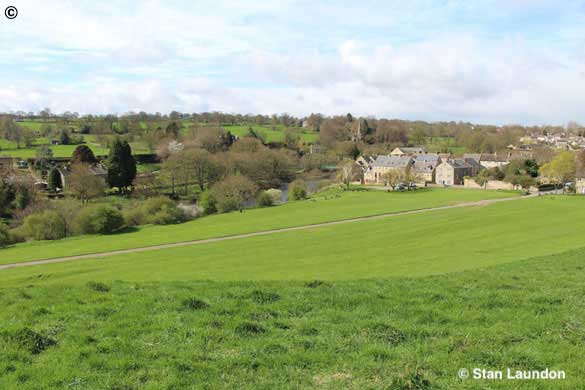 This picturesque view of Barnard Castle, overlooking the River Tees, was taken during late April 2018 and was also used on BBC Look North Weather - and how nice to see!
HMS Tyne (P 281) arriving in Hartlepool during mid-March 2018 for a Lay-By. She had sailed down from Sunderland and was berthed in port for a few days.
The former Wesley Chapel in Victoria Road, Hartlepool, had fire damage to its roof on Saturday, December 9th, 2017 during the early part of the evening. Police suspect it was arson and are continuing with their investigations.
A snowy scene on the bowling green in old Hartlepool on the last day of November, 2017.
The A1 Pacific locomotive 60163 "Tornado" - which was built in Darlington - hauling the "Tees-Tyne Express" northbound through Ferryhill on Saturday, October 7th, 2017.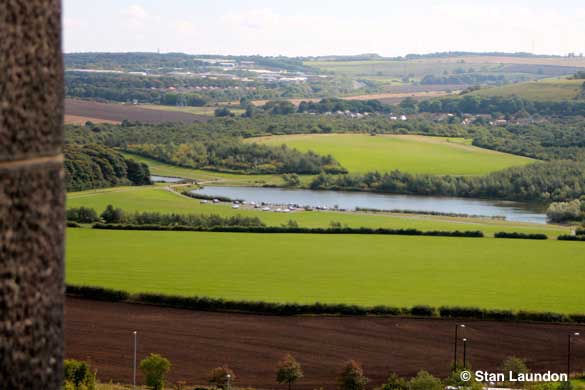 Herrington Country Park near Penshaw, Tyne & Wear. This was taken from inside Penshaw Monument. You can just see a column to the left hand side of the photograph which was purposely left in!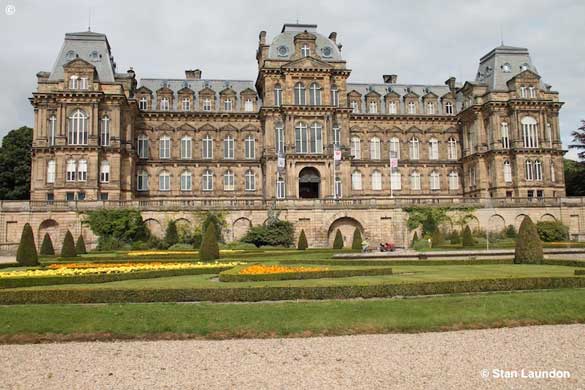 It had been on my mind for quite sometime to make the journey through to Barnard Castle to take some photographs of the spectacular Bowes Museum - well I managed it during late August 2017. The museum is a hidden treasure and a jewel in the heart of beautiful Teesdale.
St. Hilda's Church makes a picturesque backdrop with The Band of The King's Division who took part in the Headland Festival in Hartlepool on Saturday, July 1st, 2017. The event also commemorated Armed Forces Day with a wonderful parade from the Heugh Battery to the Town Square. Hundreds of people turned out for this spectacle which was organised by Hartlepool Headland Local History Group and Hartlepool Armed Forces Liaison Group.
A busy scene in Hartlepool Marina on an overcast June afternoon with the many yachts, fishing boats and cruisers at berth.
A picturesque setting as the Isle of Man registered cargo vessel "Vectis Isle" passes the Pilot's Pier as she leaves Hartlepool for Rotterdam.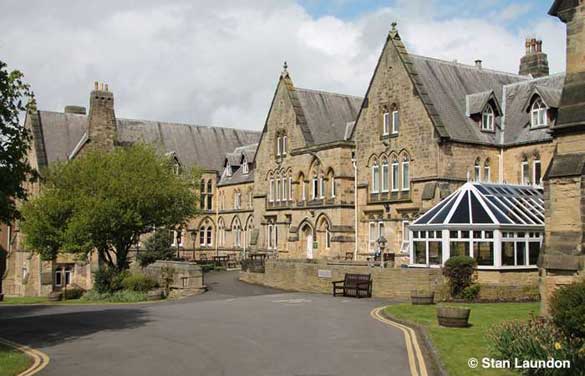 This very impressive Grade II listed building is Beddell House care home at Sherburn Hill in the parish of Shincliffe, County Durham. It was built around 1868 and more photographs of this building can be seen on the Historic England website.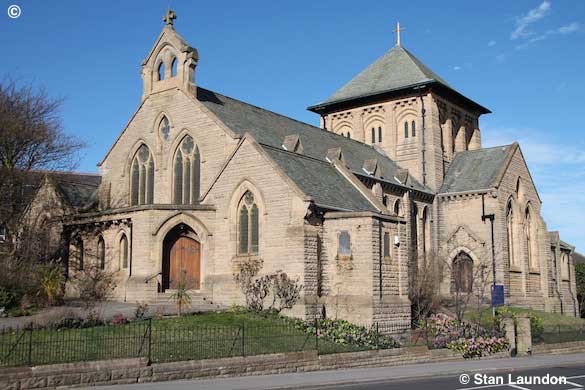 When I made a trip to Horden I couldn't help noticing the impressive St. Mary's Church on Blackhills Road and decided to stop and take a few photographs. It is Grade II listed and you can read more about it on the Historic England website.
The Scottish beam trawler "King Challenger" (BA 87) sailing down the channel leaving Hartlepool. She is registered at Ballantrae and from Kirkcudbright.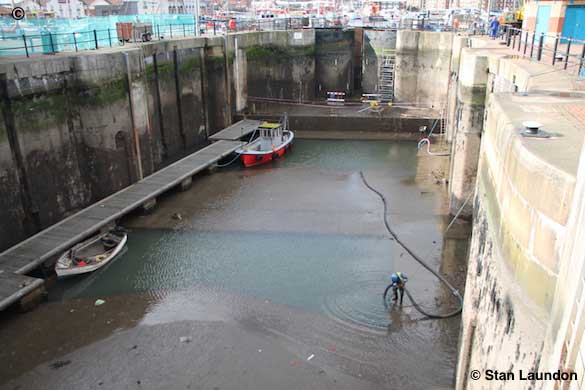 A rare sight indeed. The lock gates in Hartlepool Marina had been closed for essential maintenance during February 2017 which took about 17 days to complete. It had been more than 20 years since this type of work had been carried out and the cost was estimated to be around £80,000.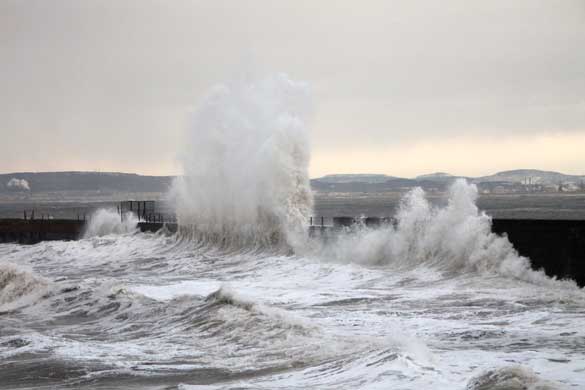 High winds and stormy seas certainly bring the photographers out in force and, as always, the New Pier - Heugh Breakwater - in old Hartlepool is a good place to be if you keep a safe distance!
The cold spell we had recently made you to wrap up and keep warm. Someone obviously thought the same for poor old Andy Capp, in Croft Terrace, on the seafront in old Hartlepool, by providing him with a suitable scarf!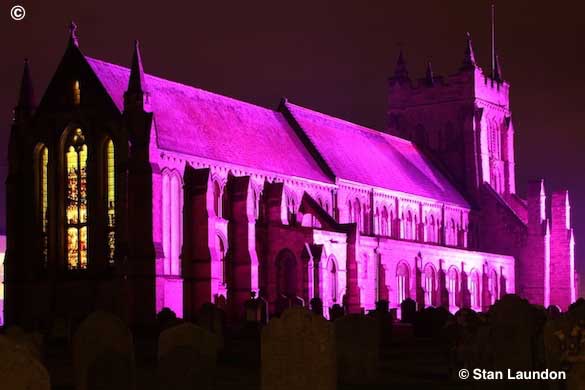 St. Hilda's Church was wonderfully lit up in various colours as part of the Wintertide Festival which took place for three days in November 2016. Be sure to see other images from the festival on my Night Photography page.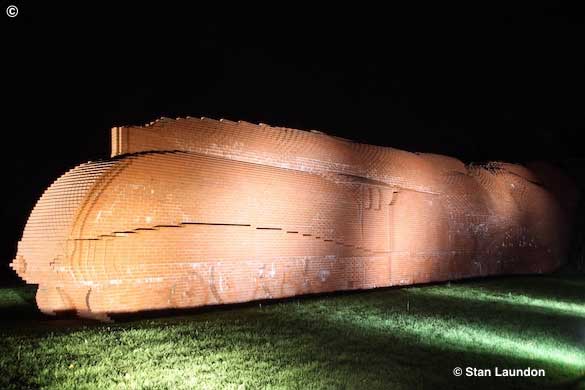 This wonderful sculpture of a brick train can be seen just off the A66 near Darlington. It was was commissioned and created by David Mach in 1997. The train is based on "Mallard" the Sir Nigel Gresley designed A4 pacific locomotive and was constructed using 185,000 bricks. Funding was provided by the National Lottery, Morrisons Supermarkets, Northern Arts, The Department of National Heritage and Darlington Borough Council. For those of you wanting to see it, it is quite close to Morton Park Industrial Estate on the outskirts of Darlington.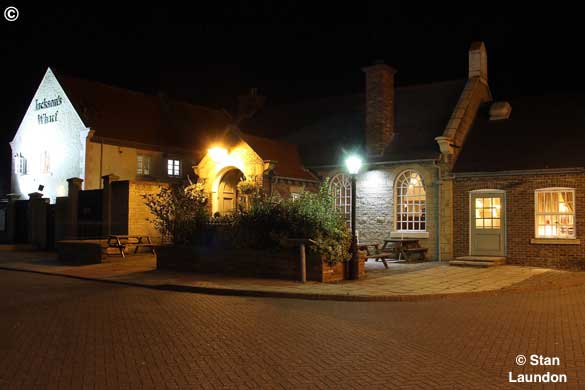 During another spell with night photography in September 2016 I took a friend, from Washington in Tyne & Wear, to certain sites in town that he might enjoy seeing. Jackson's Wharf public house and restaurant was one of the many places we visited - to take pictures not to eat and drink!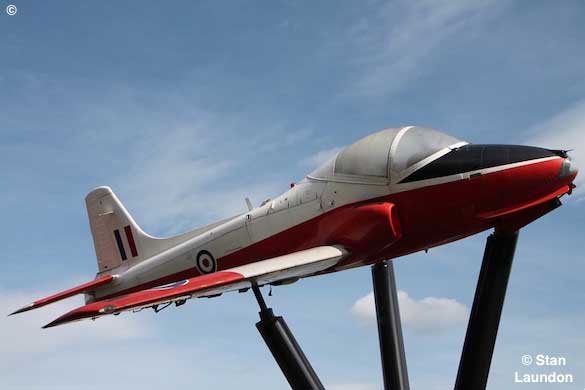 I'm sure many people in Hartlepool will have seen this plane in the grounds of the College of Further Education in Stockton Street. It is an ex-RAF Jet Provost T5 XW405, which arrived in town from storage on June 20th, 2012 and, over several months, was fully stripped, repainted and rebuilt by students and staff to restore it to this excellent external display condition. Photograph © copyright Stan Laundon.
This piece of wall art certainly created a lot of interest in old Hartlepool. Someone has either painted this - or stencilled it - on a wall along the promenade in old Hartlepool. Many people have been down taking photographs.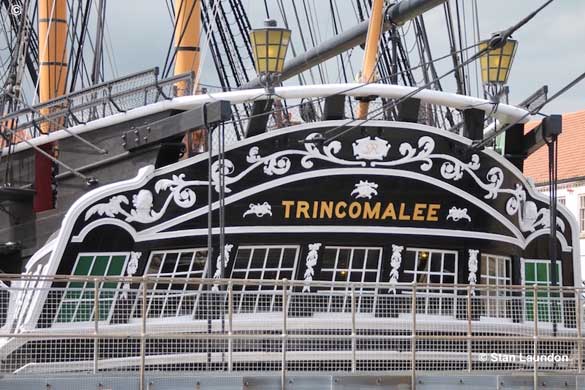 "HMS Trincomalee" which is berthed at The National Museum of the Royal Navy in Hartlepool. She is the oldest British warship still afloat. With its towering structure and thundering cannons, is a perfect tribute to Hartlepool's seafaring tradition. Built in Bombay, India in 1817, the Trincomalee was brought to Hartlepool in 1987, where it has taken over 10 years to restore the ship to her former glory.
The A3 60103 "Flying Scotsman" hauling "The Tynesider" excursion through Ferryhill on June 11th, 2016. You can see more photos of this classic engine on my "Flying Scotsman" page.
I couldn't resist taking this photograph of a male Eider Duck as it stood on a groyne near the Town Wall as the tide came in. You can read more about this species on the RSPB website and also see it in a slightly larger size by clicking on the image.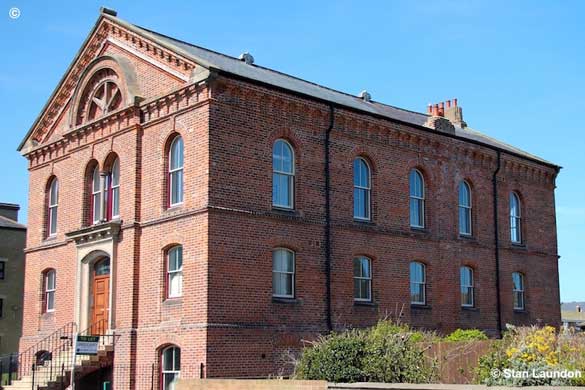 The Morison Hall was once a grand old building that was used by the Boys' Brigade for their meetings and band practice and also for functions and socials. As you see it now, with this photograph taken during mid-April 2016, and after the local council approved planning application, it has been turned into luxury flats. The Morison Hall was actually built as a Methodist Church. It became a Boy's Brigade hall when they took the building over which gave its name from their founder Dr. Bertie Morison. There's more about the building on our Old Hartlepool page.
When I was on the fish quay to take a few photographs of various vessels, this seal caught my attention as I stood on the quayside. The ships just had to wait as I took some photographs of this lovely creature before she dived out of sight. You can view it in a slightly larger size by clicking on the image.
The Cosmopolitan Hotel on the corner of Middlegate and Durham Street in Hartlepool.
Two scenic views of the ancient Town Wall in old Hartlepool as seen in an episode of the BBC Television drama series of "George Gently". Click on the images to view them in a larger size.
Two wonderful public houses just on the outskirts of Hartlepool - The Ship Inn and The Wellington Inn both in the village of Wolviston.
Just one of several impressive and artistic sculptures on the sea front at Redcar. This is Sinterlation by Ian Randall. It was installed during April 2013 as part of the redevelopment of Redcar seafront. The large steel chains represent the local iron and steelmaking industry. Sinter is a mixture of coke, iron ore and limestone and used to feed blast furnaces also described as an agglomerated product of a size and strength suitable for blast furnace charging.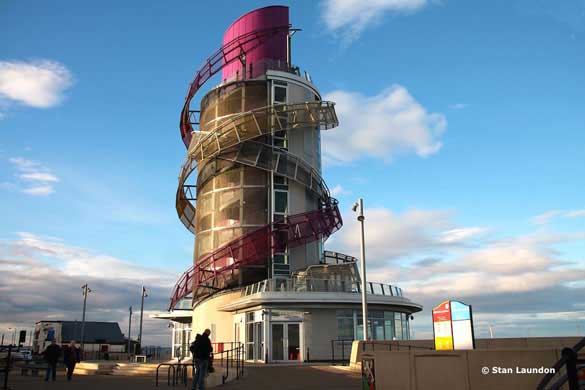 Redcar Beacon, also known as the 'Vertical Pier" was opened to the public during March 2013. The tower, which cost £1.6m did attract criticism from some residents who had favoured a horizontal, rather than a vertical, pier. There's another view of the pier in the right hand column.

Although I'm not a big fan of using a mobile phone to take photographs it was all I had with me when I spotted this little squirrel in a friend's garden.
A wonderful setting this is - and for those who don't know where it is it's the Blue Bell public house and restaurant on the banks of the River Tees in Yarm.
Another one from Yarm and I do like this view of the bridges with a nice reflection in the River Tees. Both bridges are Grade II listed. The lower one carries the main road in and out of the village and, in the distance, the railway viaduct.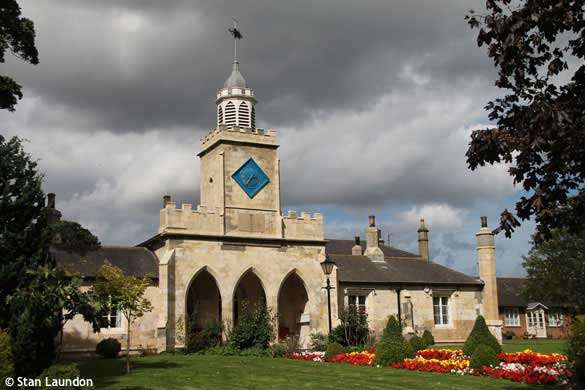 The Hospital of God at Greatham, on the outskirts of Hartlepool, certainly attracts a lot of photographers. It is a Grade II listed building and is used as apartments for the elderly.
This impressive metal sculpture of the soldier Tommy can be seen near the War Memorial at Seaham in County Durham. It was created by Ray Lonsdale and £85,000 was raised to keep him at the seaside town for the next 150 years!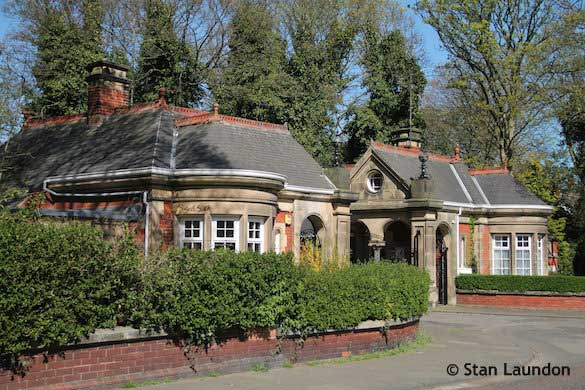 The East and West Lodges at the entrance to Tunstall Court, near Ward Jackson Park in Grange Road. The buildings are Grade II Listed and built around 1890 - possibly by T. Lewis Banks, of London, according to the British Listed Buildings website. Both lodges are now private dwellings.
When I was out and about taking photographs imagine my surprise when I came across part of the old West Hartlepool which is still very much there. In fact, what I should correctly say is "Old Town". I wonder how many people reading this, of a certain age, will remember the two tunnels that went beneath the railways lines at the bottom of Church Street? One went to the docks and the other to part of West Hartlepool called Old Town. Well, I couldn't believe it when I discovered that part of the bridge, which went into Old Town, is still there. It's at the rear of a car sales' business in Mainsforth Terrace and, although it's easy to see if you know where to look, it's not that easy to photograph. So, being the inquisitive person I am, I decided to ask a few questions and managed to get a few acceptable images along the way - as well as a cut leg!
Spotted on a green in the village of Greatham is this wonderful carving on a Sheaf Sower. The gardens and flowers are pretty, too, and credit to those who care for them.
As the sun was almost setting I took this photograph of the Town Wall in old Hartlepool from the Banjo Pier in, what used to be, Middleton. It shows the Grade II listed buildings, the Abbey Church of St. Hilda and, towering above the buildings on the left, the spire of the Borough Hall.
Durham Castle always looks impressive at night. This part of the old building is used as accommodation for students attending Durham University. The building took on an important new look during 2013 with up-to-date lighting being installed after the completion of a £600,000 project. Both the castle and cathedral can be seen in a whole new light. Durham County Council paid for the system which illuminates the buildings and form Durham's World Heritage Site.
I do hope you enjoy seeing this slideshow of the Infinity Bridge which spans the River Tees in Stockton, England. The bridge, which is very picturesque at night, is a major part of the North Shore Development in Stockton. This iconic structure, named Infinity Bridge in September 2008 links the North Shore development and the Teesdale area. I first visited this location in April 2010 and have made several visits since then. Believe it or not I always find different angles to shoot. Photographs © Stan Laundon.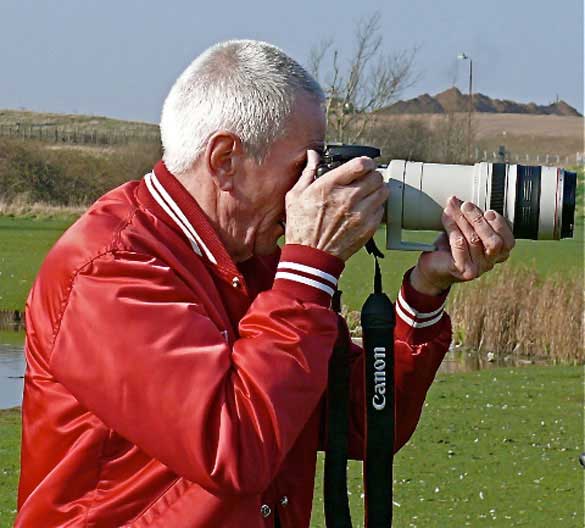 Stan Laundon - Photograph © Larry Drummond.
All photographs on this page are copyright © Stan Laundon and must not be copied, or used in any way, without prior written permission.
This website is not responsible for the content of external internet sites
The Google monkey on this page was created by Sevenoaks Art graphics and free 3D animated gifs for web sites.
Copyright © Stan Laundon.com