HARTLEPOOL & NORTH EAST PHOTOGRAPHY
Photography is very much a hobby of mine these days. I never really took it seriously until I returned to the UK in 2007 after a 14 year holiday in Spain. As the page title suggests it is not just photographs of Hartlepool featured here but in and around the north east in general.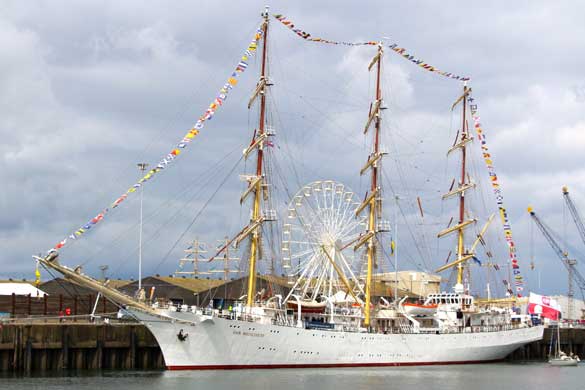 The sailing vessel DAR MLODZIEZY from Poland berthed at Irvine's Quay as part of the Tall Ships Races 2023 in Hartlepool - and how nice to see this photograph used on BBC Look North weather with Paul Mooney.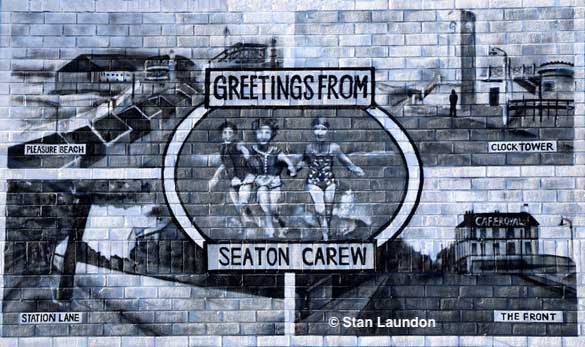 This wonderful "Greetings from Seaton Carew" mural was painted on the side of a house in Station Lane, at the junction of Allendale Street, Seaton Carew, by Durham Spray Paints. I took it during late February, 2023.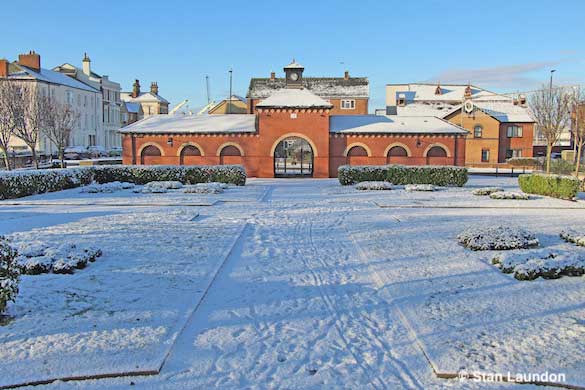 The Town Square in old Hartlepool taken on December 11th, 2022 when the first snow hit the ground. How nice to see this photograph used on BBC Look North Weather evening programme and the Breakast Show. You can see it larger by clicking on it.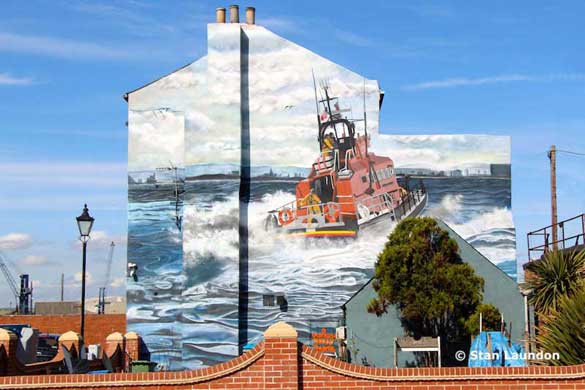 The RNLI mural on The Ship Inn, Middlegate, in Hartlepool, was painted by Lewis Hobson of Durham Spray Paints. You can see the image slightly larger by clicking on it.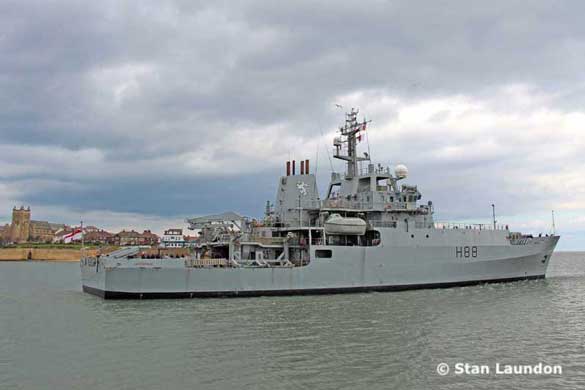 HMS ENTERPRISE (H 88) leaving Hartlepool on Wednesday, April 13th. She is a survey vessel, manned by experts in examining and mapping the seafloor. She also acts as a floating base for mine countermeasures activities - and how nice to see this photograph used by Paul Mooney on the BBC Look North weather forecast.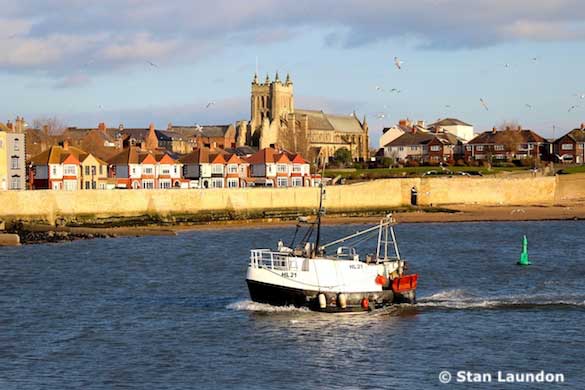 This photograph was also used by Paul Mooney on BBC Look North weather during late January 2022. It's the locally registered fishing vessel "Capricorn" (HL21) as it headed towards the Fish Quay.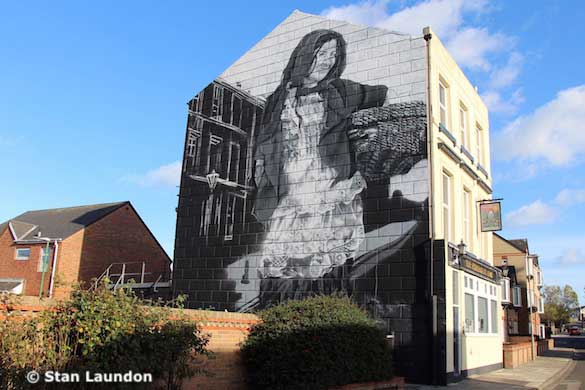 A wonderful mural by Lewis Hobson of Durham Spray Paints on the side of The Fisherman's Arms public house in Southgate, Hartlepool, showing a tribute to Hartlepool's long lost fishwives. You can also enjoy The Silver Fox Does Stuff by Mick Gant showing The Headland Mural Trail on You Tube.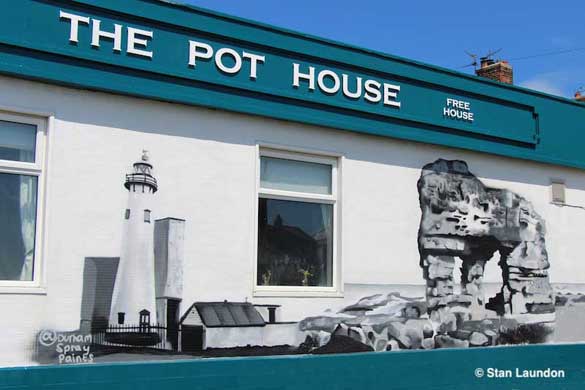 A very impressive mural, showing the Heugh Lighthouse and Elephant Rock, painted on the side of The Pot House in Hartlepool. The paintwork was created by Durham Spray Paints.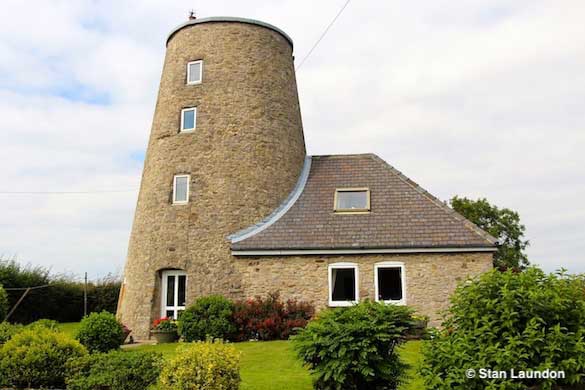 Jackson's Mill is a Grade II listed building in Easington Village - and my sincere thanks to the owners for allowing me access to their property to take a few photographs.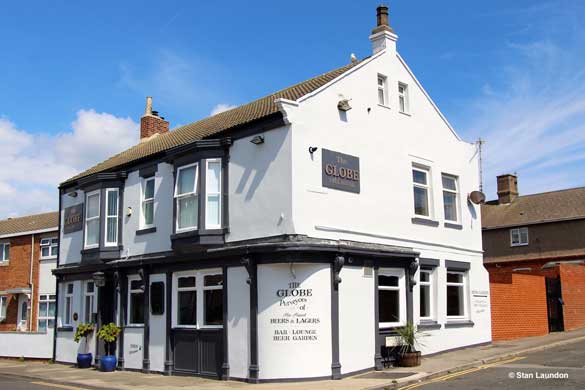 The Globe, on Northgate in Hartlepool, was newly painted during early June 2020 and it certainly looks very impressive indeed.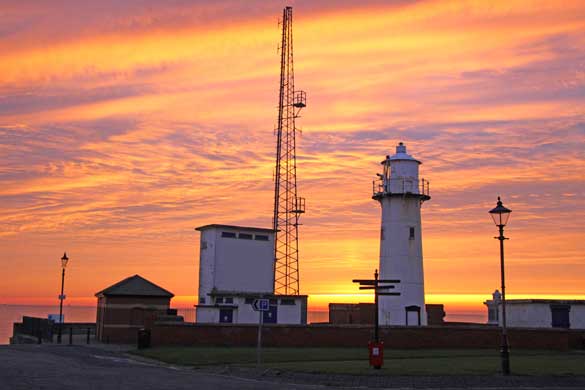 It's not often that I'm out of bed to take photographs of the early morning sunrise but one day, recently, I just happened to be up and about and decided to take a few shots. This is the Heugh Lighthouse in old Hartlepool and how nice to see Ross Hutchinson using another of my photographs on Tyne Tees TV Weather which you can see in the right hand column.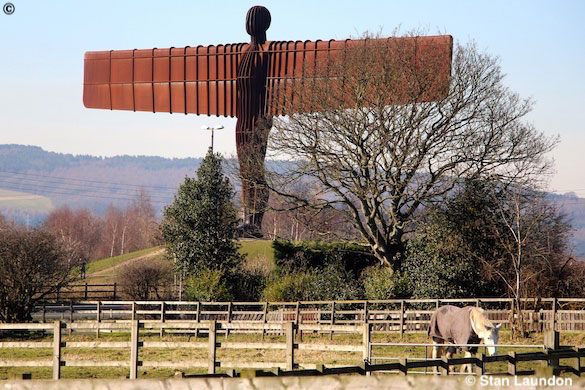 Antony Gormley's Angel of the North, which was built in Hartlepool, celebrated its 21st birthday on Friday, February 15th, 2018 and I took the opportunity to visit the site in Gateshead and later and enjoyed a lovely meal in the Angel View Hotel.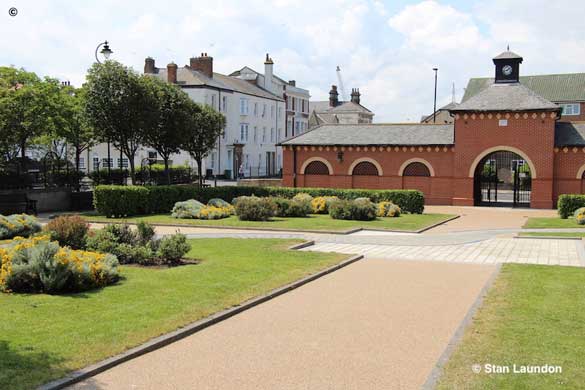 The Town Square in old Hartlepool underwent a transformation and renovation during the early summer of 2019 and worth visiting.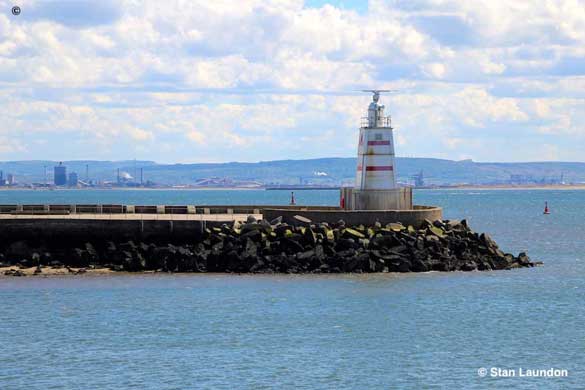 The Pilot's Pier in Hartlepool with industrial Teesside in the distance and Roseberry Topping can be seen on the Cleveland Hills. Click on the photograph to see it slightly larger.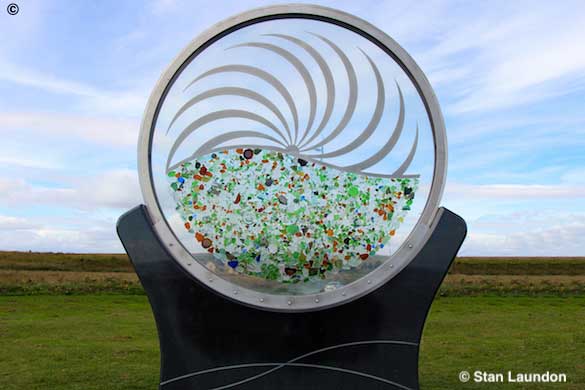 Waves, by Stuart Langley, can be seen on the sea front at Seaton Carew. A plaque explaining more about this monument can be seen in the right hand column.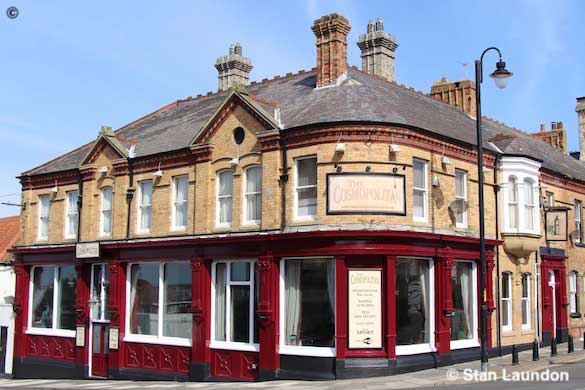 The Cosmopolitan Hotel, on the corner of Middlegate and Durham Street in Hartlepool, was re-painted in June 2019.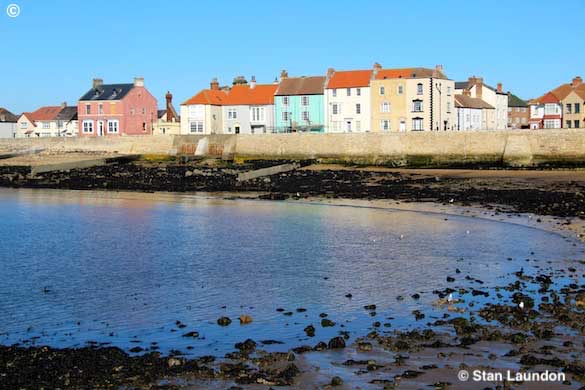 A low tide on the Fish Sands with the picturesque and colourful houses on the Town Wall and how nice it was to see this photograph used on "BBC Look North" evening weather, with Jennifer Bartram.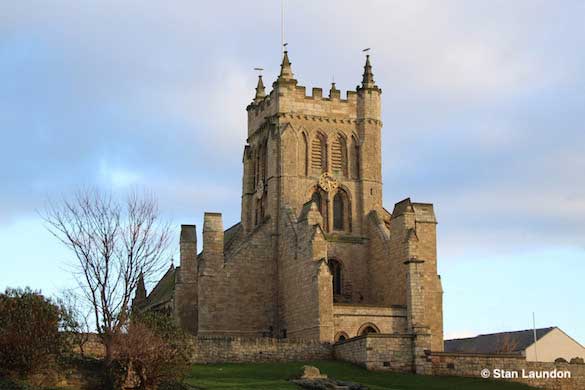 St. Hilda's Church taken from the car park in Middlegate on a sunny late January afternoon just before half past three as indicated on the clock!
An impressive view, taken from the Pilot's Pier, looking towards Hartlepool Docks as the Antigua Barbuda registered cargo vessel "Unisky" leaves port and about to pass the historic Town Wall and Fish Sands.
Not a pretty sight to see as I drove through Greatham during late September, 2018. The Smiths Arms public house is in a sorry state. I'm told, on good authority, that it is being turned into apartments.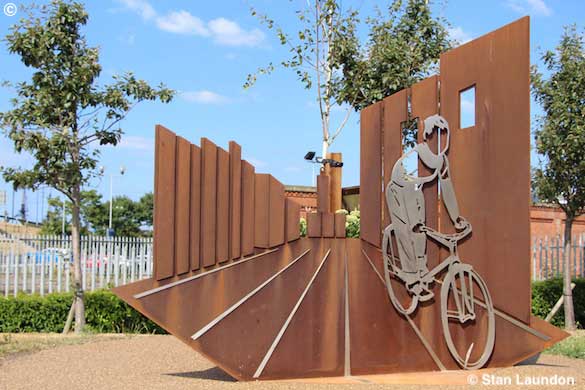 The Boy on a Bicycle sculpture, by Bob Hollywood, is close to the railway station and celebrates the film directors' Sir Ridley and Tony Scott and their links to Hartlepool. They both studied at West Hartlepool College of Art. The "Boy and Bicycle" recalls Sir Ridley Scott's black and white film from 1965 which he shot in town and you can see on the British Film Institute website.
Ward Jackson Park with the flowers in bloom taken during late August, 2018 and congratulations to the parks' department and gardeners for a magnificent job they do!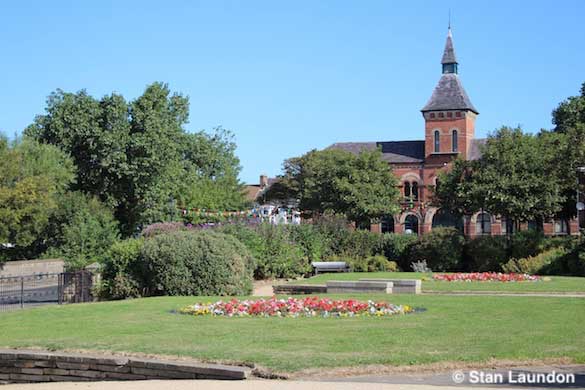 Beautiful flowers in Croft Gardens in the early morning sunshine on Thursday, August 9th, 2018 with the Borough Hall as a backdrop.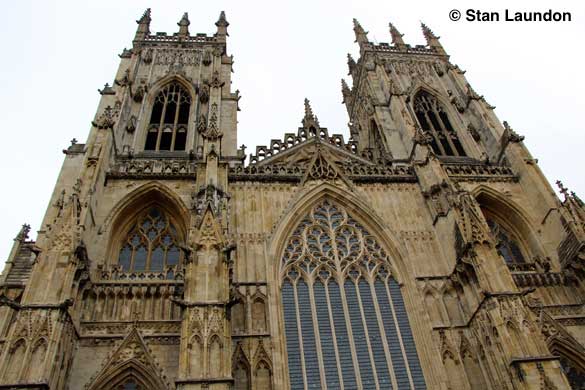 York Minster - or to give it its correct and full name it is The Cathedral and Metropolitical Church of Saint Peter, York Minster - and is a Grade I listed building.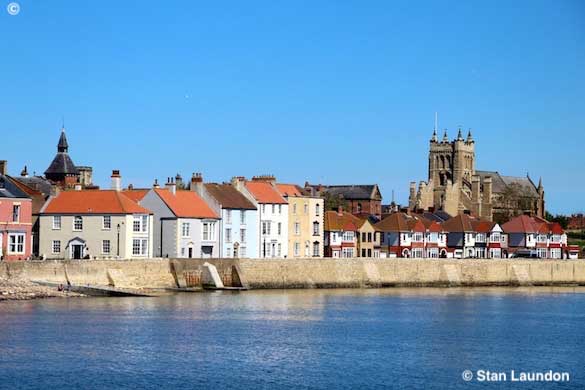 A nice sunny view of the Town Wall, in old Hartlepool, and taken from the Banjo Pier in Middleton and used on Tyne Tees Television weather.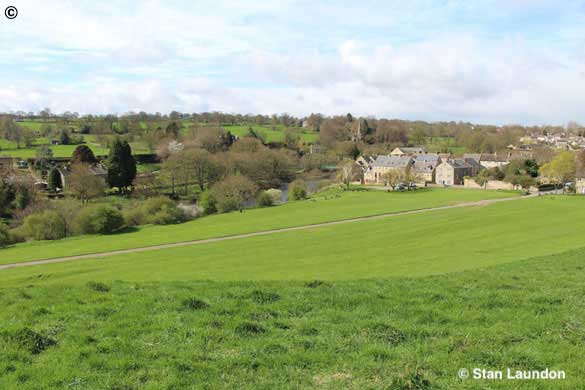 This picturesque view of Barnard Castle, overlooking the River Tees, was taken during late April 2018 and was also used on BBC Look North Weather - and how nice to see!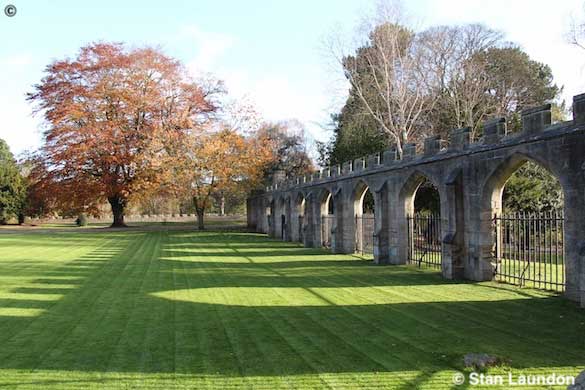 A nice Autumn view of the gardens and grounds in Auckland Castle. The Castle, in Bishop Auckland, County Durham, is Grade II listed.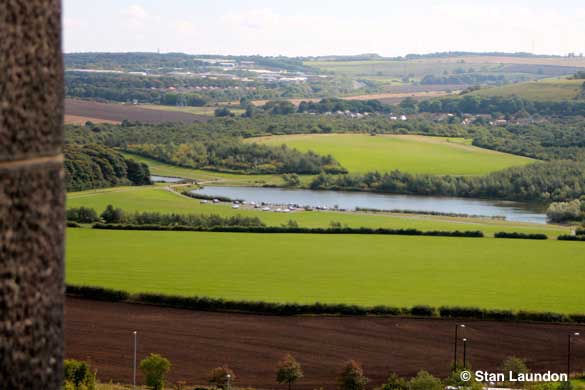 Herrington Country Park near Penshaw, Tyne & Wear. This was taken from inside Penshaw Monument. You can just see a column to the left hand side of the photograph which was purposely left in!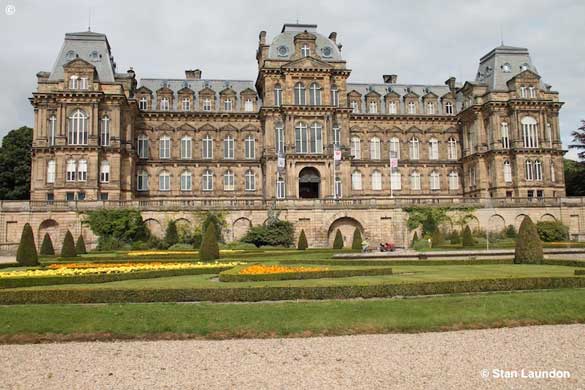 It had been on my mind for quite sometime to make the journey through to Barnard Castle to take some photographs of the spectacular Bowes Museum - well I managed it during late August 2017. The museum is a hidden treasure and a jewel in the heart of beautiful Teesdale.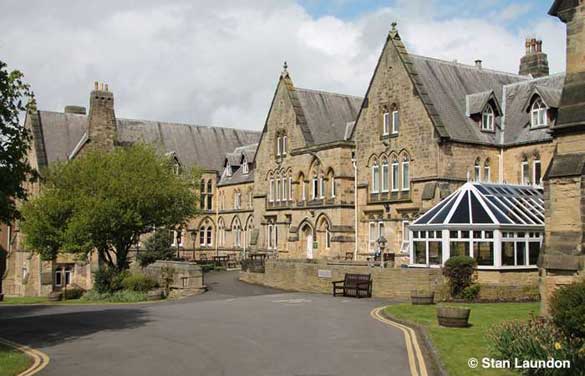 This very impressive Grade II listed building is Beddell House care home at Sherburn Hill in the parish of Shincliffe, County Durham. It was built around 1868 and more photographs of this building can be seen on the Historic England website.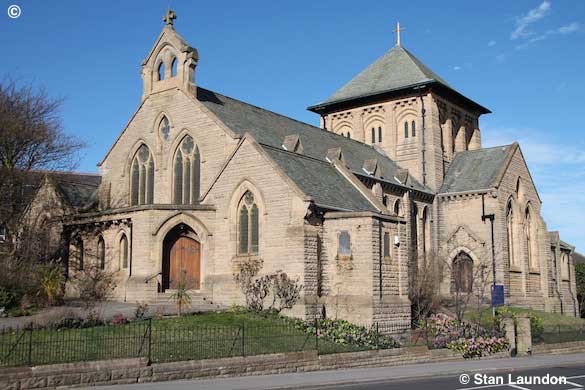 When I made a trip to Horden I couldn't help noticing the impressive St. Mary's Church on Blackhills Road and decided to stop and take a few photographs. It is Grade II listed and you can read more about it on the Historic England website.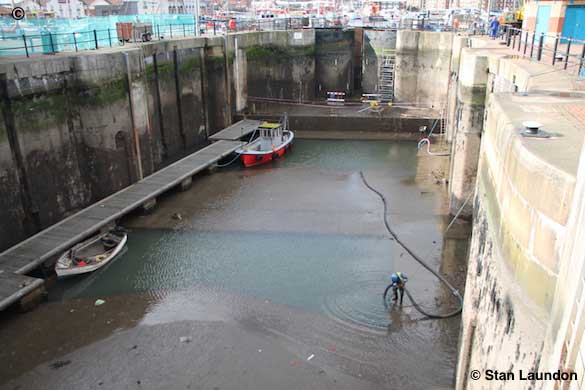 A rare sight indeed. The lock gates in Hartlepool Marina had been closed for essential maintenance during February 2017 which took about 17 days to complete. It had been more than 20 years since this type of work had been carried out and the cost was estimated to be around £80,000.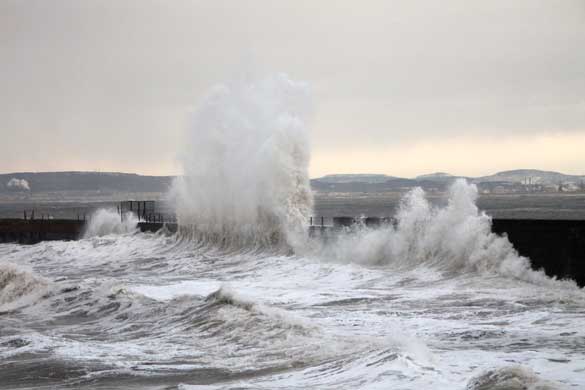 High winds and stormy seas certainly bring the photographers out in force and, as always, the New Pier - Heugh Breakwater - in old Hartlepool is a good place to be if you keep a safe distance!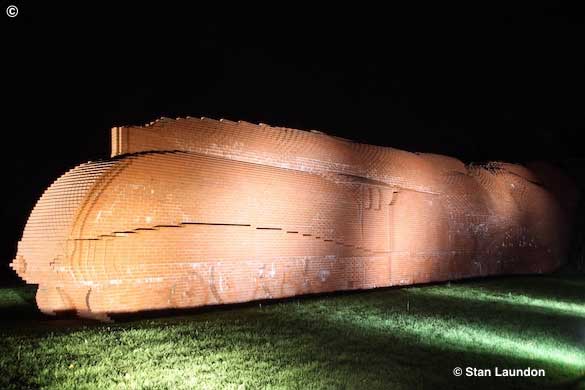 This wonderful sculpture of a brick train can be seen just off the A66 near Darlington. It was was commissioned and created by David Mach in 1997. The train is based on "Mallard" the Sir Nigel Gresley designed A4 pacific locomotive and was constructed using 185,000 bricks. Funding was provided by the National Lottery, Morrisons Supermarkets, Northern Arts, The Department of National Heritage and Darlington Borough Council. For those of you wanting to see it, it is quite close to Morton Park Industrial Estate on the outskirts of Darlington.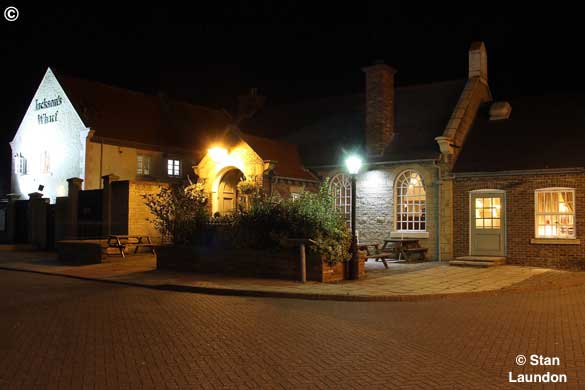 During another spell with night photography I took a friend, from Washington in Tyne & Wear, to certain sites in town that he might enjoy seeing. Jackson's Wharf public house and restaurant was one of the many places we visited - to take pictures not to eat and drink!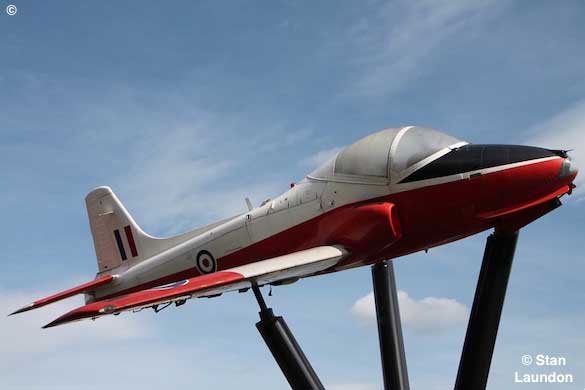 I'm sure many people in Hartlepool will have seen this plane in the grounds of the College of Further Education in Stockton Street. It is an ex-RAF Jet Provost T5 XW405, which arrived in town from storage on June 20th, 2012 and, over several months, was fully stripped, repainted and rebuilt by students and staff to restore it to this excellent external display condition. Photograph © copyright Stan Laundon.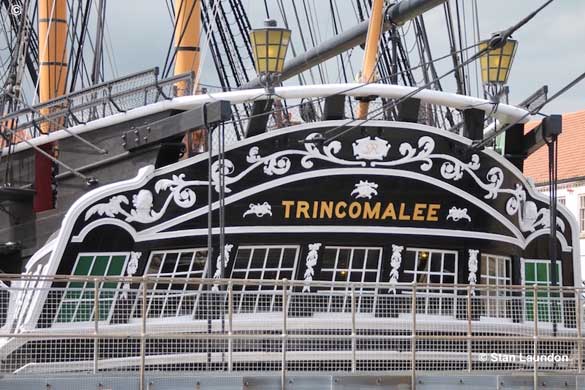 "HMS Trincomalee" which is berthed at The National Museum of the Royal Navy in Hartlepool. She is the oldest British warship still afloat. With its towering structure and thundering cannons, is a perfect tribute to Hartlepool's seafaring tradition. Built in Bombay, India in 1817, the Trincomalee was brought to Hartlepool in 1987, where it has taken over 10 years to restore the ship to her former glory.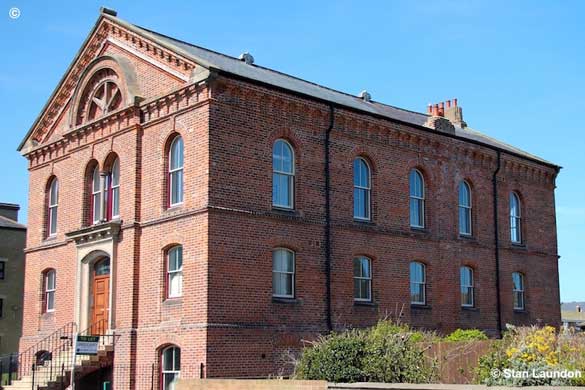 The Morison Hall was once a grand old building that was used by the Boys' Brigade for their meetings and band practice and also for functions and socials. As you see it now, with this photograph taken during mid-April 2016, and after the local council approved planning application, it has been turned into luxury flats. The Morison Hall was actually built as a Methodist Church. It became a Boy's Brigade hall when they took the building over which gave its name from their founder Dr. Bertie Morison. There's more about the building on our Old Hartlepool page.
Two scenic views of the ancient Town Wall in old Hartlepool as seen in an episode of the BBC Television drama series of "George Gently". Click on the images to view them in a larger size.
Two public houses just on the outskirts of Hartlepool - The Ship Inn and The Wellington Inn both in the village of Wolviston.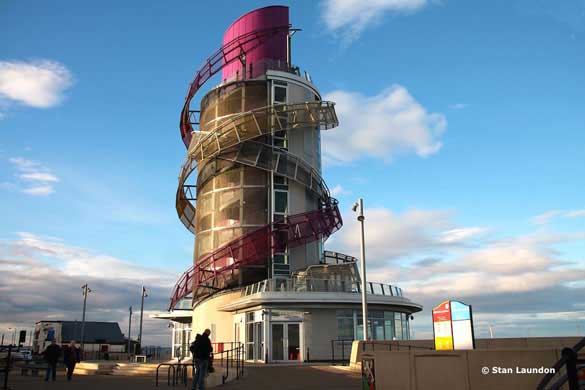 Redcar Beacon, also known as the vertical pier, is the town's tallest structure at 80ft (24m) high and has seven floors. There are 132 steps and a lift. There is cafe and open roof terrace which have 360 degree views. Admission is free. The beacon was opened to the public during March 2013. The tower, which cost £1.6m did attract criticism from some residents who had favoured a horizontal, rather than a vertical, pier.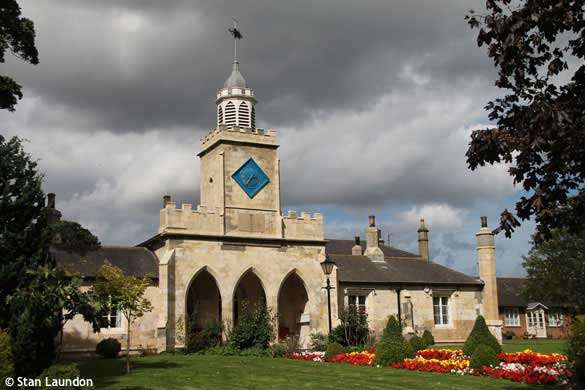 The Hospital of God at Greatham, on the outskirts of Hartlepool, certainly attracts a lot of photographers. It is a Grade II listed building and is used as apartments for the elderly.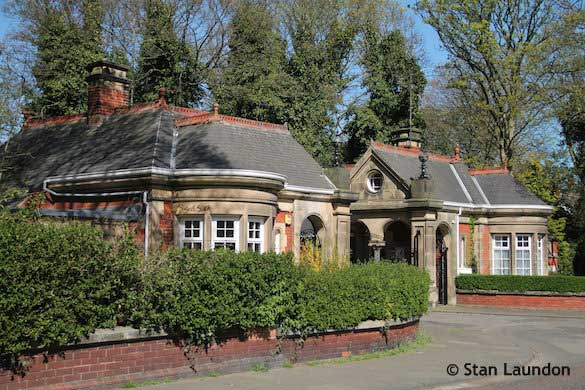 The East and West Lodges at the entrance to Tunstall Court, near Ward Jackson Park in Grange Road. The buildings are Grade II Listed and built around 1890 - possibly by T. Lewis Banks, of London, according to the Historic England website. Both lodges are now private dwellings.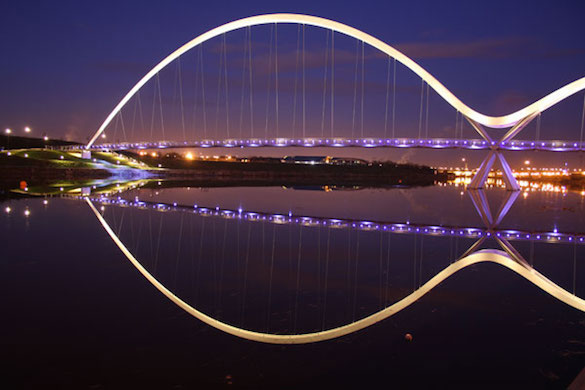 One of many photographs I have taken of the Infinity Bridge which spans the River Tees in Stockton, England. The bridge, which is very picturesque at night, is a major part of the North Shore Development in Stockton. This iconic structure, named Infinity Bridge in September 2008, links the North Shore development and the Teesdale area. I first visited this location in April 2010 and have made several visits since then. Believe it or not I always find different angles to shoot. Photographs © Stan Laundon.
All photographs on this page are copyright © Stan Laundon, unless otherwise stated, and must not be copied, or used in any way, without prior written permission.
Copyright © Stan Laundon