COUNTRY MUSIC MEMORABILIA
Many of the photographs on this page I obtained during my first trip to Nashville, Tennessee in June 1974. Those of Bill Anderson, pictured above, Loretta Lynn, Charlie McCoy, Conway Twitty and Charlie Walker were signed for me during Fan Fair week.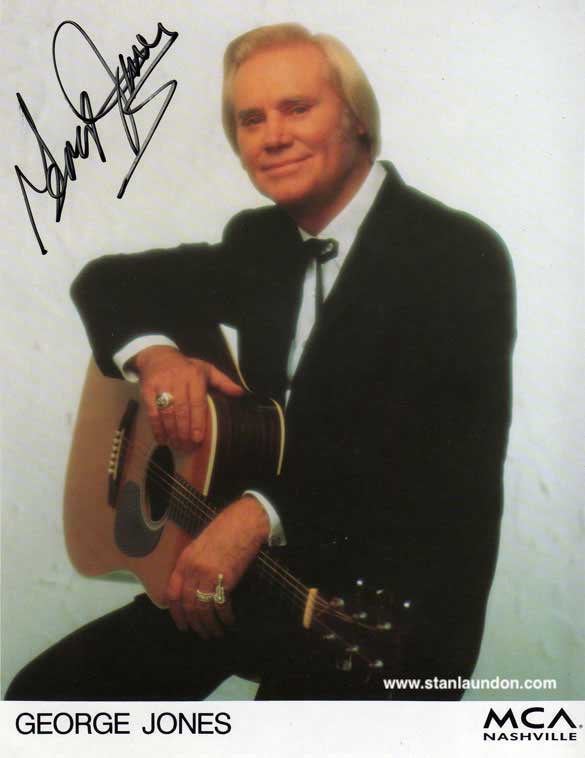 George Jones © MCA
To Stan - glad you like my albums signed Conway Twitty in Nashville, June 1974.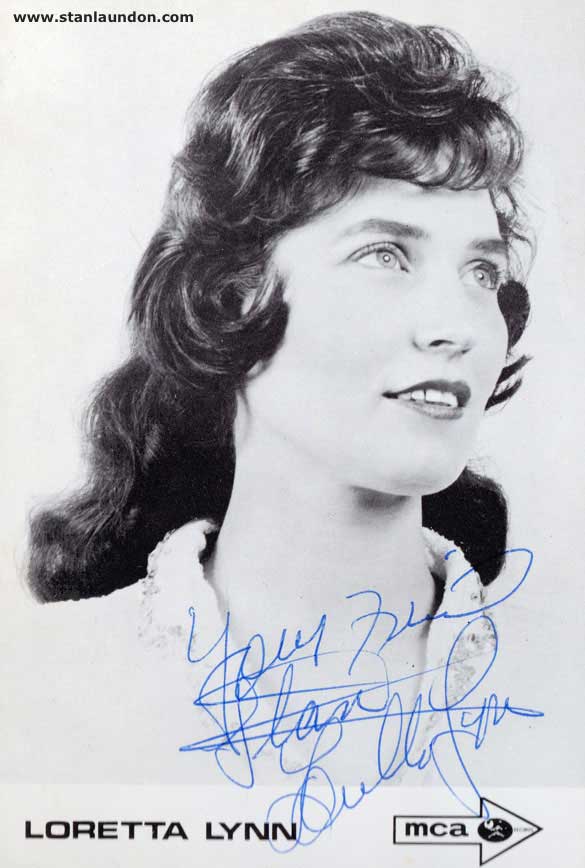 Loretta Lynn signed this postcard for me during a very enjoyable meeting I had with her at Opryland in June 1974. Loretta was also kind enough to invite me onto her tour bus which was in the grounds of the Grand Ole Opry. RIP Loretta - April 14, 1932 – October 4, 2022.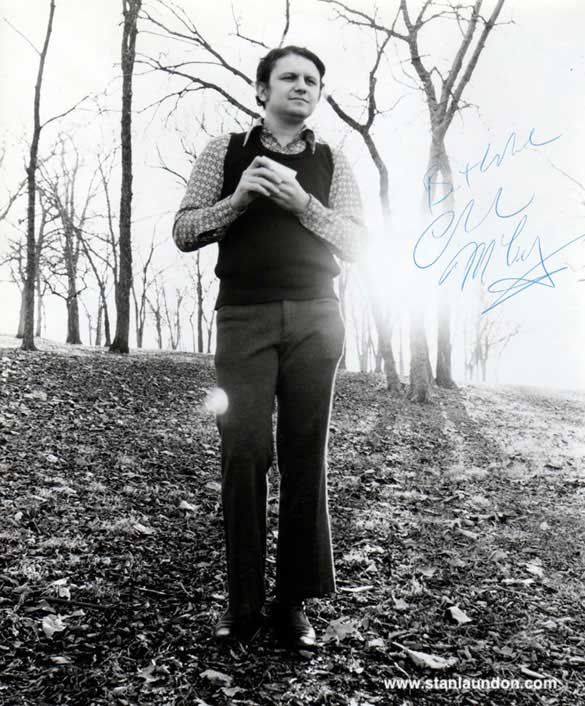 A signed picture of ace harmonica player, Charlie McCoy, which I received during the visit I made to the Municipal Auditorium in Nashville, June 1974.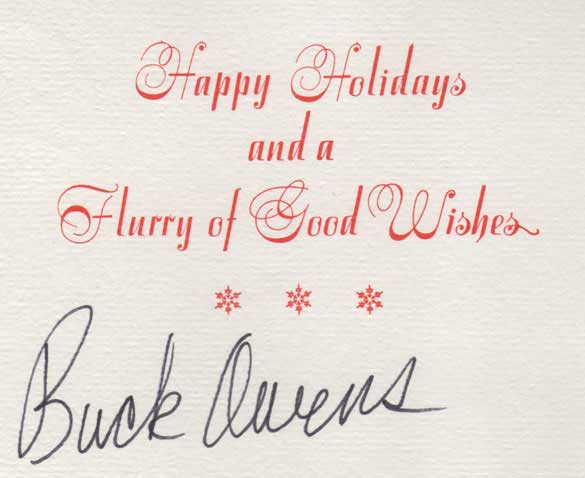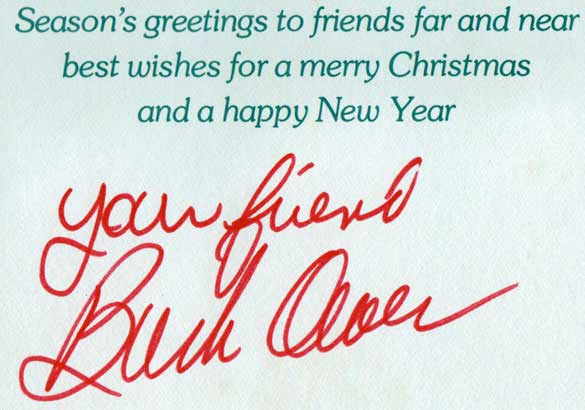 Two Christmas cards from Buck Owens from the 1970's - and very nice, too!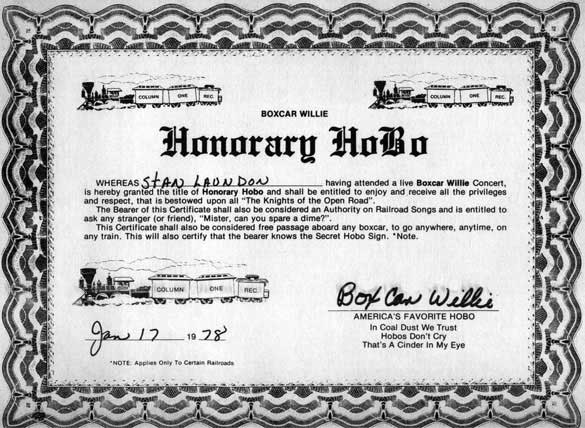 On his first ever visit to Britain, Boxcar Willie was giving "Honorary Hobo" certificates to his fans. I was fortunate to have one signed at Hartlepool Workingmens Club in King Oswy Drive, Hartlepool, England on January 17th, 1978. If you click on the photograph you can view the certificate full size and read the small print. This concert in Hartlepool was Boxcar Willie's first ever show in England.
During another meeting I had with Boxcar Willie during the 1980's, he gave me a limited edition belt buckle (which I later gave away to a friend) and a miniature Boxcar Willie pewter statuette. The model was custom designed for Boxcar by C.A.T in 1983. If you click on the small images above, larger photographs will open. I still have this statuette and would be available for sale if I received a sensible offer.
Willie Nelson with short hair. This was in Birmingham, England when he signed his autograph on the back of the photograph. It did get a few drops of rain on it at the time but I managed to save it!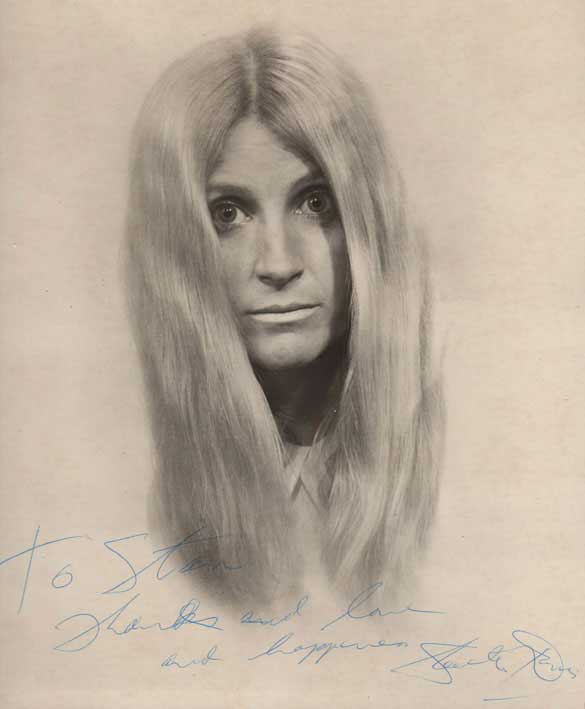 "Thanks and love and happiness" signed Skeeter Davis © RCA.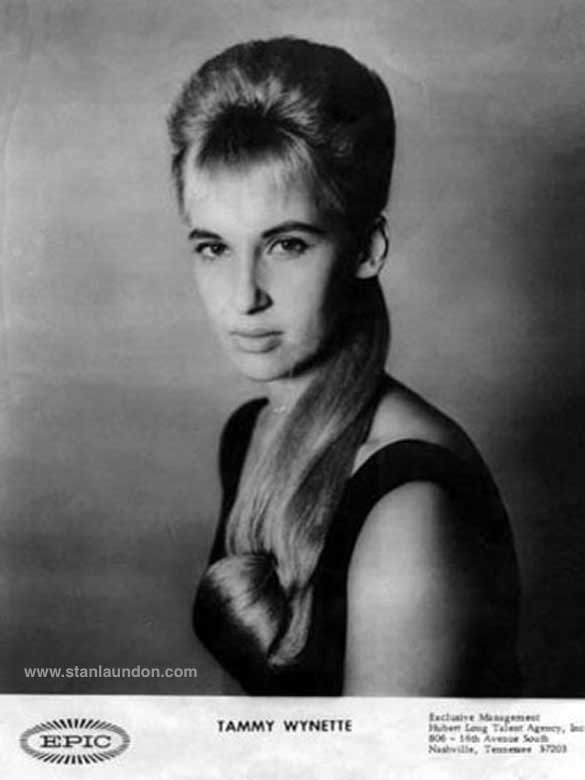 An early publicity shot of Tammy Wynette from 1966/7 © Epic Records.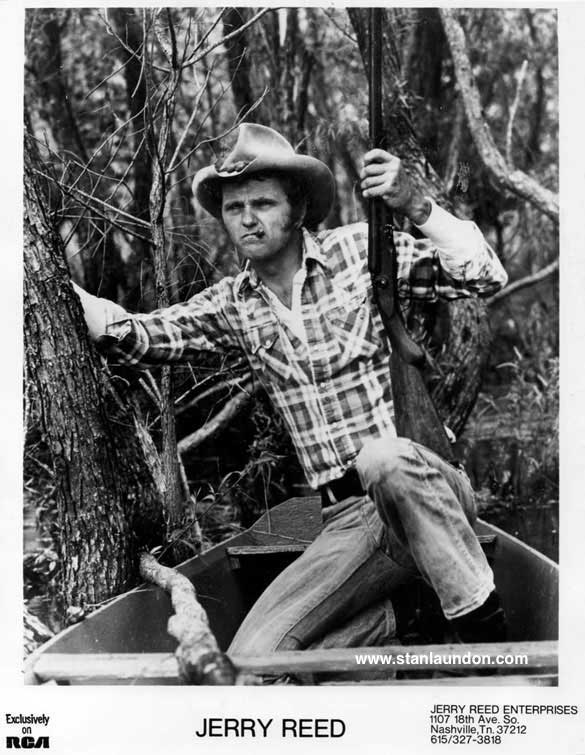 A publicity shot taken at the time Jerry made the movie "Gator" with Burt Reynolds. - and be sure to see the photogrpah Jerry signed for me in the right hand column. There is, of course, more about him on my special Jerry Reed page.
This limited edition Gator belt buckle is a proud possession and a treasured gift from Jerry Reed and it is certainly NOT for sale!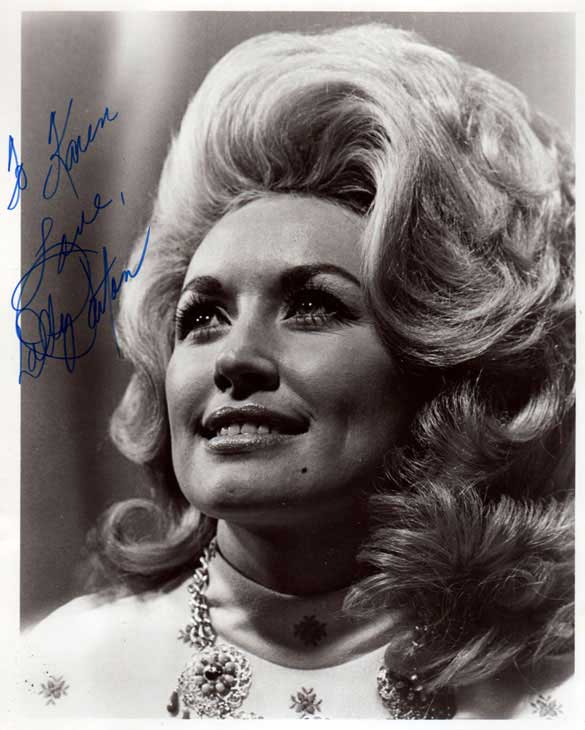 When I first met Dolly Parton in Nashville in June 1974, she apologised for not having any photographs with her at the time. She later sent two signed pictures to my home in England - one to me and one for my wife. The one signed to me personally was later sold to help raise money for charity. During my first time in Nashville in 1974, I actually met Dolly on three different occasions that week - at the Municipal Auditorium, the Theatre by the Lake in Opryland, and backstage at the Grand Ole Opry.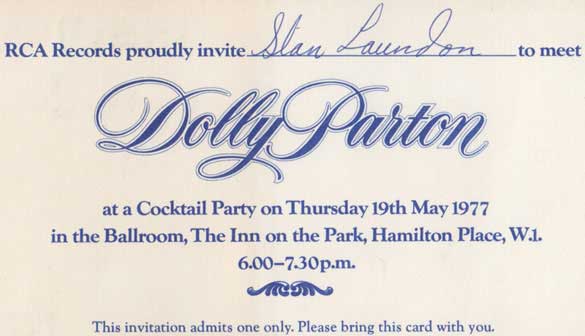 An invitation to meet Dolly Parton at a cocktail party at The Inn on the Park in London, on May 19th, 1977. Sadly, this time, I couldn't make it.
A publicity photograph of Charlie Walker © Epic Records.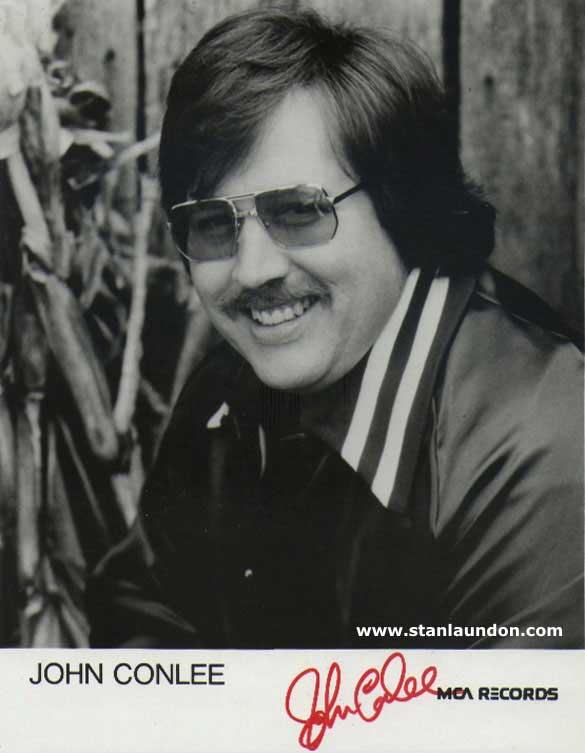 A signed photograph from the man who brought us "Rose Coloured Glasses" John Conlee. I was fortunate to see him backstage at the Opry talking to Charley Pride. Later, the same week, I saw him conducting a radio interview at the Hyatt Regency Hotel, in Nashville.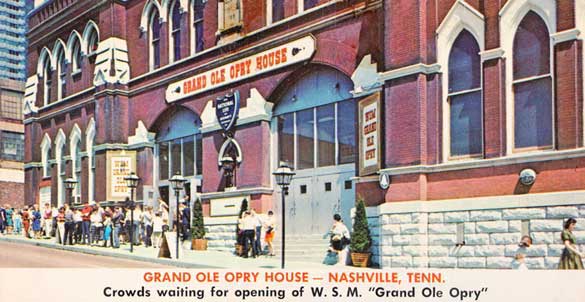 An old postcard showing the crowds waiting for the opening of the WSM Grand Ole Opry.
A couple of miniature car tags I bought on my first visit to Nashville in 1974 - the Ernest Tubb Record Shop and the State of Tennesse.
The publicity photographs used on this page of Bill Anderson, John Conlee, Loretta Lynn and Conway Twitty are copyright © MCA. George Jones, Charlie McCoy, Johnny Paycheck, Charlie Walker and Tammy Wynette are copyright © Epic and Monument and Jerry Reed and Steve Wariner are © RCA, Boxcar Willie © Gem Records.
This website is not responsible for the content of external internet sites.
Copyright © Stan Laundon.com