Regular visitors to this website will know that I'm a lover of steam engines. As my Flying Scotsman, Steam and Tornado pages are getting rather crowded, I thought I'd create a new page looking at the ever popular North Yorkshire Moors Railway. I'm taking nothing away from the offical NYMR site, just placing my own images here with photographs of some of the wonderful scenery that we have in this part of the world.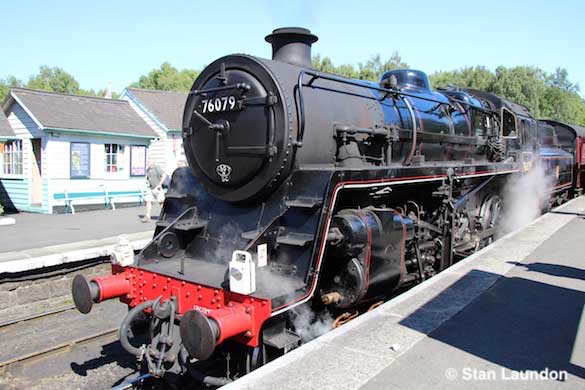 The British Rail Standard Class 4MT engine 76079 (2-6-0) at Grosmont Station in June, 2018. She was designed by Robert Riddle and entered service in 1957.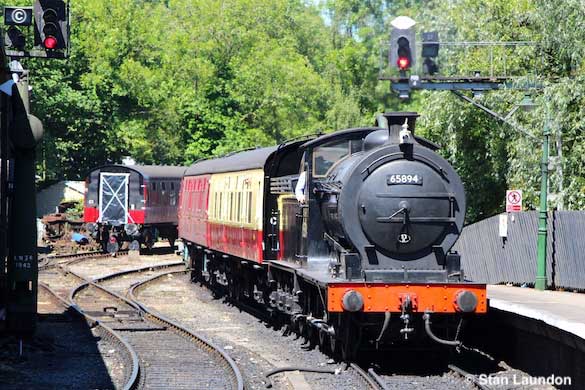 The J27 locomotive (0-6-0) 65894 (NER P3 2392) at Pickering Station in June 2018.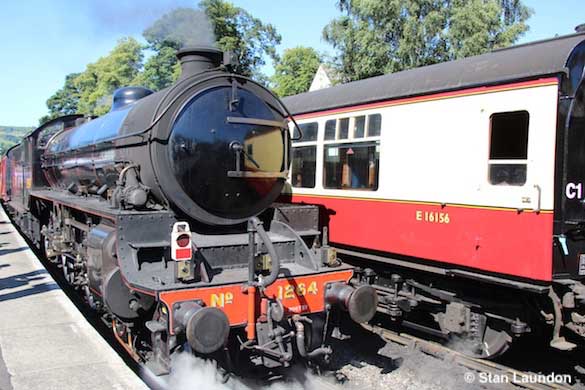 The LNER B1 locomotive 61264 (4-6-0) at Pickering Station in June, 2018. She was designed by Edward Thompson and entered service in 1947.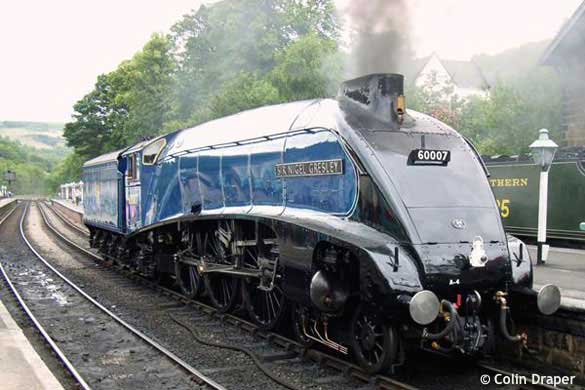 The A4 Pacific 4-6-2 60007 "Sir Nigel Gresley" is a popular locomotive on the North Yorkshire Moors Railway and sheds at Grosmont. You can see a slide show at the foot of this page showing stages of her restoration in 2006. Thanks to Colin Draper © for the use of this photograph.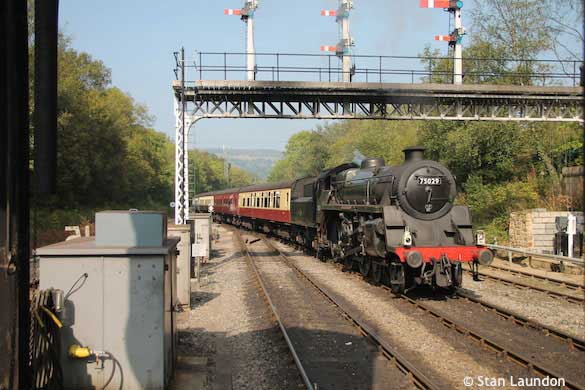 The British Railways 4MT locomotive 4-6-0 75029 "The Green Night" approaching Grosmont station in September, 2014. According to the East Somerset Railway website she was built in 1954 and bought by David Shepherd from British Rail in 1967. The engine was based at the ill-fated Longmoor Steam Railway until going to the East Somerset Railway in 1973. In the late 1990's the engine was sold and is now based on the North Yorkshire Moors Railway.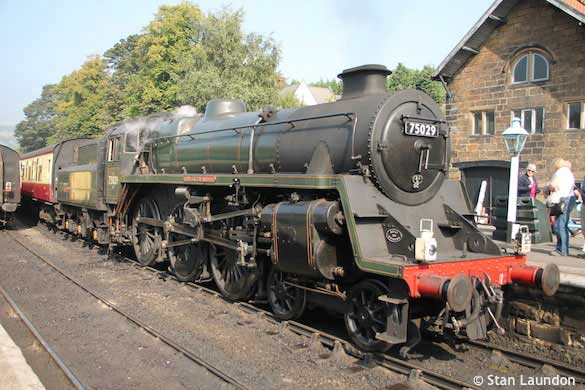 Standing at the platform waiting to leave is number 75029 "The Green Night" and she was a wonderful sight for enthusiasts and the many photographers.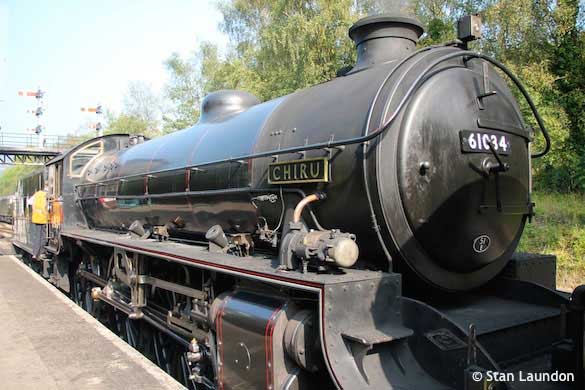 The class B1 locomotive 61034 "Chiru" at Grosmont in September, 2014. She is an ex-LNER class B1 4-6-0 number 61264 and following her rescue from a scrapyard in 1976, she returned to steam in 1997 after a 20-year restoration. You can read more about her on the Thompson B1 Locomotive Trust website.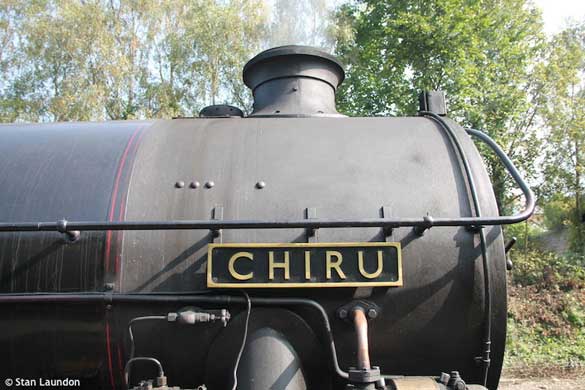 A close up the the name plate of the B1 "Chiru" will please enthusiasts I am sure!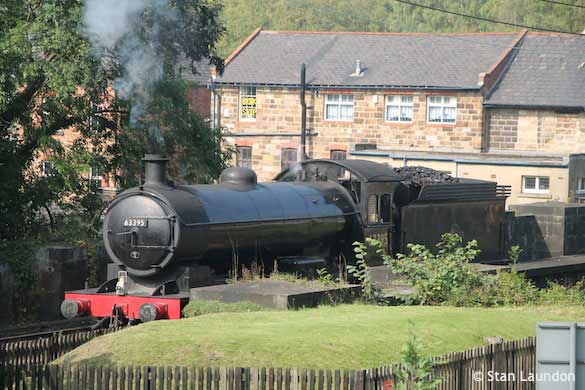 Steaming out of Grosmont Station on her way to the sheds is the class Q6 0-8-0 63395. Be sure to visit the North Eastern Locomotive Preservation Group to read more about her.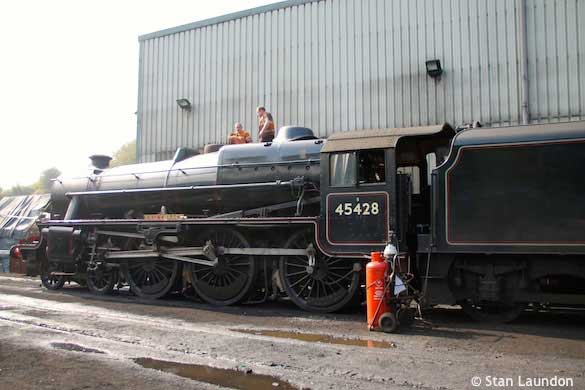 The former LMS Stanier Black Five Class 5MT 4-6-0 number 45428 was named "Eric Treacy" in preservation. She was named after Eric Treacy MBE who was an English railway photographer and Anglican bishop.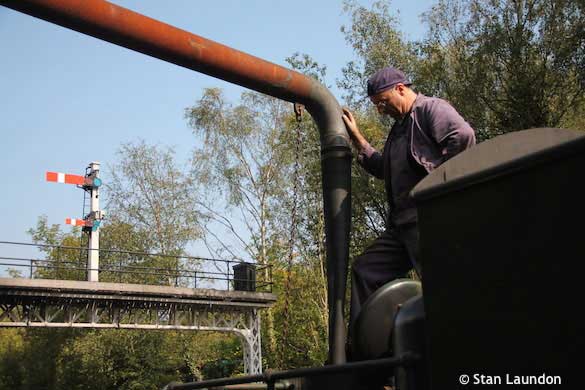 Taking on water at Grosmont. The dedicated army of volunteers do such a wonderful job on our preserved railway lines throughout the country.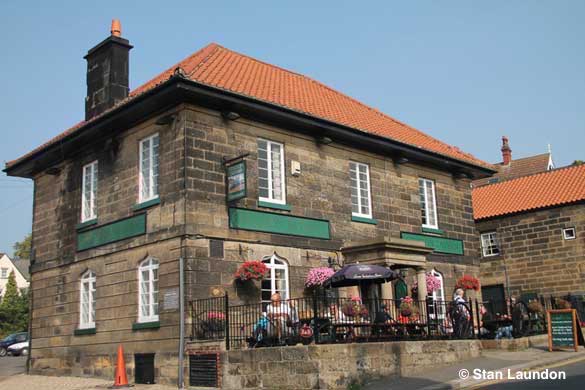 The Station Tavern at Grosmont - an ideal place to relax, have a drink, enjoy a meal and even stay overnight.
The restoration of 60007 Sir Nigel Gresley, from start to finish, which dates to June, 2006. This set of photographs shows the excellent work undertaken by several dedicated volunteers on this 4-6-2 A4 Pacific classic locomotive. Thanks to Colin & Kath Draper for providing these photographs which were taken at Grosmont on the North Yorkshire Moors Railway.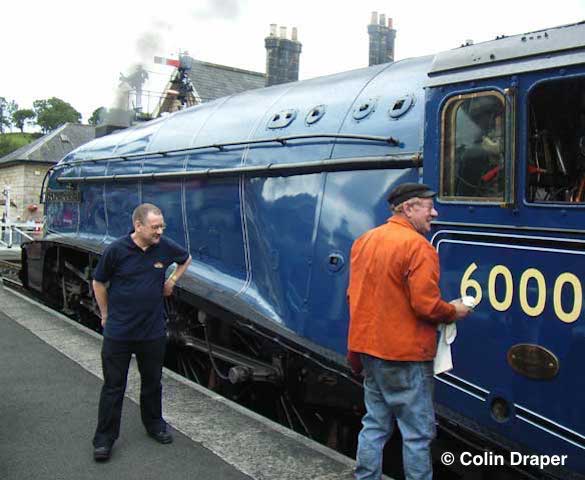 This page is dedicated to Roger Barker who passed away on June 5th, 2015. Roger was often seen driving the locomotive Sir Nigel Gresley on the North Yorkshire Moors Railway and several times on the television. He is on the right of the photograph above near the footplate. Photograph copyright © Colin Draper.
The photographs on this page are © Stan Laundon unless otherwise stated and must not be copied, or used in any way, without prior written permission.
The Google monkey on this page was created by Dave Sutton graphics and free 3D animated gifs for web sites.
This website is not responsible for the content of external internet sites
Copyright © Stan Laundon.com