COUNTRY TIME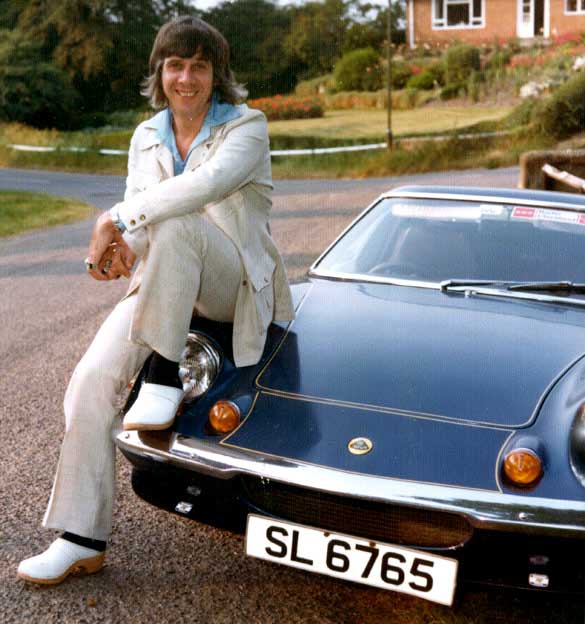 A poser, a poser car and a poser registration plate - with my Lotus Europa in the 1970's. Photograph by Alison Moses.
A short history of "Country Time"
January 1, 1971
The very first edition of "Country Time" was broadcast at 7.05pm. The first record played was "Alabama, Louisiana or Maybe Tennessee" by Buck Owens and the Buckaroos. There was recorded music from the Liverpool band, Western Union.
February, 1971
Because of popular demand, the programme's air time is increased from 25 to 45 minutes and broadcasts a specially recorded programme with top Liverpool band, The Hillsiders.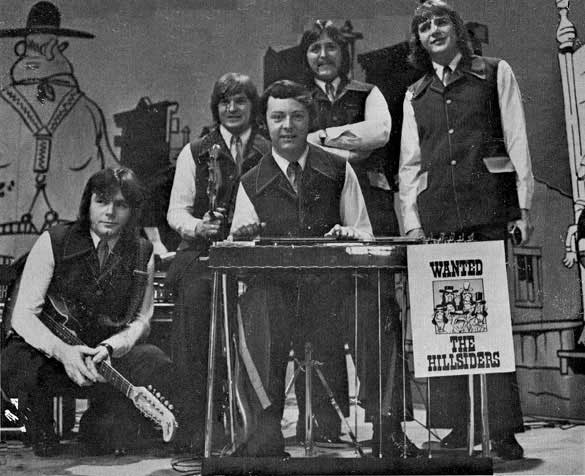 The Hillsiders - Kenny Johnson, rhythm guitar and lead vocalist; Joe Butler vocalist and bass guitar; Ronnie Bennett, steel guitar; Brian 'Noddy' Redman, drums and Brian Hilton, vocals and lead guitar.
October 23, 1971
An article in the weekly BBC publication 'Radio Times' mentions that "Country Time" had a new time slot - being broadcast on Sundays at 5.15pm with a repeat the following Friday at 12.05pm.
June 17, 1972
"Country Time" is now 60 minutes - being transmitted on Sundays at 4.00pm.
February, 1973
American stars Faron Young and Connie Smith are featured on "Country Time" which was recorded in Glasgow, Scotland. Faron made a comment about the length of my hair - which wasn't broadcast - saying "I was a ******* disgrace to Country music!"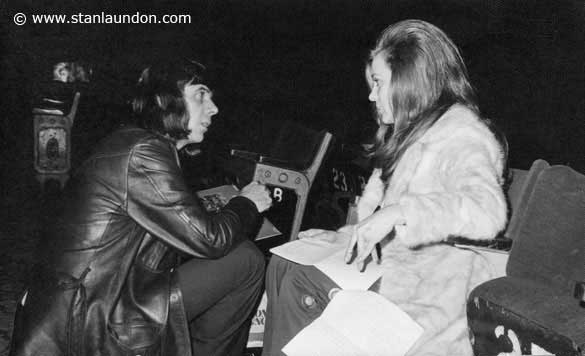 Connie Smith in Glasgow, Scotland 1973.
August 17, 1973
"Country Time" broadcasts a special "Silver Anniversary" tribute to Chet Atkins who celebrates 25 years as an ace picker and Nashville producer. One of about six shows I have saved in my archives!
April 1, 1974
BBC Radio Teesside changes its name to BBC Radio Cleveland. The local authority, Teesside, ceases to exist and Cleveland County is born and the radio station decides to change its name. The staff was asked to vote on this issue and, just for the record, I voted against it.
June 1974
I make my first ever visit to the United States travelling through New York, New Jersey, Virginia, Tennessee, Kentucky, Indiana and Pennsylvania. The trip saw me spending seven days in Nashville for "Fan Fair" when I met a host of country music stars including Bill Anderson, Johnny Cash, Freddie Hart, Loretta Lynn, Charlie McCoy, Dolly Parton and Porter Wagoner with the highlight for me being able to interview my own idol, Jerry Reed.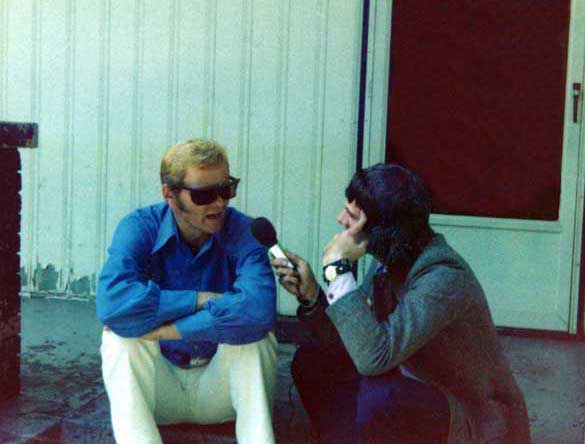 Jerry Reed outside his Music Row office in Nashville, Tennessee, June 1974. Photograph by Shay Brogan.


If you'd like to hear the two radio station id's (jingles) that Jerry recorded for my BBC Radio Cleveland "Country Time" programme in 1974, then click on the music notes.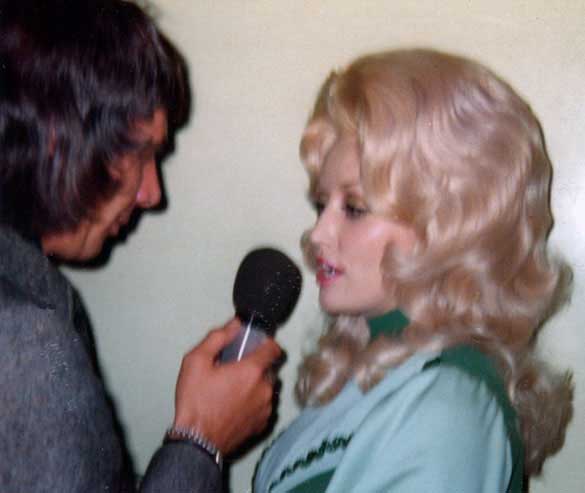 Dolly Parton at the Municipal Auditorium in Nashville, Tennessee, June 1974 - photograph by Shay Brogan.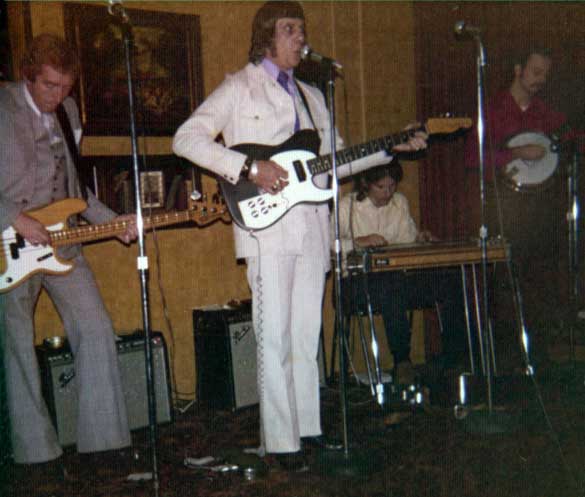 I get the chance to do a bit of singing in Nashville at a local Holiday Inn. Shay Brogan, on the left, joined me on bass guitar as we did a few songs with a local band. I do wish I could remember their name. Oh happy times!
February 5th, 1975: Bill Anderson and the Po' Boys, Mary Lou Turner and Mac Wiseman appeared at Middlesbrough Town Hall. "Country Time" was there and recorded interviews.
March 1975
It was a great honour for me to be one of seven deejays nominated as Disc Jockey of the year at the Billboard (UK) Country Music Awards held at the Empire Pool, Wembley, in London on March 29th and 30th. The winner was Wally Whyton of BBC Radio 2.
December 28, 1975
"Country Time" celebrates its 250th show. The programme linked up to Nashville and recorded a telephone interview with Jerry Reed. According to a country music magazine, this show broke all British records for the longest country music session in one day, programming six hours of non-stop country music! Do you know, I couldn't remember until read it in a newspaper article!
Easter 1976
Dolly Parton, Waylon Jennings and Wanda Jackson were just a few of the major stars appearing at the Eighth International Festival of Country Music at Wembley. "Country Time" was there and interviewed most of the stars.
December 12, 1976
"Country Time" celebrates its 300th show with a three-hour programme.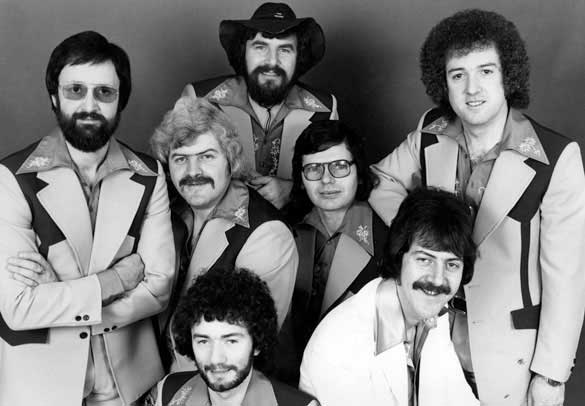 Ray Lynam and The Hillbillies with Billy Condon, John Lynam, Mick Lube, Kevin Sheeran, John Ryan, Billy Burgoyne and Ray Lynam. Copyright © unknown.
1977/1978
"Country Time" visits Dublin in Ireland and records interviews with Gloria, Ray Lynam and The Hillbillies, Larry Cunningham, Roly Daniels and Basil Hendricks.
1979
Jim Glaser, Tammy Wynette and Chet Atkins visit the area to play concerts this year and "Country Time" recorded interviews.
August 1980
According to the American magazine "Close Up" BBC Radio Cleveland, in England, continues to gain high listening figures and Country DJ Stan Laundon had Nashville singer & songwriter Jimmy Payne as programme guest on his "Country Time" show on June 6th and 8th. BBC Radio Cleveland celebrates its 10th anniversary on New Year's Eve this year.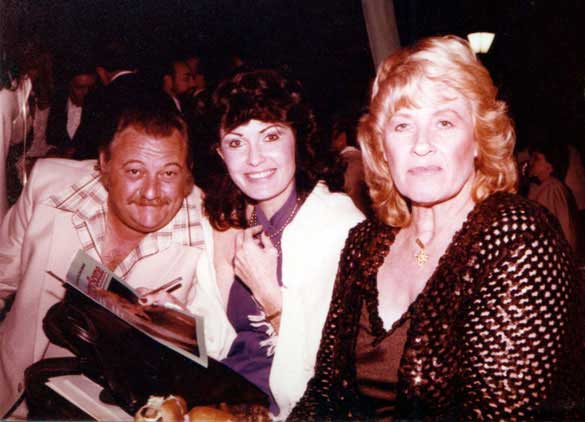 Cajun fiddle star Rufus Thibodeaux with Mary Reeves Davis, the wife of the late Jim Reeves, on the right. I have no idea who the lady is in the centre. This was backstage at the CMA Awards in Nashville.
October 1980
I get the chance to visit Nashville again for the Country Music Awards Show at the Grand Ole Opry on October, 13th. I taped interviews with Moe Bandy, Joe Stampley, Larry Gatlin and more. It was also a pleasure for me to meet The Mayor of Nashville, Richard B. Fulton, to present him with a small gift from Councillor Bill Middleton, the Mayor of Hartlepool at the time. It was a vacuum flask with the Hartlepool town crest on it and made by Aladdin Industries in the town. Strangely enough, the headquarters of Aladdin was based in, of all places, Nashville, Tennessee! On this same visit to the United States I also had the opportunity to see Gene Watson in concert in a small town near Birmingham, Alabama. After the show I did make myself known to Gene's road crew and it was arranged for me to do an interview with him. I think he was somewhat amazed to find a person from the BBC in England in this small town and he was only too pleased to speak to me even though he was exhausted after a great show singing all his hits to a packed audience.
Autumn 1980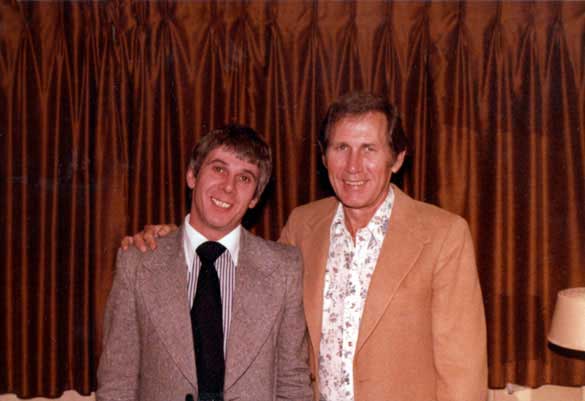 Chet Atkins plays a concert at Middlesbrough Town Hall. I had the opportunity to meet Chet at his hotel before the show thanks to RCA representative, Tommy Loftus, who organised it for me.
June 1981
Country Music People magazine prints an annual review of current country radio programmes and shows that "Country Time" is broadcast on Sundays between 2.00pm and 3.30pm.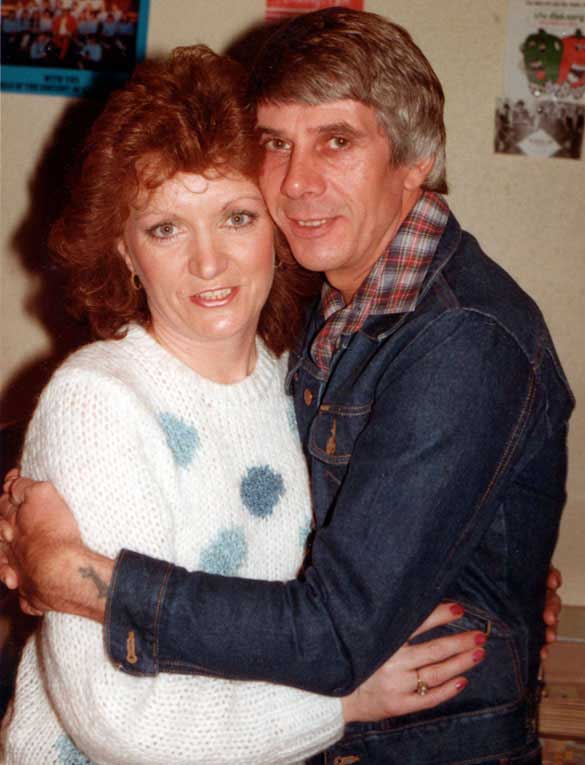 Irish country music star, Philomena Begley, backstage at Middlesbrough Town Hall.
June 1982
On another visit to the United States I enjoyed a holiday in the deep south visiting Panama City Beach, in Florida and the Okefenokee Swamp, in Georgia. I travelled all the way from the Gulf Coast to see Jerry Reed in concert in Douglasville, Georgia. Thanks to his manager, Frank Rogers, I got the opportunity to record a 45-minute special with him - although our conversation was interrupted by a telephone call from Burt Reynolds!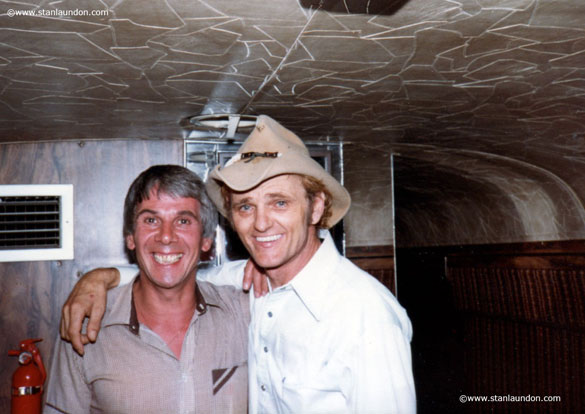 With Jerry Reed on his luxury coach in Georgia - photograph by Frank Rogers. Many people will remember Jerry as "The Snowman" from the film "Smokey and The Bandit".
September 1982
On a visit to Nashville, Tennessee, I had the pleasure of meeting Carmol Taylor and Sonny Wright at Carmol's Music Row Office. He was celebrating a birthday and I was invited to attend.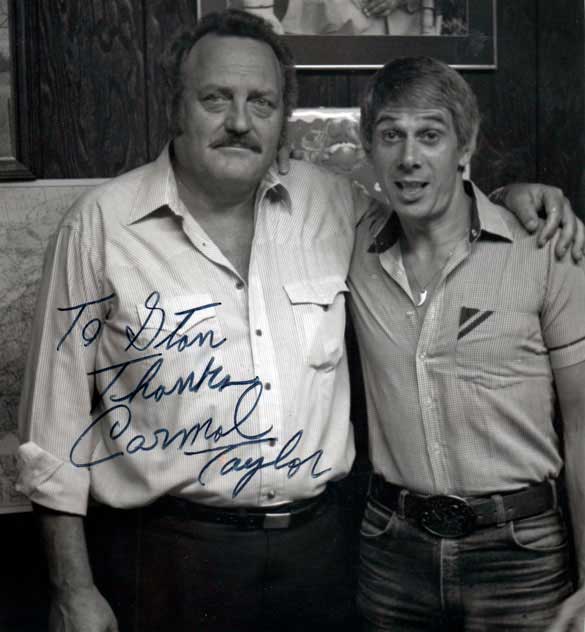 With Carmol Taylor at his Music Row Office in Nashville. Photograph by Jay Diamond.
November 5, 1982
American singer/songwriter Rattlesnake Annie McGowan visits the UK and plays a concert in Scarborough. I was asked to compere the event and recorded an interview with her.
Easter 1983
"Country Time" visits the International Festival of Country Music, at Wembley, and records interviews with Jim & Jesse McReynolds, The Dillards, Ronnie Prophet and George Jones. Also at Wembley were Wendel Adkins, Roy Acuff and Johnny Lee.
June 1983
"Country Time" visits Gilley's Night Club, in Pasadena, Texas - the home of the Urban Cowboy where John Travolta made the movie. I also rode the bull at Gilley's and have the tee-shirt to prove it! I didn't get the chance to meet Mickey Gilley on this occasion, but I did chat to Wendel Adkins and saw Ronny Robbins in concert with Marty's original backing group.
September 1983
I get the opportunity to take my own tour to Nashville. A party of 30 fans fly out to Atlanta, Georgia for a 17-day guided tour that takes in Chattanooga, Nashville and Memphis. We stopped off for a week in Music City to enjoy the sights and the sounds, which included a visit to the Grand Ole Opry. A few people in our party were fortunate enough to talk, very briefly, to Merle Haggard as he left a local restaurant. He was willing to sign an autograph but, sadly, I did not have a tape recorder with me at this time. I did, however, record a large portion of my show in Nashville and during our visit to Memphis we called in at Graceland, the home of Elvis Presley and I personally visited The Lorraine Hotel where Martin Luther King Jr. was assassinated.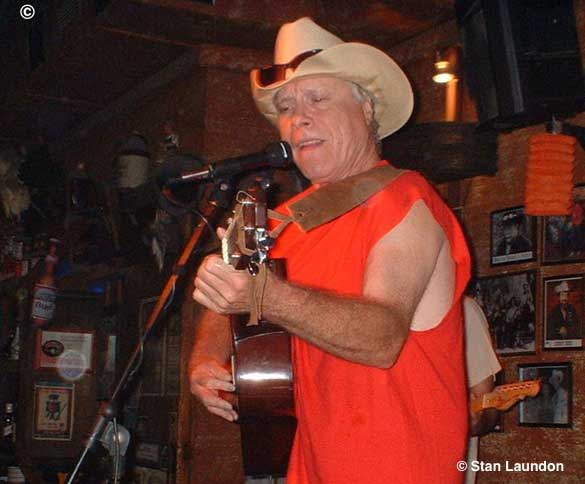 Joe Sun entertaining in Barcelona, Spain in June, 2006. Joe sadly passed away on October 25th, 2019, aged 76. RIP Joe. Photograph © Stan Laundon
October 1983
Waylon Jennings makes a visit to the UK and appears in concert at Hammersmith, in London. I took a party of fans on a two-day visit and had the pleasure to meet and talk to him backstage. I also met John Denver that night - he was standing in the wings watching the show. Some of us later went on to a night club to see Joe Sun and Solar System in concert.
August 28, 1984
I get the opportunity to be one of the comperes at the Peterborough Festival of Country Music when I introduced American country music star Barbara Fairchild on stage. Interviews were taped for "Country Time" and my section was also recorded by Anglia Television. The festival also starred Jimmy Payne, Kenny Johnson and Northwind and Ray Lynam and The Hillbillies.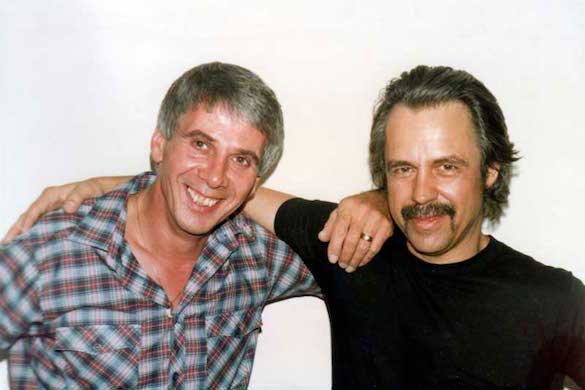 With Steve Young in Guisborough, England in 1983. RIP Steve Young who passed way on March 17th, 2016 aged 73.
August 8th, 1985
It was a great honour and a wonderful privilege to be asked to present the BBC's national country show "Country Club" on Radio 2. The show's regular host, Wally Whyton, was taking a well-earned break and I was one of three local radio presenters to host the programme. It also gave me the chance to play some of my own favourites such as Jerry Reed, Steve Young and Hank Williams Jr. You can see the BBC Radio 2 schedule for this day on the Genome website.
December 24, 1988
"Country Time" celebrates its 1000th show with a three-hour special. Members of the Go Country Club, in Barnard Castle, County Durham, presented me with an engraved decanter to mark the occasion.
April 1989
"Country Time" visits North Carolina and records interview with the International Ambassador of Country Music, George Hamilton IV together with the Moody Brothers, Raymond Fairchild and the Crowe Brothers. A large portion of the show was recorded at the Opry House in Maggie Valley, North Carolina. Raymond Fairchild is one of the finest (and fastest) five-string banjo pickers I have ever seen or heard - he amazed me! He had just been voted World Champion Banjo Picker and has since had this honour bestowed on him four more times! The Crowe Brothers, I will never forget, sounded so much like Ira and Charlie, the Louvin Brothers. I will always love their song "The Winds Are Blowing In Maggie Valley."
September 1989
"Country Time" goes to Georgia and Louisiana. The first part of the show was recorded aboard "The Crescent" - an Amtrak train heading down to New Orleans from Atlanta. In Louisiana we recorded highlights from the Festivals Acadiens in Lafayette which included an interview with Rufus Thibodeaux.
Gerald P. Breaux, the Executive Director of the Lafayette Convention and Visitors Commission, later wrote: "I would like to congratulate you on the outstanding program that you produced on Lafayette. "It is quite obvious that you were able to capture the spirit and enthusiasm of our Festivals Acadiens."
September 1991
I made my farewell trip to Nashville, Tennessee and met up with some old friends - former disc jockey and later agent and promoter, Jay Diamond; songwriter John Riggs and singer/songwriter, Jimmy Payne. John Riggs and I enjoyed Sunday breakfast down by the Cumberland River and, later, I sat in the coffee lounge of the Holiday Inn Vanderbilt, on West End Avenue, and talked for more than an hour with Jimmy Payne. Little did I know that ten years later I would be running his official website!
November 1991
"Country Time" spends time in Mississippi and records parts of the show in Jackson with a visit to Tupelo, the birthplace of Elvis Presley.
December 29, 1992
The end of the road. I decide I have had enough of 'playing disc jockey' and quit the show after 21 years. My collection of 3,500 albums and country music memorabilia goes up for sale. Those wonderful people at the Go Country Club, in Barnard Castle, presented me with an engraved silver salver. The last record played on "Country Time" was "Leaving And Saying Goodbye" by Faron Young.
"Country Time" was first broadcast on New Year's Eve, 1970 and ended in December, 1992. It was a very special part of my life and I will never forget those wonderful times I had with the stars and those loyal fans. I am truly grateful.
February 1994
Personal problems within my family forced me to leave the BBC after 23 years and take an earlier than planned retirement. I decided to leave the UK and move abroad to find a place in the sun and settled in Alicante Province in sunny Spain.
November 2007

After spending almost 14 years living in Spain I finally said goodbye to the Costa Blanca and moved back home to Hartlepool.
April 2011
To help celebrate the 40th anniversary of BBC local radio on Teesside I was invited back to present a one-off two hour "Country Time" special on BBC Tees on Easter Friday, April 22nd, 2011. Nothing new was played on the show - just music as it was 'way back then' when I last presented it. Alabama opened the programme with "Here We Are" and I ended with "Murder On Music Row" by George Strait and Alan Jackson and went out in a "Blaze Of Glory" with Kenny Rogers.
**************************************************************************************************
A few personal memories about Country Time:
How could I ever forget interviewing George Jones in a cupboard at Wembley, London in 1986 with the door open two inches or so – shedding just enough light on a tape recorder! Another time I was fortunate to interview the 'possum' was when, during a tour of the UK, Tammy Wynette took ill and Jones flew out to play several dates for her. Public Relations consultant Tony Byworth informed me about his visit and arranged a telephone interview with him.

Another fond memory I have is when a certain Nashville singer/songwriter was playing a show at my local club in Middlesbrough in the mid 1980's. Before the concert I suggested he came back to my house to record an interview for my show. It was a cold and snowy October, or November, and I recall him saying it was the "warmest he had been since coming to England" as my central heating blasted out.
The man in question enjoyed a sandwich and coffee in my home and then went on to tell me about a song he had written for a certain person – but that person had returned the song saying: "It was just a little too short and needed another verse." So my visitor told me he wrote that extra verse, picked up my guitar and sang it for me: "God Bless the boys from Memphis, Blue Suede Shoes and Elvis…" That songwriter was the late Max D. Barnes and the song was "Who's Gonna Fill Their Shoes" which was a number one song for the great George Jones!

Meeting Ronnie Milsap when he was support act to Glen Campbell in Newcastle will always remain in my mind, too. I was suffering real bad with a cold at the time and explained to him that I could not conduct an interview. I did, however, ask if he'd enjoyed his trip to the North East of England. He told me that he was staying in a small seaside town called Seaburn and was not particularly happy with the treatment he'd received from the hotel management. When I asked why he jokingly told me they had charged him $30 extra for a room with a sea view. Think about it!
"Country Time" was first broadcast on New Year's Day, 1971 and ended in December, 1992. It was a very special part of my life and I will never forget those wonderful times I had with the stars and those loyal fans. I am truly grateful.
**************************************************************************************************
The Google monkey on this page was created by Dave Sutton graphics and free 3D animated gifs for web sites.