STAN LAUNDON - A FEW PERSONAL MEMORIES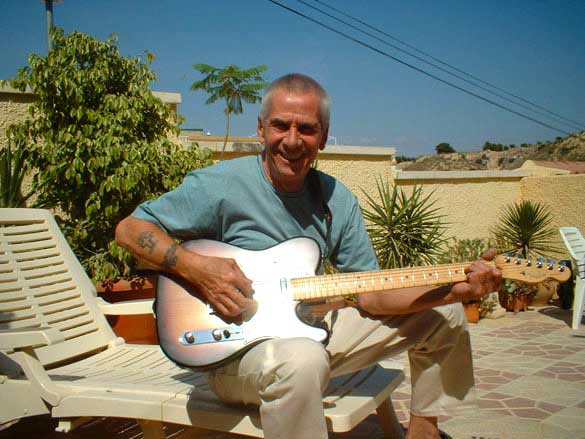 Photographed with my 2004 American Fender Telecaster Highway 1 on the sunny Costa Blanca in Spain. The guitar has since been sold and gone to a new home in Hartlepool.
I was born in Hartlepool and hated working in a factory serving an apprenticeship as a turner and could not wait to get out! Thank God for pop singer Joe Brown because it was all down to him that I managed to get that lucky break in the first place.
In 1959 I started running his official fan club from my mother's house in Dyke Street, West Hartlepool and when Joe had his number one hit with "A Picture Of You" in May 1962 that's when I finally made the break and left the factory behind. It was also the time that I started a new and exciting career working with Joe in London on a full time basis - a period which lasted four wonderful years!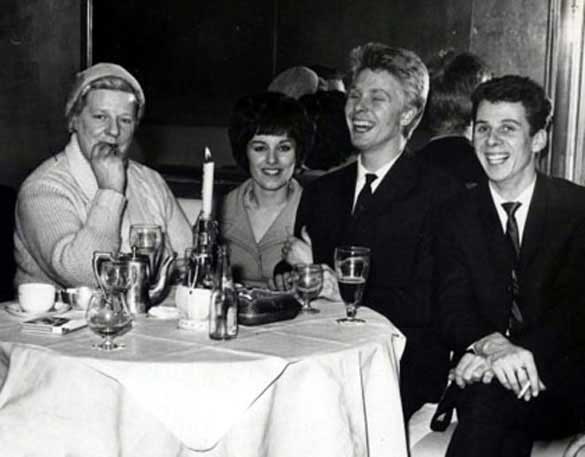 Joe Brown, his wife Vicki, his mother Rene and me at the Jack of Clubs, London in the 1960's. Photograph © John Heddon.
I spent four very happy and informative years with Joe in London and certainly owe a lot to him for the knowledge and outlook on life he gave me. However, as the saying goes, all good things must come to an end and, towards the end of 1966, it was time to quit and search for a new career. It took a little while for that other lucky break to come along but in 1970 I was fortunate to join the BBC in local radio working for BBC Radio Teesside, later to be called BBC Radio Cleveland, in Middlesbrough, (now BBC Tees) where I spent 23 very happy years!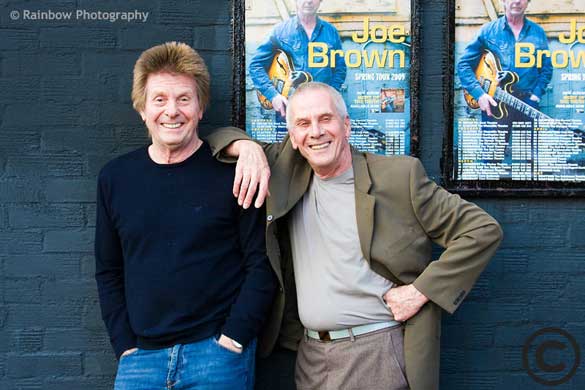 With Joe Brown at the Forum Theatre in Billingham on April 19th, 2009. Photograph © Rainbow Photography.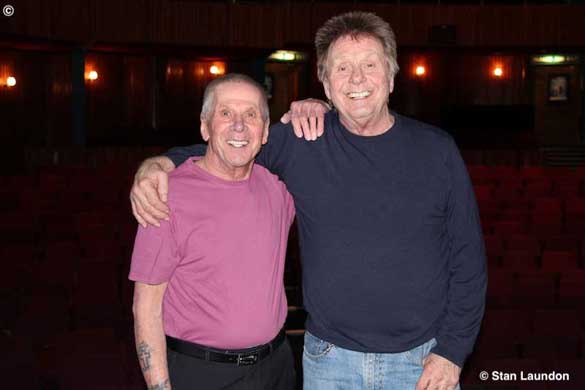 On stage at the Forum Theatre in Billingham on Sunday, February 4th, 2018.
For most of my time at the BBC I produced and presented a country music show called "Country Time" which was first broadcast on New Year's Eve in 1970. The programme, which ran for 21 years, was just 25 minutes long when it started and, due to popular demand, was increased to 45 minutes after just six weeks. "Country Time" was 120 minutes long when the show came to an end in 1992. During those 21 years as a country deejay I travelled to Nashville on several occasions to meet many of the major names in country music. My "Country Time" page explains it all.
In 1975 It was an honour for me to be one of seven deejays nominated as Disc Jockey of the Year at the Billboard (UK) Country Music Awards held at the Empire Pool, Wembley, in London. In 1984 I was compere at the Peterborough Country Music Festival in England, introducing American stars on stage and I presented "Country Club" on BBC Radio 2 on August 8th, 1985 when its regular presenter, the late and great Wally Whyton, took a holiday break.
Broadcasting country music wasn't my main role at the BBC. For five years I was the presenter of the flagship breakfast show "AM 194" which was an all-speech news and current affairs programme and for almost two years, before the end of my career, I was a sports presenter.
After spending 23 years at the BBC, then enjoying early retirement on the Costa Blanca and living in Spain for almost fourteen years, I finally returned home to Hartlepool in November, 2007. These days I concentrate very much on photography and websites as a hobby.
Acknowledgements: All photographs on this page are copyright © Stan Laundon unless otherwise stated and must not be copied, or used in any way, without prior permission.
This website is not responsible for the content of external internet sites.
Copyright © Stan Laundon.com