BBC RADIO TEESSIDE - A LITTLE HISTORY
PLEASE NOTE: This is purely a personal page by Stan Laundon and NOT the website for BBC Radio Tees. You can get in touch with them directly on their own site by clicking on that link.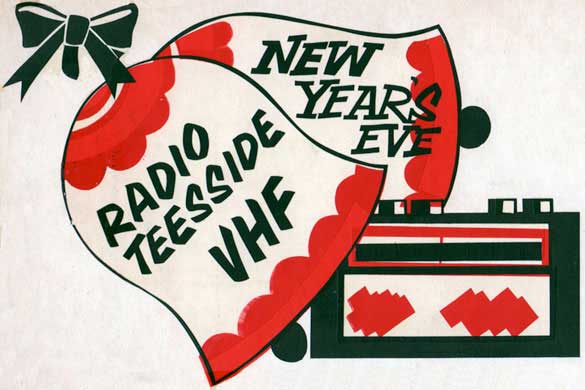 BBC Radio Teesside started life on New Year's Eve, 1970. This little painting was brought into reception by a young listener which, eventually, found its way into one of my scrapbooks.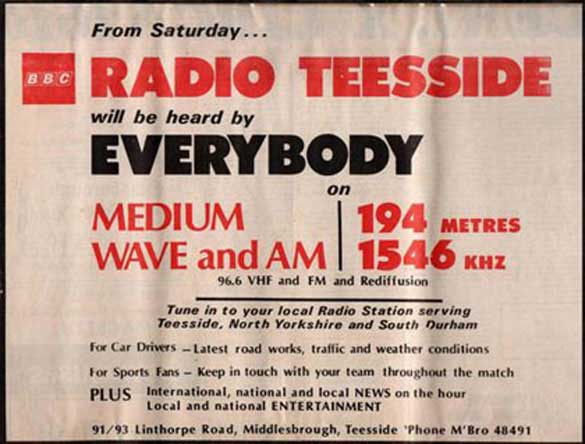 Advertisements for the new radio station appeared in all local newspapers.
A series of articles which appeared in the Radio Times in the 1970s. If you click on each image, you can view the page in a larger size. The first photograph - a Radio Times article dated August 27th, 1970 with Radio Teesside Station Manager, Allan Shaw talking about Middlesbrough being "his kind of town". The second - a Radio Times feature, December 17/24th 1970 just before BBC Radio Teesside officially went on the air and, the third photograph here, shows the programme schedule for the first day's broadcasting - December 31st, 1970 from 6.00pm until 1.00am and then closing down until 7.00am on New Year's Day, 1971 when Graeme Aldous presented the early morning news.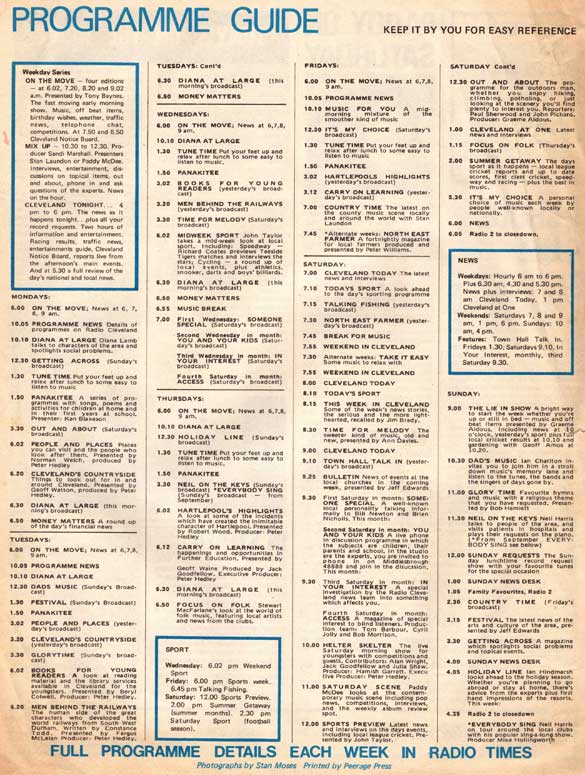 A programme guide from the 1970's from the ciollection of Tony Baynes. You can view the page larger by clicking on it.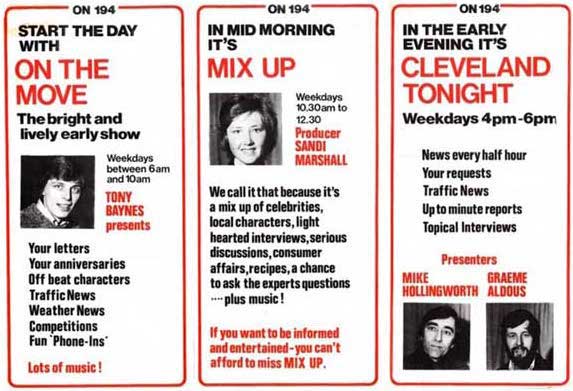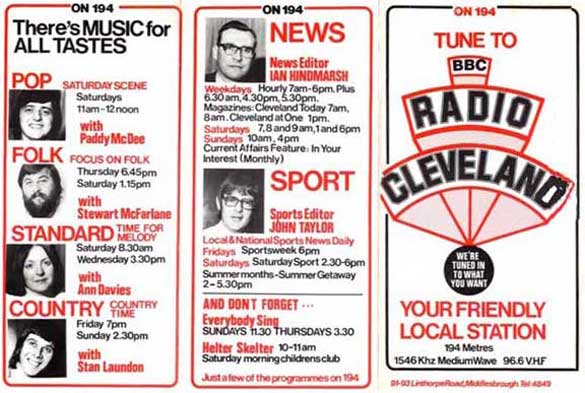 Publicity leaflets from those early days and from the Tony Baynes collection - featuring some of those well known names in broadcasting on BBC Radio Teesside 194 - Tony Baynes, Sandi Marshall, Mike Hollingworth, Graeme Aldous, Paddy McDee, Stuart McFarlane, Ann Davies, Stan Laundon, Ian Hindmarsh and John Taylor.
If you'd like to hear recordings of the first hours of when BBC Radio Teesside went on the air then, thanks to John Foster, you can hear it in two parts on the links above.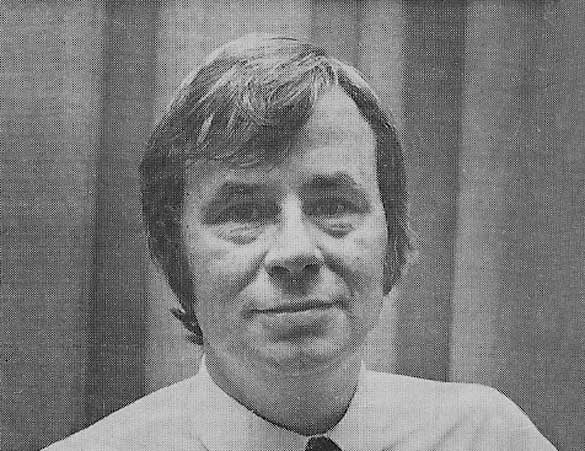 Jim Brady - BBC Radio Teesside's Programme Organiser when the station opened on New Year's Eve 1970.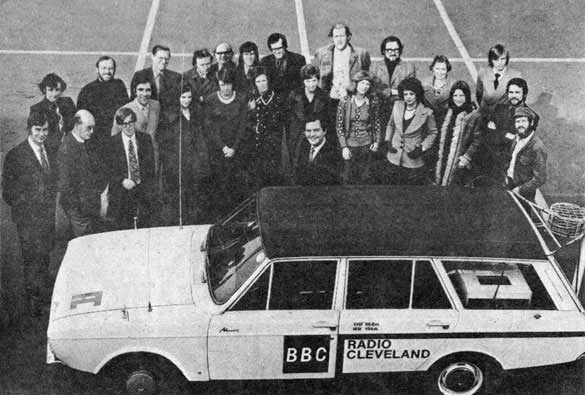 The faces behind the voices - "It might not be the most beautiful picture of the year," so the story said, "but you can't take photographs of voices - and it's voices not faces that count. "These are some of the broadcasters, engineers, technical assistants and secretaries who work together as a team to bring you the sound of BBC Radio Cleveland." The photograph, taken on the roof of the Cleveland Centre in Middlesbrough, in 1974, when BBC Radio Teesside changed its name to BBC Radio Cleveland. The good looking staff members on the photograph are, left to right on the back row, Keith Moxom, Norman Goddard, Ian Hindmarsh, Ernie Brown, Ken Boar, Stan Laundon, George Lambelle, Eric Sumner, Ian Judson, Margaret Heseltine and Tony Baynes. Jim Brady is on the extreme left of the next row with Parkin Raine, Peter Hedley, Mike Hollingworth, Liz Horsfield, Pam Smith, Barbara Littler, Sandi Marshall, Ruth France, Trisha Wharton, Vanessa Gittings, John Watson and Graeme Aldous. Station Manager Allan Shaw is right at the front. In 2007 BBC Radio Cleveland changed its name to BBC Tees. This photograph, which we believe was taken by the Evening Gazette, did not appear in the newspaper - but a similar one did which you can see in the right hand column.
Mike Hollingworth with the BBC Radio Cleveland radio car near the Transporter Bridge in Middlesbrough. Mike did several outside broadcasts for the radio station.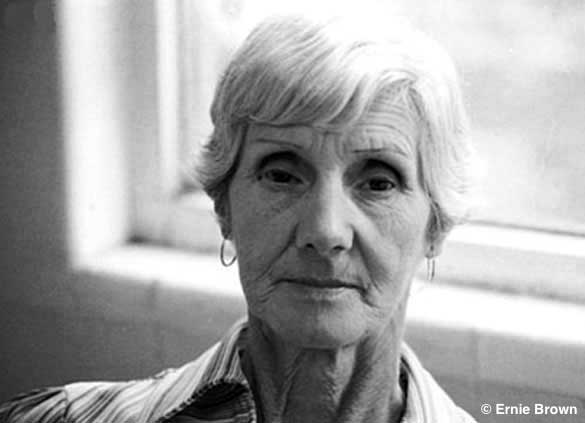 Nellie Layburn - BBC Radio Teesside's first cleaner. We all believe that Nellie deserves a special place on this site. She kept us all going in the mornings and was a wonderful, kind, caring lady. I was very fond of her.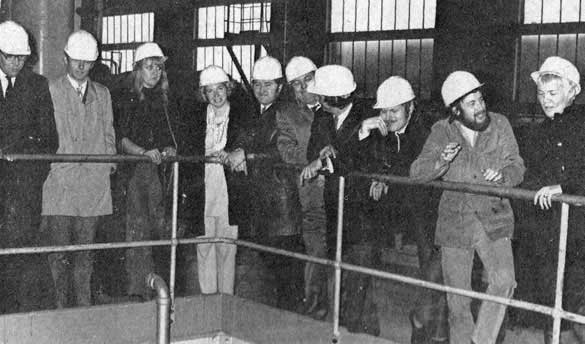 BBC Staff on a visit to ICI Wilton. They are, left to right, Ian Hindmarsh, Colin O'Keeffe, Jenny Colley, Juliette Greathead, Jim Latham, Dave Williams, Stan Laundon, Derek Hobson, Graeme Aldous and Joy Mason.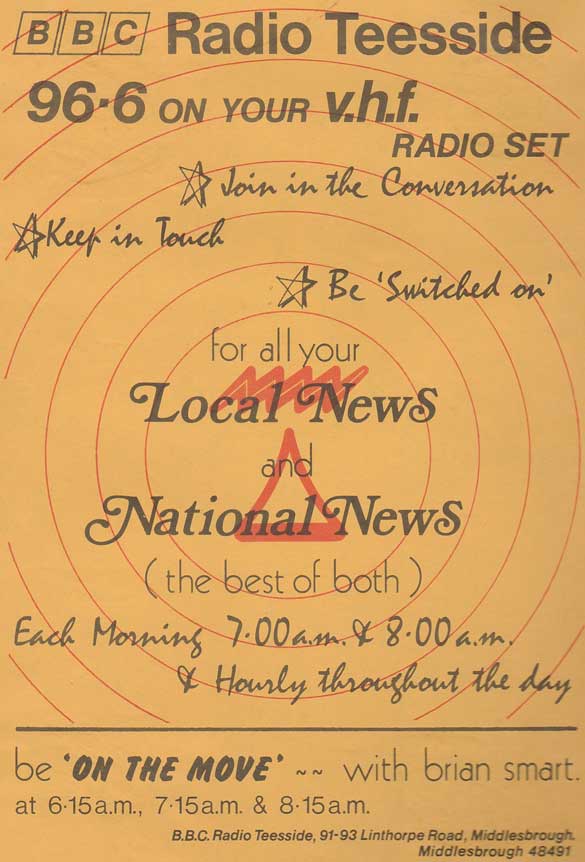 From the collection of Brian Smart this "On The Move" poster goes back to the early days of BBC Radio Teesside on 96.6. Brian, of course, took over from Derek Hobson during late 1971.
Copies of The Voice which was an "Evening Despatch" newspaper supplement on March 29th, 1974 and featuring Peter Hedley and his "Helter Skelter" programme along with sports producer Peter Cook and The God Squad's Margaret Heseltine.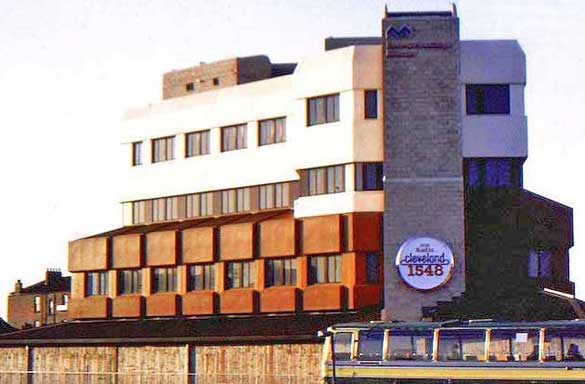 BBC Radio Cleveland moved to brand new premises on the Newport Triangle on April 12th, 1984. The event was covered by BBC Look North reporter, Alan Powell, and shows some of the staff members at the time - Stan Laundon, Peter Dodson, Ian Hindmarsh, John Watson, Ken Boar and others. In case you were wondering why fire engines are showing towards the end of the video it's because the fire alarms went off - a false alarm - but Cleveland Fire Brigade were on hand to make sure all was safe and well.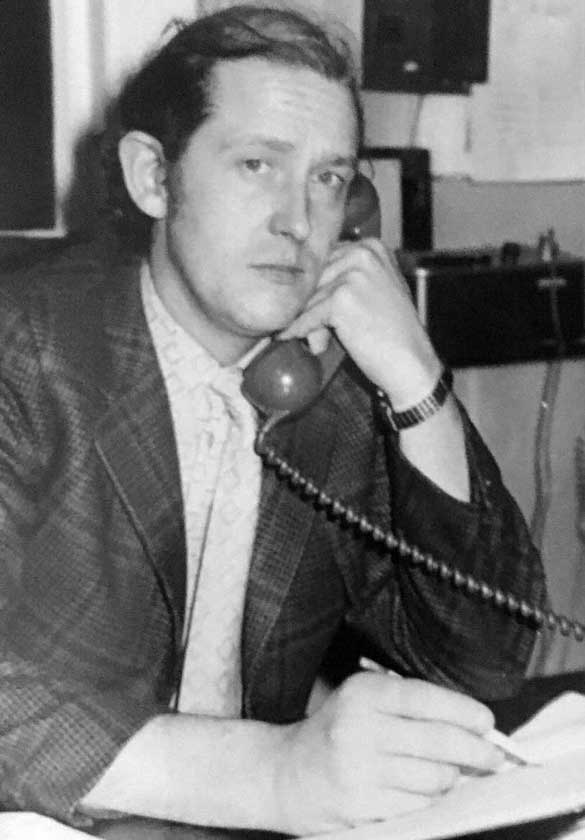 This photograph of former BBC Teesside newsreader Eric Sumner was kindly sent to us by his daughter, Rebecca, from her treasured collection.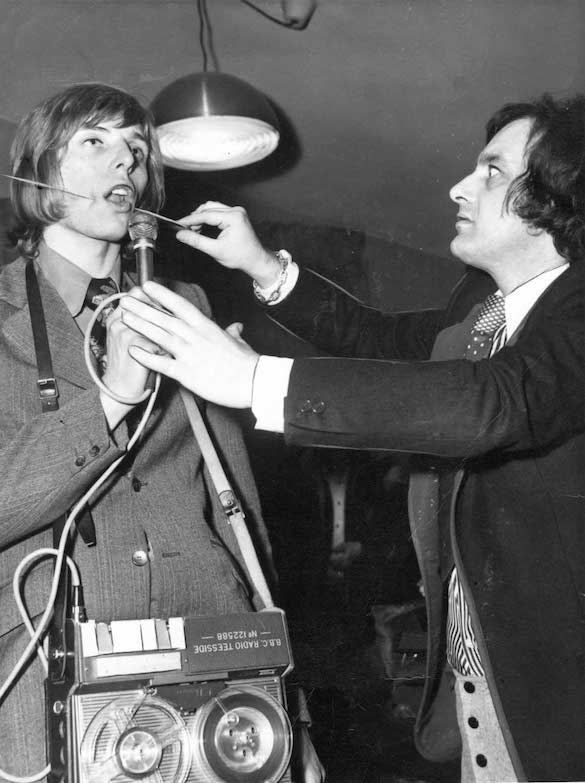 Tony Baynes gets the meat-skewer treatment from Dominique Webb in 1973 - through one cheek and out the other - and he never felt a thing! You can read a newspaper article about this event half way down the right hand column.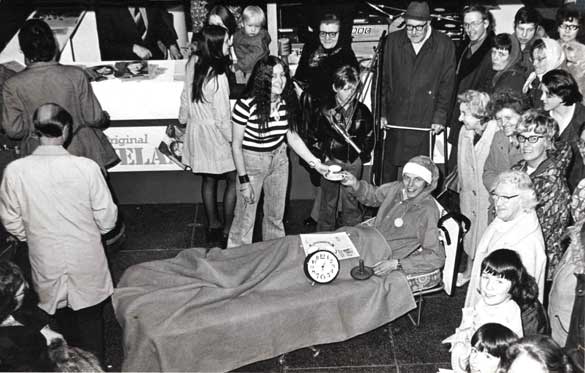 Tony Baynes having a lay down in the Cleveland Centre with a lot of admirers. He was doing a live outside broadcast.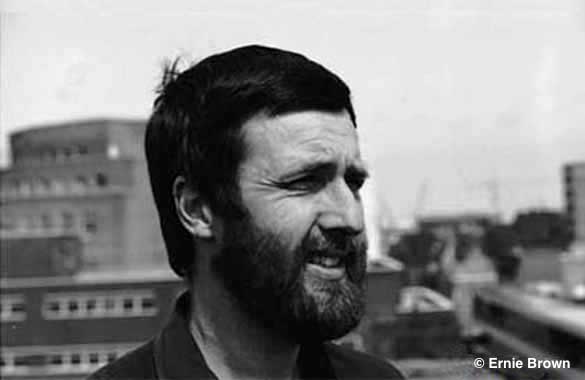 Graeme Aldous, on the roof top at Broadcasting House in Middlesbrough, was with BBC Radio Teesside from the very beginning and produced and presented various programmes over the years including "Polished Brass." Graeme has retired from radio and lives on the North York Moors.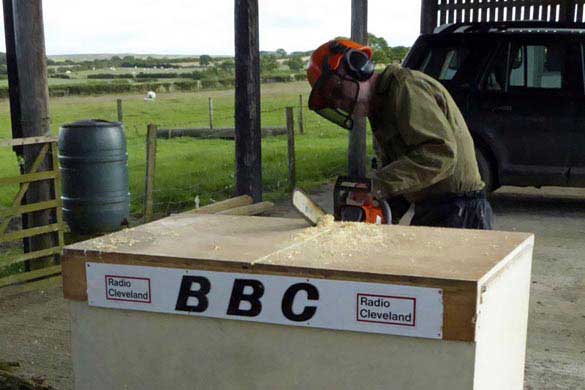 Another relic of Linthorpe Road bites the dust! When Graeme Aldous worked at BBC Radio Teesside/Cleveland he was renowned for being a keen recycler, even before it was fashionable. He would frequently rescue old scripts from the bin so he could write on the other side. So when, in 1984, the move was made from Linthorpe Road to the new Broadcasting House, there were many items destined for the skip which were 'liberated' to Graeme's smallholding in East Cleveland for a new lease of life. One was the old reception desk, which for 30-odd years has had a second career as a utility room cupboard. But in the early summer of 2014 it developed little holes (and a lot of sawdust) at one end — the dreaded beetle had struck! In a 17th Century farmhouse with wooden beams, it was too risky to let it stay. It was chainsaw time.

"It broke my heart to saw it up" said Graeme. "It was beautifully made, and built like a brick netty. Most of the thick wood panels were in perfect condition — it would have outlasted me. But other bits were crumbling into woodworm dust, so there was no choice really." And Graeme assures us that it isn't all going to the tip — the Radio Cleveland name board is going to be recycled onto his studio wall.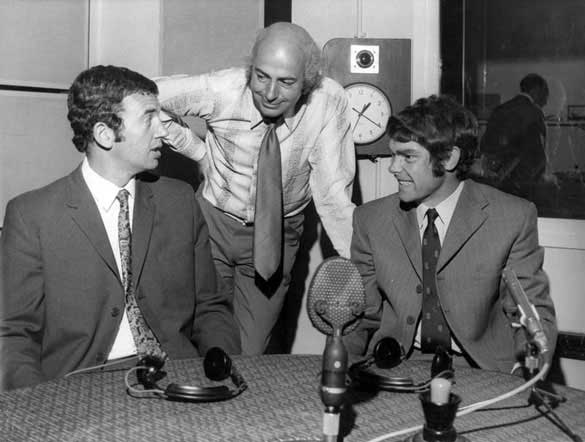 Peter Cook, in the centre, during his time producing sport at BBC Radio Teesside in the 1970's. Allan Jones the manager of Darlington Football Club is seen with the Hartlepool manager, Len Ashurst.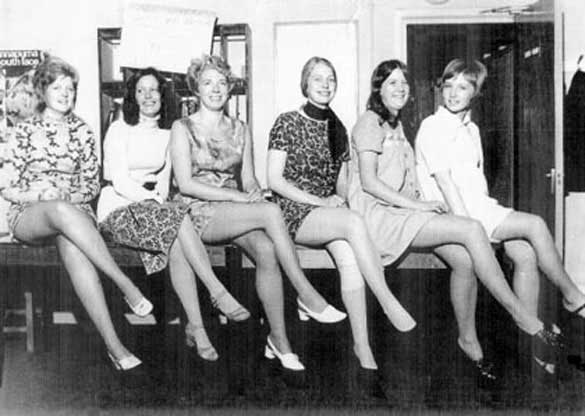 The Radio Teesside girls - secretaries, receptionists and broadcasters - Lynda Tutin, Barbara Littler, Juliette Greathead, Sabina Taylor, Noreen Moss and a name required please.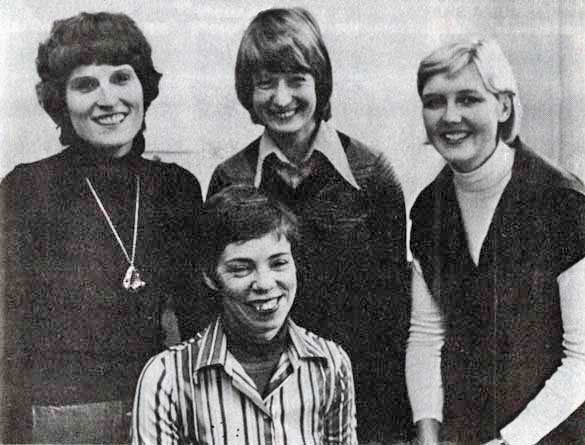 These are the girls who worked to keep the rest of us at the BBC in order back in 1978 - production secretary Barbara Lancaster, manager's secretary Doreen Hogbin (seated), programme organiser's secretary Sue Holland and administrative assistant Linda Tutin.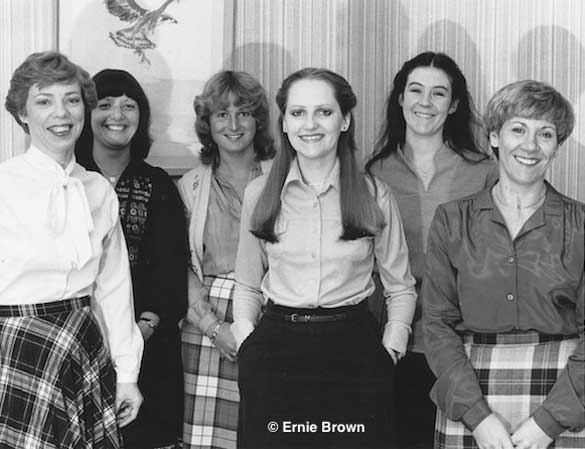 Another gathering of glamourous girls which was featured in a BBC Radio Cleveland magazine in 1980. It shows Doreen Hogbin, Barbara Everitt, Lisa Gorman, Jenny Harrison, Jenny Lindsay and Mary Hughes.
Two photographs of the broadcasting studio and operating desk when BBC Radio Cleveland moved into its new, purpose built, studios and offices on the Newport Triangle in Middlesbrough. By clicking on the images above you can view them in a larger size - and how times have changed as you can clearly see ash trays in the photographs!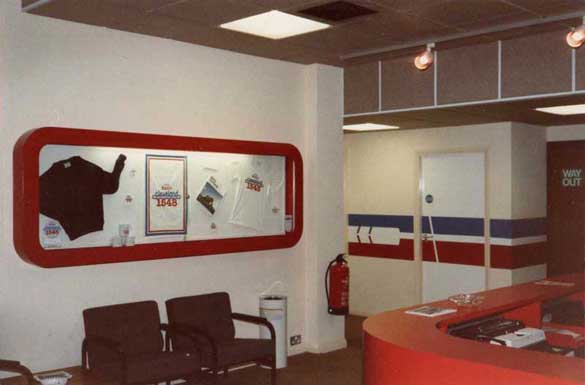 A photograph of the reception area when BBC Radio Cleveland moved into its new, purpose built, studios and offices on the Newport Triangle in Middlesbrough.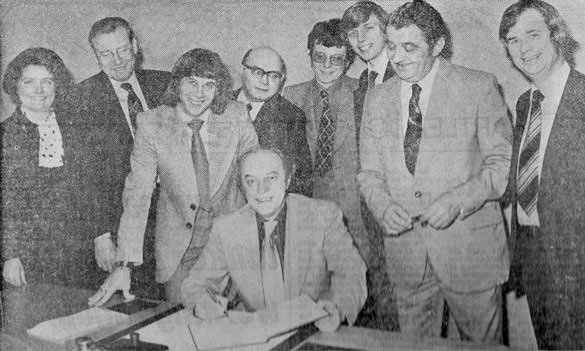 The launching of BBC Radio Cleveland's studios in Hartlepool Civic Centre took place during 1976. After the inaugural ceremony, the station manager, Hal Bethell (seated) signed the Visitors' Book in the Mayor's parlour. Looking on with the Mayor of Hartlepool are staff members of the radio station and they are left to right Allene Norris, Ian Hindmarsh, Stan Laundon, Ken Boar, John Diggles, Tony Baynes, the Mayor of Hartlepool Councillor J.Herbert and Jim Brady BBC Radio Cleveland's assistant manager.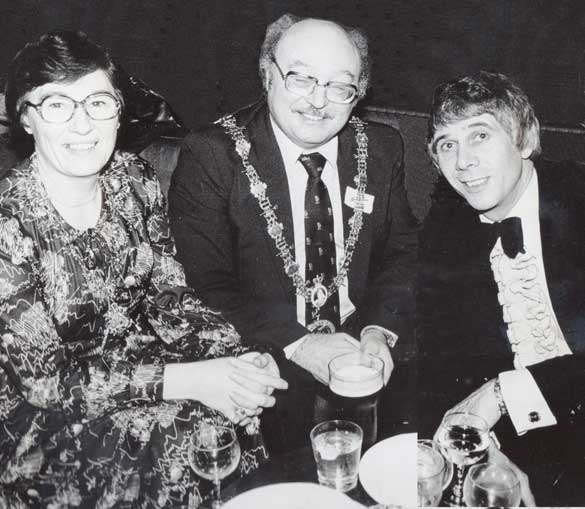 I'm not quite sure of the exact date for this photograph only to know it was sometime in 1980 when it was BBC Radio Cleveland's 10th Anniversary celebrations which were held at the Club Fiesta in Stockton. It shows the Mayoress of Hartlepool, Peggy Watson, and the Mayor of Hartlepool, Councillor Bill Middleton, with Stan Laundon in his best attire!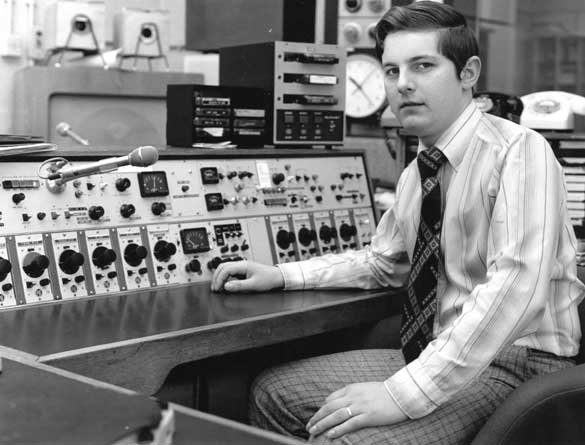 Paul O'Neill in Studio One in Linthorpe Road where he presented the programme "Tuned In" on weekdays between 4.05 and 6.00. This photograph was featured in the Radio Times sometime during 1983.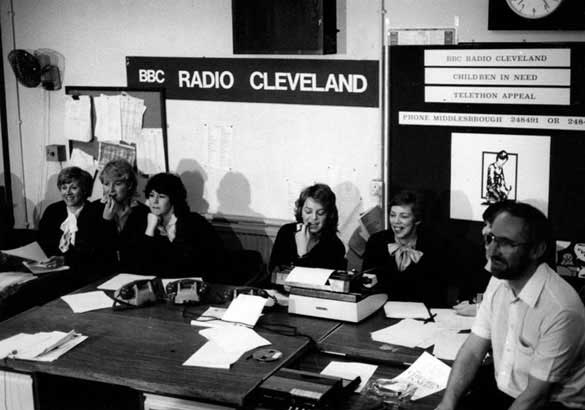 Behind the scenes at a BBC Children in Need night about 1984 - the faces who took your calls are Mary Hughes, Lisa Gorman, Jenny Lindsay, Elaine Baker, Doreen Hogbin, Eileen Ross (partly hidden) and Keith Proud.
A general view of the Radio Cleveland newsroom with news editor, Peter Dodson on the extreme left, secretary Eileen Ross in the centre with news producer Keith Morton on the right.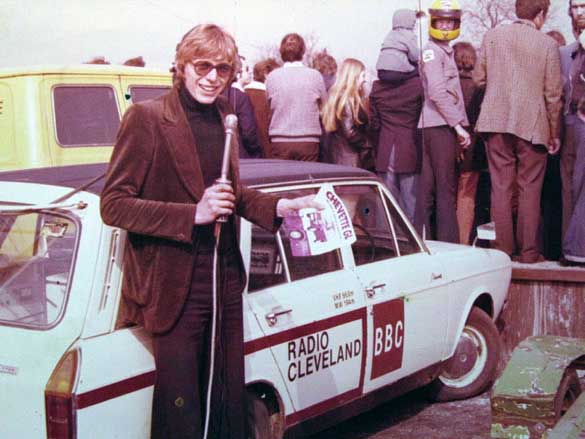 Tony Baynes with the BBC Radio Cleveland radio car in April 1976 at the launch, on Teesside, of the Vauxhall Chevette GL one of the first "super-mini" or compact cars.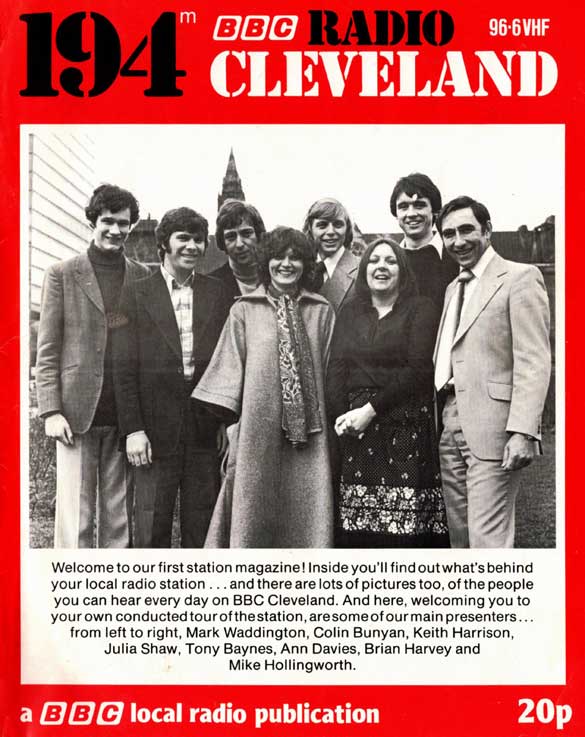 Ann Davies was kind enough to send us this old BBC Radio Cleveland magazine from December, 1978. The caption speaks for itself.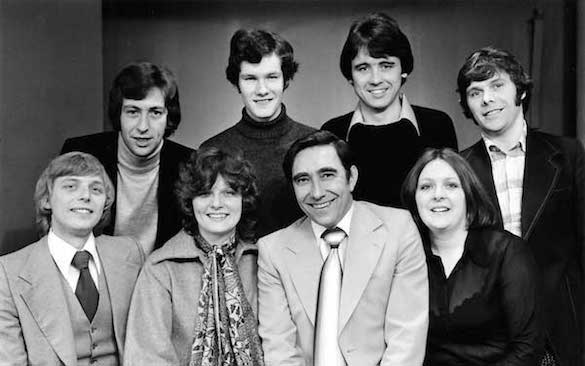 Keith Harrison was going through some old photographs when he came across this. As it is the same happy bunch of people on the magazine above - and they are wearing the same smart clothing - it is probably from the same photo shoot in 1978 and shows, left to right, Tony Baynes, Keith Harrison, Julia Shaw, Mark Waddington, Mike Hollingworth, Brian Harvey, Ann Davies and Colin Bunyan. Photograph © copyright Dennis Wompra.
Another one of Tony with the BBC Radio Cleveland radio car - and with colleagues Margaret Heseltine, Vanessa Gittings and Mike Hollingworth.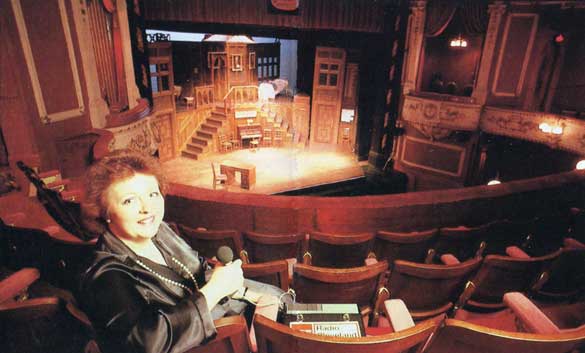 Ann Davies soaking up the atmosphere at the wonderful Grade II listed Darlington Civic Theatre.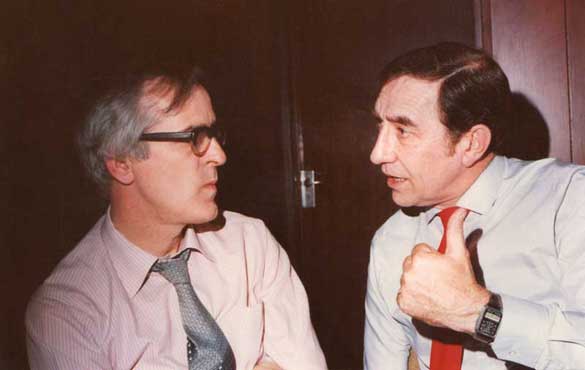 George Lambelle and Mike Hollingworth taken in January, 1984 at Middlesbrough's Wig & Pen public house. Photograph copyright © Paul O'Neill.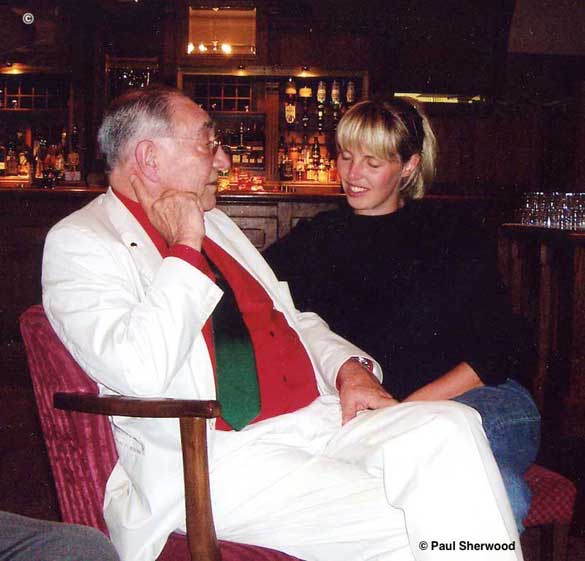 This one of Mike Hollingworth was sent to us by Paul Sherwood and dates to October 1st, 2005. It was taken at the final dinner of the Lyke Wake Club at Raven Hall Hotel in Ravenscar. We have no idea who the young lady is!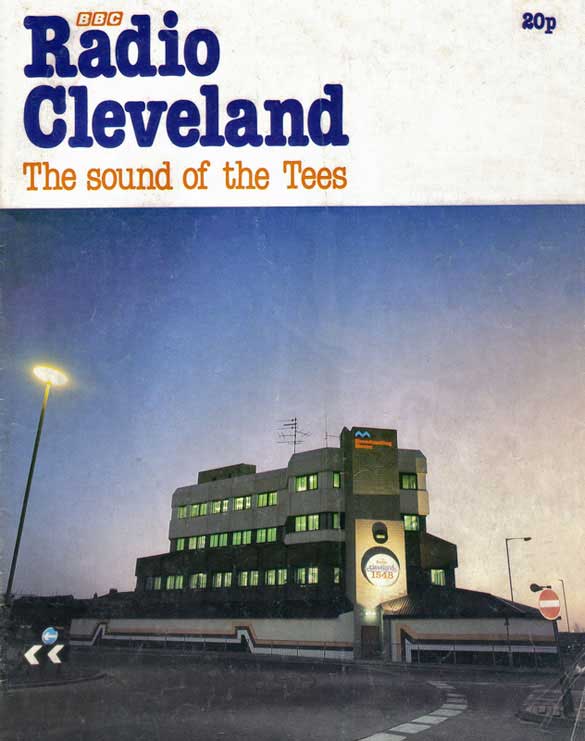 BBC Radio Cleveland magazine Spring, 1984.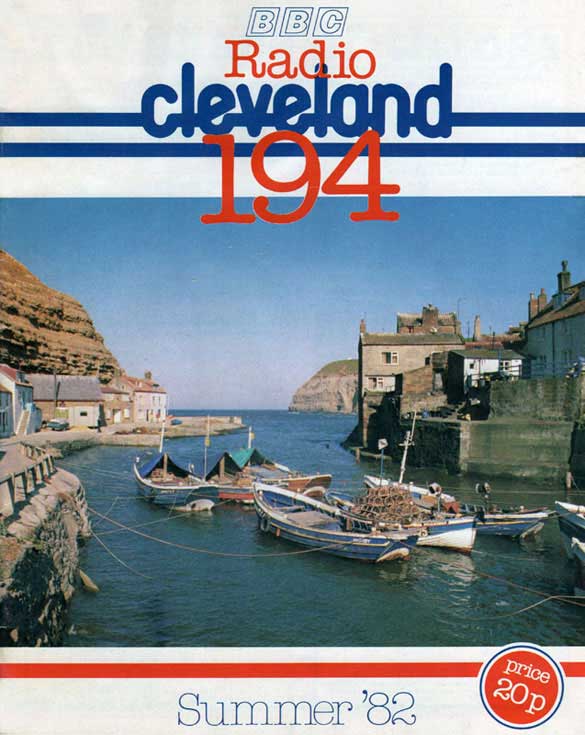 Another BBC Radio Cleveland magazine - this time from the Summer of 1982 when the station manager was Bryan Harris. In an article inside Bryan talks about "The shape of things to come" as we prepare to leave Linthorpe Road and move to a new purpose built building known as the Newport Triangle. Cover photograph courtesy of Cleveland County Council.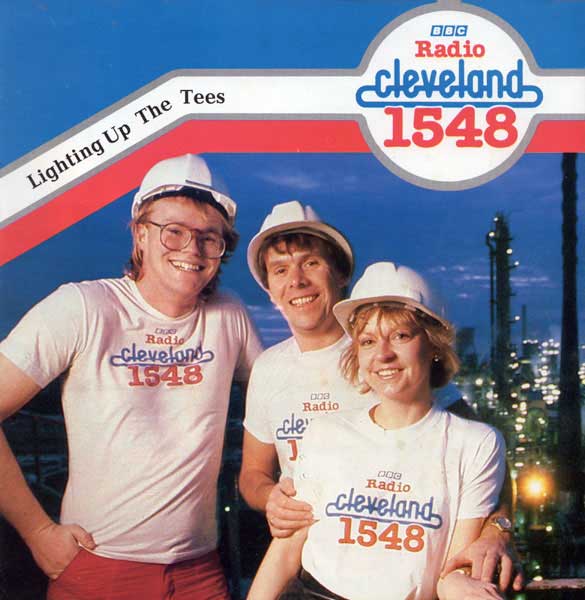 A publicity leaflet when BBC Radio Cleveland switched wavelengths from 194 to 1548 on the medium wave band. Phil White is with Colin Bunyan and Caroline Salt.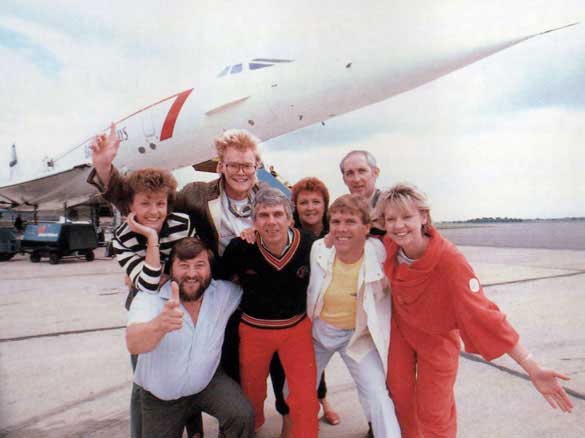 This photograph was taken at Teesside International Airport underneath Concorde in 1986. We had to get special permission to get so close to the aircraft and walk out onto the runway. The picture shows Karen Partridge, Stewart McFarlane, Phil White, Stan Laundon, Ann Davies, Colin Bunyan, Keith Proud and Caroline Salt.
A BBC leaflet from 1984 showing a busy newsroom on the front cover with News Editor Peter Dodson in control. The second image is the first page of the inside cover with Les Cole, Ishfaq Ahmed and Stan Laundon at the top, Mark Waddington, Colin Bunyan and Ann Davies lower down with Keith Proud and Graeme Aldous.
The second page of the inside cover of this BBC leaflet from 1984 with sports editor John Allard, Mike Wadding, Keith Proud with the Early Birds team; Stewart McFarlane and Alan Wright. The back cover shows Ian Charlton, David Peel, Ken Daly, Ken Ryalls, Ian Hindmarsh, Keith Morton, George Lambelle, Paul Sumerling, members of the Top Team including Peter Hedley, Hamish Garrett and Lisa Gorman; Neil Harris, Mike Hollingworth and Bob Hamlett. Thanks to Ian Ferneyhough who provided the leaflet for us and used with thanks. The above images can be viewed in a larger size when clicked on.
Some old signed BBC Radio Cleveland postcards of Graeme Aldous, Ian Charlton, Ann Davies, Neil Harris, Mike Hollingworth, Paul O'Neill, Stewart McFarlane and Keith Proud which appeared on a well known auction site for sale at the staggering prices of between £2.50 and £3.00.
More old BBC Radio Cleveland postcards which were sent to us by John Foster. Allan Iveson was at BBC Radio Cleveland between 1986 and 1987. He went out in the radio car to surprise listeners with a bouquet and chat to the recipient and their family. Family members or friends would nominate and give a reason. It could be a special birthday or anniversary or the nominee had done something deserving. It was a regular feature during the Sunday morning show and the recipient was unaware until they answered the door to find Allan with a bouquet and a live microphone. The Stan Laundon postcard plugs his "Country Time" show and Graham Robb was a presenter on the commerical stations Radio Tees and TFM between 1980-1986 before moving to BBC Radio Cleveland to spend six years with us between 1986-1992.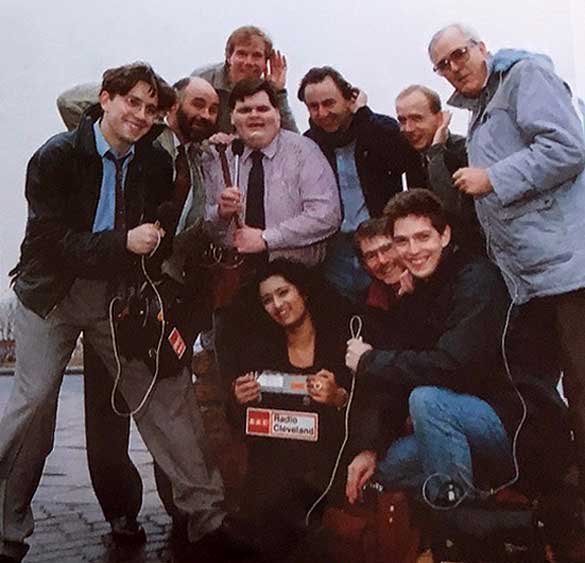 This was from a BBC magazine which had the heading "Hear The Difference" and it shows, left to right, Richard Bilton, Alan Wright, Colin Bunyan, Mark Turnbull, Ken Snowdon, Ian Edgar and George Lambelle. At the bottom is Jacqui France - who was a Durham reporter - John Allard and William Leitch.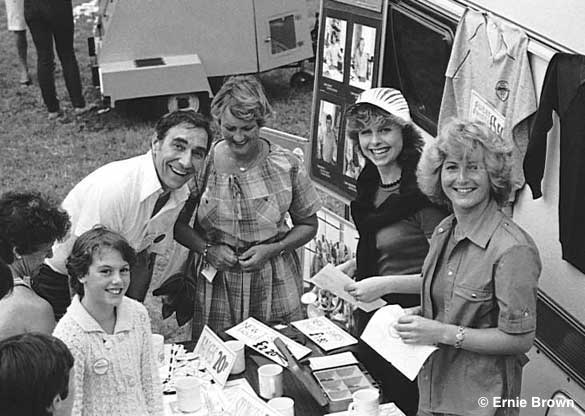 At the BBC Radio Cleveland stand at a Teesside Air Show with Mike Hollingworth, listener Pauline Ashton, Pauline Mitchell and Lisa Gorman.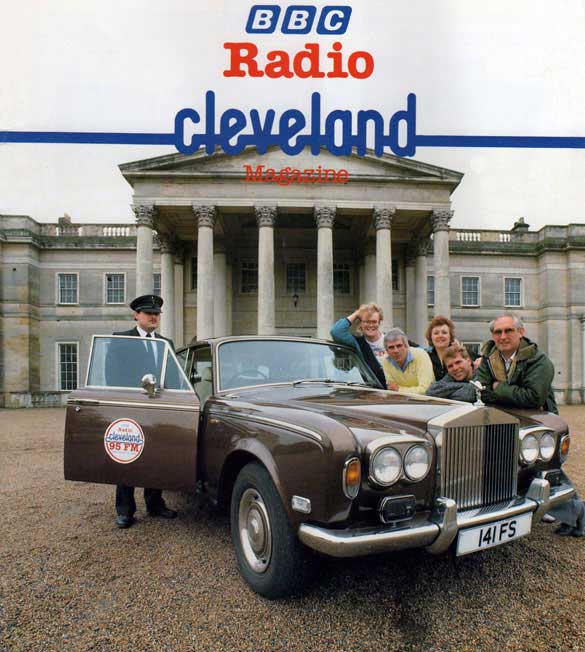 From the Graeme Aldous collection - the front cover of a BBC Radio Cleveland Magazine, from the summer of 1987, with presenters Phil White, Stan Laundon, Ann Davies, Colin Bunyan and Keith Proud. The photograph was taken at Wynyard Hall just outside of Billingham. The Rolls Royce Silver Shadow was supplied by J.Howe of the Dog and Gun, Potto.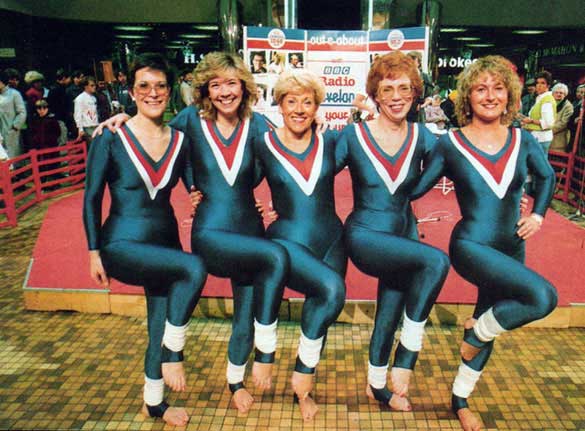 BBC Radio Cleveland girls Pam Wykeman, Elaine Finch, Mary Hughes, Doreen Hogbin and Lisa Gorman stage a disco dancing display in the Cleveland Centre in Middlesbrough for the BBC Children in Need appeal. This came from a BBC Radio Cleveland magazine which was published in 1987.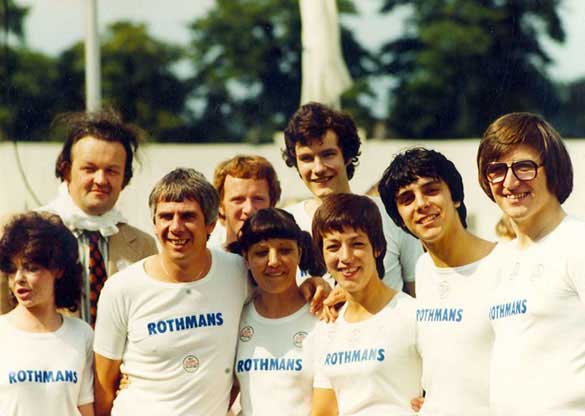 This photograph, by Ernie Brown, dates to August 1979 and was taken at a BBC Radio Cleveland Sports Day, which was sponsored by a well-known cigarette manufacturer. It shows Barbara Jones, Keith Morton, Stan Laundon, Frank Birks, Barbara Everitt, Mark Waddington, Marion Birks, Nick Clarke and Chris Hodder.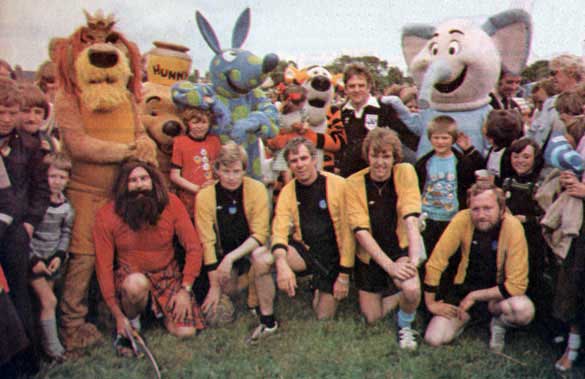 This is another from the archives and I have no idea of the year in question. It could well have been taken at a Redcar Steel Gala or Teesside Show. It was titled 'Football Crazy' and shows, in football strips, Dave Picken, Stan Laundon, Mark Page and Jim Wilson. The referee is Pat Partridge.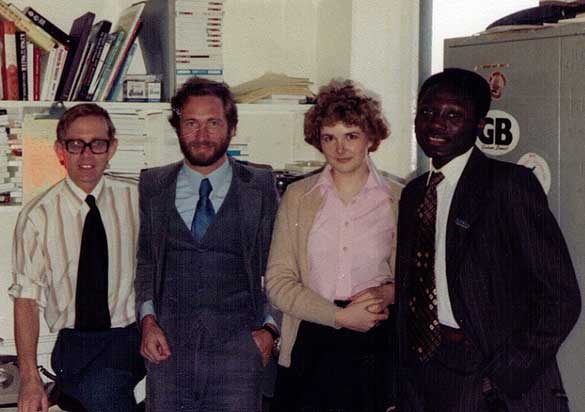 Education Producer Peter Hedley with Mhairi Campbell taken sometime around the late 1970's. Mhairi believes the other two gentlemen on the photograph were visitors from the Norwegian and Nigerian Services.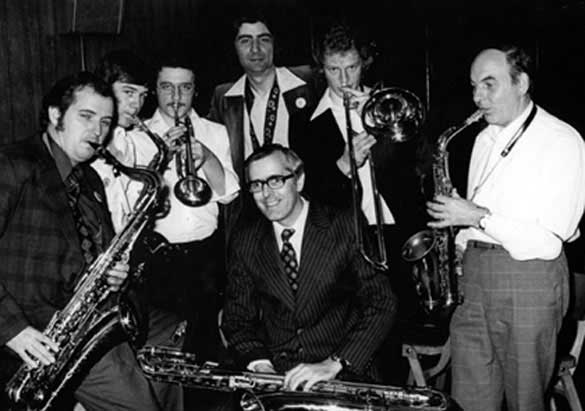 George Lambelle with Middlesbrough Big Band. The leader, Derek Bridge, is in the centre right behind George and third from the left is a trumpet player called John. We don't recall his second name, but he went on to play with the Three Degrees Band.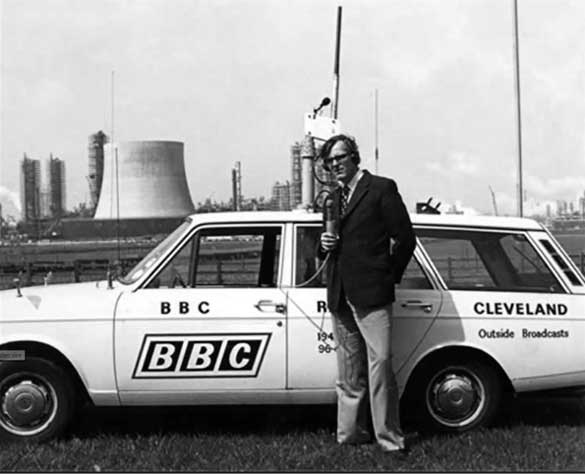 Another early photograph of George Lambelle which was taken near Eston and not too far away from ICI Wilton which you can see in the background. Photograph © Ernie Brown.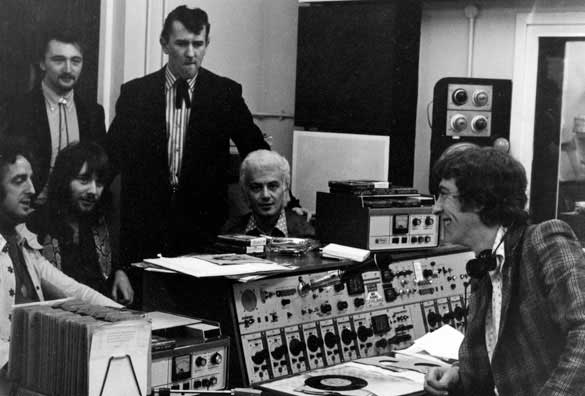 We have no idea what this year was but Keith Harrison, on the extreme right, is seen here interviewing pop singer Heinz and his band of musicians.
Two more photographs from the archives with Keith Harrison and Mike Hollingworth on the left (no date on this I'm afraid) and Keith with Stan Laundon taken on April 19th, 1977.
An outside broadcast taking place at The Billingham International Folklore Festival with Stewart McFarlane and Keith Harrison.

Just four stages in the daybreak routine of Keith Harrison, presenter of the early morning show "On The Move" in 1978. The 194 magazine informed us that Keith will be leaving us soon for a job with Radio 2 in London.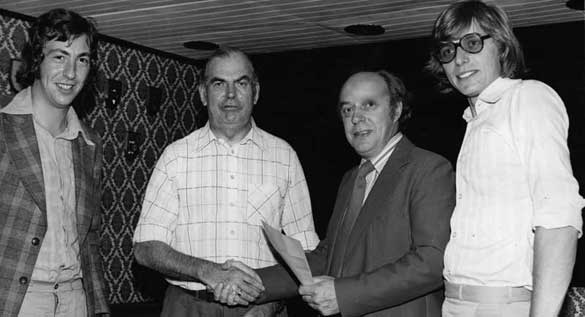 Keith Harrison, George Hodge, Hal Bethell and Tony Baynes in this photograph. George, a policeman, ran the BBC Teesside "Watch Out For Traffic" campaign. He used to appear "On The Move" quite often during the early to mid-70s. George presented Radio Cleveland with a certificate in recognition of the work the station had done regarding the Watch Out For Traffic (WOFT) campaigns. George (PC 57) also used to go into schools talking about, and demonstrating road, safety.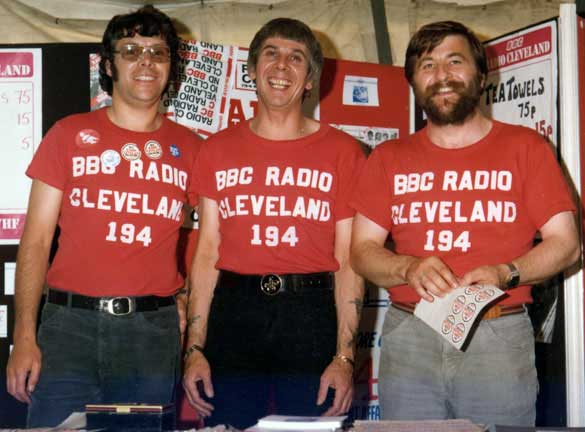 Colin Bunyan, Stan Laundon and Stewart McFarlane handing out publicity stickers at Hartlepool Show, August 1980. Photograph by Ernie Brown.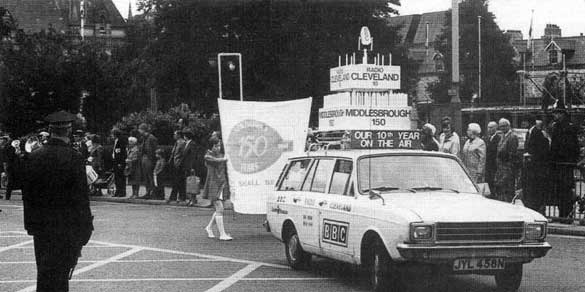 The BBC Radio Cleveland radio car proudly celebrating the radio station's 10th year on the air in 1980 with Middlesbrough also enjoying 150 years of being a town and borough within its own right the same year.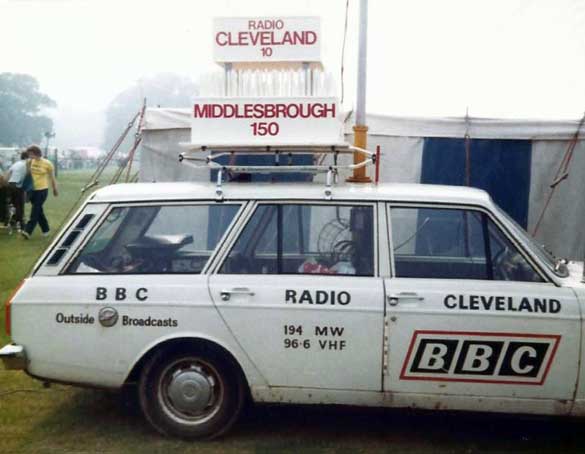 Lynda Tutin, a former manager's secretary, provided this photograph of the radio car when the radio station celebrated its 10th birthday which coincided with Middlesbrough's 150 celebrations. The cake on the roof, with its candles, was made by Lynda's brother-in-law. Ann Davies seems to remember it took part in a parade as part of the celebrations in the town and was manager Bryan Harris's idea!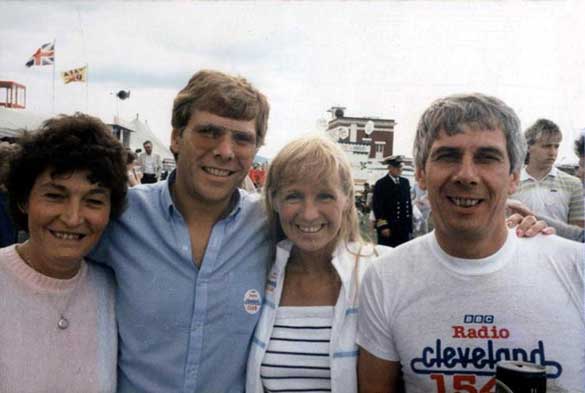 Colin Bunyan and Stan Laundon with BBC Radio Cleveland fans Pat and Sue at the British Steel Gala at Redcar Racecourse.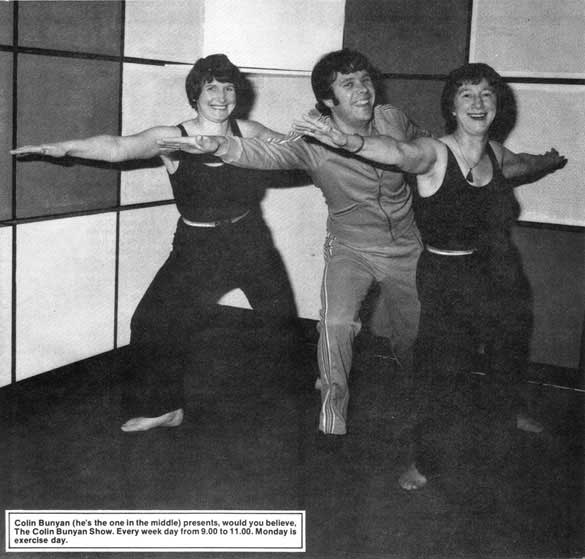 Colin Bunyan keeping fit in Studio 2, Linthorpe Road. He says: "Who would believe that keep fit on the radio could be so popular? "We used to record a week's worth in one session."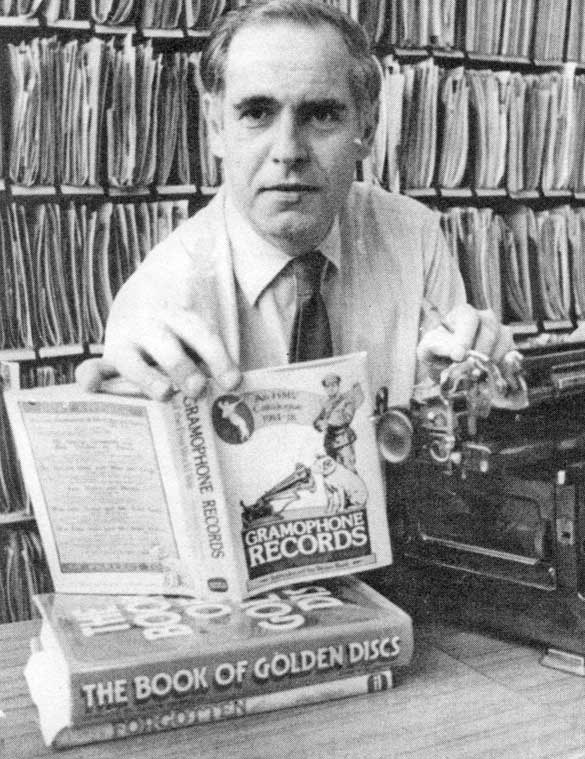 Ian Charlton was a popular presenter of "Dad's Music" for many yeras. He took over the show when the original presenter, Jack Leonards, left.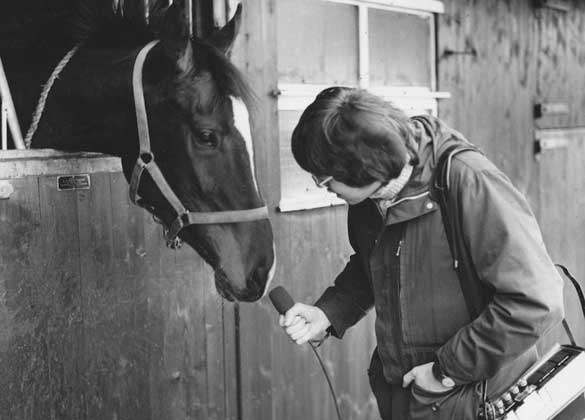 David Peel interviewing a horse in the early 1980s for the breakfast show which was presented at this time by Tony Baynes. David had just spent the day with a Yorkshire Vet.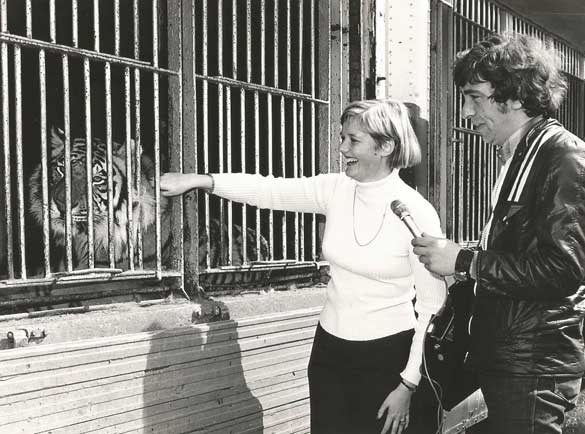 Staying on the theme of animals was when the circus came to town and George Lambelle asked around if anyone had an ambition to try something out (probably thinking of juggling, stilt walking etc!) Lynda Tutin said she had always wanted to stroke a lion so was duly sent to the circus - which was probably on Clairville Common - with Keith Harrison to have a go. The tiger was quite fierce so she just stroked a flank, but the lion as you can see from the photos was more amenable!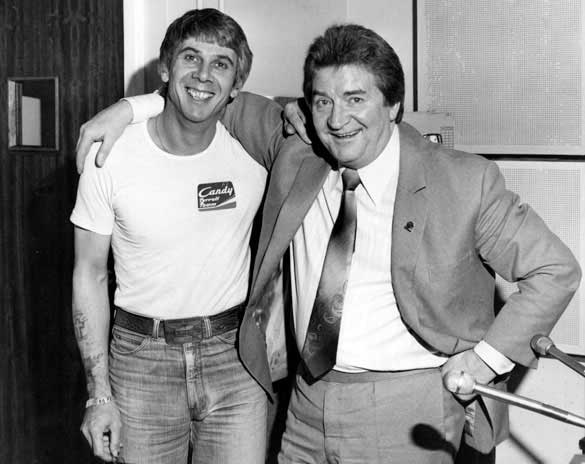 Actor Peter Adamson, who played the part of Len Fairclough in "Coronation Street," on a visit to the BBC studios. This would be about 1980 because of the Candy Tyrrell Team F1 tee-shirt Stan Laundon is wearing.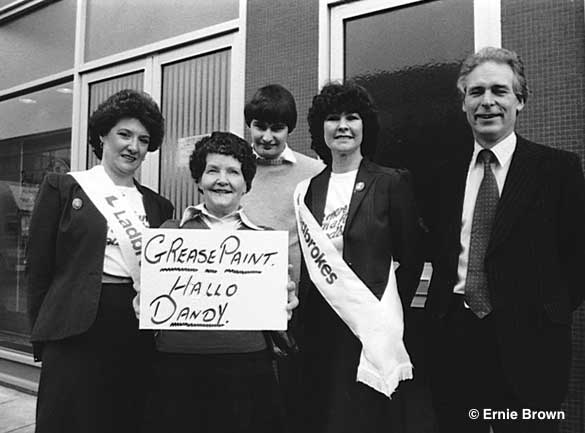 This photograph with Station Manager, John Watson on the right, is from the time we had David Stewart, a 16-year-old schoolboy who is in the centre above, as our horse racing tipster. On this occasion a listener backed two of his tips - Grease Paint and Hallo Dandy in the 1984 Grand National which were first and second respectively. Grease Paint came in at 13/1 with Hallo Dandy the 9/1 favourite. We're not sure how much the lady won but well done to her.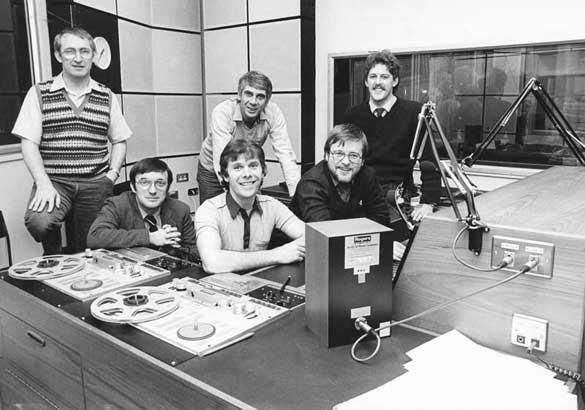 Keith Proud, Stan Laundon and Mike Greenwood standing with Peter Dodson, Colin Bunyan and Dave Saunders seated. I'm not certain what year this is from but I would suggest after 1984. Photograph courtesy of the Evening Gazette, Middlesbrough.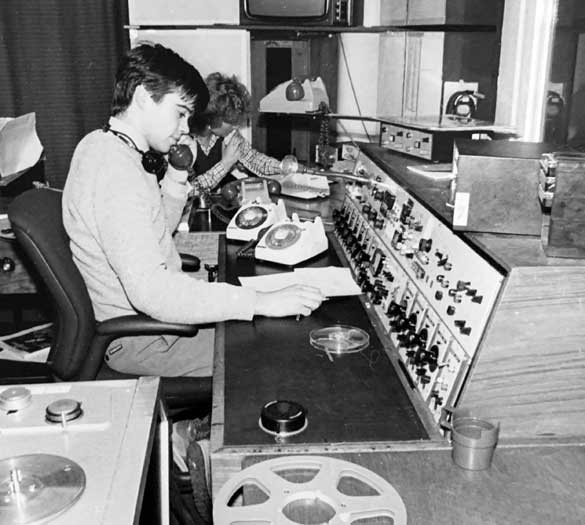 Steve Hunneysett with Lisa Gorman on the telephones in the old BBC Radio Cleveland building in 1984.
A former page three glamour girl, Linda Lusardi, with Steve Hunneysett taken in 1985.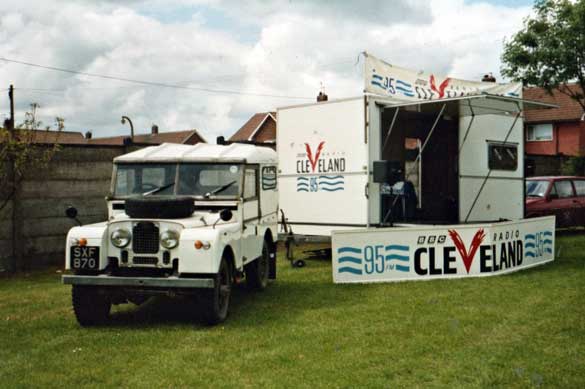 This one came from the Graeme Aldous collection and shows his Land-Rover, that was already over 30 years old, at a Roadshow in Hartlepool, somewhere in the late 80s. He was freelance at the time so it must have been after 1985. He's not sure of the venue but in the Brierton Lane area of the town.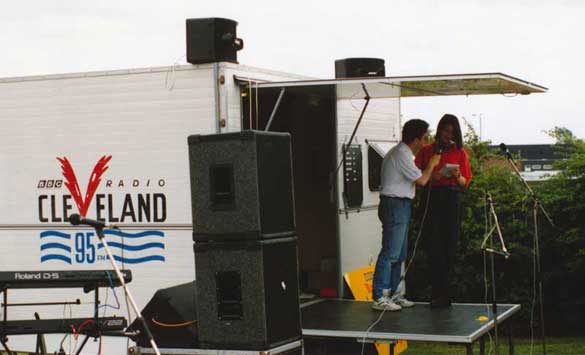 Nick Garnett and Pauline Armstrong reading out the names of competition winners at a BBC Radio Cleveland outside broadcast in June 1988. We are not sure of the venue.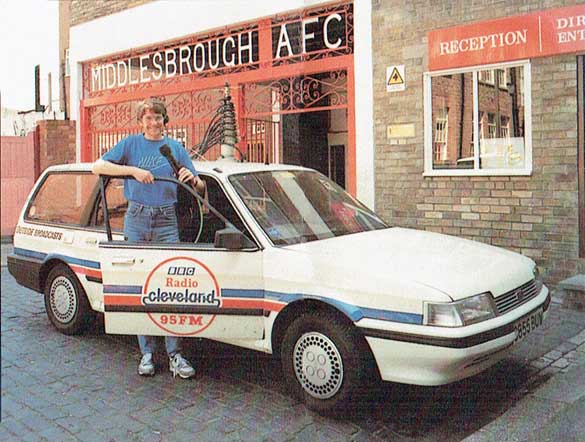 Sports Producer John Allard with the radio car outside the gates of Ayresome Park - the former home of Middlesbrough Football Club. The stadium closed in 1995. As a matter of interest former BBC Radio Cleveland news reporter Chris Hodder's cousin Robert is a blacksmith in Carlton-in-Cleveland and his father, Chris's uncle George Ward, was responsible for the gates which are behind John Allard.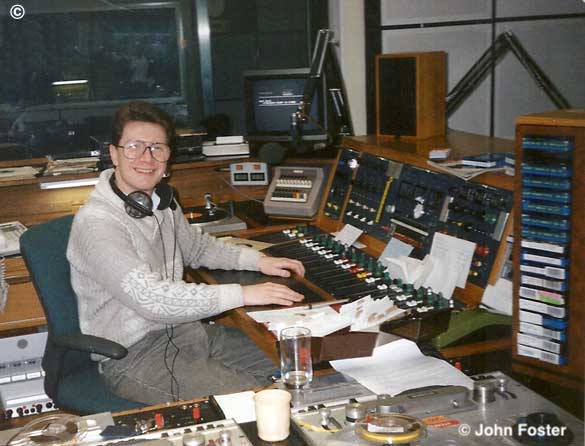 Graham Robb presenting "Golden Sunday" around 1990. Photograph © John Foster.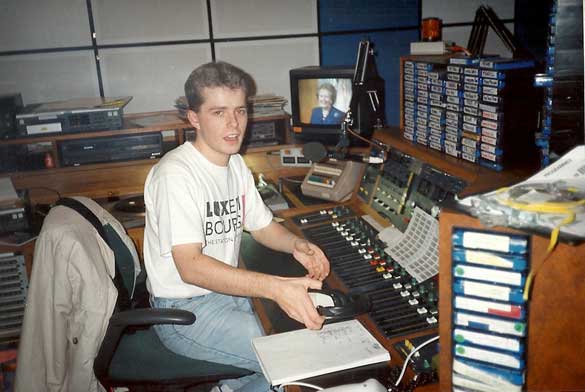 John Foster working on the "Children in Need" programme about 1991.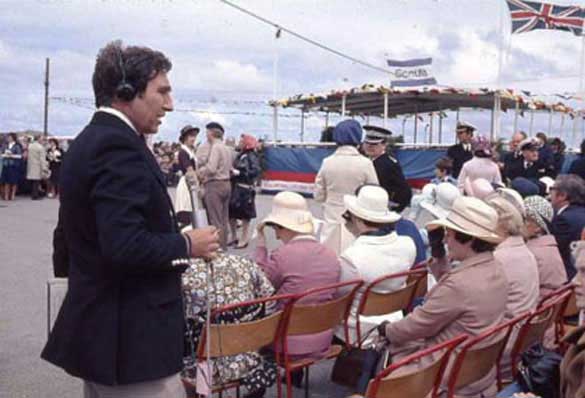 Mike Hollingworth presenting an outside broadcast for the Royal National Lifeboat Institution in Hartlepool Marina. Some years later - in the 1990's - listeners to the radio station raised enough money, through donations, to buy an inshore lifeboat for the Hartlepool station - called, coincidentally, BBC Radio Cleveland. You can see a photograph of the vessel in action just below. She remained at the lifeboat station until March 21st, 2015 when she was replaced by a new £214,000 Atlantic 85 inshore lifeboat called "Solihull."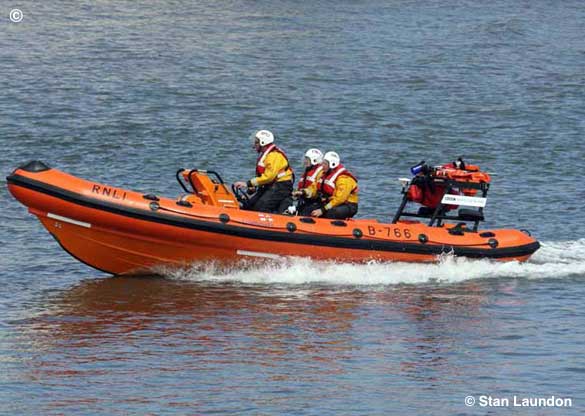 The RNLI Atlantic 75 class inshore lifeboat B766 "BBC Radio Cleveland" was placed at the Hartlepool station in 2000 and was paid for by the listeners of BBC Radio Cleveland. Photograph © Stan Laundon.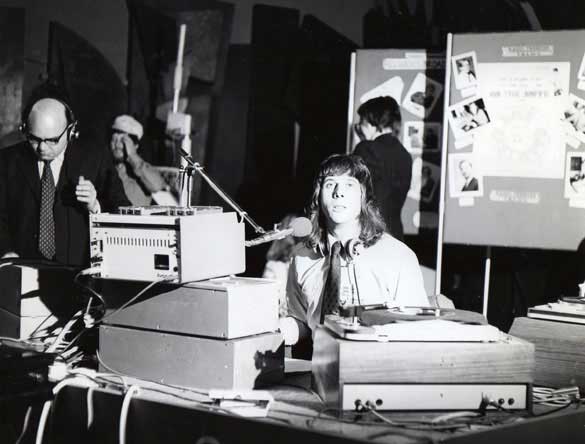 At an outside broadcast in the Cleveland Centre in Middlesbrough. Station Engineer in Charge, Ken Boar, is on the extreme left with Graeme Aldous, in the background, giving a salute of appreciation to my music - I hope!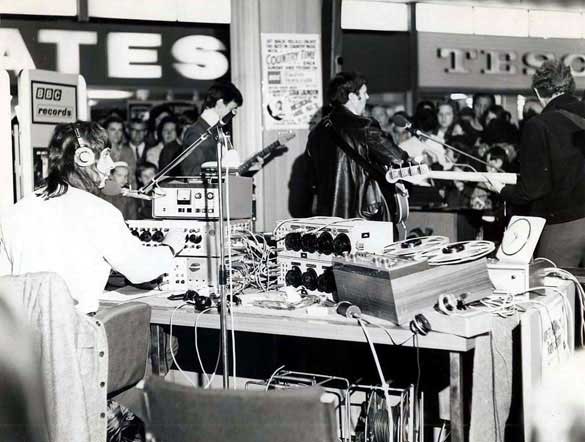 An outside broadcast in the Cleveland Centre with Cliff Ledger and the Country Boys. Mervyn Dempsey on lead guitar, Cliff on rhythm and vocals with Shay Brogan on bass and vocals.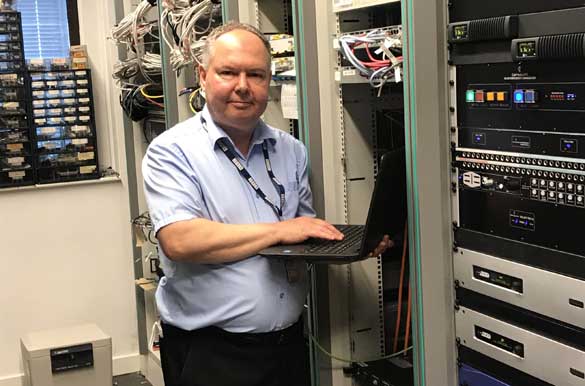 The longest-serving engineer on the station is John Proudler. He's a Middlesbrough lad who joined the BBC in London in 1989.  In March 1991 he transferred to BBC Radio Cleveland and has been with us ever since!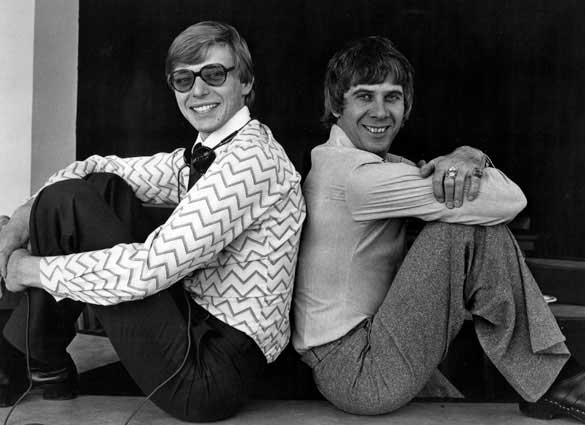 BBC Radio Cleveland broadcasters Tony Baynes and Stan Laundon at a function organised by Sedgefield District Council.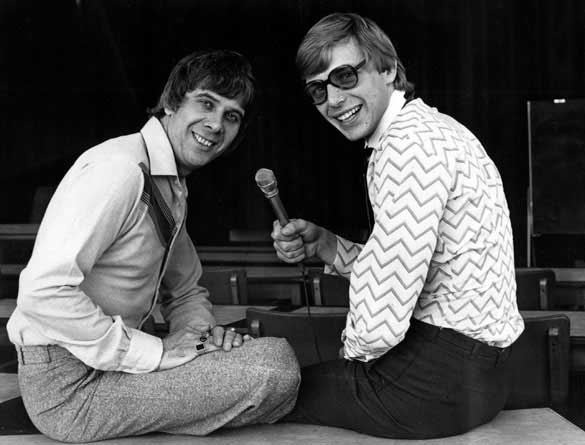 Stan Laundon and Tony Baynes at Sedgefield District Council.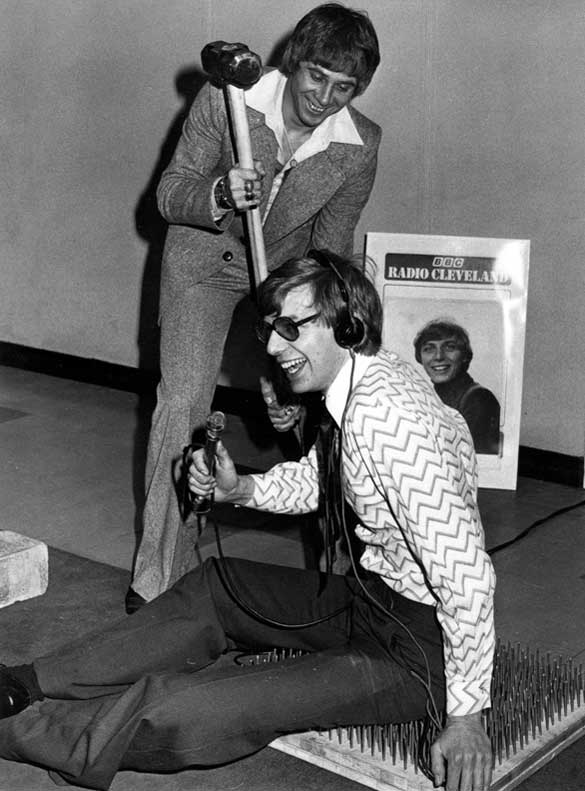 Stan Laundon getting under the hammer with Tony Baynes as he does an outside broadcast at Sedgefield District Council.
Graeme Aldous sent us these photographs which were taken when BBC Radio Cleveland recorded "Charlie Is My Darling" in 1992/3.  It was the first regular soap opera to be commissioned by a BBC local radio station. The first photograph above is of the cast and writers, with producer Graeme on the extreme left.  The entire cast are in the second photograph. There were 40 episodes in all and recorded on a reel-to-reel machine in Studio 2. You can see the images larger when you click on them and there's a poster from the show in the right hand column.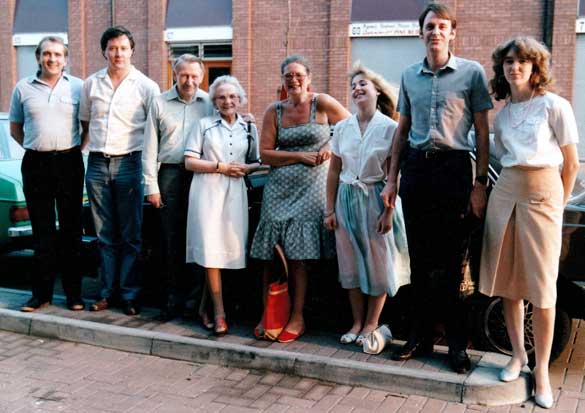 The religious broadcasting team who were affectionately known as The God Squad taken outside Broadcasting House about 1983/84. They are Phil Nichol, Colin Morley, Bob Hamlett, Mary Hamlett, Molly Locke, Judith Clark, Tony Allen and Gillian Snowden. Thanks to Colin Morley who provided the photograph.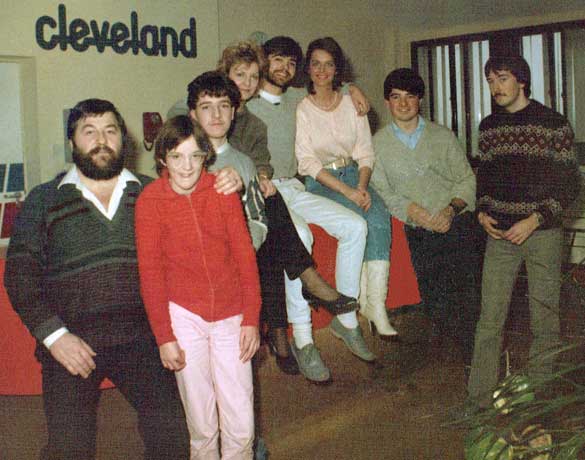 The "Saturday Show" team in 1986 with, left to right, Stewart McFarlane, a programme guest, a young man who worked as a 'runner' for the show and name to follow, Producer Caroline Salt, Programme Assistant Steve Hunneysett, Leslie Ann Musgrave - who was voted Miss Great Britain in 1986 - another 'runnner' called Mark, surname to follow, with Programme Assistant and soon to be presenter of "Sixties Souvenir" in the nineties, David Wiseman, on the right.
The Cleveland Centre manager, David Ward, being interviewed by BBC Radio Cleveland presenter Pauline Armstrong at the top of a ski slope erected in the Cleveland Centre. The event attracted shoppers to ski and also attracted massive TV coverage.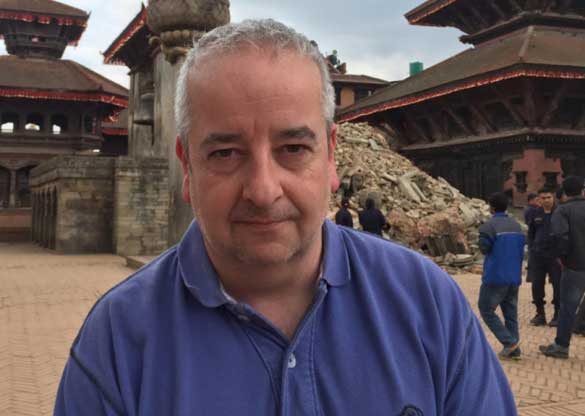 Nick Garnett was at BBC Radio Cleveland from 1987 to 1991 and presented weekend breakfast shows. He's now at Radio 5 live as the north of England reporter.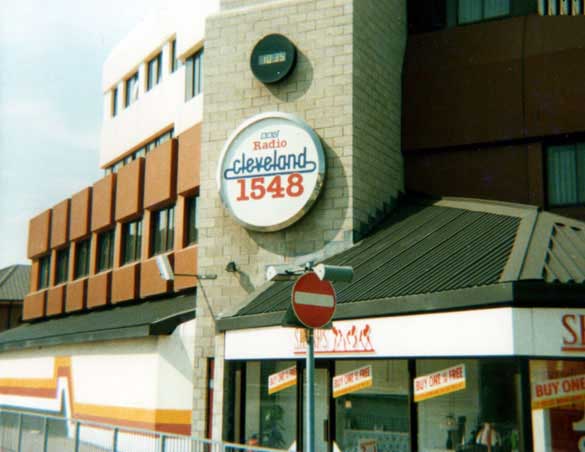 This was taken in September, 1986 and shows the BBC building on the Newport Triangle. If my memory serves me well that clock never worked properly when it had the sun on it!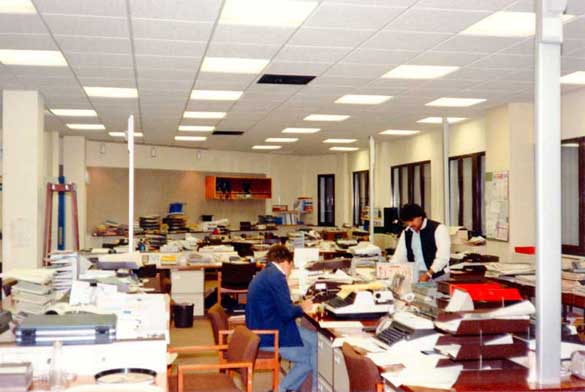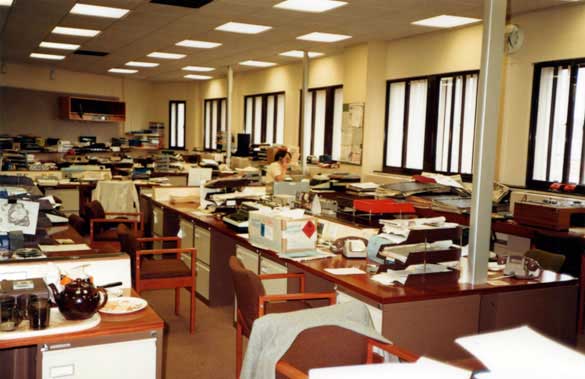 The BBC Radio newsroom at Broadcasting House on the Newport Triangle and it really didn't take too long before the place was cluttered. The top photograph shows David Peel (seated) and Ishfaq Ahmed with Mike Wadding on the telephone on the lower image and making out he's working for the benefit of the photographer!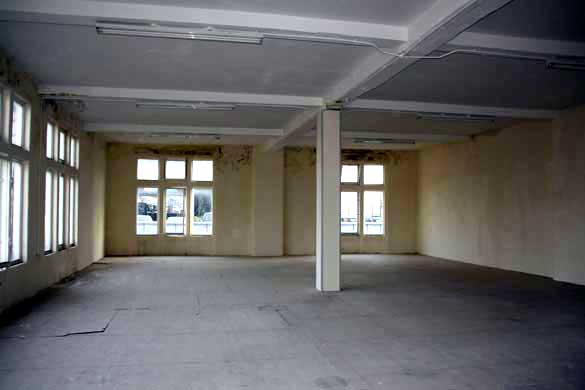 If this room could talk what a tale it would tell! Forty years on and the old building is still there. For those who might remember, this is where the original studios used to be in Linthorpe Road, Middlesbrough. The Cleveland Centre roof top car park can just be seen through the windows. Photograph Stan Laundon © December, 2010.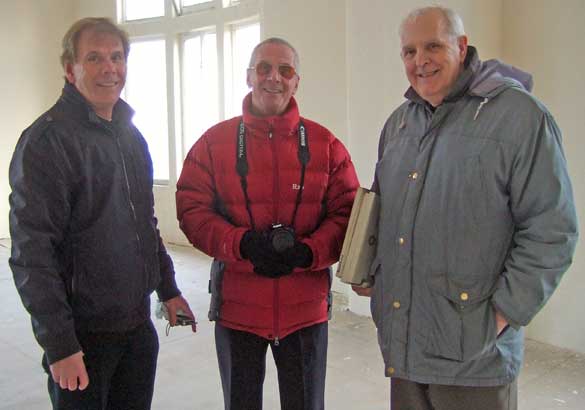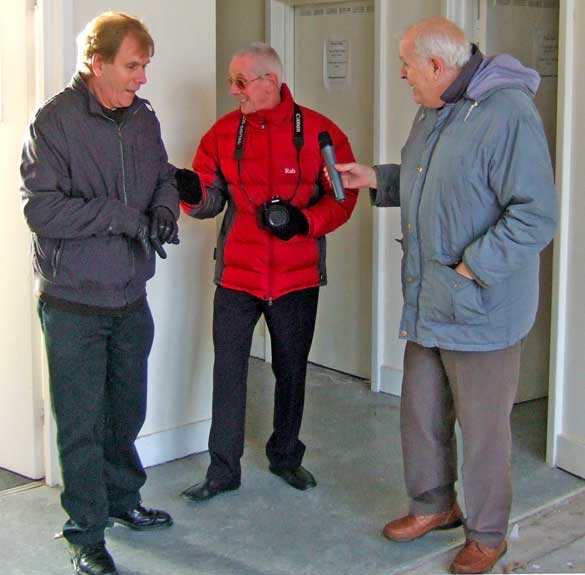 Colin Bunyan, Stan Laundon and George Lambelle return to the room on Linthorpe Road in December, 2010, where it all started forty years ago. Photograph © John Foster.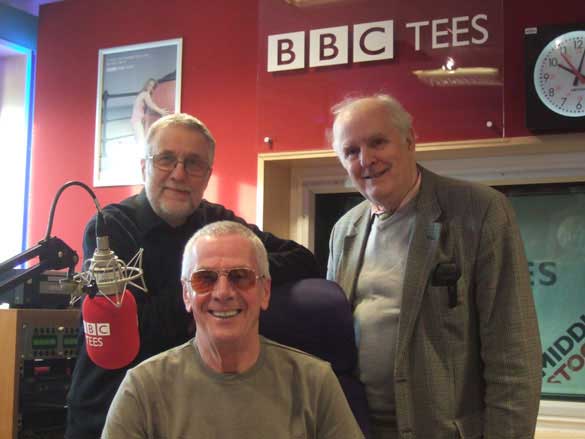 Graeme Aldous, Stan Laundon and George Lambelle were invited to BBC Tees on the final day of January 2011 to co-present the final thirty minutes of the Breakfast Show with John Foster. All three were also asked to present one-off programmes they produced, and presented, in the past - "Polished Brass" with Graeme, "All That Jazz" with George and "Country Time" with Stan. In my case it was a very pleasant experience - but I am still searching for the turntables!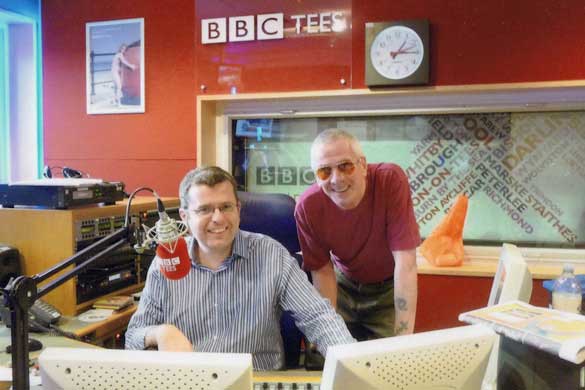 John Foster and I go back a long time. He was a popular presenter on BBC Tees and worked with me during the time I worked on sport.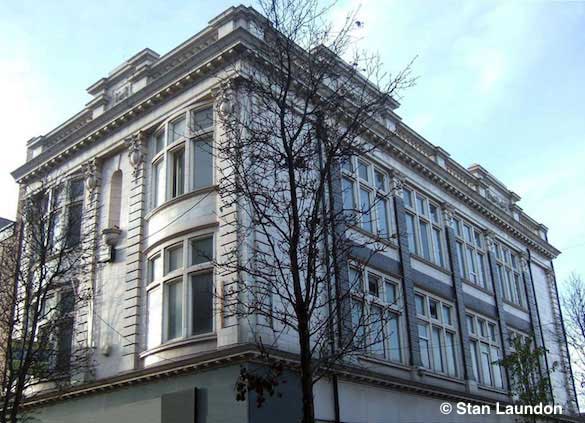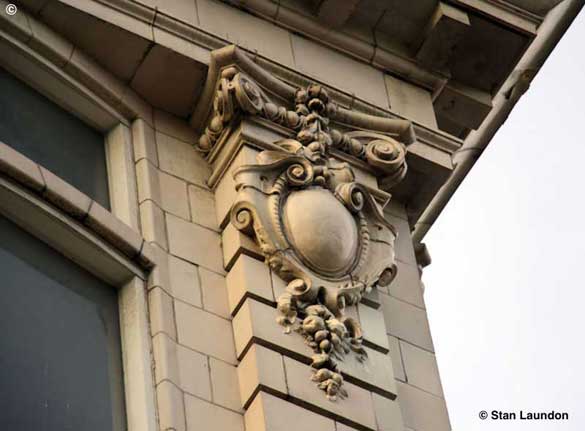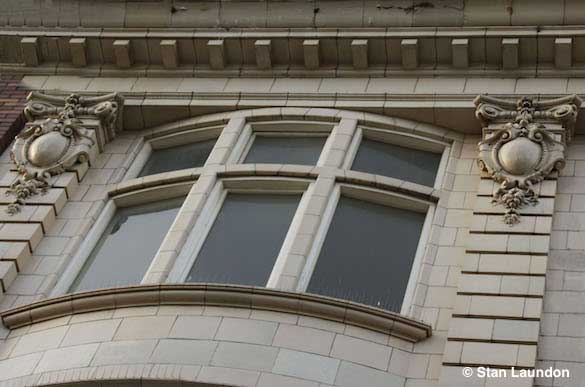 There are some beautiful sights when you look up. This is the old BBC Radio Teesside building at 91/93 Linthorpe Road in Middlesbrough. The building, with its wonderful architecture, still stands proud and I am sure it holds happy memories for many.
This page, about the early days and the launch of BBC Radio Teesside, is purely personal and is not supported, or endorsed in anyway, by the BBC or BBC Tees and many thanks to Graeme Aldous, Tony Baynes, Ernie Brown, Colin Bunyan, Peter Cook, Ann Davies, Ian Ferneyhough, John Foster, Nick Garnett, Keith Harrison, Chris Hodder, Steve Hunneysett, Robert Lamb, George Lambelle, Mary McCourt, Colin Morley, Colin O'Keeffe, Larry Ottaway, David Peel, John Proudler, Rebecca Sumner, Teesdale Mercury, Lynda Tutin, Graham Welford and Andy Whysall for additional photographs on this page.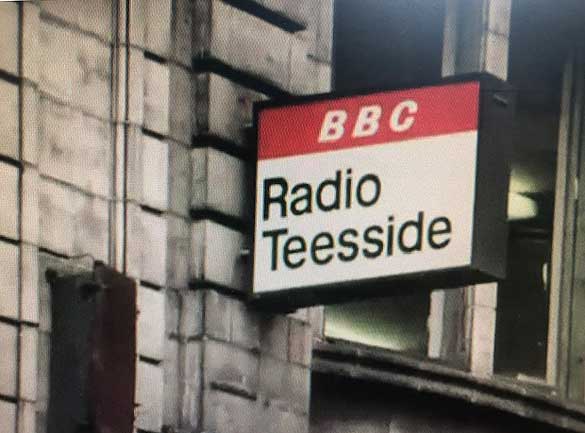 BBC Radio Teesside - BBC Radio Cleveland - BBC Radio Tees - local radio in Middlesbrough celebrated its 50th anniversary on New Year's Eve, 2020. Thanks to John Foster for this ancient photograph!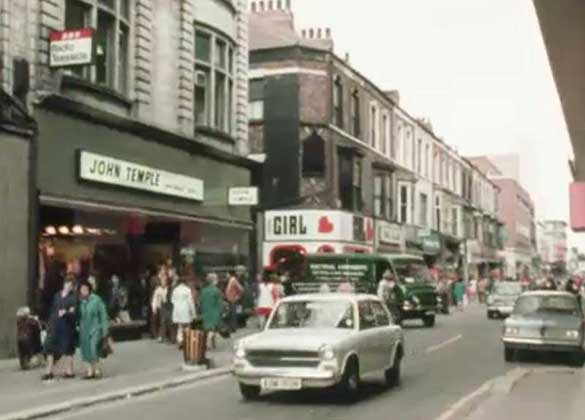 From the John Foster collection showing the BBC Radio Teesside building at 91/93 Linthorpe Road in the 1970's. These days, of course, it is a pedestrian precinct.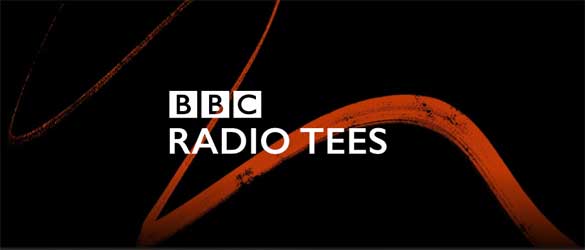 This page is dedicated to the memory of Hal Bethell, Marion Birks, Ken Boar, Alastair Brownlee, Peter Cook, Robin Cradock, Dave Eastwood, Geoff Edwards, Michael Gillings, Bryan Harris, Doreen Hogbin, Mike Hollingworth, Bill Hunter, Ian Judson, Diana Lamb, George Lambelle, Jim Latham, Stewart McFarlane MBE, Keith Morton, Allene Norris, Alastair Pirrie, Parkin Raine, Allan Shaw, Harold Shepherdson, Eric Sumner, Mark Turnbull and John Watson.
..........................................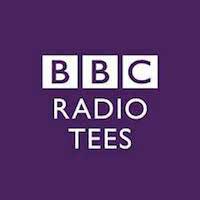 Thank you for visiting this page and be sure to tune into BBC Radio Tees your favourite local radio station.
The Google monkey and bass playing monkey on this page were created by Dave Sutton graphics and free 3D animated gifs for web sites