THE PLAINSMEN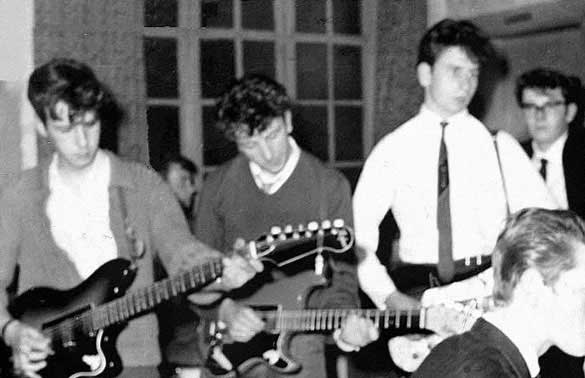 The Plainsmen at the Station Hotel, in Redcar about 1961 with Ed Saul on lead guitar, John Gibson on rhythm, Mike Peacock, almost hidden on drums, Stan Whalley on bass and the lead vocalist, John McCormack on the extreme right.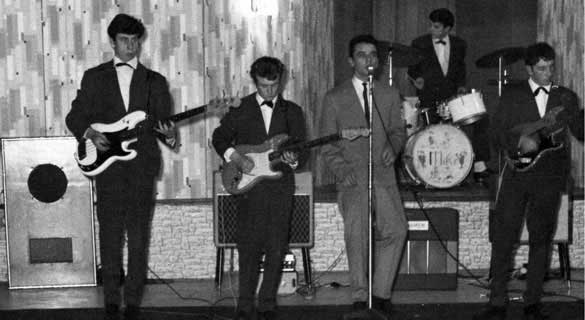 The band on stage at the Pier Ballroom, in Redcar, with a slight change of personnel - Dave Cook replaced Ed Saul on lead guitar, John Gibson is on rhythm, John Neesam joined the band as lead vocalist. Mike Peacock is on drums with Stan Whalley on bass. This was taken in 1963 on the night that The Plainsmen were back-up band to Shane Fenton & The Fentones. For those of you who don't remember Shane Fenton, he later went on to be known as Alvin Stardust.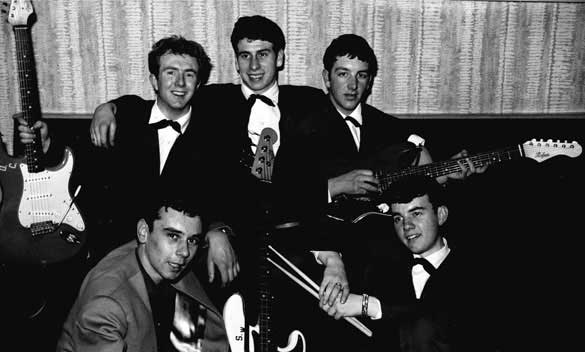 The Plainsmen - with the same line-up as above - taken at the Ladle Hotel, in Middlesbrough also 1963.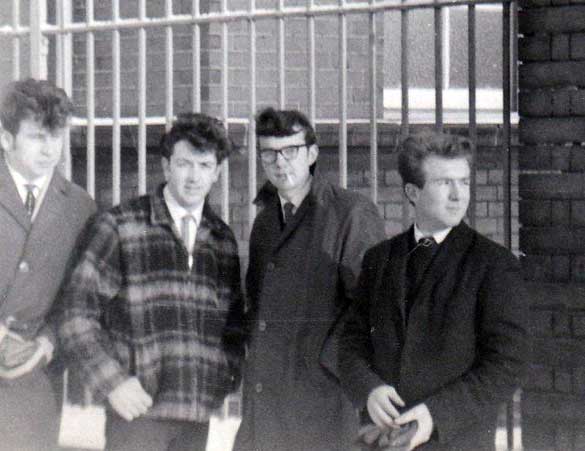 The Plainsmen outside the Infants School in Grangetown in February 1962 with Stan Whalley, John Gibson, Mick Peacock and Dave Cook. At this time the band used to rehearse in St. Matthew's Church Hall which was over the road from the school.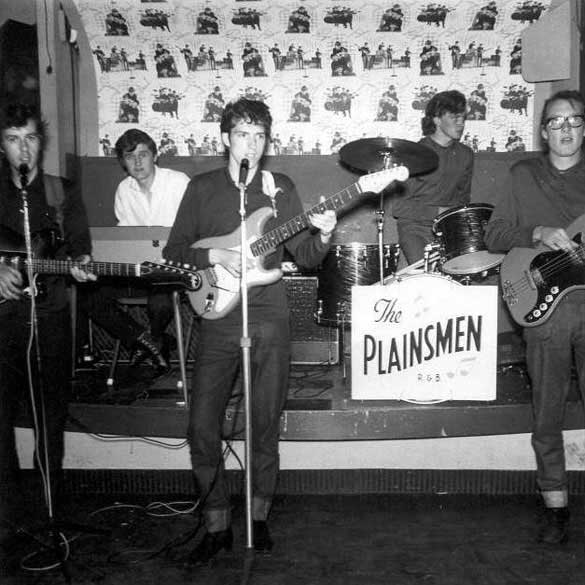 The Plainsmen at the Rainbow Coffee Bar, Seaton Carew in 1964. They are, left to right, Eddie Saul on guitar, Terry Lynch on keyboards, George Hart on lead guitar, Dave Allison on drums and Ron Blair on bass guitar. The Rainbow Coffee Bar, along with the Blue Lagoon, were two venues used by Hartlepool businessman, Ken Tyzack, who promoted local bands and live music.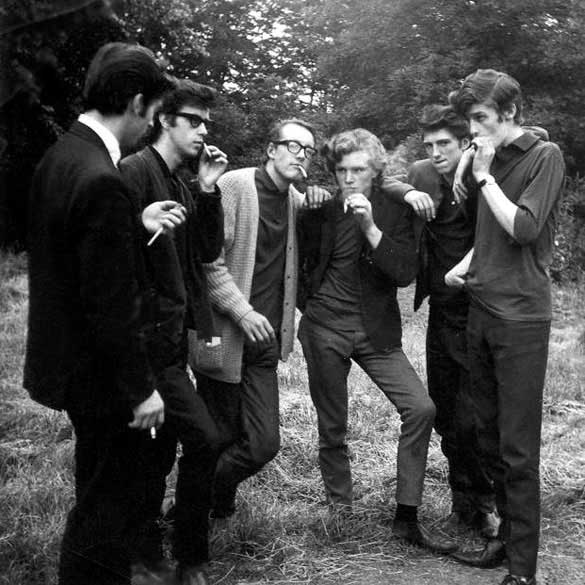 The Plainsmen having a cigarette break with Manager Billy Kill, rhythm guitarist Eddie Saul, Ron Blair bassist, drummer Dave Allison, lead guitarist George Hart and organist, Terry Lynch.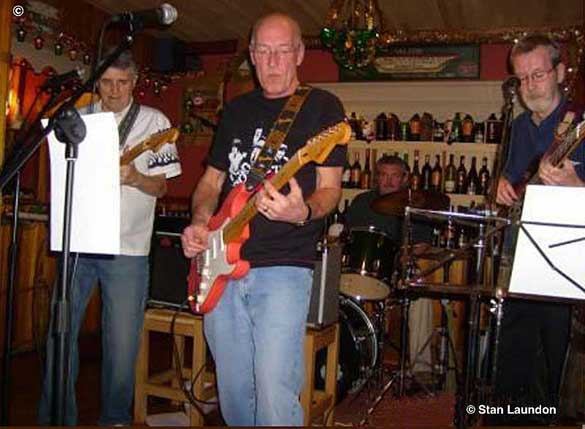 The Plainsmen on board the MV Ella in Hartlepool Marina during December, 2007, helping to celebrate The Rainbow Coffee Bar Reunion. The Plainsmen - George Hart, Ron Blair, Dave Allison and Ed Saul - were almost resident at The Rainbow Coffee Bar, in Seaton Carew, between 1964-5. Photograph copyright © Stan Laundon.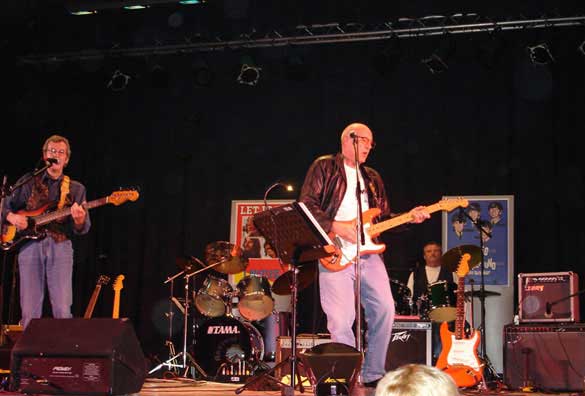 The Plainsmen with Ed Saul, Ron Blair and Dave Allison playing at a Rink Reunion at the Borough Hall in Hartlepool on April 23rd, 2005.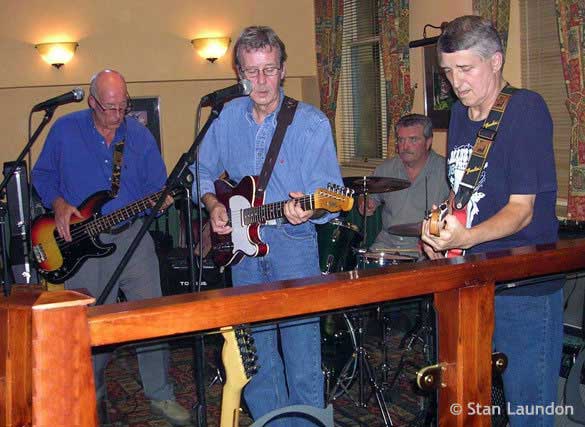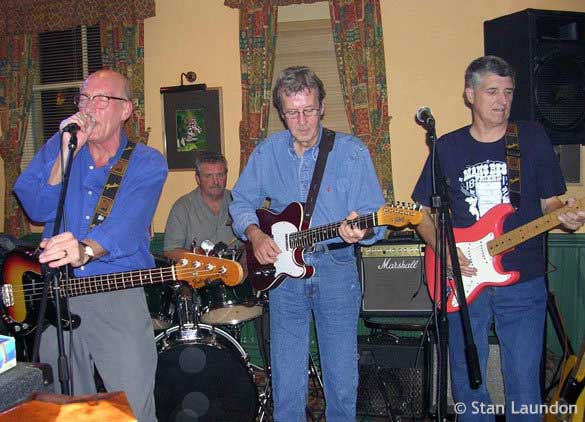 Two photographs of The Plainsmen as they got together as their original line up for the first time in 42 years at Hartlepool Blues Club, held at The Causeway Hotel in Hartlepool on October 19th, 2006. They are Ron Blair on bass, Dave Allison on drums, Ed Saul on rhythm guitar and George Hart on lead. Photographs © Stan Laundon.
Acknowledgements:

Thanks to Ron Blair and John Gibson for the photographic content on this page. The other images are copyright © to their respective owners and must not be copied without written permission.
This page is dedicated to the memory of George Hart and to former manager, Billy KIll, who passed away on December 14th, 2022.
The Google monkey on this page was created by Dave Sutton graphics and free 3D animated gifs for web sites
Copyright © Stan Laundon.com