GOVERNMENT - THE BAND!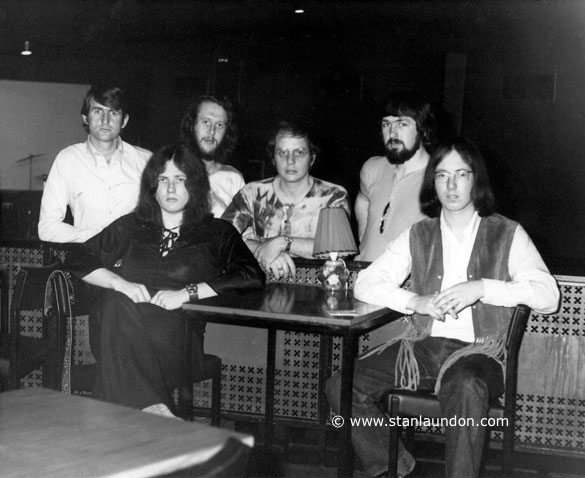 Government at The Excel Club in Middlesbrough, 1971 with Brian Rowe, David Coverdale, David Williamson, Malcolm Bradshaw, Malcolm Buckton & Mick Martin.
Government were one of Teesside's leading bands with a 30 year history from 1968 to 1998. They might well have had various vocalists and musicians over that period, but what a sound they produced!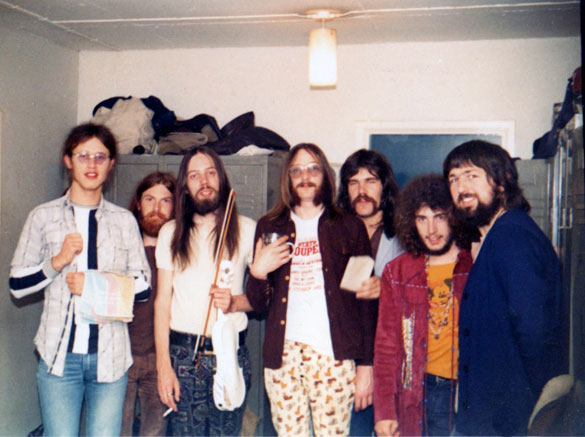 The Tyneside band Lindisfarne backstage at Newcastle University President's Ball on May 5th, 1972. The smiling faces on this photograph are Ray Laidlaw, Simon Cowe, Rod Clements, Alan Hull, Ray Jackson, John (Collie) Collins and Malcolm Buckton.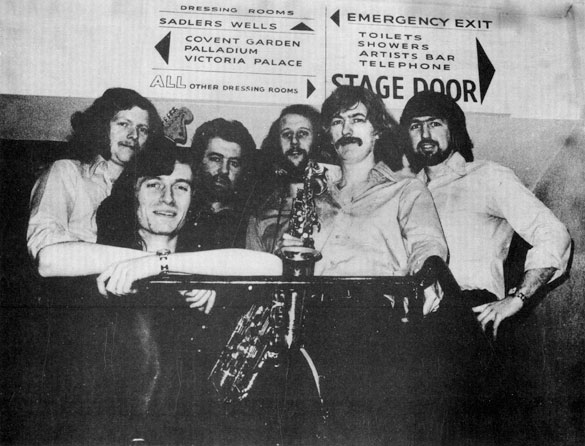 Backstage at The Futurist Theatre, Scarborough in 1975 with Nev Reed, Steve Taylor, Rob Parrish, Dave Williamson, Paul Rhucroft & Malcolm Buckton.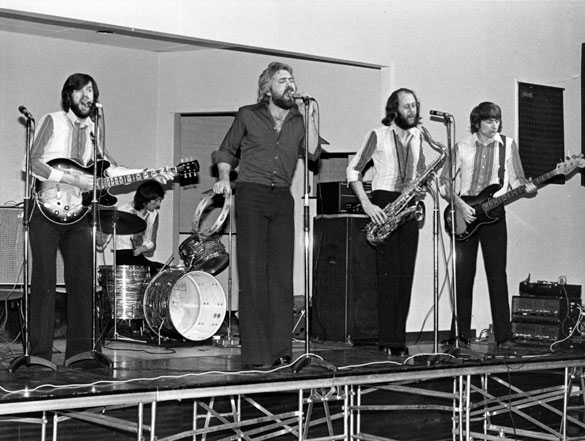 On stage "live" at the Coatham Bowl in Redcar on May 13th,1978 with David Keighley, Sean Jenkins, Rob Parrish, David Williamson and Malcolm Buckton.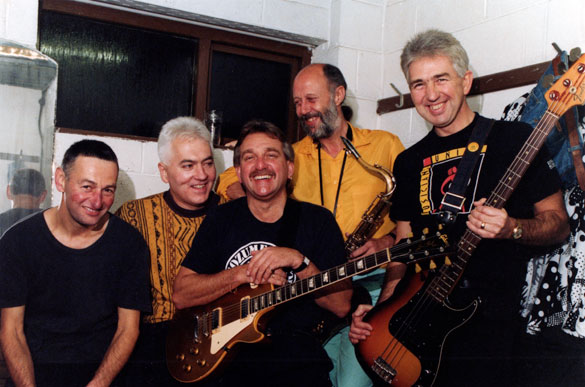 Government in their dressing room at New Marske Sports Club before one of their last performances in 1998. They are Sean Jenkins, Rob Parrish, Billy Cockerill, Dave Williamson & Malcolm Buckton.
A brief history of Government by Malcolm Buckton:
Government was born with the name change from The Skyliners which came about due to a change in the music we were playing and the venues we started to appear at. Our agent at the time was Barry Perkins who later managed the Bay City Rollers and thought that The Skyliners was a bit dated and we should be looking for a new name. It was Barry who came up with the name as he opened another packet of cigarettes and saw a Government health warning that had just started to appear on cigarette packets.
When David Coverdale joined the band we were very much on the cabaret circuit of nightclubs, sometimes playing three clubs a night in Manchester and touring as the Paper Dolls backing band. But the music scene was so great at the time and we started to move more into the Blood, Sweat and Tears, Chicago and soul music with us having a brass section in the band, and David loved the blues, so suddenly we are on the college, festival and university circuits.
One of the biggest agencies in Manchester, called Kennedy Street, invited us to do some recording in the studios of one of their new acts 10cc - which led to a year's work for BBC Radio 1, which consisted of playing live on the shows from around the country with Ed Stewart, Tommy Vance, Dave Cash and Dave Eager and recording in Manchester studios for the Tony Blackburn breakfast show. We had some great material at that time but Tony Blackburn seemed to have a soft spot for David singing "By The Time I Get To Phoenix."
On the circuit we were then on, we were supportring bands like Free, Fleetwood Mac, Joe Cocker, Rory Gallagher, Alan Price, Georgie Fame, Chris Farlowe, Yes and The Who. It was at Bradford University, supporting Deep Purple, that they first heard the voice of David Coverdale. After they had finished their sound check and lifted the roof (they had the record of the loudest band in the world) we had our chance and warmed up with our version of "Shakin' All Over" which was met with generous applause form John Lord and Ian Paice.
But we could only work at this pace for so long, so that was the end of the 1968-1971 line up. The last time we played together was in the Multicord studio with engineer Ken McKenzie who recorded four tracks which ended up on the Pre-Purple People CD some 31 years later.
After a three month break which saw David go on tour with Harvest to Denmark, Mick joined Tony Christie in Australia, Brian moved to Torquay and Malcolm Bradshaw departed to Scotland, Government re-grouped with Malcolm Buckton and David Williamson being joined by the following new members: Rob Parrish on vocals; Paul Rhucroft on alto sax; Dave Burton on guitar and John Collins on drums. This line up only lasted for one year when, in 1972, Nev Reed replaced Dave Burton on guitar and Steve Taylor came in on drums for John Collins.
Mostly playing the disco/night club and dance hall scene this line-up stayed together for three years before taking a short break. Back and refreshed Rob Parrish, David Williamson and Malcolm Buckton were joined by David Keighley on guitar and Sean Jenkins (ex-Elastic Band, Love Affair & Jimmy Cliff). In 1979 David Keighley moved to London and so, after a break of 10 years, Billy Cockerill returned on guitar and vocals to complete the line up that lasted until the last booking in 1998. In total, from start to finish, 38 years of music, fun and memories.
This page is dedicated to the memory of Roger Barker, Sean Jenkins, Rob Parrish and Paul Rhucroft.
Roger Barker passed away on June 5th, 2015 and Rob Parrish on October 12th, 2014.
The Google monkey on this page was created by Dave Sutton graphics and free 3D animated gifs for web sites.
This website is not responsible for the content of external internet sites
Copyright © Stan Laundon.com