THE CONCORDES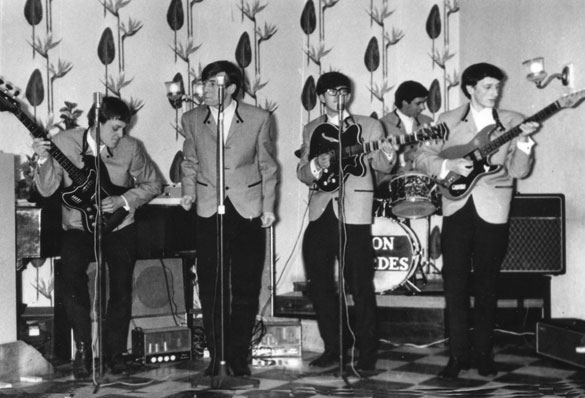 The Concordes, at the Imperial Hotel, Darlington, are left to right Jim Blenkhorn (bass guitar and backing vocals), Phil Kershaw (lead singer), Doug Yates (rhythm guitar and backing vocals), Roger Tyrrell (drums) and Dave Coulthard (lead guitar).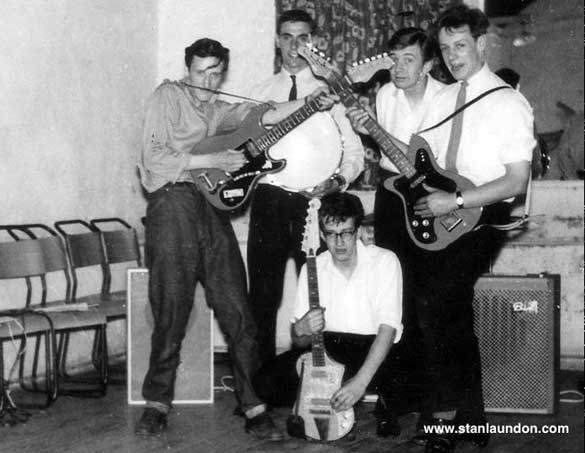 Dave Coulthard, Roger Tyrrell, Doug Yates, Phil Kershaw and Jim Blenkhorn at St. Osmonds Church Hall, Gainford in August 1963.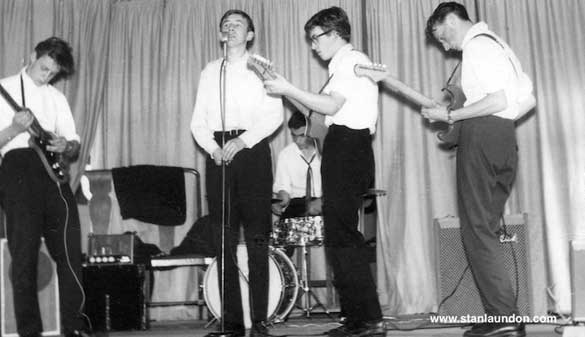 This one dates to September 1963 and taken at All Saints' Church Hall in Darlington and shows Jim Blenkhorn, Phil Kershaw, Roger Tyrrell, Doug Yates and Dave Coulthard.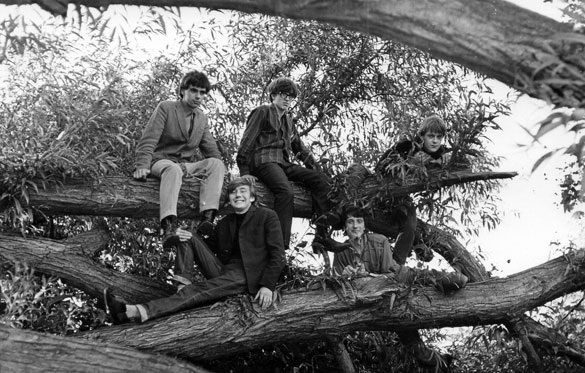 This one dates to 1964 and was taken by Doug Yates' brother, who was quite a good photographer. It was taken down by the river at Gainford which was the band's base. They had initially practised in the kitchen of Dave Coulthard's house then they kind of migrated to an outbuilding at The Cross Keys public house in the village which they continued to use until they disbanded. Left to right is Roger Tyrrell, Phil Kershaw, Doug Yates, Dave Coulthard and Jim Blenkhorn.
The Concordes with The Swinging Blue Jeans at The Globe Theatre in Stockton in the Spring of 1964. This was a publicity photograph taken for the Zetland Hunt Barbecue which was held at Selby Hall on June 5th, 1964 with Doug Yates, Jim Blenkhorn, Phil Kershaw, Dave Coulthard and Roger Tyrrell. They were all young back then!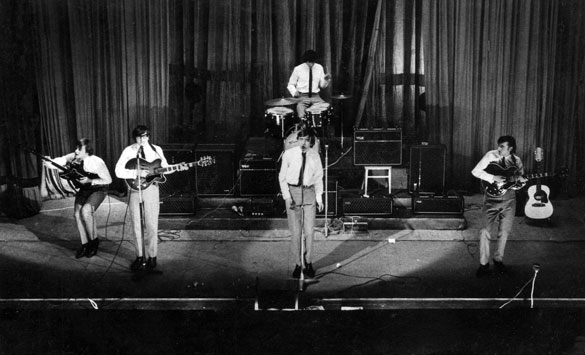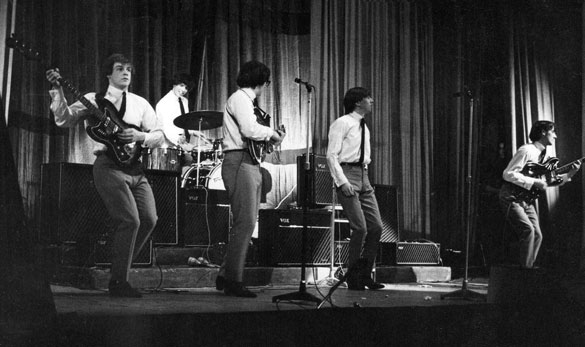 The two photographs above were taken from the same stage show. The Concordes organised and staged the first pop music show ever in the Civic Theatre, Darlington, in December 1964. The show was a resounding success with all the tickets sold. The crowds closed the road outside the theatre at the end of the show to the extent that an article was featured in the local press the following morning.

The first photograph has Roger Tyrrell at the back on the drums, the left handed bass player is Jim Blenkhorn, Doug Yates is on rhythm guitar, the vocalist is Phil Kershaw and Dave Coulthard, the lead guitarist, is on the right. The second photograph shows Jim Blenkhorn, Roger Tyrrell, Doug Yates, Phil Kershaw and Dave Couthard.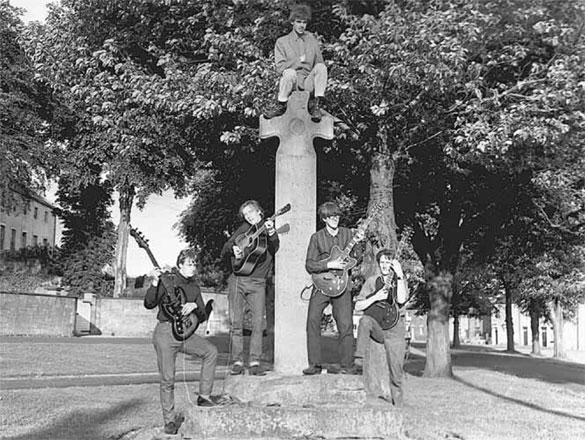 A publicity photograph of the band on the village green at Gainford with Jim Blenkhorn, Phil Kershaw, Roger Tyrrell, Doug Yates and Dave Coulthard.
All photographs on this page were supplied by The Concordes, unless otherwise stated, and must not be used without permission.
The bass playing monkey on this page is by Dave Sutton graphics and free 3D animated gifs for web sites.
This page is dedicated to Phil Kershaw who passed away peacefully in hospital, aged 70, on February 2nd, 2016 - RIP Phil.
This website is not responsible for the content of external internet sites
Copyright © Stan Laundon.com