THE TOFFEES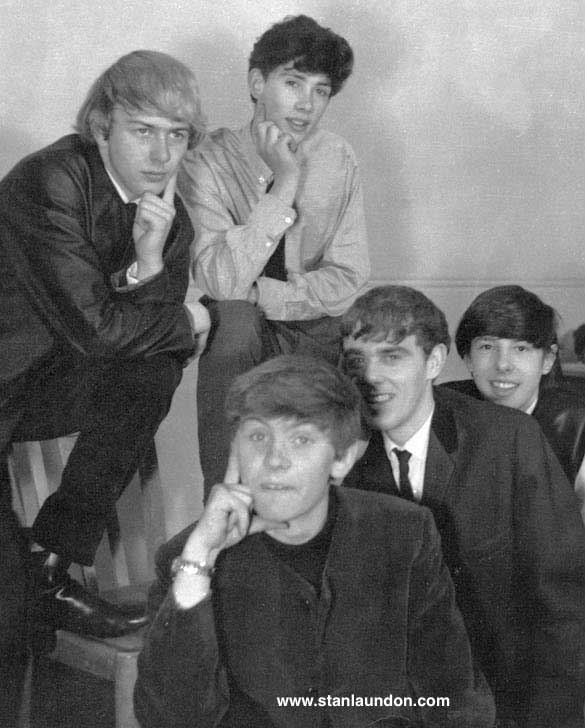 The first photograph taken of The Toffees as a group in early 1964, but without a drummer at that time. They are Ray Stuart on vocals and guitar, Kenny Burgess on vocals, Iain 'Jock' Campbell on bass guitar and vocals, Alan Lindridge on organ, guitar and vocals with Robin O'Carroll on lead guitar and vocals. These initial black and white portraits of the band - numbers 2,3, 6 and 7 on this page - were taken by Hartlepool photographer, Pete Sandor.
A Toffees history item: Robin O'Carroll tells us that he suspects he may have the only surviving 45rpm single the original Toffees made as a demo in London in late 1964. It was a two-track recording system - vocals and instruments, drums separate. Ray Stuart sang lead vocal on the Chuck Berry classic "Reelin' And Rockin'" and he, and Alan Lindridge, sang a duet on the 'B' side - "She's Gone" an old Cliff Richard track from his "Me And My Shadows" album circa 1960. You can hear the organ played by Alan Lindridge on the A-side. The band had the first electric organ in the area at the time. Robin has cleaned up the songs the best he could as the original disc was badly scratched and worn. The studio it was recorded in, the City of London Recording Studios, is now long gone.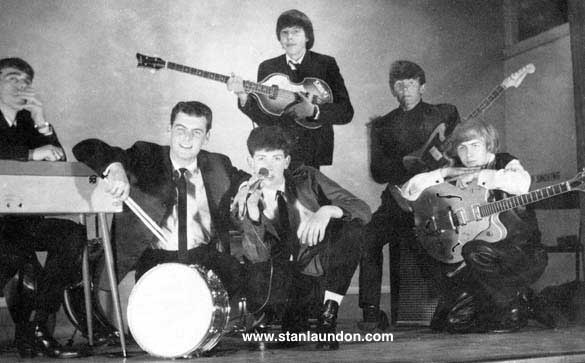 One of the first photos taken of The Toffees early 1964. It shows Alan Lindridge, Jock Campbell and Robin O' Carroll at the rear with Mike Kirton holding the drumsticks, Kenny Burgess and Ray Stuart in the foreground.
This photograph was taken during a break at a local venue and dating back to 1964. Ray Stuart, Eddie Leighton – the manager (desperately wanted to be in the photo holding any guitar) - Alan Lindridge and Robin O'Carroll.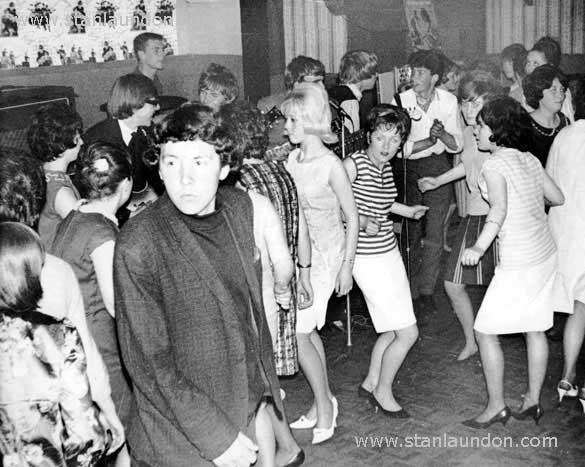 Dancing the night away at the Rainbow Coffee Bar in Seaton Carew around March 1964. Almost hidden by the dancers are Jock Campbell, Mike Kirton, Robin O'Carroll, Alan Lindridge, Ray Stuart and Kenny Burgess.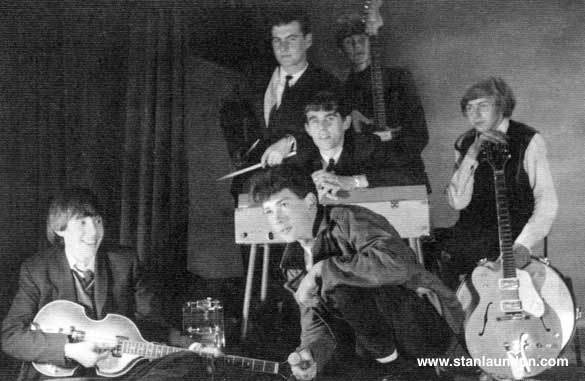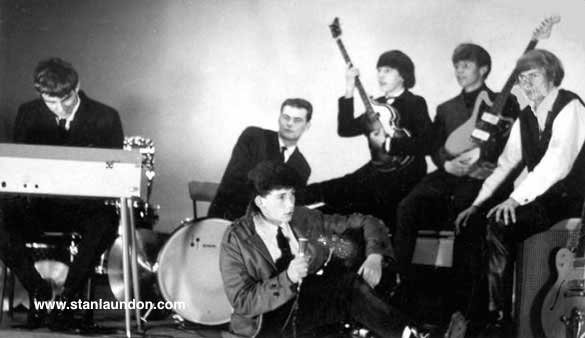 Two photographs that were taken of the original Toffees in early 1964. Members at this time included Jock Campbell, Mike Kirton, Alan Lindridge, Robin O'Carroll, Ray Stuart and Kenny Burgess.
On the left The Toffees at the Borough Hall, Hartlepool in 1965 supporting Screaming Lord Sutch and, at another venue, Jock Campbell, John Madge - almost hidden by his drums - with Alan Lindridge.
Robin and Alan at the United Services Club, Miers Avenue in Hartlepool in 1965.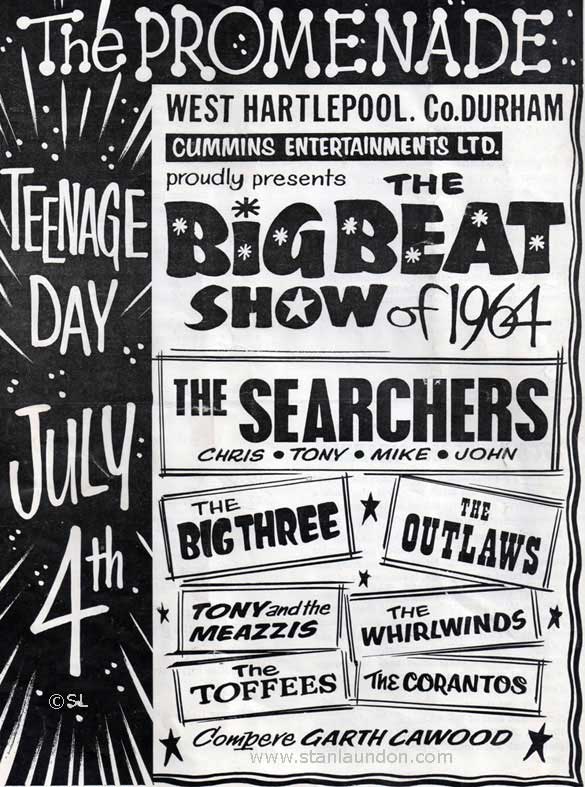 The Toffees appeared wth top Merseyside band The Searchers, and other local groups, on Hartlepool promenade in July 1964. Thanks to Mike Watson of The Corantos for sending this poster.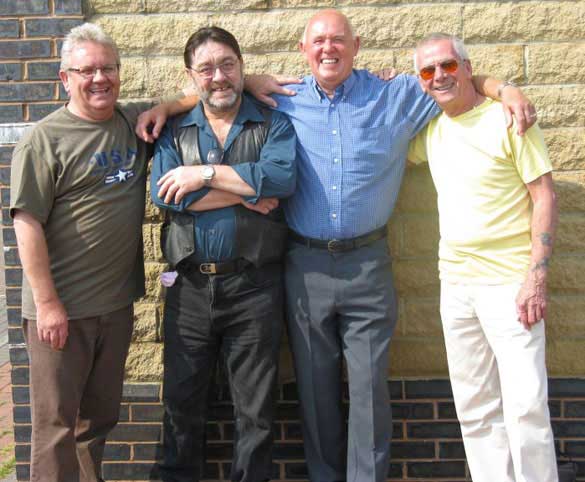 Founder member and lead guitarist of The Toffees, Robin O'Carroll, on the extreme left, meets former band members Kenny Allen and Alan Lindridge after more than 40 years. They all met at the Café Bar Rapport, in Hartlepool Marina, on July 24th, 2008 and again two days later. The reunion was organised by Stan Laundon, who is on the extreme right. Kenny Allen was a member of The Toffees during the band's final year. He also became a founding member of Magic Roundabout with Robin in 1969 some two years after The Toffees had disbanded in late 1967.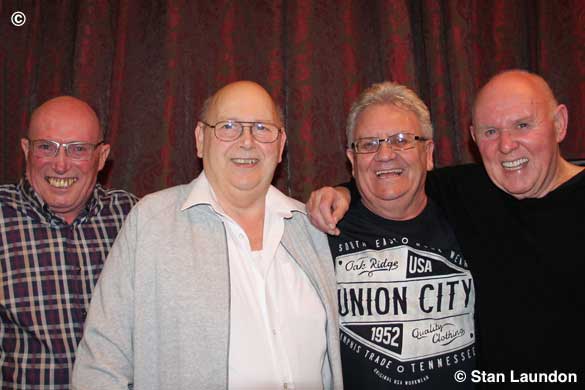 The Toffees say a fond farewell to Robin O'Carroll during March 2016 before he finally leaves England to return to Canada to be with his family. Jimmy Fawcett, Ray Stuart, Robin O'Carroll and Alan Lindridge at The Cosmopolitan Hotel in Hartlepool discussed happy times and old memories. How nice to see this story covered in Hartlepool Mail. Photograph © Stan Laundon.
Thanks specifically to Robin O'Carroll for this page's major contribution from his collection of photographs, memorabilia and music - as well as photos gratefully shared by Alan Lindridge and Fred Lawson.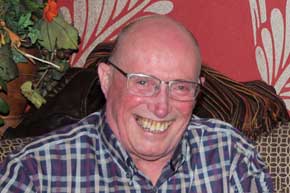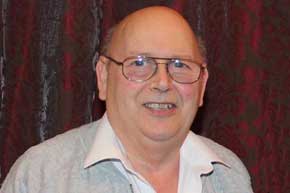 ......................Jimmy Fawcett........................................Ray Stuart
After Eddie Leighton left as our manager Ken Tyzack managed us for several months before John Boagey came on board as our manager. Ken was a great help to us especially as a business person who had experience in all aspects of the music trade at that time. Eddie Leighton was tragically killed in a car accident in 1967. John Madge lost his battle against cancer on Monday, July 7th, 2008. He was just 63. Kenny Allen passed away suddenly from suspected heart and medical complications on March 23rd, 2014 aged 68. John Boagey passed away peacefully in Alice House Hospice in Hartlepool during mid April, 2016 aged 74. Jimmy Fawcett died on September 23rd, 2017 after a long illness with cancer. Ray Stuart passed away on August 24th, 2021 aged 74. He had been suffering with cancer for quite some time. RIP all!
This page is dedicated to Kenny Allen, John Boagey, Jimmy Fawcett, Eddie Leighton, Mike Kirton, John Madge, John Pontone, Ray Stuart and Ken Tyzack (Dec 6th, 1915 - Aug 31st, 1978) always remembered and sadly missed.

This website is not responsible for the content of external internet sites
Copyright © Stan Laundon.com