SOME OTHER GUISE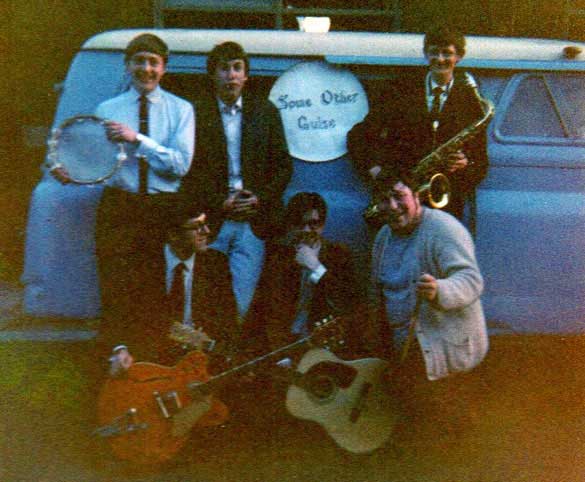 Some Other Guise, who started in 1962/63, hailed from Teesside and are seen here with their little van. At the back, and holding the tambourine, is Norman 'Taff'' Parry, in the centre is Michael Chowinsky with Kenny Smeaton on sax. In the front are Jimmy Cairnes and Tony Docherty with guitars and drummer Dave Shearer.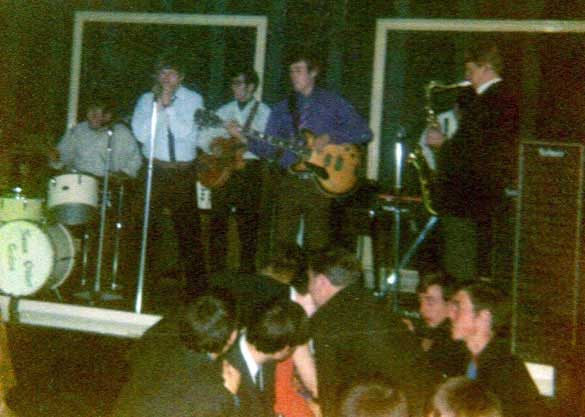 On stage at the Lakes Estate Club, in Redcar, is Dave Shearer on drums, 'Taff'' Parry on lead vocals, Jimmy Cairnes on lead guitar, Mike Chowinsky on left-handed bass with Kenny Smeaton on saxophone.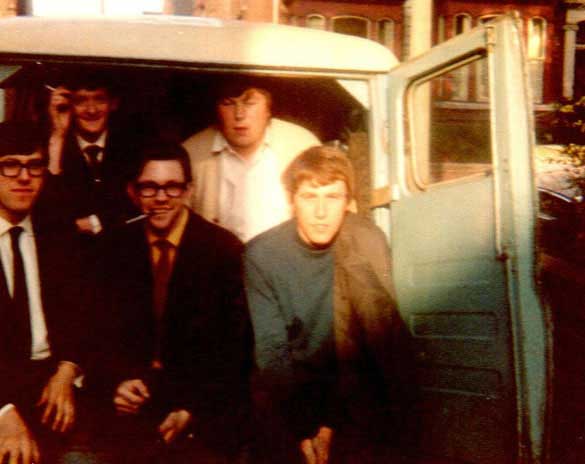 A happy crowd sitting in the band's van outside Dave's mams house in Shaftesbury Street, Stockton - and old Bedford Dormobile which they paid for themselves for the princely sum of £35.00. Rear left is Kenny Smeaton, with cigarette in hand, and Dave Shearer on the right. Front left is James Cairnes, in the centre is Tony Docherty with Mike Chowinsky making up the team. They could have been about 17 or 18 at the time and we see Tony posing with a pipe!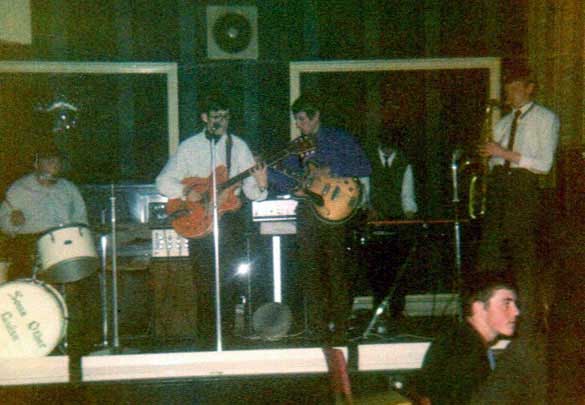 Another live shot at the Lakes Estate Social Club, in Redcar, with drummer Dave Shearer, Jimmy Cairnes on lead guitar and vocals, Mike Chowinsky on bass, you can just make out Tony Docherty on keyboards with Kenny Smeaton on sax. Dave says: "We were originally looking for a keyboard player but one night when arriving at Tony's house his Mam wouldn't let us go into the front room until we had all arrived. "When we had asembled we were allowed to enter and there, sitting in the middle of the floor, was a continental twin manual keyboard. "Tony announced we didnt need a keyboard player now - what we needed was a lead guitarist. "Crazy times!"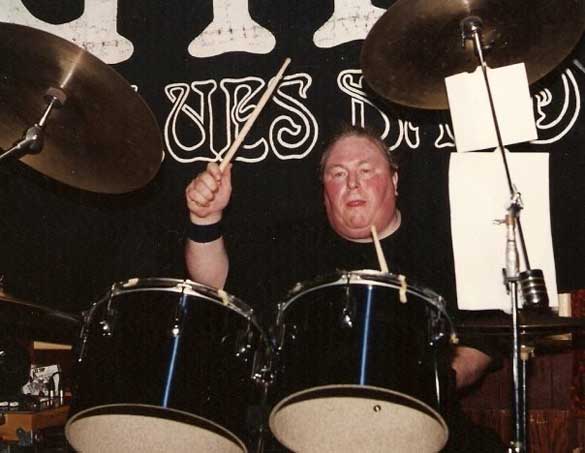 A brief background on Some Other Guise from Dave Shearer:
Some Other Guise started in 1962/1963 and played the youth clubs both in Middlesbrough and Hartlepool and, occasionally, Thirsk Youth Club. In Hartlepool we played all the pubs on Catcote Road, The Queen in Easington Road and twice at The Rink. The early band was Tony Docherty on lead guitar, the man responsible for introducing me to the great music of Chuck Berry, bass guitarist was Michael Chowinsky, on rhythm guitar and vocals was Peter Gordon - Pete's dad owned the van - and me, Dave Shearer on drums and the odd vocal - very odd!

When Peter left we got Jimmy Cairnes on lead guitar and Tony then played keyboards. Later, through Jimmy, we added a sax player who was a great character in Kenny Smeaton and also acquired a vocalist - a lad from Billingham called Taff Parry, who is featured elsewhere on this site. When Jimmy got married, believe it or not to the landlord's daughter of the Albion where we practiced, he left to pursue his guitar making. We then got a guy who has become a lifelong friend and I have played alongside in many ventures since including 'Harvest' and an early 'Gypo', Mr. John Rhodes. Taff finished his apprenticeship and went to sea - I believe in the Merchant Navy. Kenny left due to family commitments and we eventually morphed into a trio - myself, John and Mick.
We played all over the North also some great gigs at Billingham Technical College alongside The Pretty Things, T-Rex and a few more. The gigs at the Tech were every Friday back then and they were great nights and very well attended - really great days! Many thanks for the opportunity for me to pay tribute to some fine players and some wonderful people. You never forget your first band.
This page is dedicated to the memory of James Cairnes, Norman 'Taff' Parry, Dave Shearer & Kenny Smeaton.
Copyright © Stan Laundon.com