RIVERS INVITATION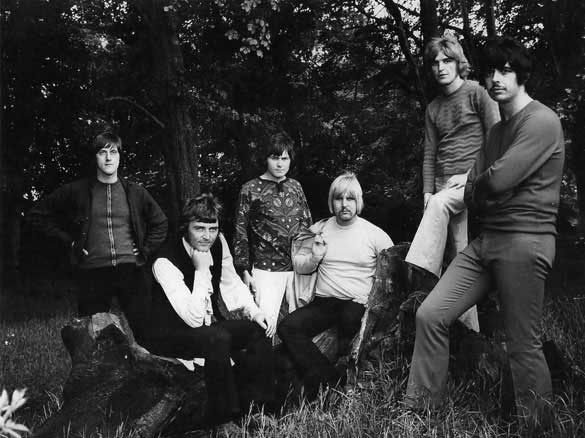 Rivers Invitation, one of Teesside's most popular bands during the 1960's, was formed after the Denmen had toured Switzerland under the name of Gordon James and The Injection and then disbanded. Bass player, Peter Ayton explains: "On arriving back in the UK the band broke up, but we all remained friends. "Alan Ludley, Merv Jones and myself joined some members of the Real McCoy who had just split at this time (Ron Aspery, Ray Dales and Alan Fearnley) and formed Rivers Invitation - but that's another story!"
This photo shows Alan Fearnley (guitar), Ray Dales (sax), Ron Aspery (sax), Peter Ayton (bass), Alan Ludley (lead vocals) and Merv Jones (drummer). The band signed for Polydor Records and recorded a few tracks including an 'unknown' song called "Seasons In The Sun" by Jacques Brel. Rivers Invitation were one of the first two bands signed by the Chrysalis Agency. The other band was called Jethro Tull!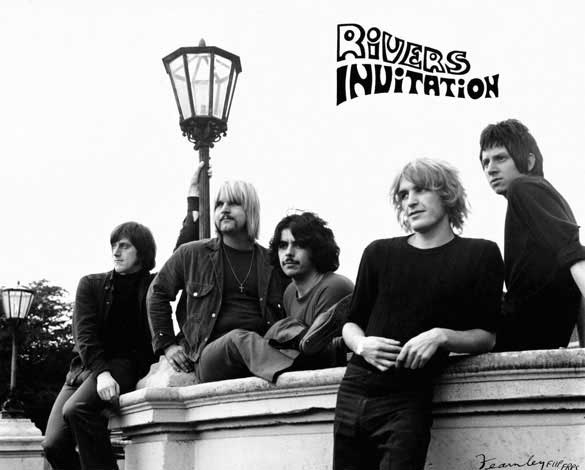 This photograph, from the Fearnley Studio in Middlesbrough, shows Alan Fearnley, Peter "Tubby" Ayton, Merv Jones, Alan Ludley and Ray Johns.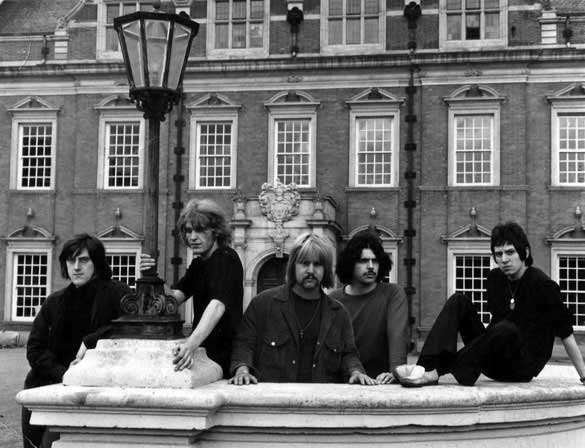 Some of the original photographs of the Rivers Invitaion shoot were taken at Acklam Hall in Middlesbrough. The hall is a Grade I Listed building and, as you will agree, makes a superb backdrop.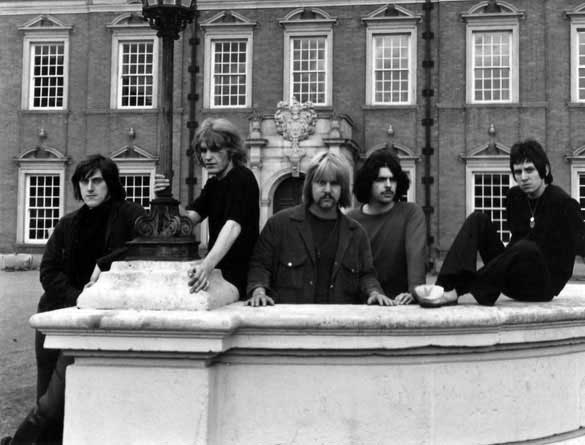 Another photograph with Acklam Hall in the background.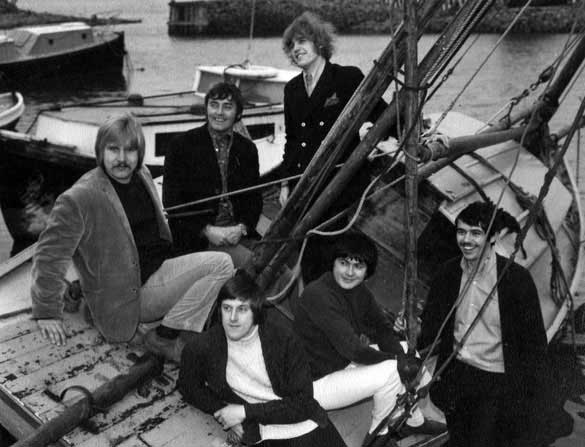 All at sea - Rivers Invitation photographed at Paddy's Hole on the South Gare, Redcar.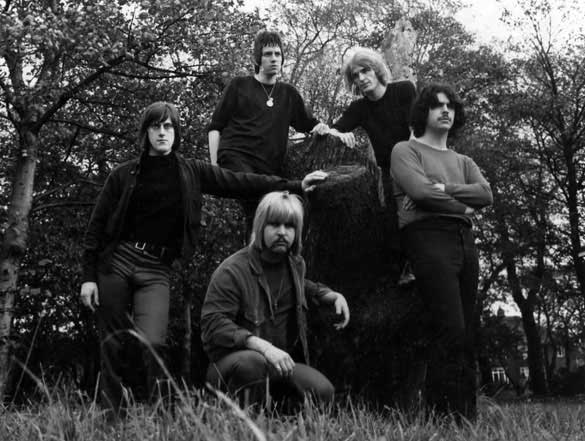 Alan Fearnley, Ray Johns, Alan Ludley, Merv Jones with Peter 'Tubby' Ayton, at the front, relaxing at Acklam Hall, Middlesbrough.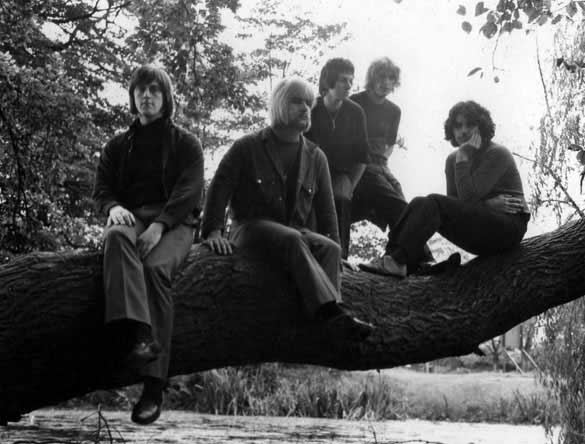 Another one taken in the grounds of Acklam Hall in Middlesbrough.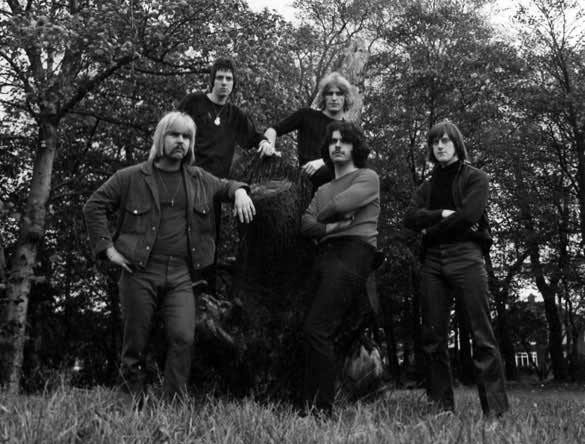 Wonderful scenery at Acklam Hall in Middlesbrough with Tubby, Ray, Alan Ludley, Merv and Alan Fearnley.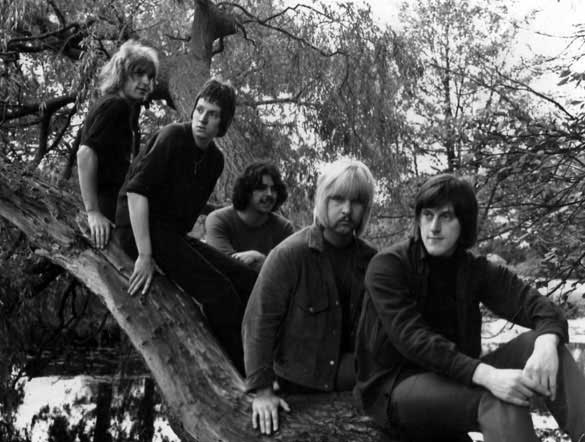 Session almost over in the grounds of Acklam Hall.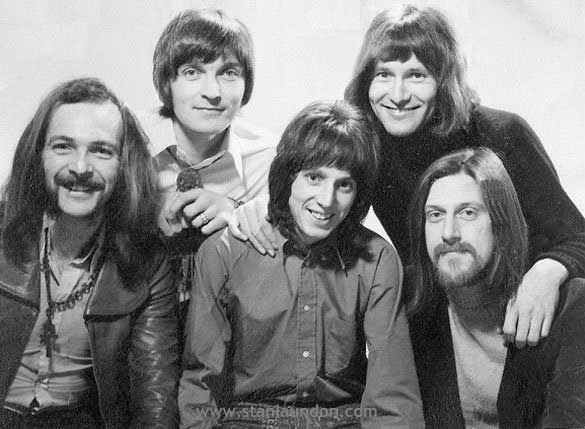 Rivers Invitation just before Dave Coverdale joined the band.  Left to right - Ian Naisbitt, Terry Sidgwick, Ray Johns, Ottie McLoughlin and Alan Fearnley. The final line up, of course, had David Coverdale on vocals but, sadly, we don't have any photographs of him with the band. Do you? Drop us a line if you have.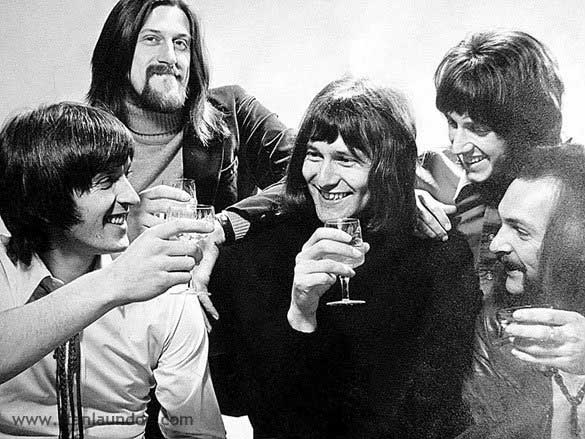 Another photograph of Rivers Invitation, from the same session as above, showing Terry Sidgwick, Alan Fearnley, Ottie McLoughlin, Ray Johns and Ian Naisbitt. They are all enjoying a celebration drink having just won a heat & came second in the final of the television programme Opportunity Knocks.
Ray Dales, Alan Fearnley, Peter "Tubby" Ayton and Merv Jones share some wonderful memories 40 years on. Rivers Invitation and relatives of Alan Ludley met for a BBC programme after Tubby Ayton had found their early recording of "Seasons In The Sun" - enabling Alan's son, Adrian, to listen to the song for the first time. Adrian, who now lives in America and flew over to England, was just a child when his father Alan was killed in a car crash on Teesside. As well as the BBC programme "Inside Out" covering the story (which can be seen on YouTube) it was featured in the Daily Mail, the BBC in-house magazines Ariel and Prospero and on the BBC Tees website. Another more personalised version of events is Adrian Ludley's own video presentation on YouTube which is certainly worth seeing.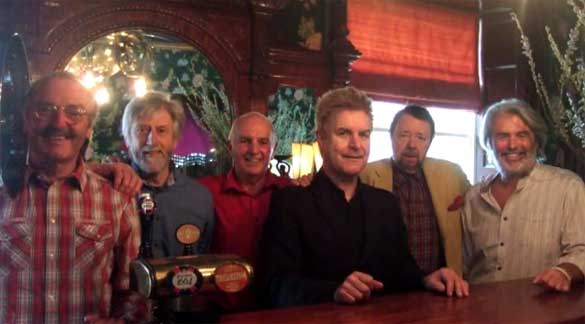 Ray Dales, Alan Fearnley, Tom Ludley, Peter "Tubby" Ayton, John McCoy and Merv Jones. The two photographs directly above are BBC copyright © John Foster.
A brief history of Rivers Invitation by Alan Fearnley:
About 1968/9 the first change in line-up came about when Ron Aspery, followed by Ray Dales, left the band. Ron was later to form the legendary jazz blues trio "Backdoor".  Ray Johns was brought in on hammond organ in place of the brass section, then Terry Sidgwick replaced Peter "Tubby" Ayton and Ian Naisbitt took over on drums. Ottie McLoughlin was added on congas & percussion.  The tragic death of singer Alan Ludley then left Terry Sidgwick as lead vocalist & bass player. This was the line-up that won a heat & came second in the final of the television programme Opportunity Knocks.
David Coverdale had joined the band at this time but was not eligible to sing on the show as he had not been at the audition. Three of David's compositions, recorded with Rivers Invitation at a rehearsal, were available for a short period as downloads on the Whitesnake website over Christmas 2010.  When the band finally called it a day in 1973, David, Ottie, Ray & Alan played a charity gig for the Cheshire homes with Merv Jones & Mark Boagey. They decided to stay together as the Fabulosa Brothers. After making some demo records with this band, David Coverdale left to make his fame and fortune with Deep Purple and later Whitesnake. Artie McDermott stepped in as lead vocalist to fulfill the bookings and one of the final gigs was at Stockton Fiesta when David, who was then with Deep Purple, joined Artie and the Fabs to sing on stage with them for the last time.
Polite Notice:
Photographs on this site are © copyright to their respective owners and are not to be downloaded, or printed, for private use by individuals, organisations or social network sites. By viewing a digital image from this collection, you are agreeing to comply with copyright licensing regulations. These state that you will not copy, publish or distribute the image in any way.
All photographs on this page, unless otherwise stated, are Copyright © Fearnley Studios and must not be copied or used in any way without prior written permission.
This page is dedicated to the memory of Ron Aspery, Alan Ludley & Ian Naisbitt
The bass playing monkey on this page was created by Dave Sutton graphics and free 3D animated gifs for web sites.
This website is not responsible for the content of external internet sites.
Copyright © Stan Laundon.com